Day 1: Windhoek to Etosha National Park
The adventure begins in Windhoek. With a long drive ahead – about 7h – until we reach Etosha National Park. We did a couple of stops on the way, one of them being Okahandja, the woodcarving market. We had lunch near the B1, the highway that goes from Cape Town to Angola going through Namibia. On arrival to the park, we started our first game drive from the gates to Okaukuejo, our first night campsite.
Gabriel, our guide, made us bet which animal we would see first. Choosing the wise one (not the one we wanted to see) I said springbok and won! We were also lucky enough to see 4 male elephants only 5m away from the road. One of them even walked inside a small waterhole and played around the water with its trunk. First one of the big 4 that we can find in the park spotted!
The big 5 is the reference to rhino, buffalo, elephant, lion and leopard but in Etosha we cannot find buffalo.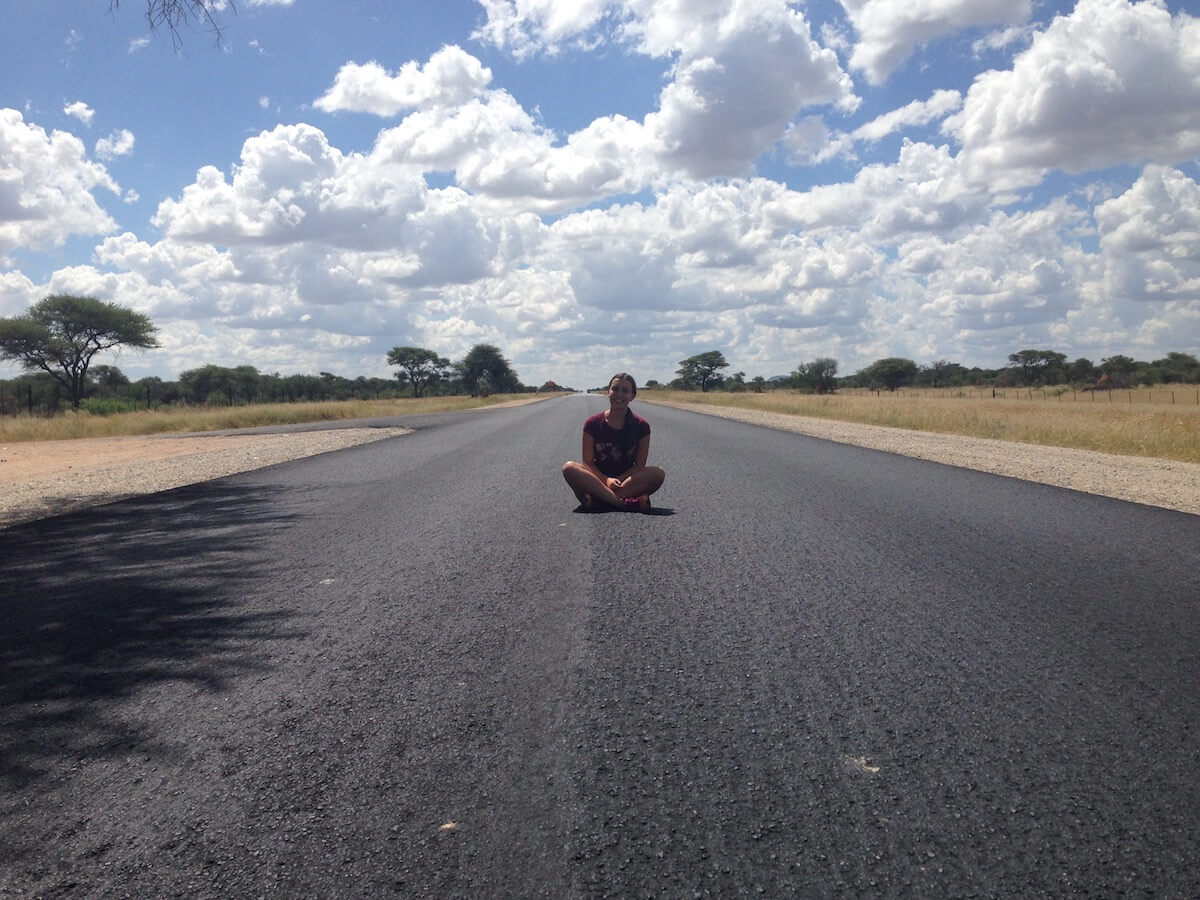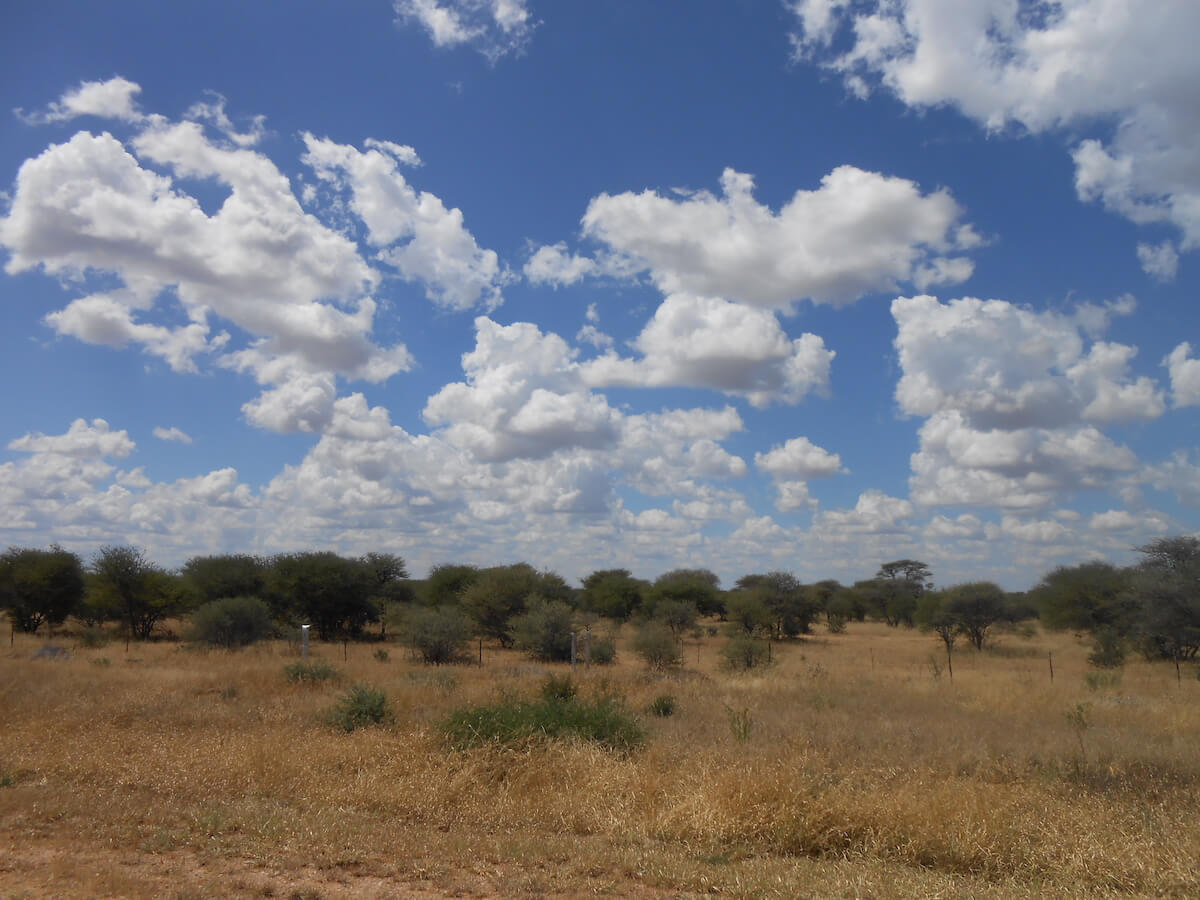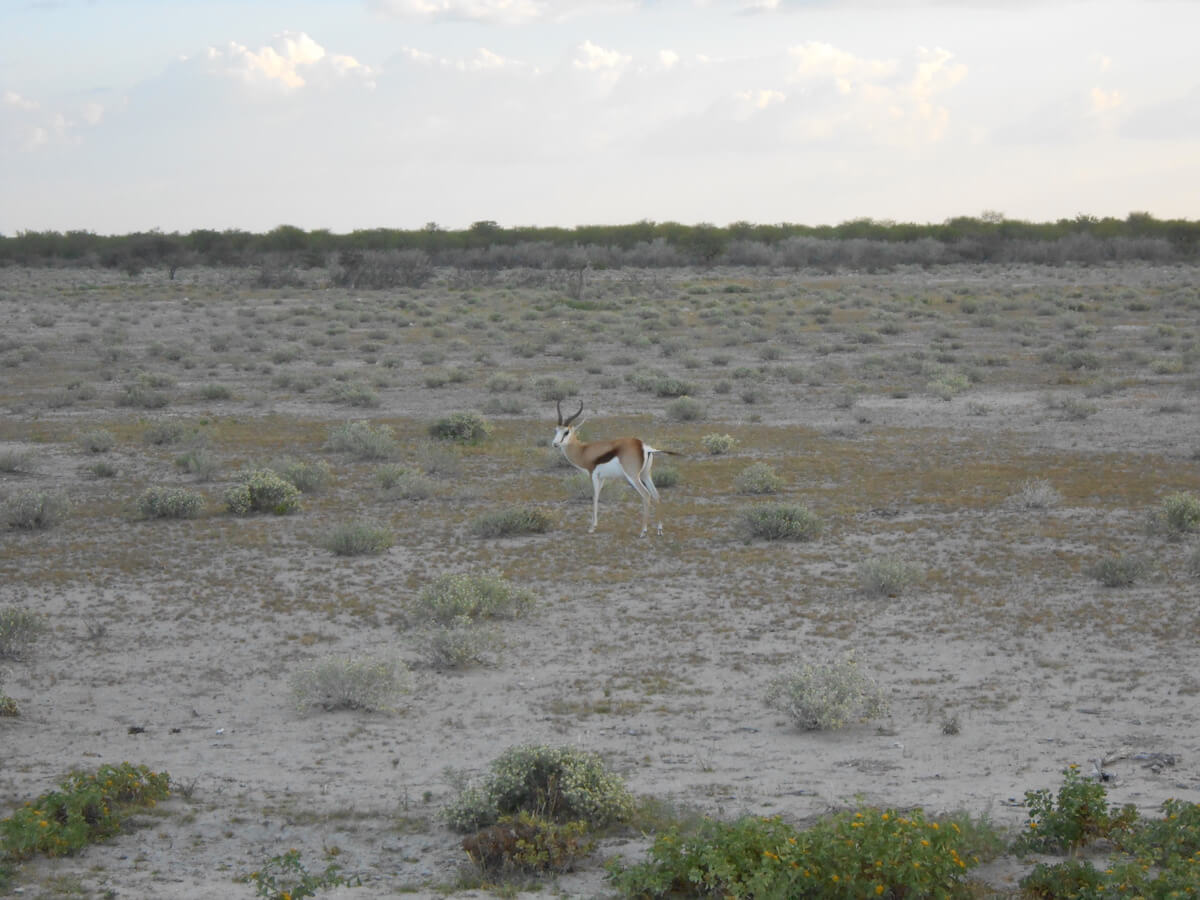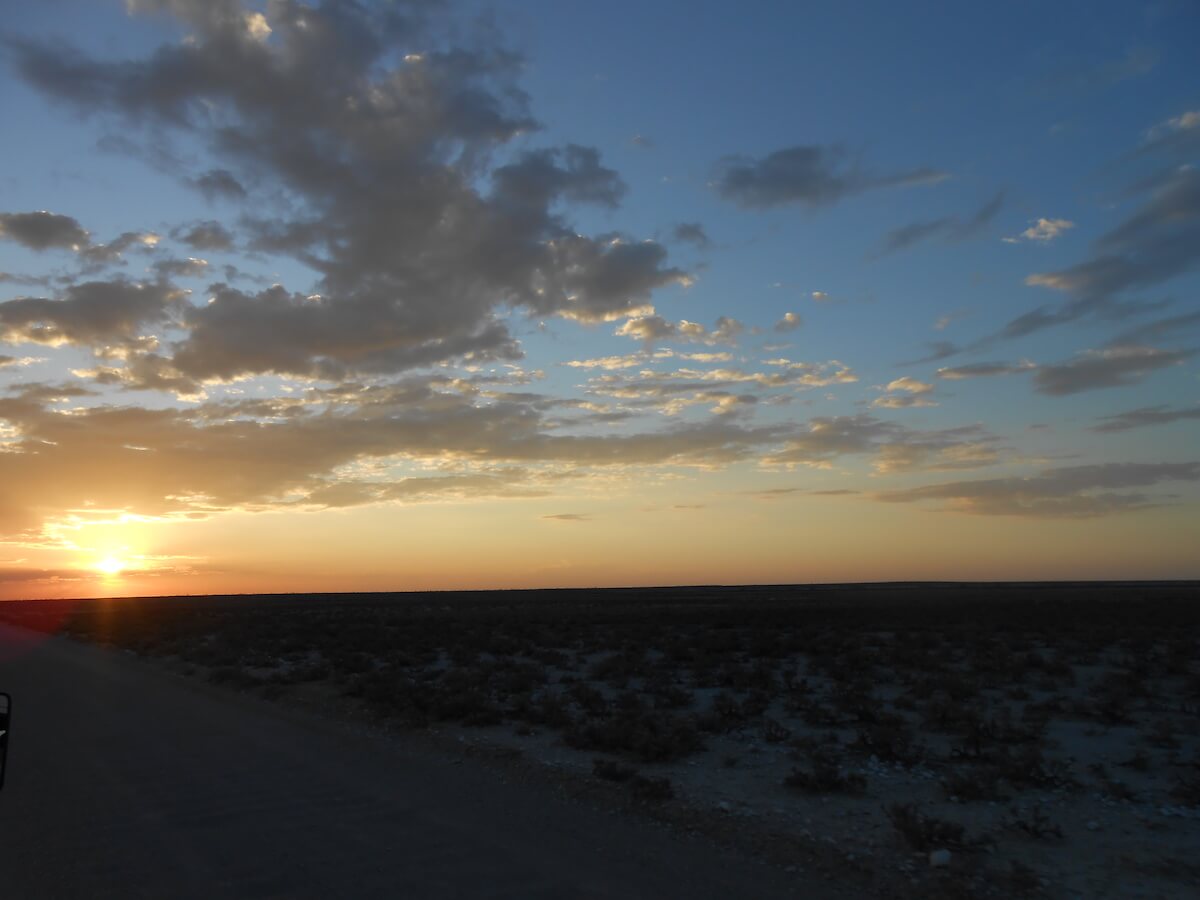 After an 1h30 game drive, we arrived at our camp. We saw elephants, zebras, blue wildebeest (which are considered inside the top 5 most ugly animals inside the park) and a of springboks. Forget camping the way you know it, this is luxury camping! You get assigned a campsite, which has a barbecue facility, some light and a kitchen. Yes, with sinks and water. Oh and don't forget the toilets with proper showers and bathrooms. We all needed a deserved shower after so many hours on the road and we enjoyed rice with stir-fry chicken for dinner. I thought it would only be sandwiches but it kept getting better with every meal.
After dinner we spent about 3h in the cinema. Not literally obviously, but that's what it looked like. All the camps inside the park have a waterhole illuminated so you can have a sit and wait for the animals to come at night and drink water. We were waiting for any animal to come, but apparently its quite common to see lions and rhinos, so we were hoping big. We could hear the lions roaring really close to us, but we didn't get to see them that night, only 3 zebras.
Did you know lions only have a 40% success rate when hunting in groups? If they do it alone it's even lower.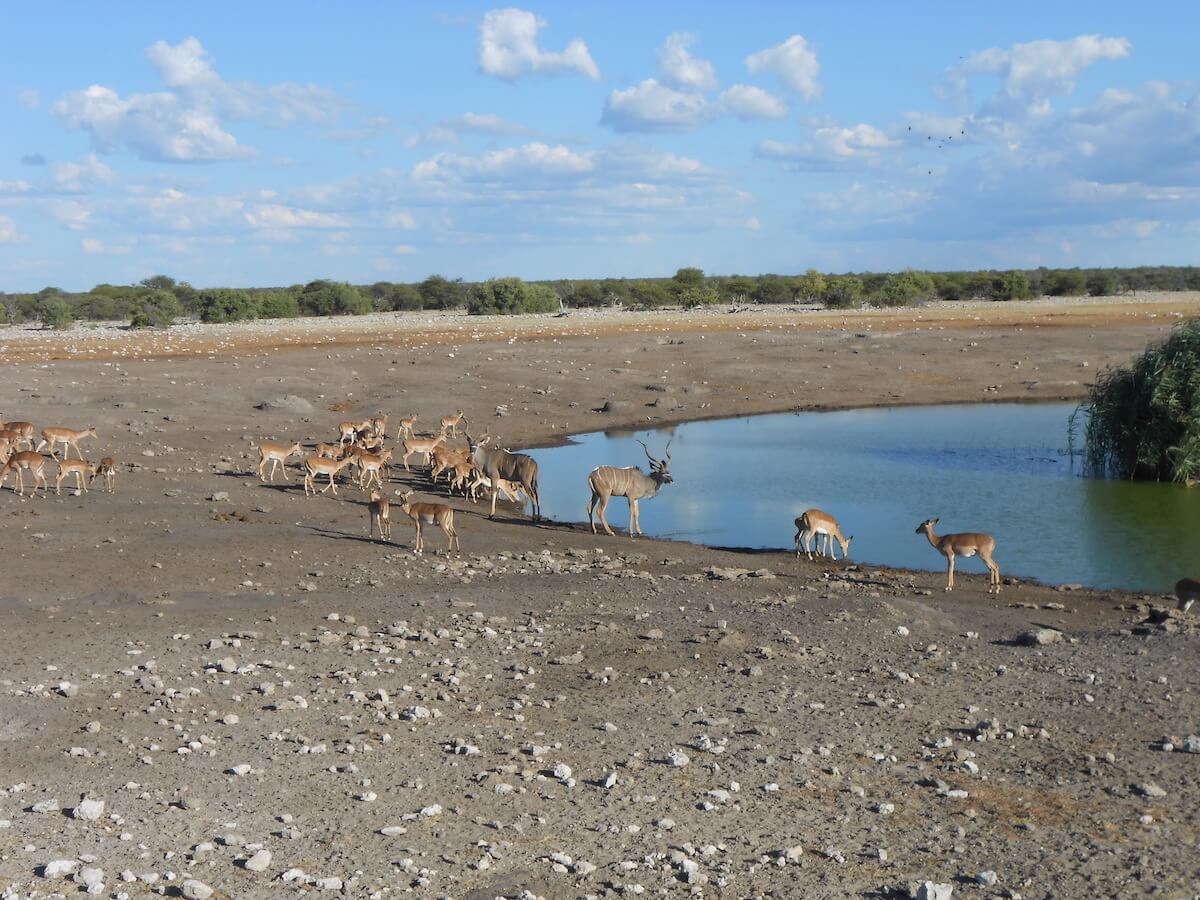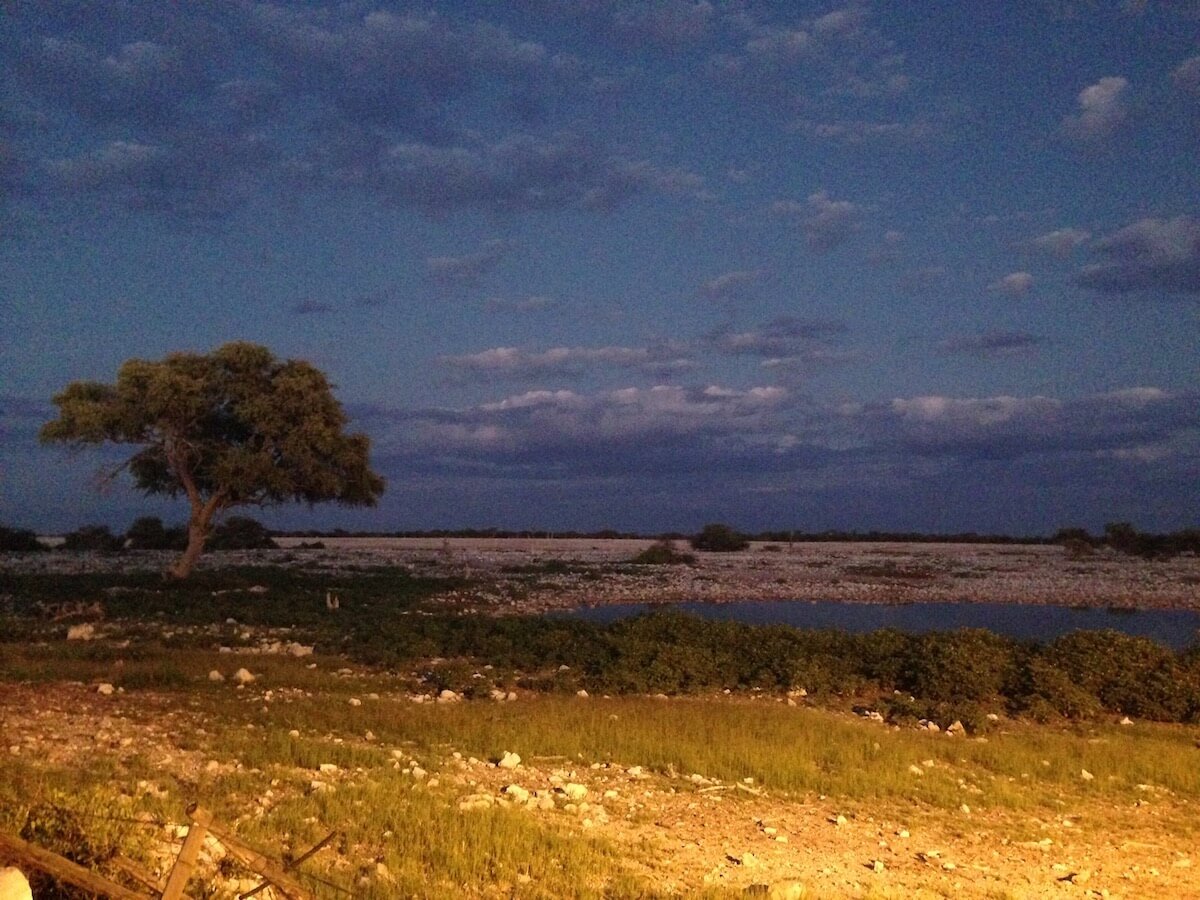 Day 2: Game drives around Etosha National Park
We woked up at 5:30 (before our guides) because we wanted to go to the waterhole and try to see an early animal. We weren't lucky but we got cool pictures of the sunrise from the camp. After breakfast and dismantling the camp we started the morning game drive. From Okaukuejo to Halali, 75km.
Right after exiting the camp we approached a waterhole with a giraffe and some zebras going to drink water and there was a lion lying close. Until the lion left they didn't come close to the water. We continued our day and found a group of 6 lions lying quite close to the car and the road, maybe 10m away. We were there for about an hour cause they are so beautiful and look like cats sleeping. After a while they came to the shade of the car in front of us, 4 lions not even 3 meters away.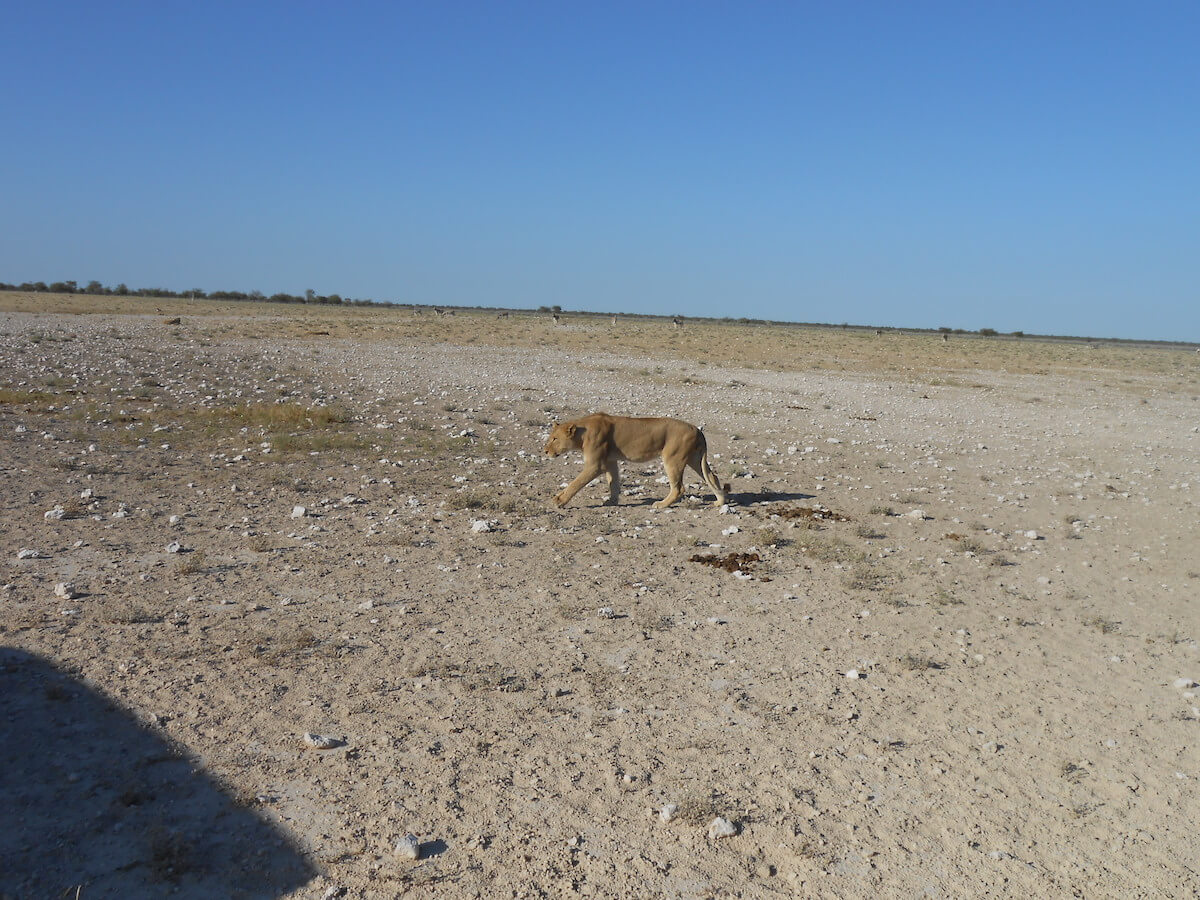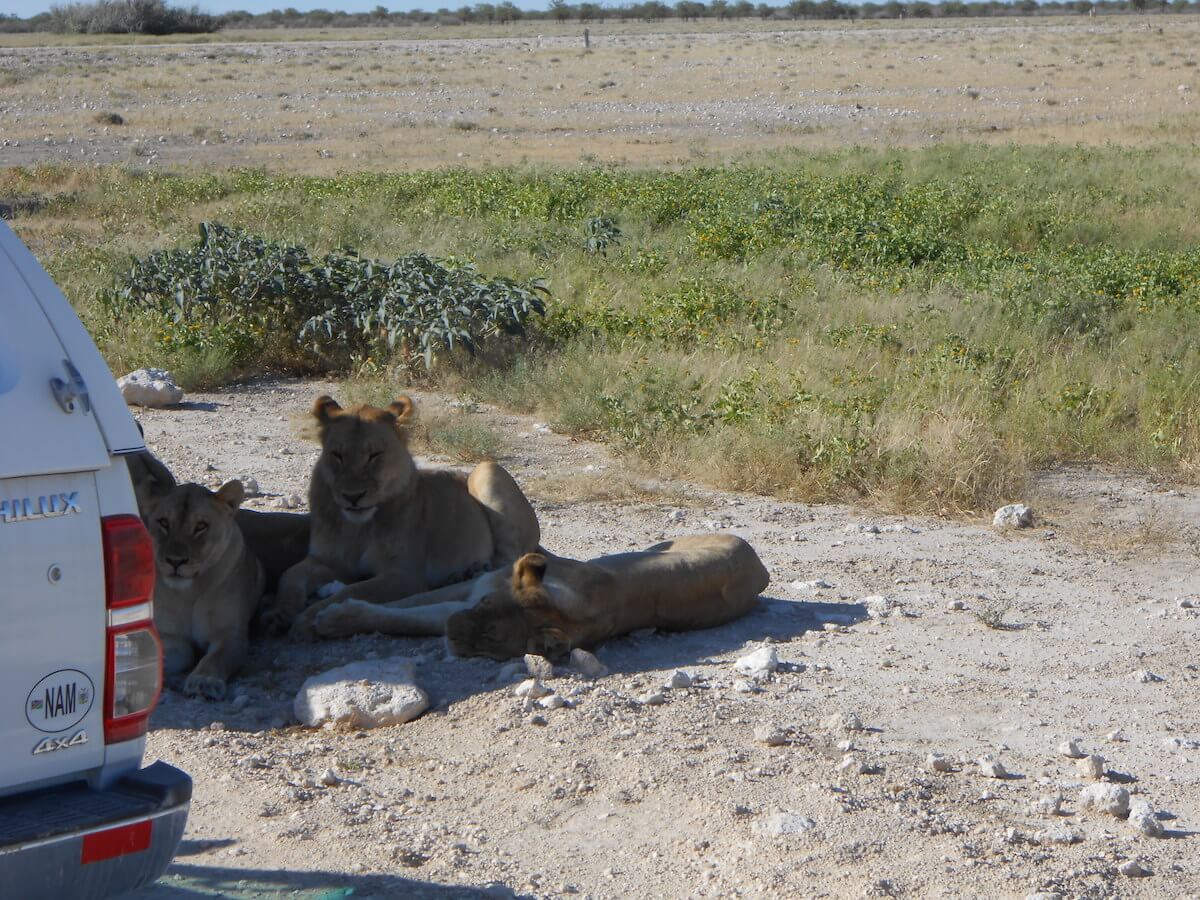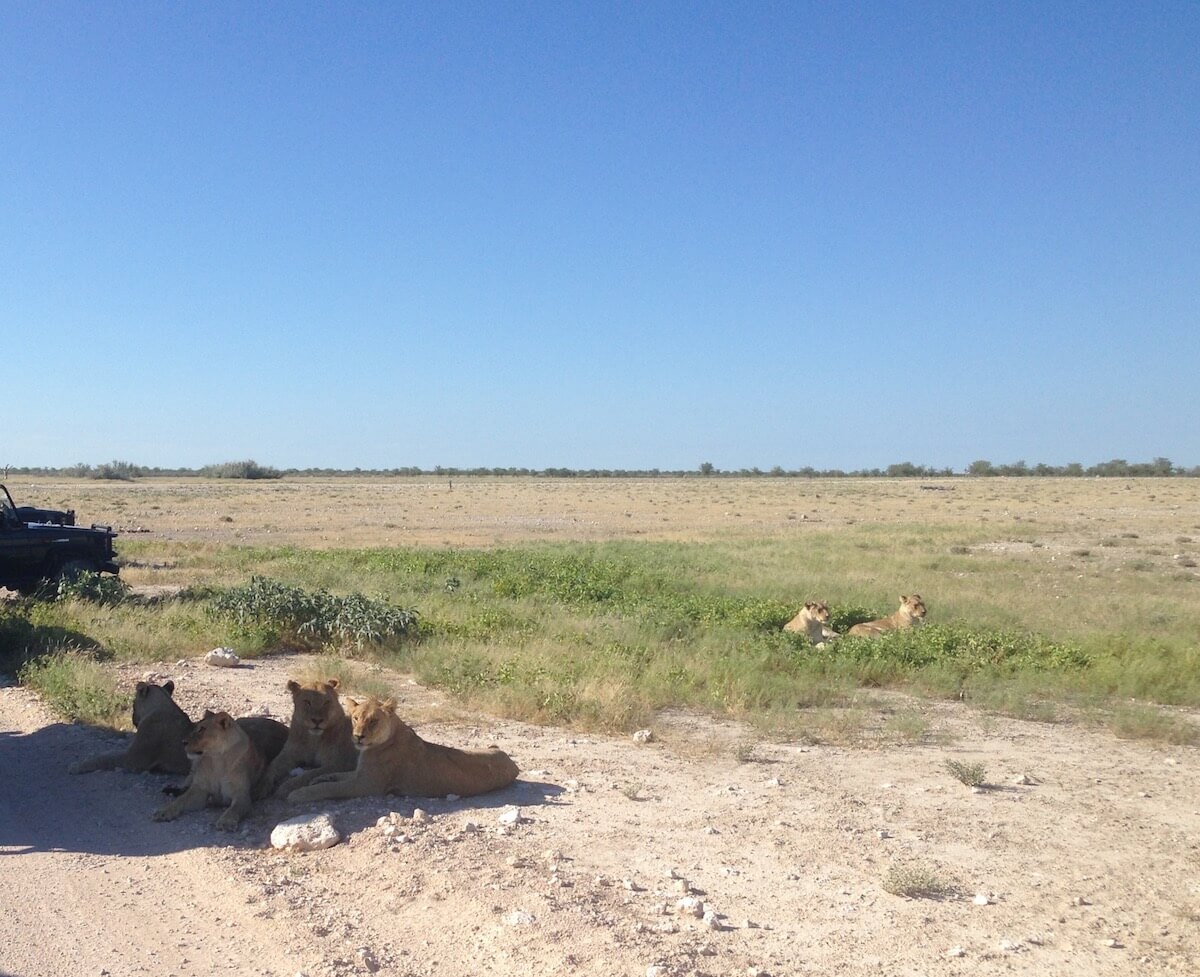 When we were about to leave we saw an elephant coming from the other direction so we stayed with the elephant for maybe another hour while he drank water. We got to also see him 8m away from the truck. After more hundreds of springboks and zebras we arrived at Halali camp for lunch. While the tour guides were preparing lunch we got a free hour to go to the pool and chill, and it was so refreshing after a morning from 6am to noon in a car watching animals, it felt like paradise. To top it up we had burgers with all the toppings for lunch, and I had a Smirnoff Storm as well.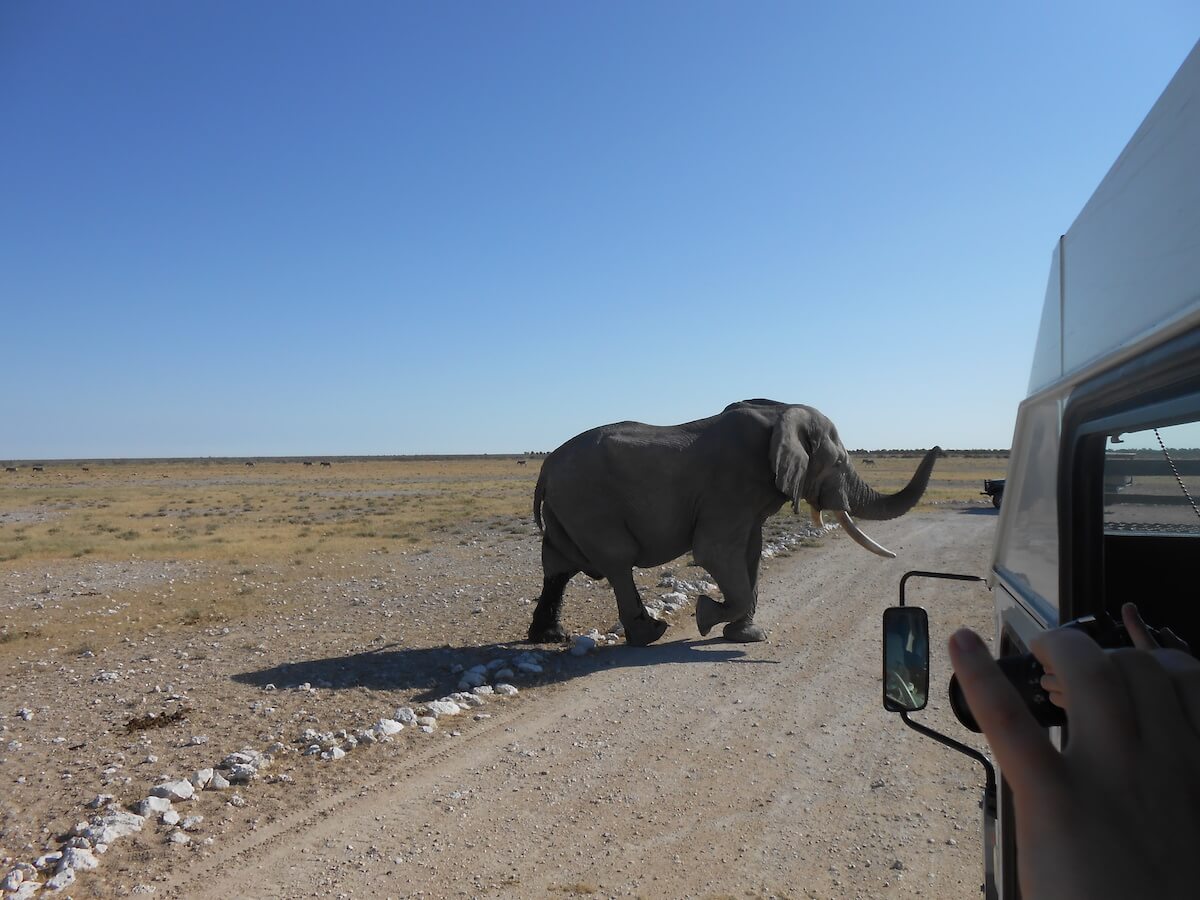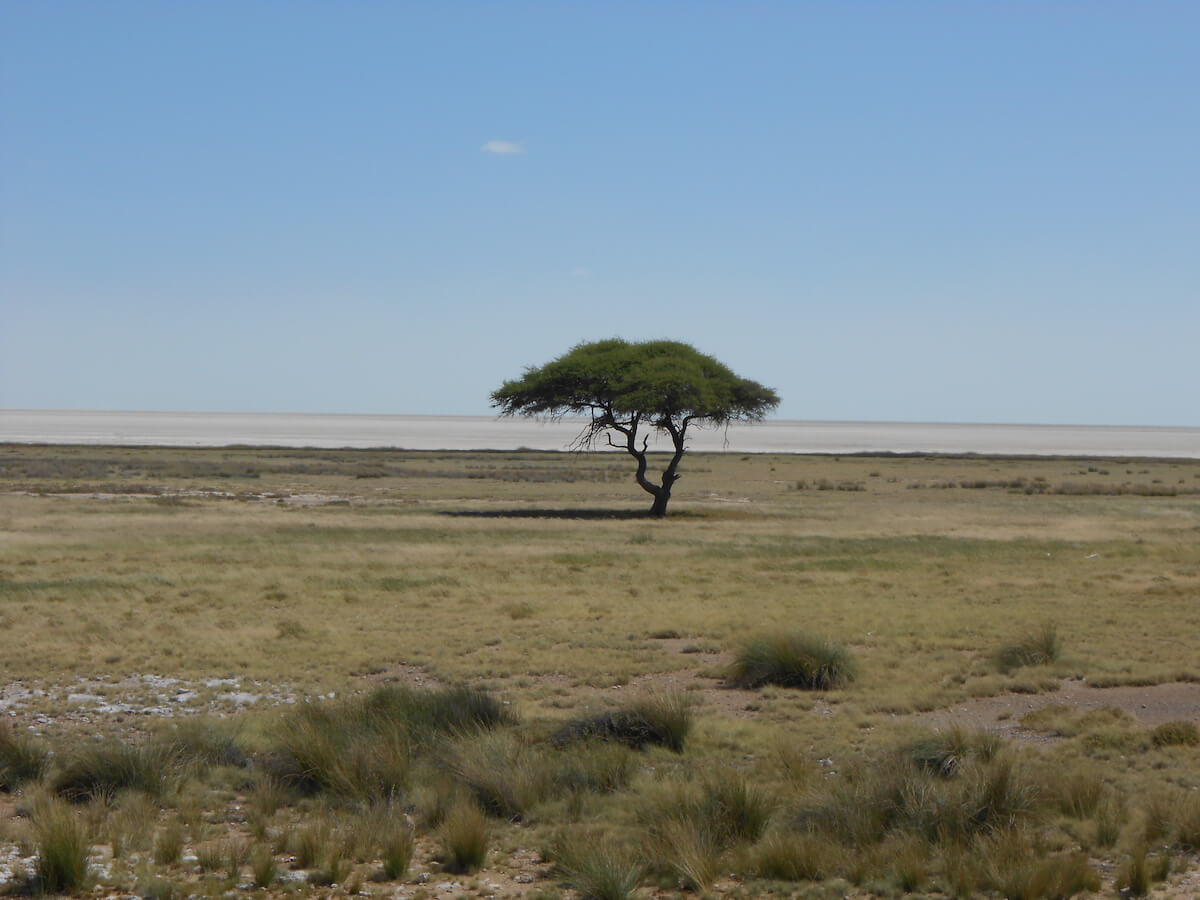 We started the afternoon game drive and we saw a group of black face impala working out around a waterhole: they were literally racing and jumping for at least 5 laps around it. Even our guide said it was the first time he got to see such an event! And afterwards we saw a group of 25 elephants, with a lot of kids.
Did you know elephants that go almost underneath the mums legs are less than a year old and the ones that go separately are still kids but they at least have 1 year. We got to see them really really close.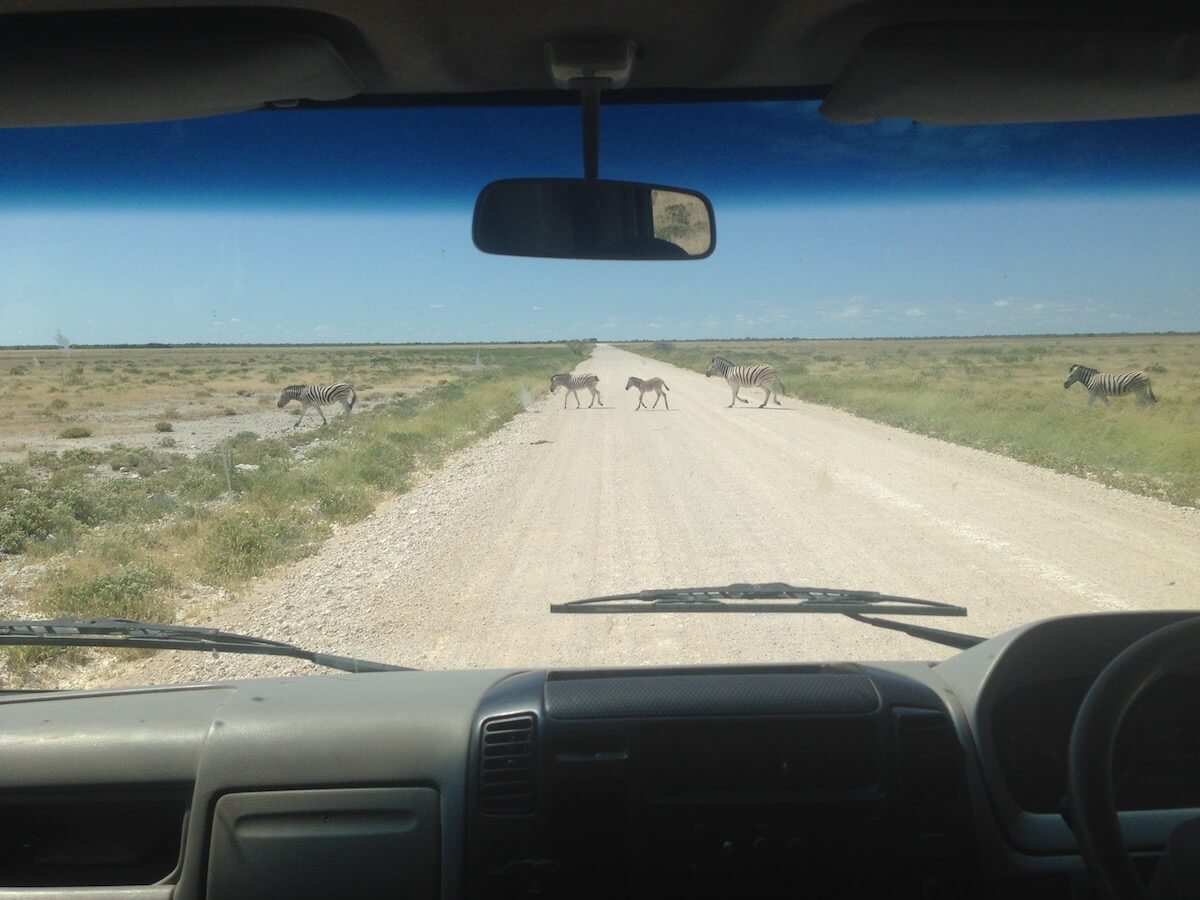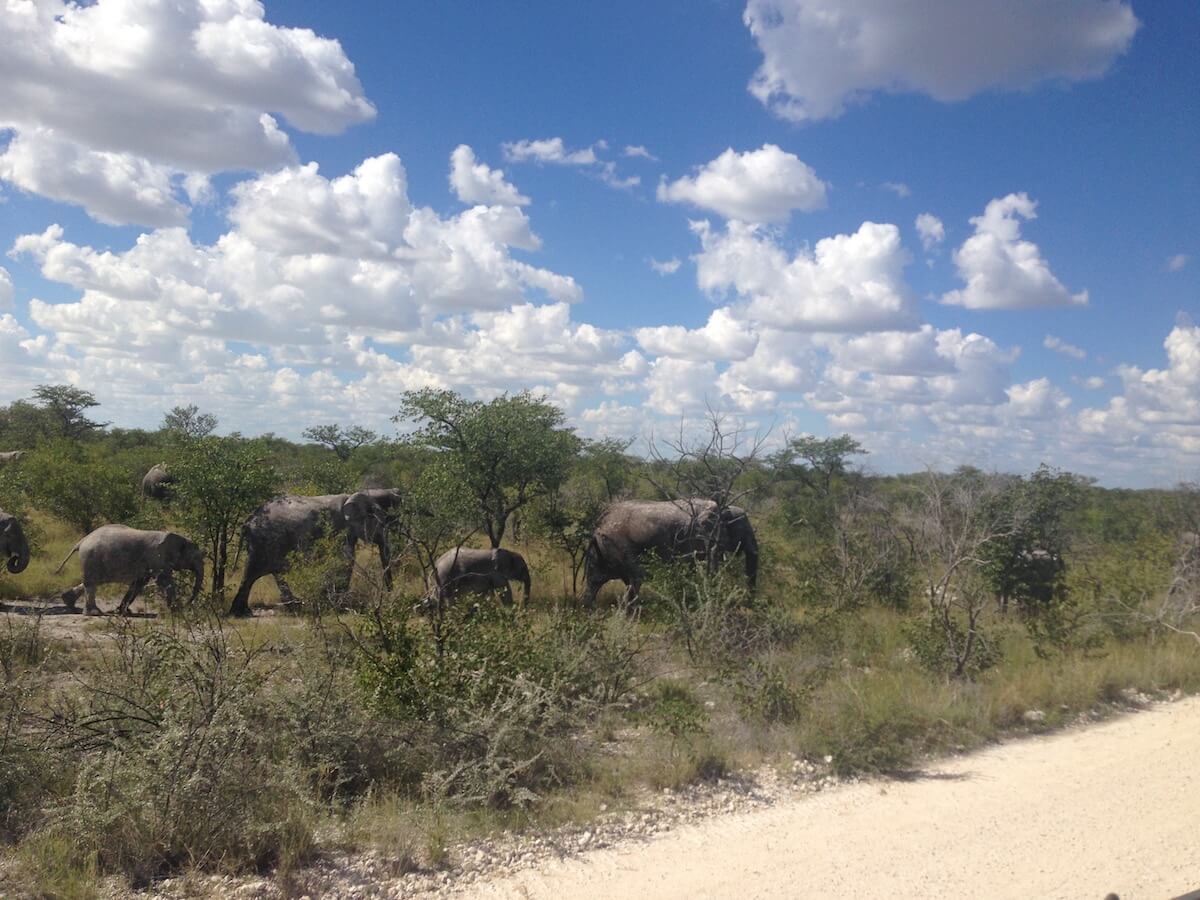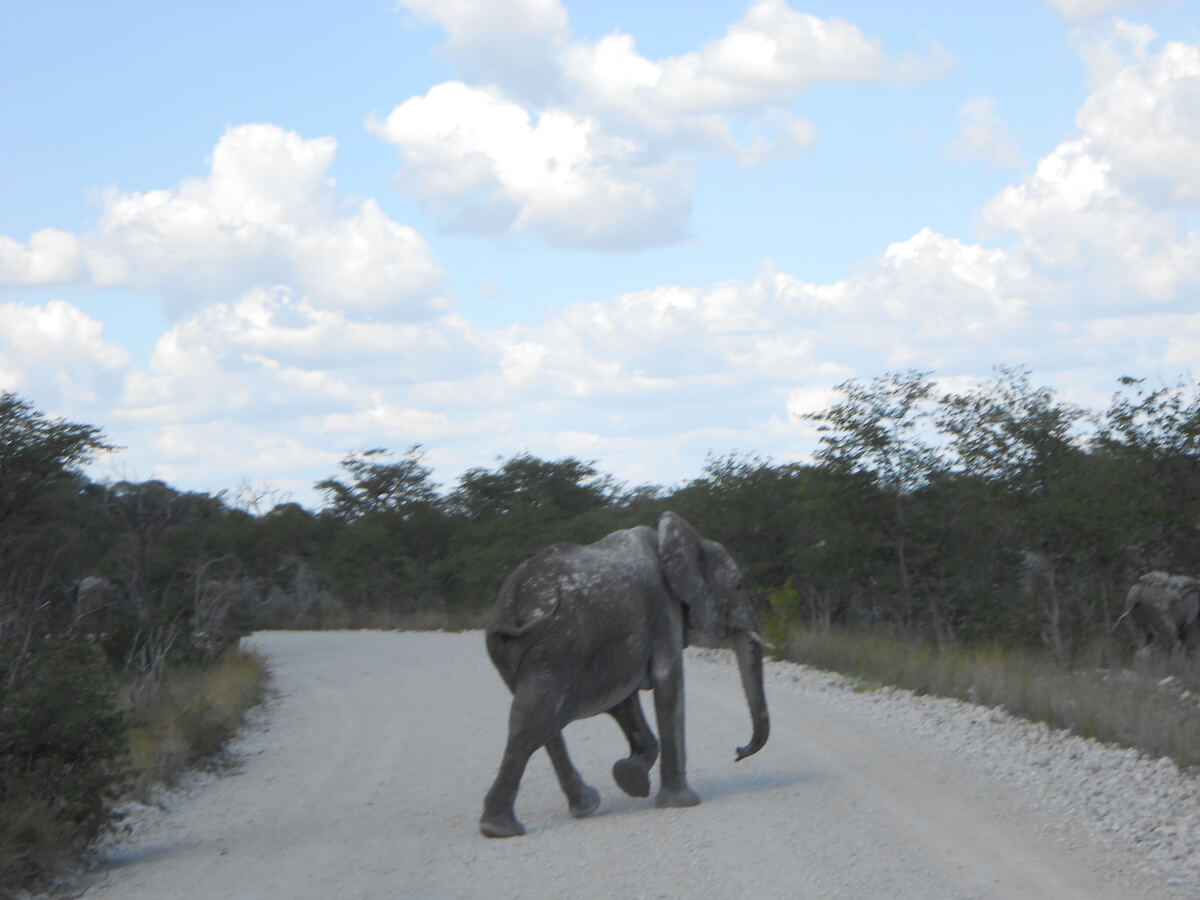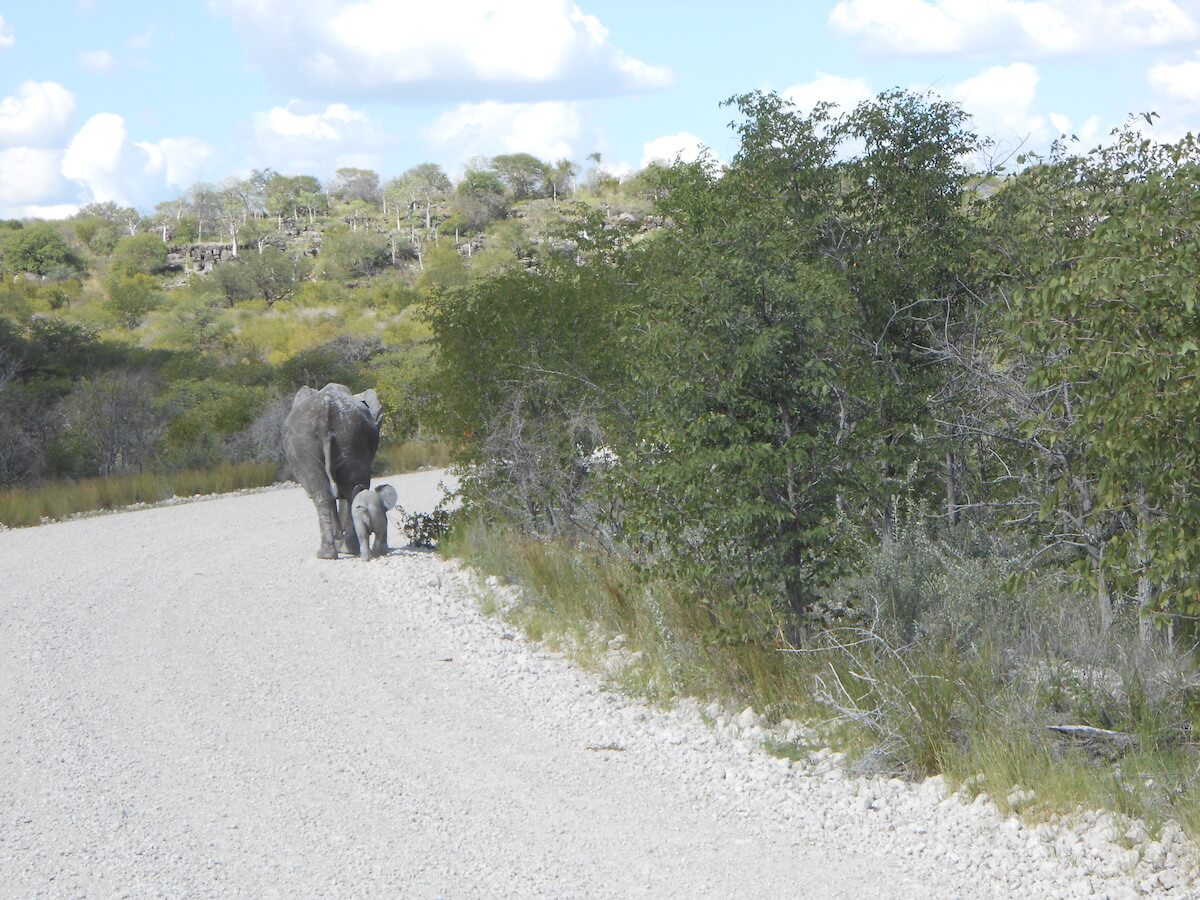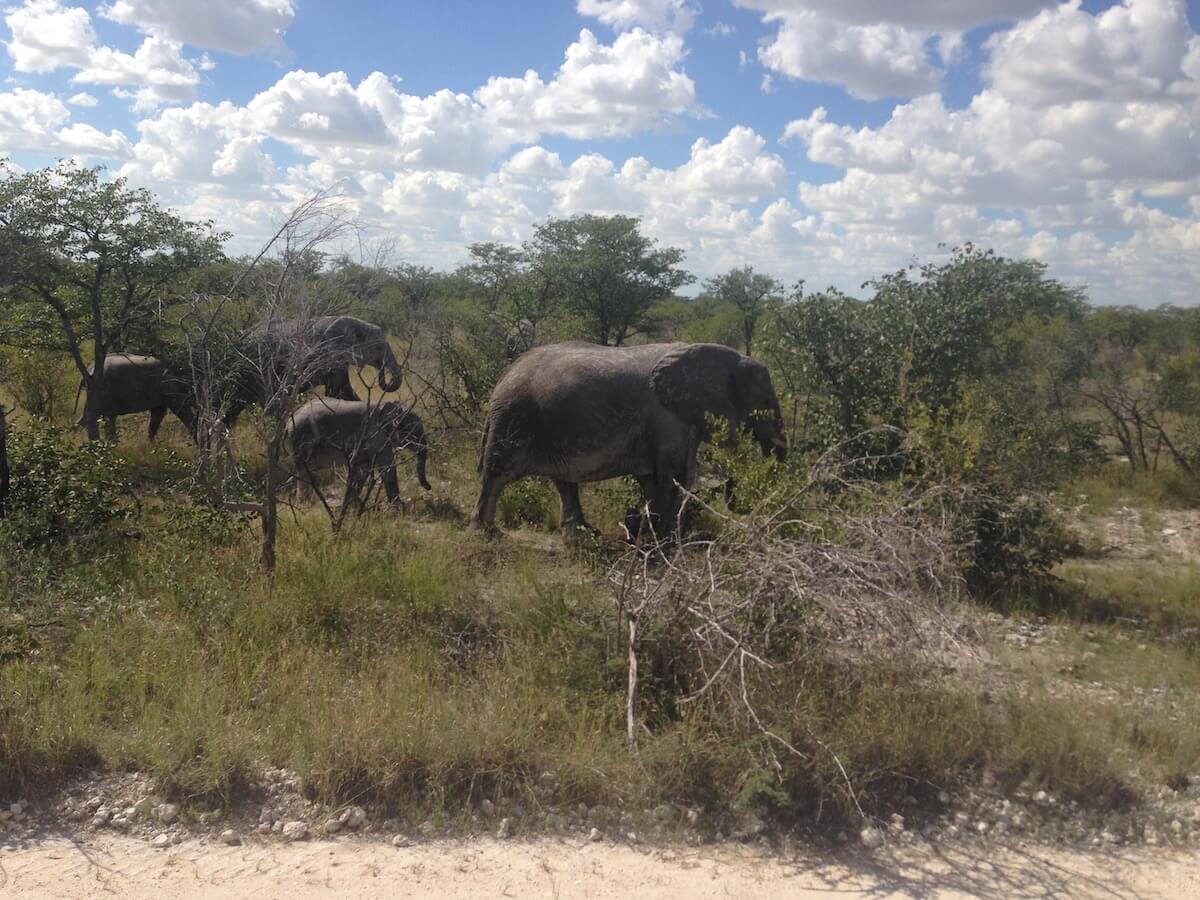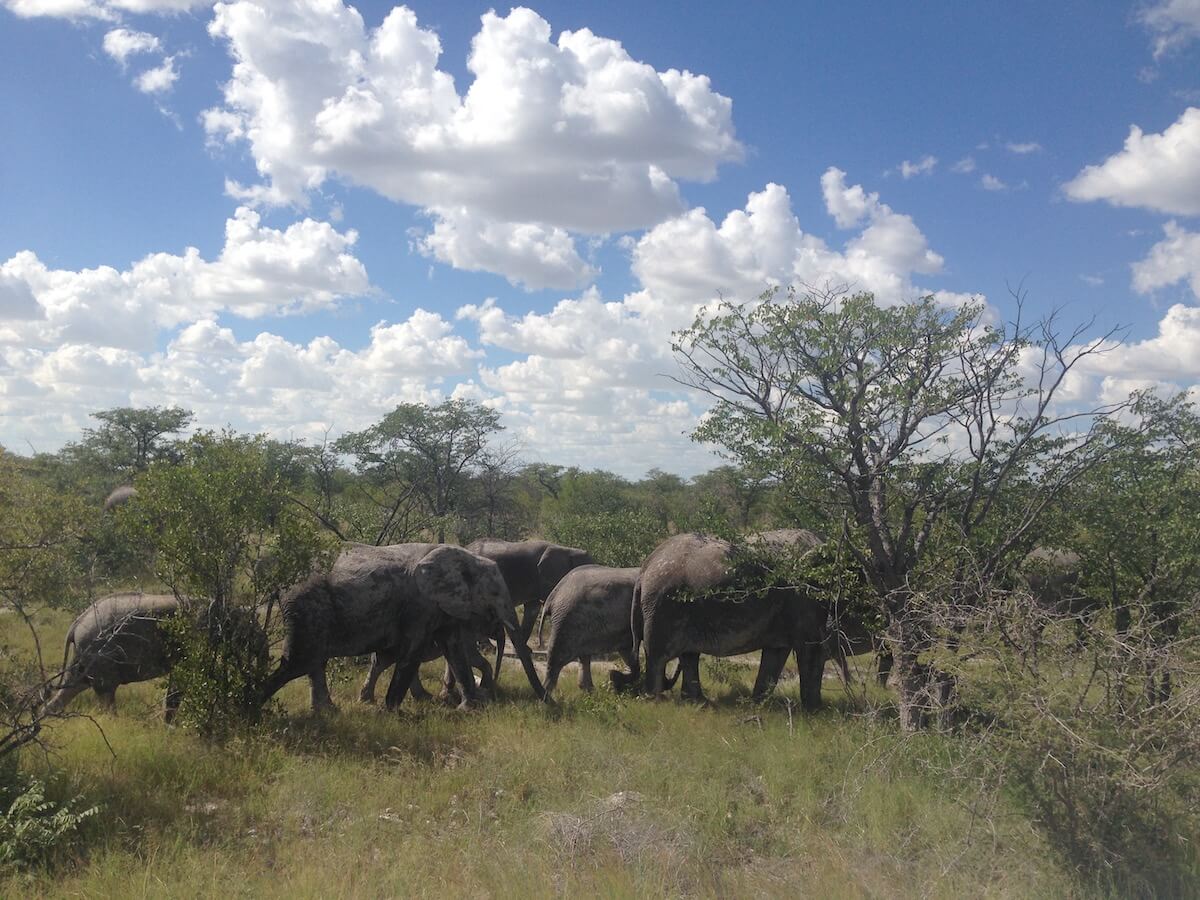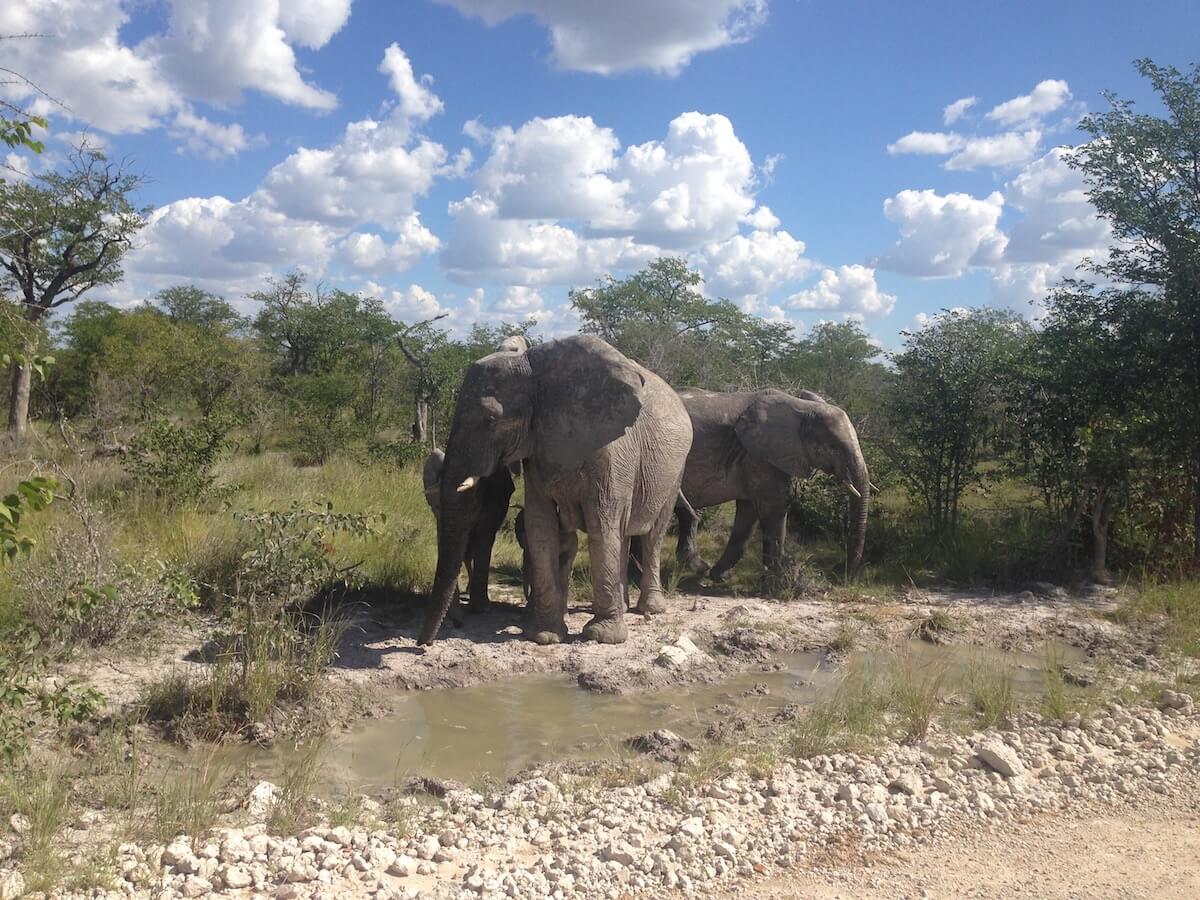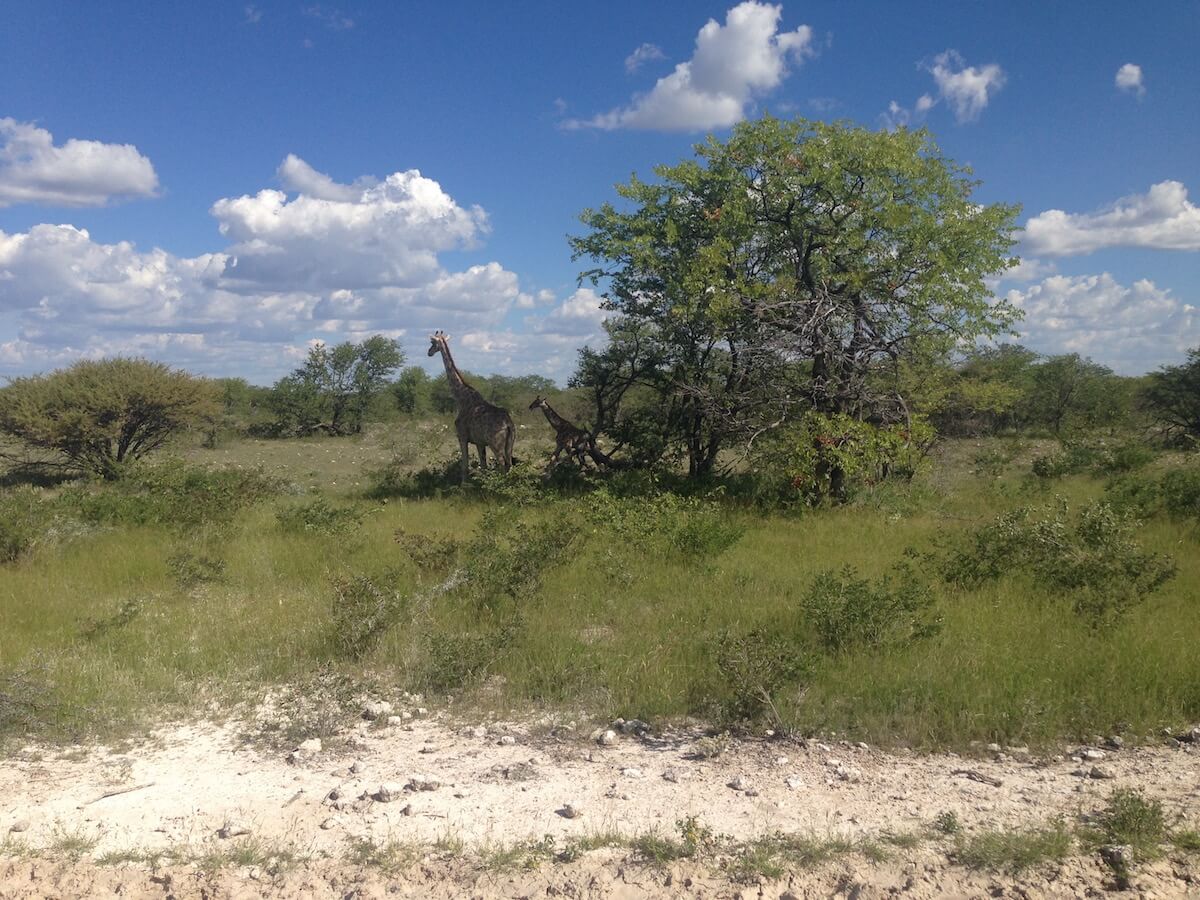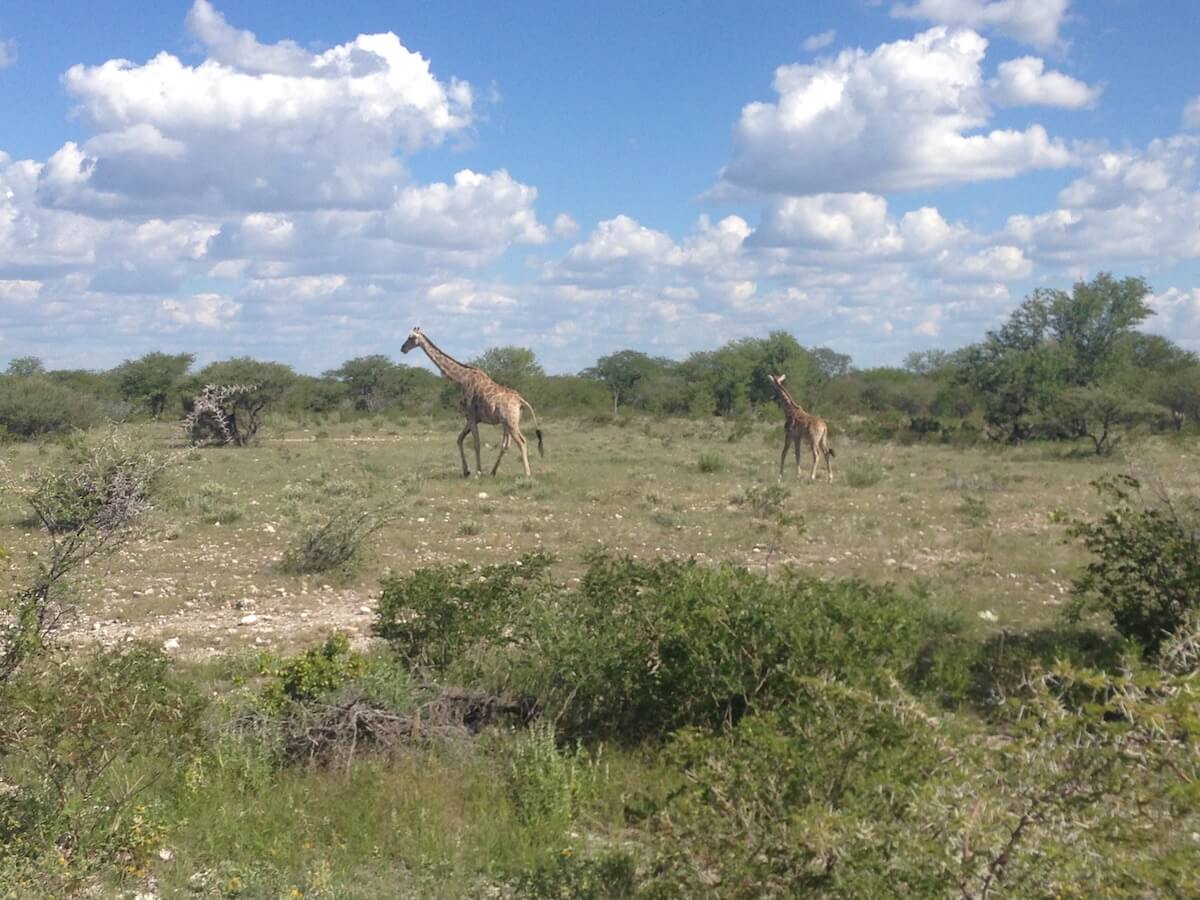 Our day was all about highlights. After the afternoon game drive we got to Namutoni camp, our next campsite.  After setting up the tents we went up the German fort to see the sunset and had a beer with the views, and on top of an amazing subset overlooking the Namutoni camp and the Etosha National Park we saw a rhino. The only shame was that we were quite far away but it was the first rhino se we were all quite excited about it.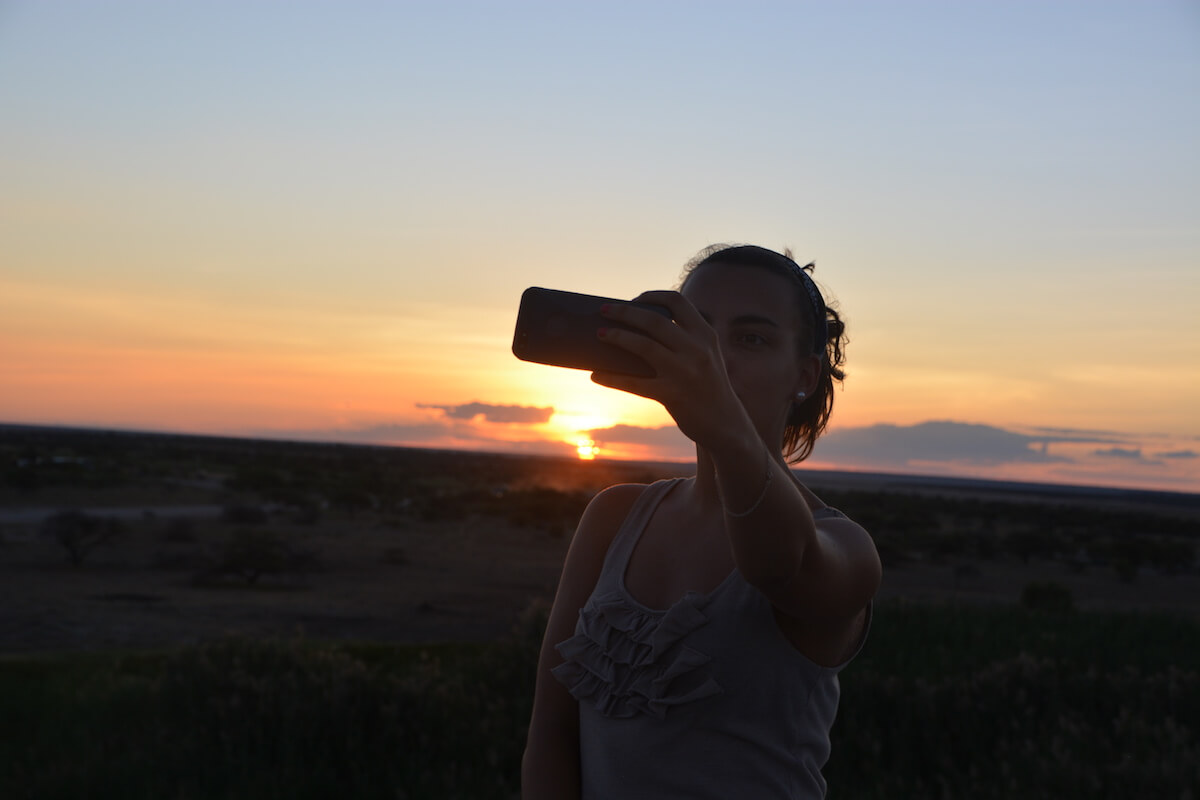 Another amazing dinner by the campfire eating mashed potatoes, sausages and Greek salad. We had a jackal that was literally in between our tents and not more than 3 m away from us. It's usual to see jackals around the campsites and that's why the rules of not feeding the animals are so important.
Day 3: End of our trip in Etosha National Park and drive back to Windhoek
We got up really early to be ready to leave the camp at 6am for a 2 h game drive. We saw three cheetahs quite close and one of them even chased a jackal for a bit. It is true that you can catch the cool animals right by sunrise and sunset. After more giraffes and zebras and springboks we returned to the camp to pack everything and started our long journey back to Windhoek.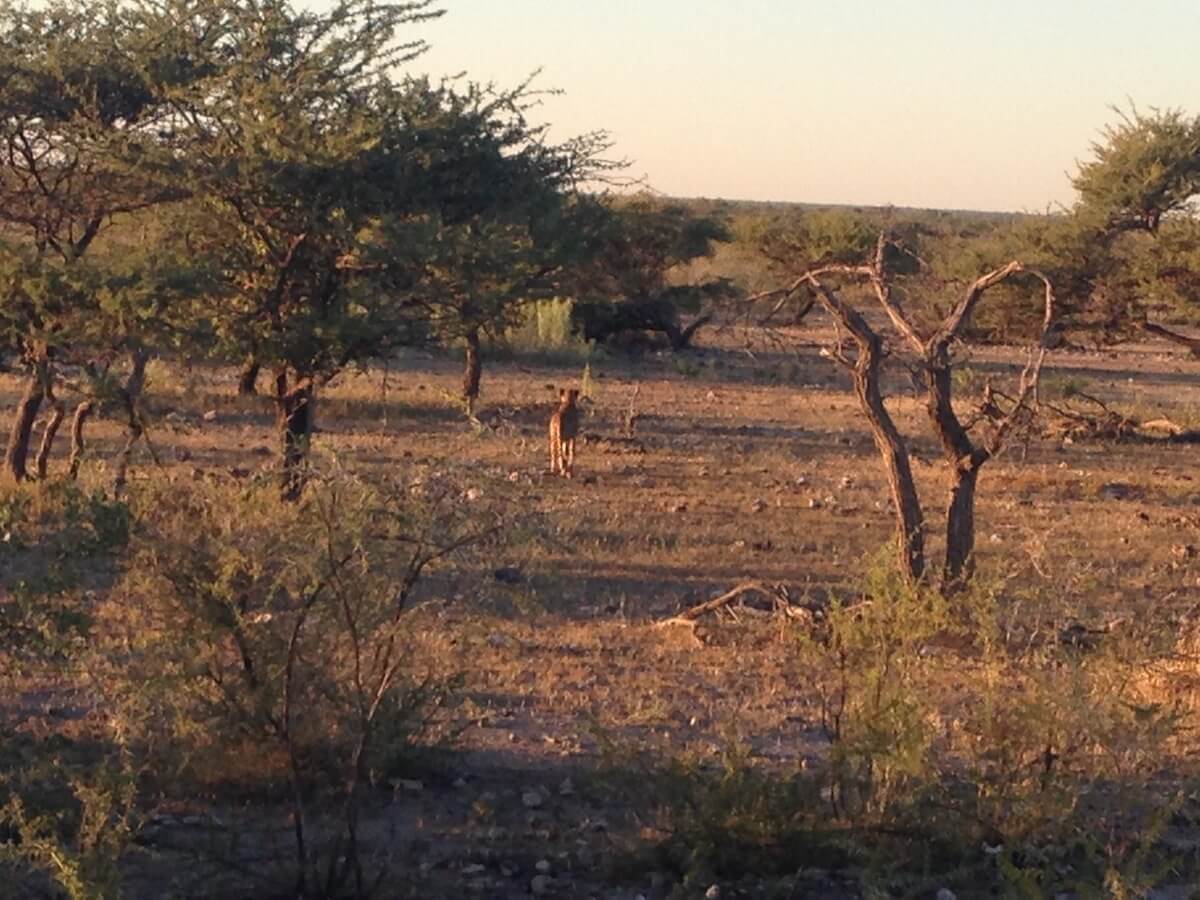 We did the safari with Wild Dogs, they offer a quality product with good service, and I've already spoken about the food, right? The guides were explaining facts and details whilst watching the animals, and we had the best time thanks to them.