Looking for a secluded and unique escape in Catalunya? This is the list of the most quirky, different and out of the ordinary accommodations on offer!
There are many beautiful places to stay in Catalunya but if you're like me and want the cabin or hotel itself to be really special – then this article is for you.
These are the 12 most unique places to stay in Catalunya, from treehouses to domes to vineyard barracks. All of them are within driving distance from Barcelona, Girona, Tarragona or Lleida, so there's no excuse to not visit soon.
Let's dive in!
The 12 Most Unique places to stay in Catalunya
Luxury treehouse: Cabanyes entre valls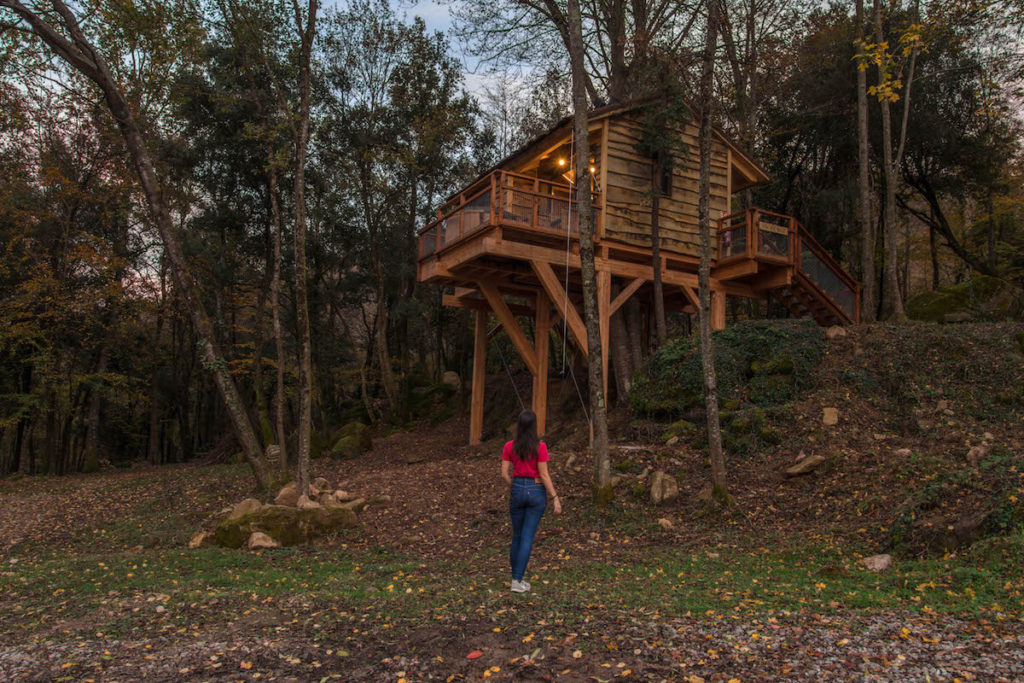 These incredible treehouses with never-ending views of the valley in front of them have everything you could ask for from a hideaway. The latest wooden décor and amenities, your own bathroom and a private jacuzzi on the terrace.
Their breakfasts are km0 and include meat or vegan options to choose from. All of the ingredients are fresh and hoisted up to your treehouse via your own pulley system!
Glass hotel: Les Cols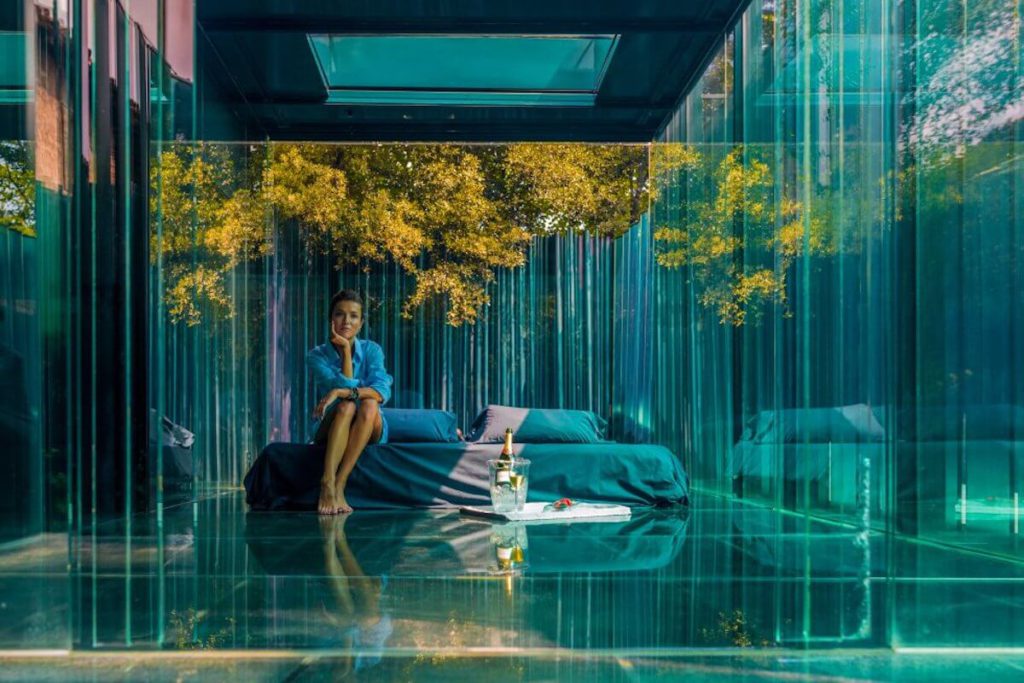 Image staying in a room made with opaque class? And what if it integrates a garden and running water? A very different and quite mysterious hotel, Les Cols has different pavilions made from opaque mirrors creating a unique indoor room like no other.
Stay on this hotel for a completely different experience paired with a great restaurant on the premises. Their website is also cryptic making the whole idea of your stay even more enticing.
Eco-friendly treehouse: Cabanes als arbres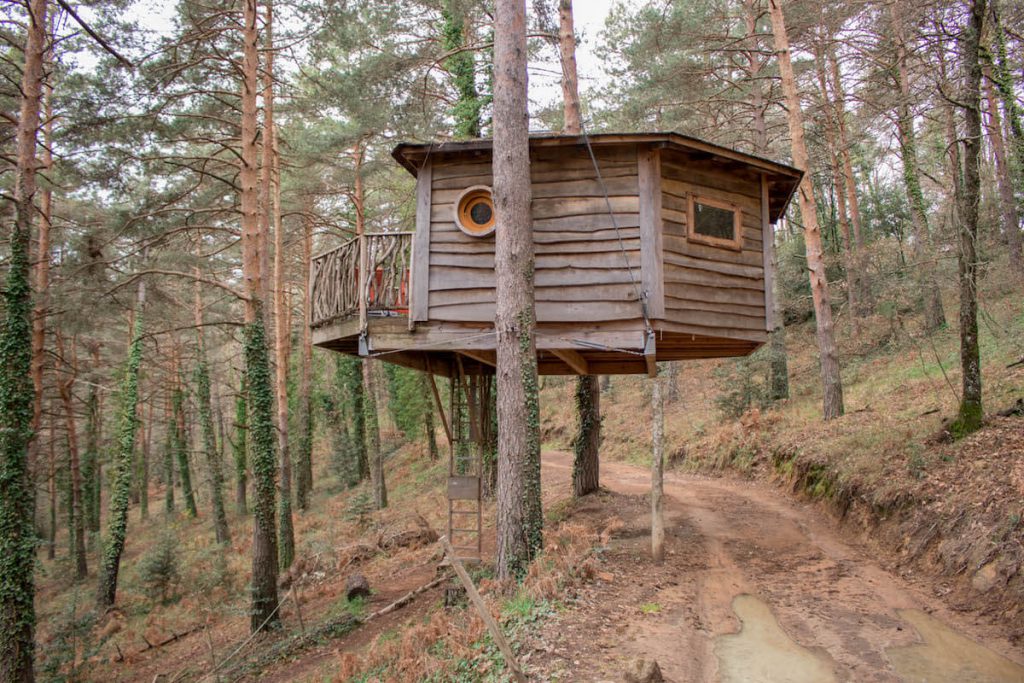 The first treehouse hotel in Catalunya, Cabanes als Arbres is located in a beautiful forest of tall trees with many treehouses of various heights scattered throughout the treetops. Each has unique décor and views, you'll find a double bed, a jug with water, a sink for washing and an ecological fireplace and toilet.
They offer rechargeable lamps for ambience as well as walkie talkies to reach the reception in case you needed anything. Breakfast is delivered to your treehouse and you can pull it up you're your own pullie system too! Common ablutions and charging facilities are available at the main house.
Bubble suite: Mil estrelles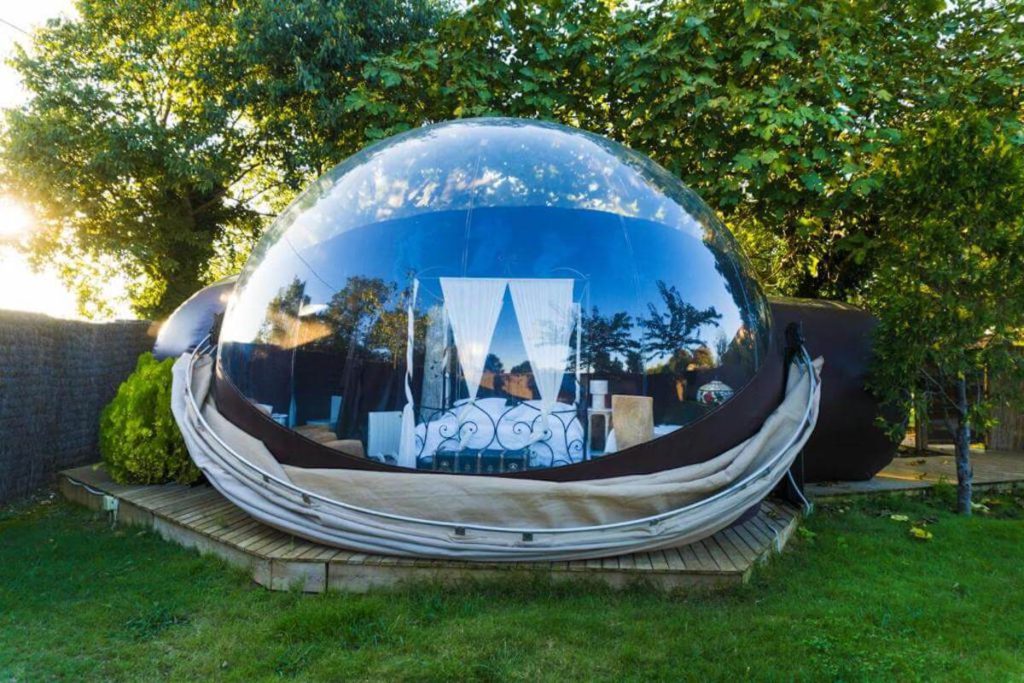 If you've ever wanted to enjoy the starry night sky from the comfort of your own bed, a bubble suite is ideal for you. Stargaze from your ample suite made from 3 joined bubbles. The first one features the main bedroom, the second one has the bathroom and the third one is the lounge and living area.
Each comes with your own private garden with lounge chairs and a dining table if you choose to take your breakfast al fredo. You can order dinner too to be delivered to your private bubble if you're not feeling like going to the restaurant.
Vineyard Stay: Barraca entre Vinyes

If the views of endless vineyards make your heart flutter and drinking wine is one of your favourite activities, this cabin is for you. Spend your nights in a traditional stone house, originally created to house the vineyard master many years ago, and now refurbished to offer an incredible experience amongst the grapes.
Their basic package includes bed and breakfast and an exclusive wine tasting in their cellar.
Live in a circus: Circ raluy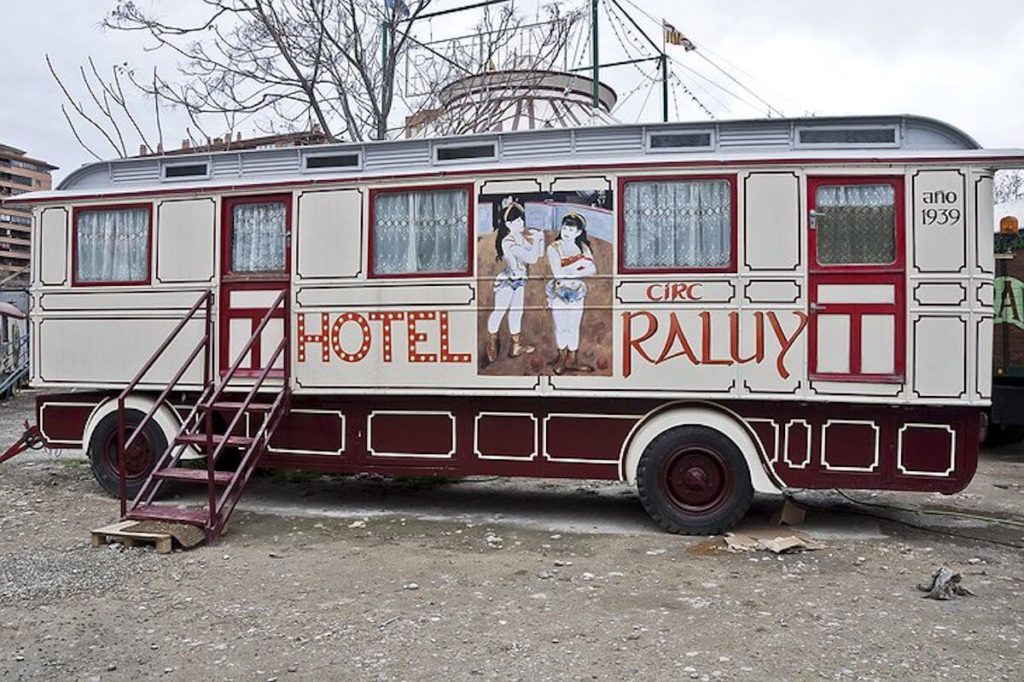 Ever wondered what life in a circus is like? At circ Raluy you can book one of their quirky caravans and stay after their show to get a glimpse of the private circus life.
With each ticket, you not only get access to the caravan and the show but also VIP backstage with the performers so you can spend time with them after the show and see what their daily lives are.
You'll sleep in an authentic caravan of the circus. Ideal for families with young kids.
Retro Campervan: camping Miramar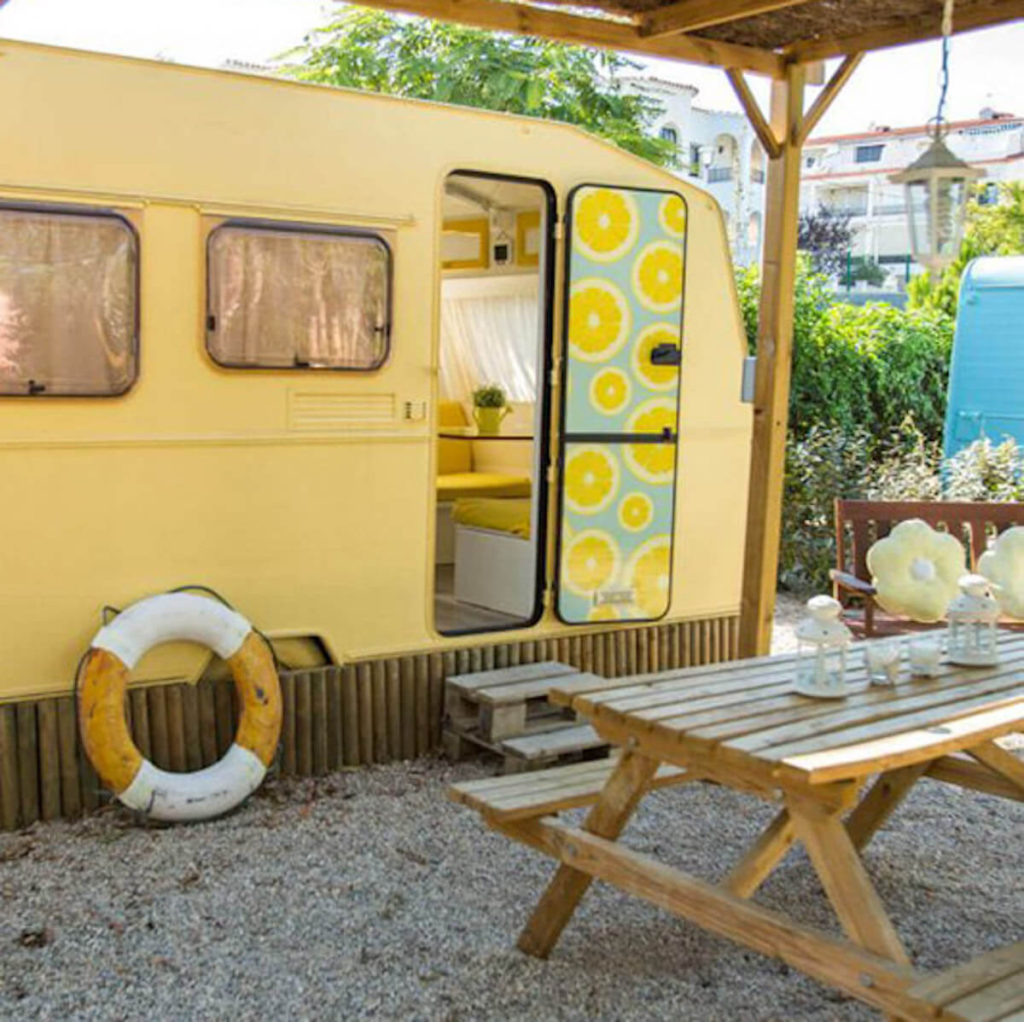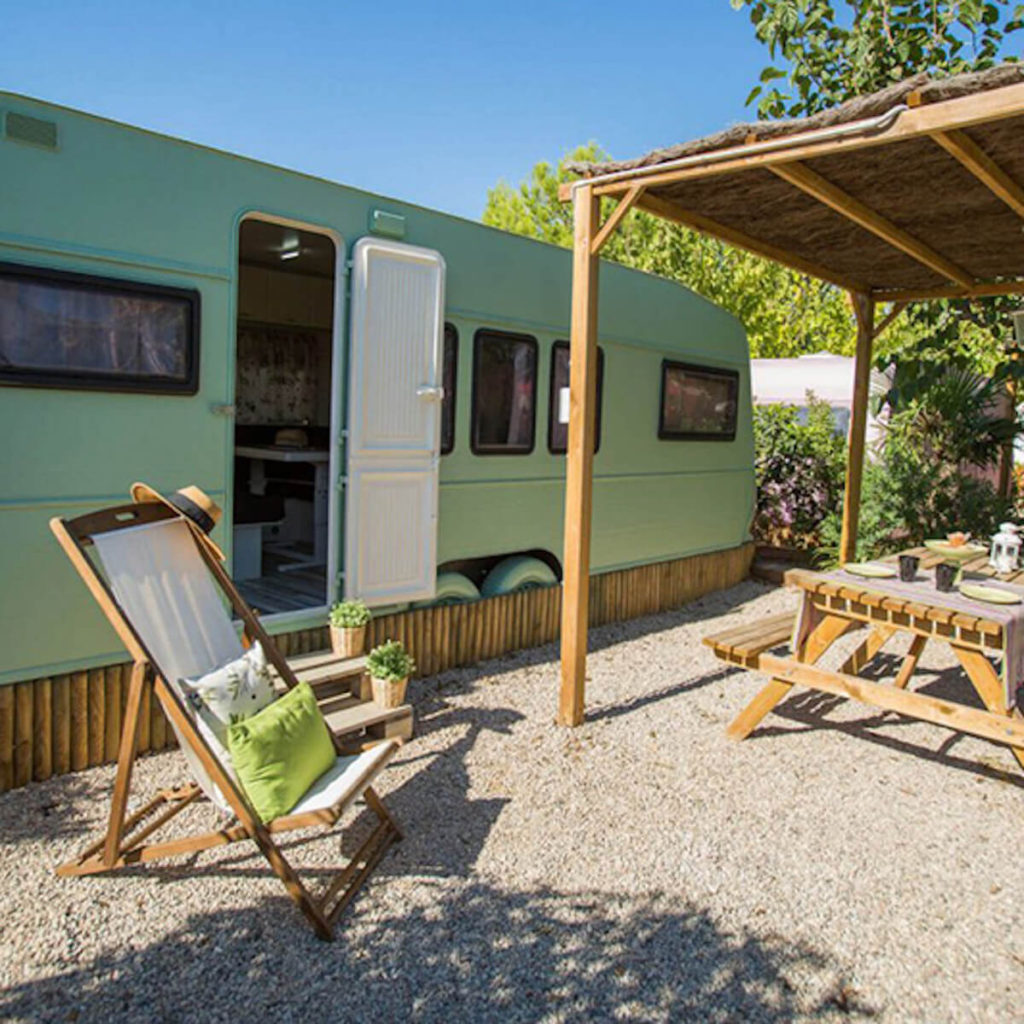 If you've ever dreamed of a tiny vintage campervan, these retro vans were made for you. Each is painted in a different bright colour so you can choose your favourite easily during the booking process.
Each campervan has a double bed, a fridge, a kitchenette and plug points inside. Your outside area has a picnic table covered by a little porch to create some shade. Ablutions are shared.
Treehouses and geodomes: Xalet de Prades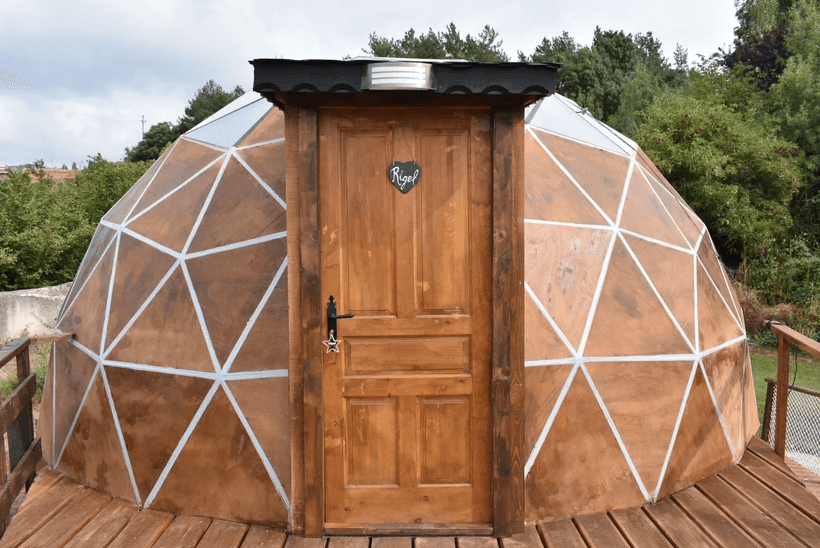 Do you love unique accommodations but aren't sure which type is your favourite? At Xalet de Prades you can pick between treehouses and domes or try out both in one weekend for two very unique sleeps.
Stargaze from the comfort of your bed or live life among the trees – your pick! Whichever your selection you're guaranteed to have a very original room for sure.
Glamping in the forest: Forest days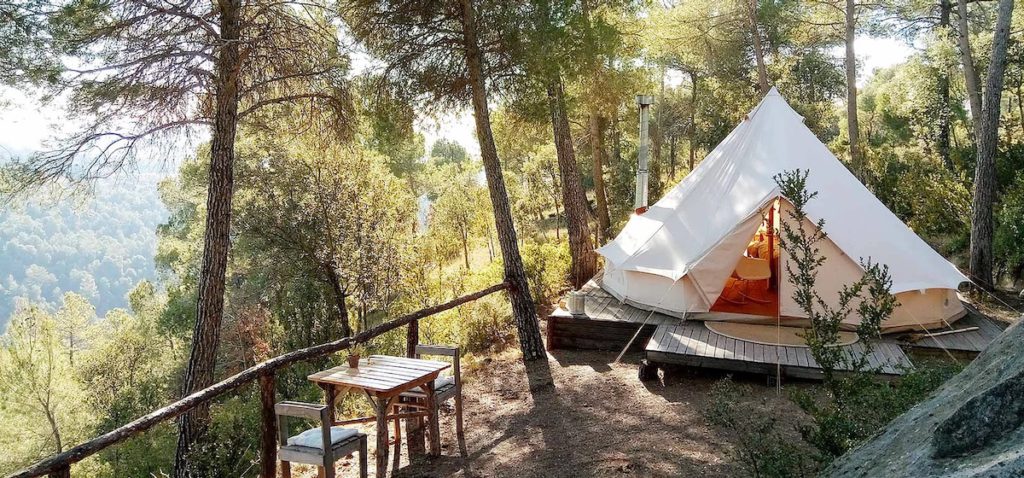 The Pyrenees are a soft spot of mine, those forests are very special. Located on the Catalan Pyrenees, Forest Days provides glamping tents made from 100% cotton and your own little nook of paradise in the forest. Each unit has a 25m2 tent and an eco-friendly shed with a toilet.
The outdoor area has hammocks and different seating areas to relax in. If you're visiting between mid-September and mid-October you'll be interested in the wildlife experience of deer calling.
Off-grid treehouse: Cabanes dos rius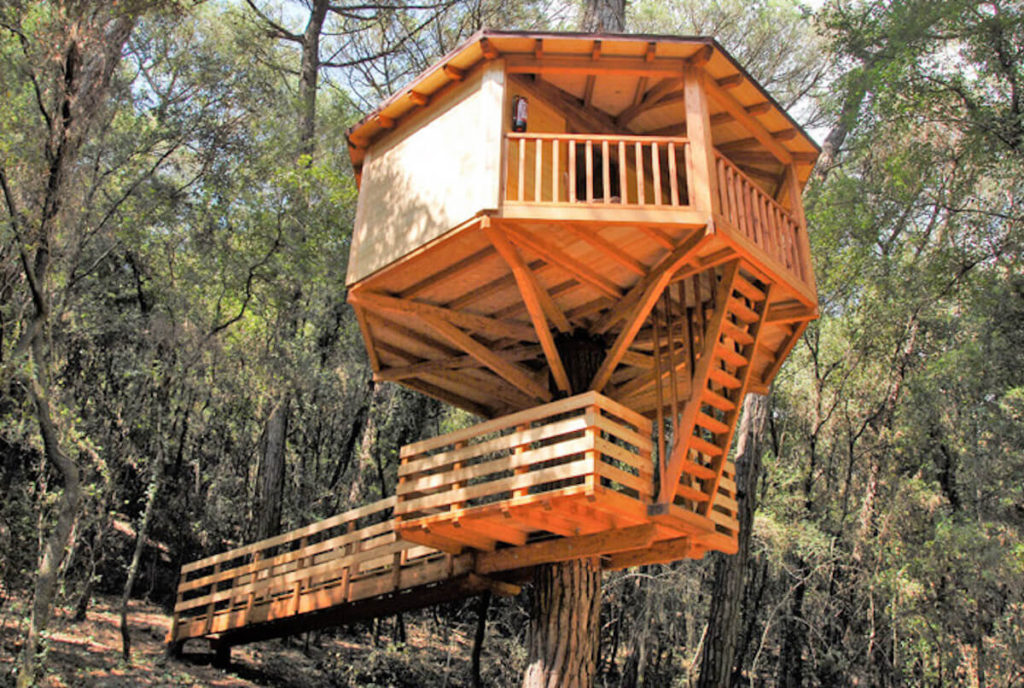 Very high up at between 5 and 9 metres, these wooden treehouses are amongst the treetops in a beautiful forest. When picking your treehouse read the descriptions so you can decide not only based on photos but their views (sunset, Natural park of Montseny..). These treehouses are all hexagonal, creating a different shape and being original about their architecture.
Similar to Cabanes als arbres above, they do not have any running water or toilets (only a chemical toilet) nor any lights. Lamps are provided for your comfort and common ablutions are available.
Mini A-Frame: Camping el Garrofer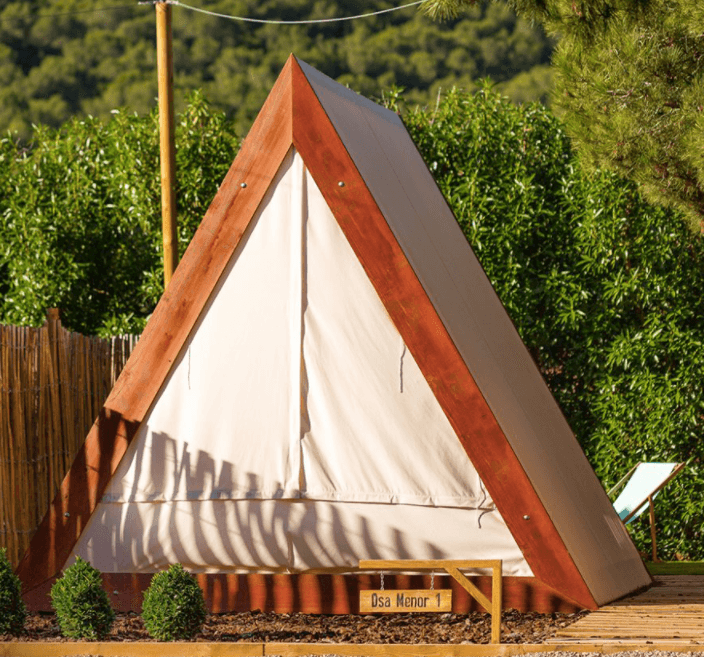 This super cute mini A-Frame is located in the beautiful campsite grounds of El Garrofer, where you can stay in a bungalow or a tent. The campsite is on the beautiful coastal town of Sitges, a short train ride from Barcelona and well known for their beach and gastronomy. You're a-Frame includes a double bed with plug points, lights and mosquito nets as well as a private terrace with comfy lounge chairs.
First 100% ecological hotel: Mas Salagros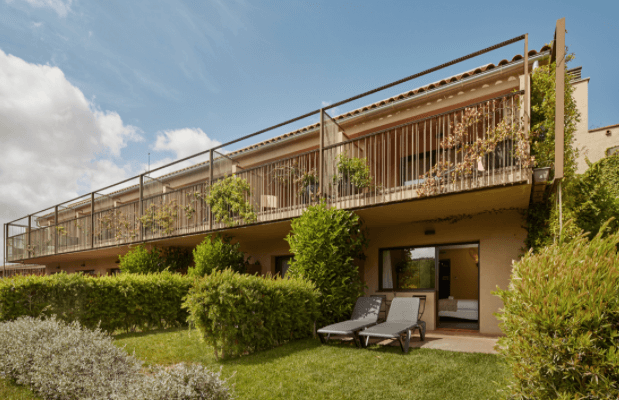 This hotel is not unique for its rooms but for its ethos. It is the first 100% ecological hotel in the Iberian peninsula and the utmost care has been for the environment and their use of energy. They are inside of a nature reserve, have Green Globe certification, their energy consumption is incredibly efficient including a biomass heater as the main heating option.
They've used only km 0 materials and fabrics during building and décor massively reducing their footprint! They also provide Tesla charging points.
Have I inspired you to book one of these unique places to stay in Catalunya? Which one is your favourite and why? Let me know in the comments.