Deep red dunes and incredible landscapes populated by oryx, rocky outcrops and meandering canyons are only some of the beautiful things you'll find in the Sossusvlei area inside the Namib Naukluft National Park in Namibia.
This incredible park is so vast and stunning that you'll want to ensure you stay in a great place close by to explore its many dunes and hidden areas.
Right outside the park, there is a small town called Sesriem. Sesriem has only a couple of hotels and Desert Quiver Camp is 3km away from the gate.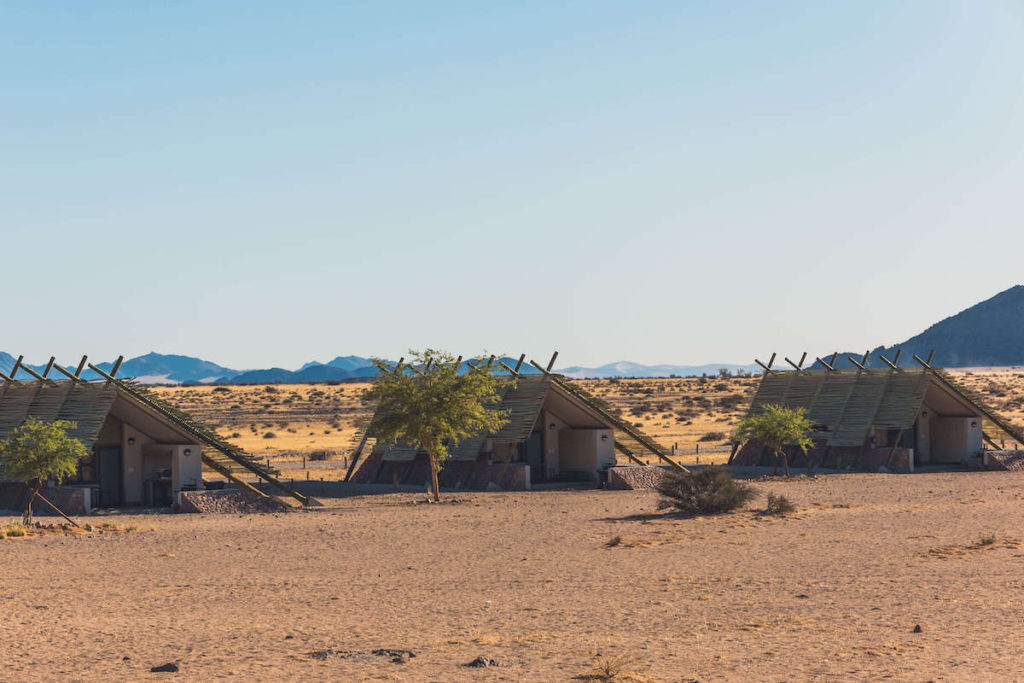 How to get there
Desert Quiver Camp is located only 3.3km away from the Namib Naukluft National Park entry, where you can find Hiddenvlei, Deadvlei, Dune 45 and Elim dune, among others.
You access the private nature reserve, where the camp is located, via a tar road and the last km is on a good gravel road. If Quiver Camp does not have any availability then you can book at their sister property, Desert Camp, which is very similar in style and décor and just around the rock outcrop.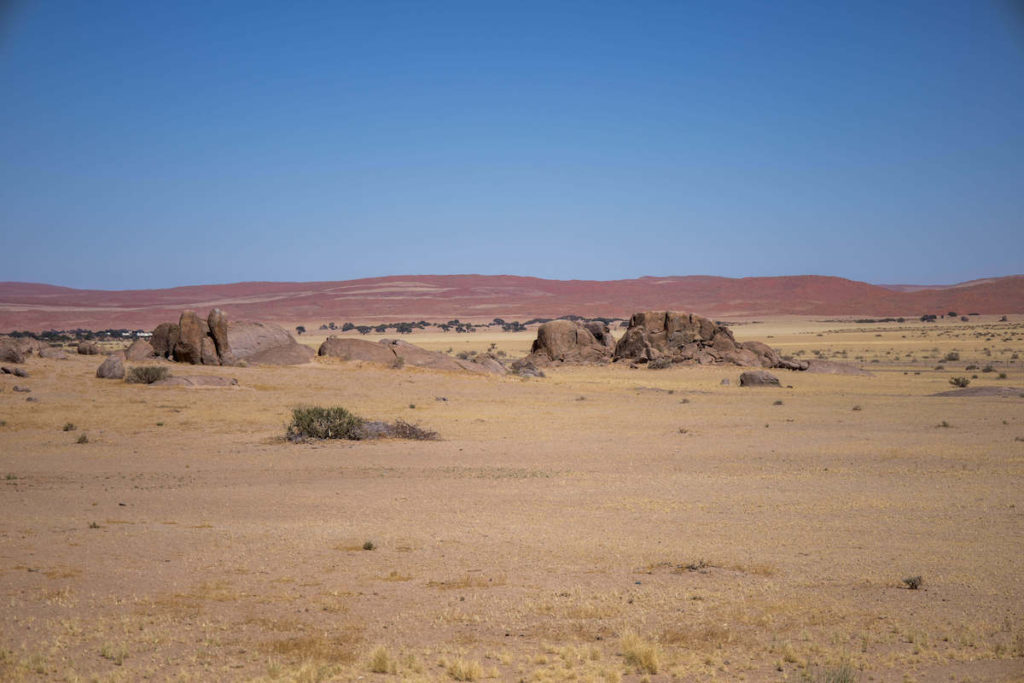 Desert Quiver Camp lodge
The common area is formed by a reception, two barbecue areas, the bar and a pool. Each of the two barbecue areas has a firepit, picnic table and a little porch, as well as a kitchen that is kept locked. You can braai in your own room, where you have a barbecue or in the common area, which is the only place where much noise is allowed.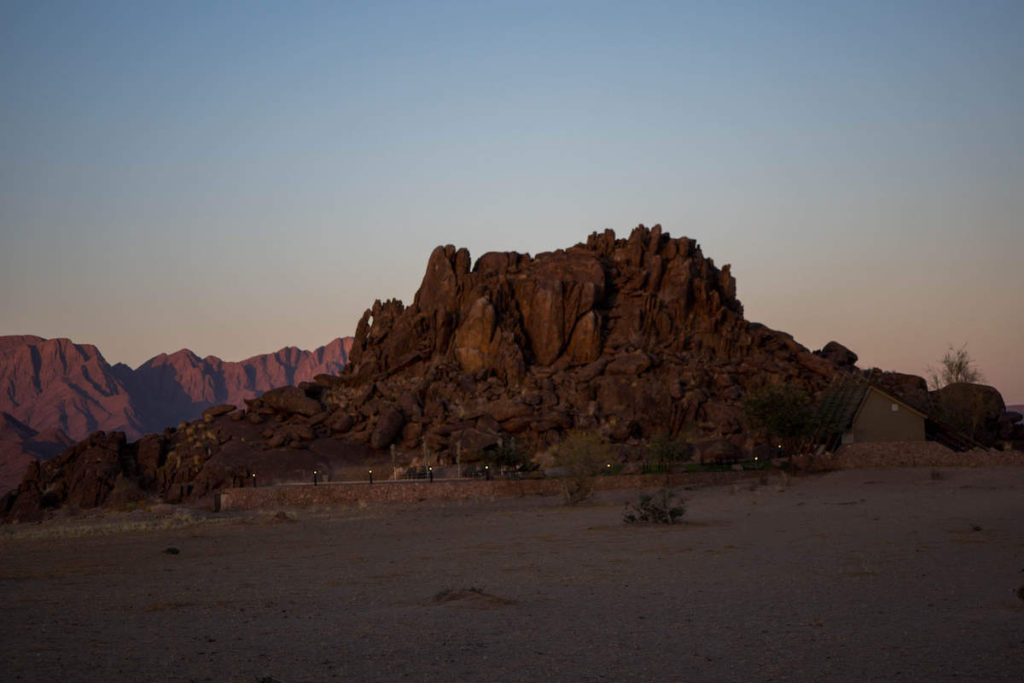 The staff are incredible and reception is open from 6am until 8pm. They can organize activities if you want them guided as well as breakfast, lunch and dinner at the sister lodge, Sossusvlei lodge, a mere 2km away.
The bar area is covered and has high stools, a grassy patch with picnic tables and a pool area with lounge chairs. It is all resting underneath the rock outcrop making it very picturesque to stay there.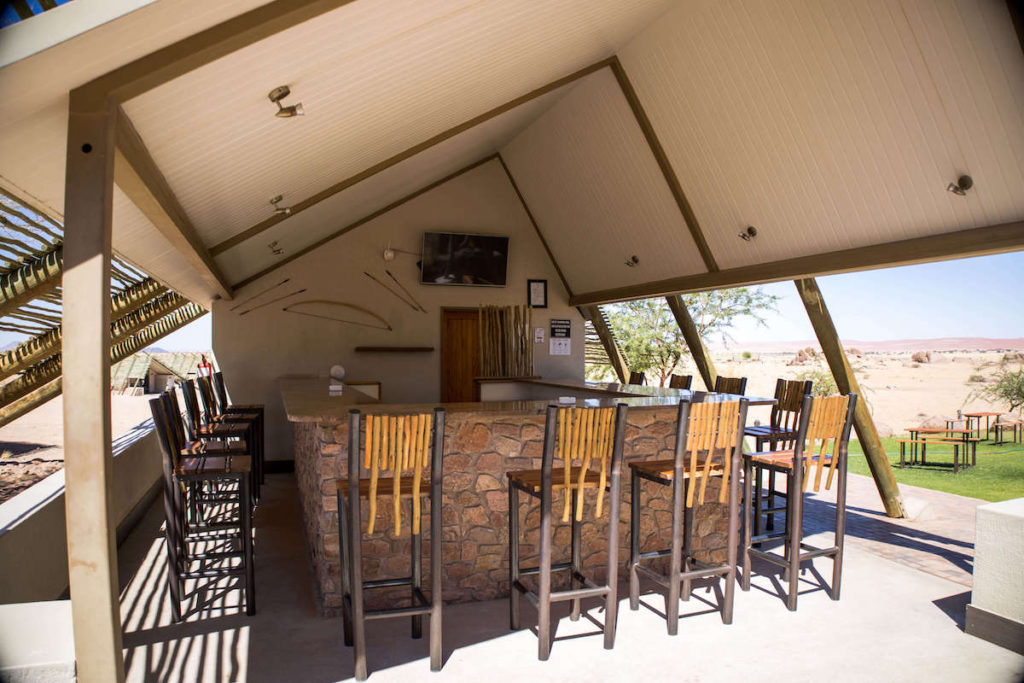 As the lodge is in a nature reserve, there are wildebeest around, you can find them (generally alone) scattered around the lodge. Remember that they are wild animals and should be avoided. There's a waterhole in front of the lodge and seeing a wildebeest there is a common occurrence.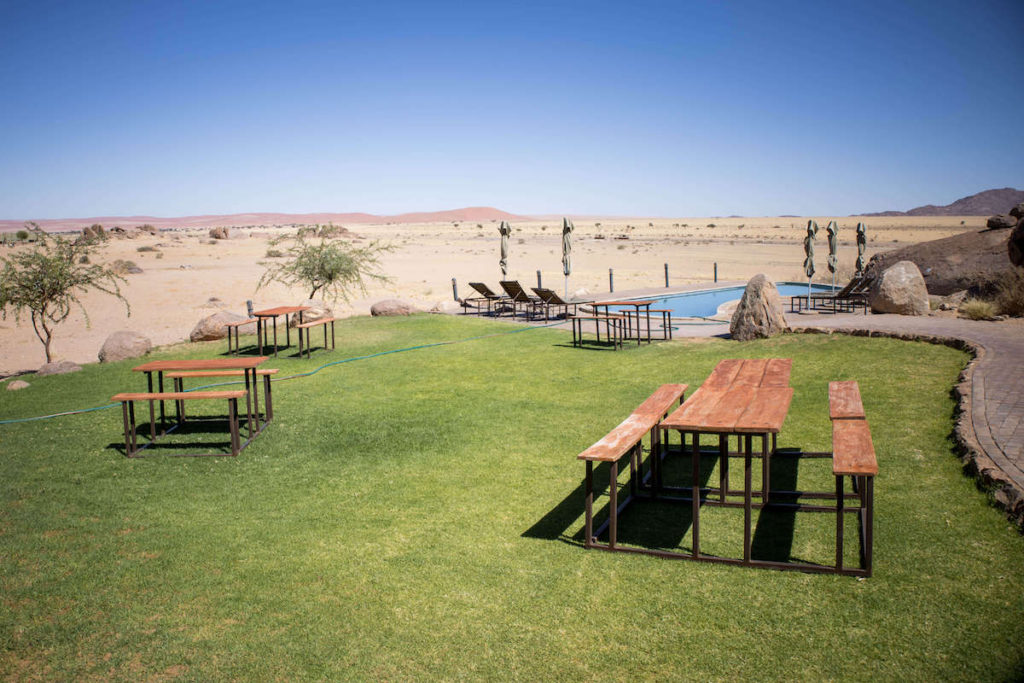 The rooms
There are 24 uniquely designed rooms, with the reception and bar/pool area in the middle and the rooms on each side. Each room has its own driveway where you can park your car.
Inside, you have a double bed (made up of two single beds) and a futon (sleeper couch), with an aircon and a fan unit. The bathroom and shower are behind the bed, with a wall used as a separator. The bathroom is open plan, with no doors for the toilet or shower. You have a full-size mirror and a closet area with a safe big enough to store your documents and a laptop.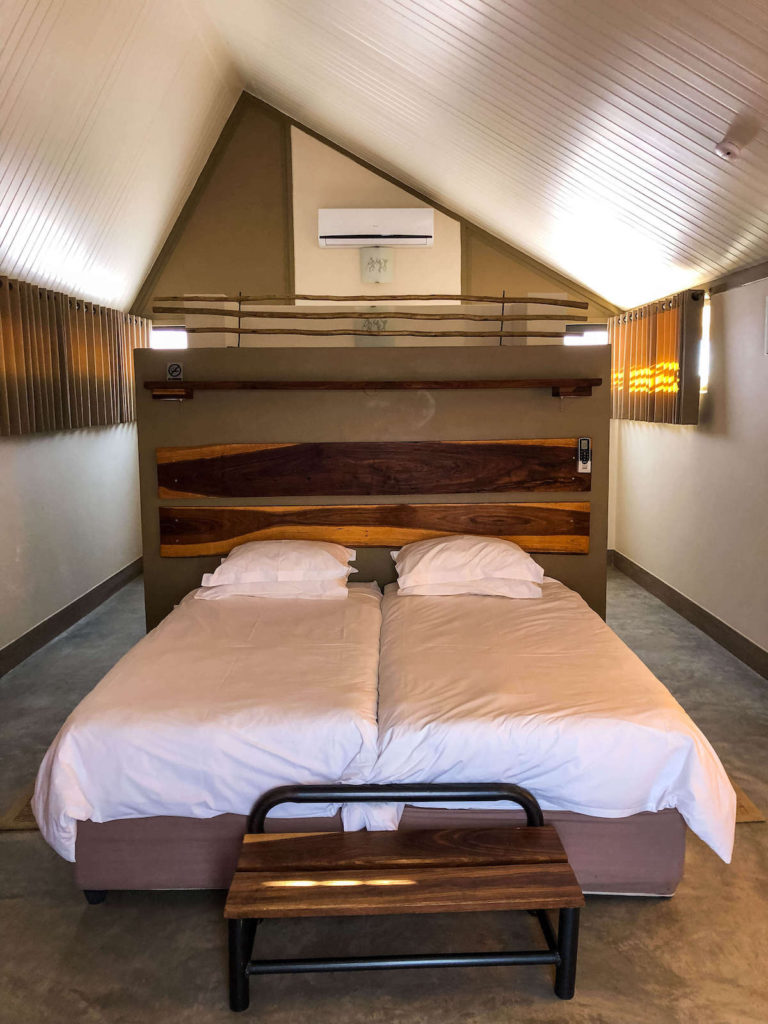 Your porch has a picnic table and a very hidden kitchenette, covered by canvas flaps that can be rolled up to reveal it. It can get quite windy in the desert so not only does it protect your utensils but it also hides it away, blending in nicely with the environment.
It has tea, coffee, a kettle, mini fridge and a double stove. You can use your own cooking utensils if you have them or get a cutlery and crockery box from reception for a 300 Namibian dollar deposit, which is returned upon returning the box if nothing is broken or missing.
There is a barbeque right outside your own house, so you can cook there too.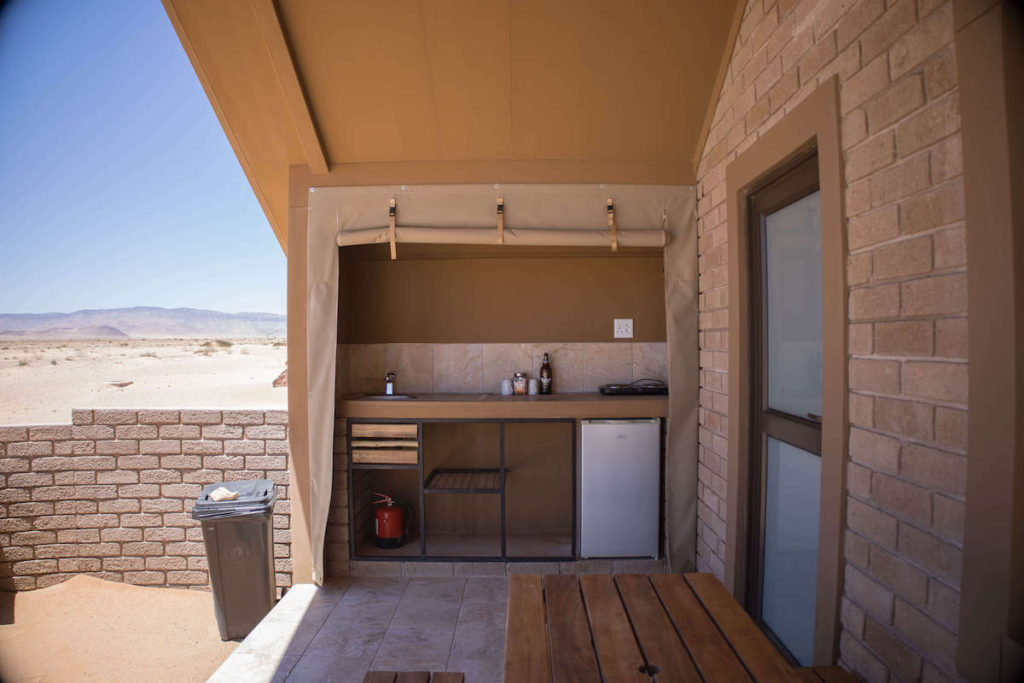 What you'll love
If you're looking for affordable and quirky accommodation, with all the comforts but very close to the gates, this lodge is for you.
The pool and bar area underneath the rock outcrop creates a stunning landscape to relax in and watch the sunset from.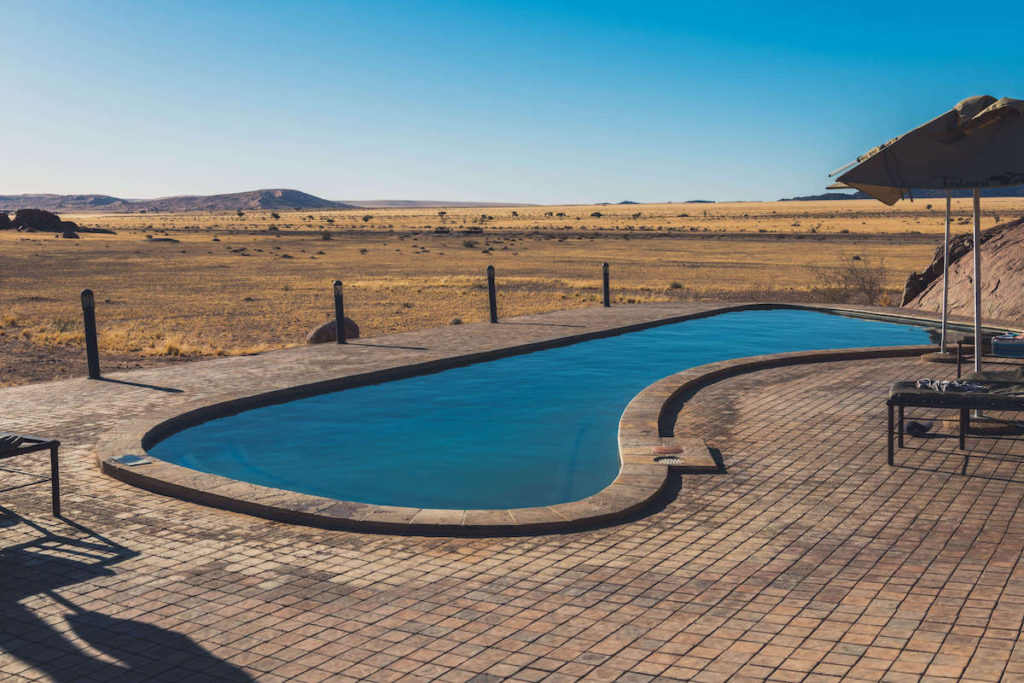 Pin it for later!
YOU MIGHT ALSO LIKE: