Planning a trip to South Africa but not sure where to start?
There's a lot to see in South Africa, it is one of the most diverse countries in the world, from modern and cosmopolitan cities to breathtaking mountains ranges and savannahs.
Here's the ideal itinerary for two weeks in South Africa. This guide covers the best things to do in Cape Town, Garden Route, Johannesburg, Kruger National Park and more including where to stay in each place.
I have lived in South Africa for 4.5 years and it was about time that I poured all my experience as a bespoke travel designer in Africa into bringing you this ultimate two week itinerary for South Africa.
In this itinerary you are going to find:
Cape Town
Cape Winelands
Garden Route
Johannesburg
Kruger National Park
Drakensberg Mountains
St Lucia, Hluhluwe and Sodwana Bay
This map was made with
Wanderlog
, a trip map maker
How to get here
There are two major international airports in South Africa: Johannesburg (JNB) and Cape Town (CPT). Most travellers will arrive at one of these.
South Africa is a very large country and my best recommendation is to fly into Johannesburg and out of Cape Town or the other way around. Depending on your flights you will complete this itinerary in reverse order and that's completely fine as it makes sense both ways.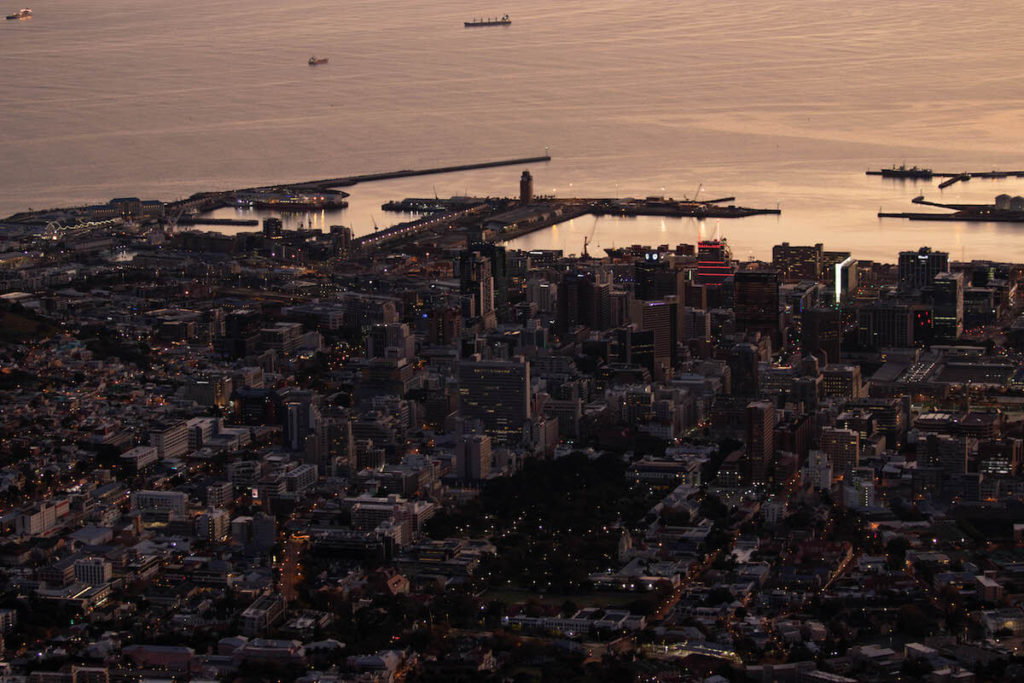 Flight prices from Europe are between 490€ return to anything around 950€ return during peak season at the time of writing. Airlines that fly into SA include: KLM, Air France, British Airways, Qatar, Emirates and Turkish Airlines.
How to move around
Owing to the large size of the country you will need to make use of a mix of transportation methods. For the purposes of this trip, the country can be split into two main areas, Western Cape and Gauteng/Limpopo/Mpumalanga.
Between the two areas, you will need a flight (domestic, quite cheap) or to drive upwards of 13hours.
Budget friendly option: BazBus is a scheduled bus that connects major locations in South Africa, with door-to-door service to many hostels. It is a great way to move around if you're travelling solo or want to save money but it does offer less flexibility, as you can only be dropped off at the hotels and hostels on their route or one that's very close by.
Middle Road: Car rental is inexpensive compared to many other countries and roads are mostly in good condition in landmark areas. I especially recommend the use of a car around Cape Town, the Winelands and the Garden Route as it allows your days to be organized in your preferred way.
Private Transfer: if you don't want to drive around yourself then there are private transfers available to ferry you to the available attractions. In major cities like Cape Town, Johannesburg and surrounds, you can book full day private or group activities. I recommend using private transfers between Kruger, as you are only going to one or two lodges and not moving while you're there, in which case the car rental price for 2-5 days often turns out more expensive than booking one-way transfers between the points.
How much does a trip to South Africa cost
South Africa is a great budget destination as the currency is weak compared to euros or dollars. It is also a dual country in which accommodation and flight prices are comparable to Europe, but food and daily activities are really cheap in comparison.
As always it will depend on what you spend and the type of hotels and activities you book during your stay.
What makes South Africa's itinerary expensive are the nights on safari. A lodge can range from 250€ per person per night (on a fully inclusive/full board and activities basis) to +1000€ pp/pn.
On a budget 7 to 9 day trip to SA you should expect to spend 1500€ pp not including international flights.
For 2 weeks in South Africa to 3 weeks in South Africa the budget you should expect to pay is anything between 2000€ to 3500€ per person.
The great thing about SA is that in Cape Town, the Garden Route, the Winelands and Johannesburg you can find great accommodation at very competitive rates, making it easier to go and spend 2 nights on safari and without bringing the price of the entire trip up dramatically.
One week in South Africa: the best itinerary
Day 1 – 3: Cape Town and surrounds
Day 3 – 4: Johannesburg
Day 4 – 7: Safari and surrounds
Two Weeks in South Africa: The Ultimate Itinerary
Day 1 – 3: Cape Town
Day 4 – 5: Cape Winelands
Day 6 – 10: Garden Route
Day 10 – 11: Johannesburg
Day 11 – 14: Safari
Day 1 in Cape Town: V&A Waterfront, Robben Island, Bo-Kaap
Start your Cape Town adventure by doing some of the most popular and justifiably famous activities. Head up to the Bo-Kaap Neighbourhood. Bo-Kaap is the Cape Malay neighbourhood with its famous colourful houses and cobbled streets.
This quarter is where many years ago rental houses were built and leased to slaves. Today it is still a multicultural area with many residents identifying as Muslim.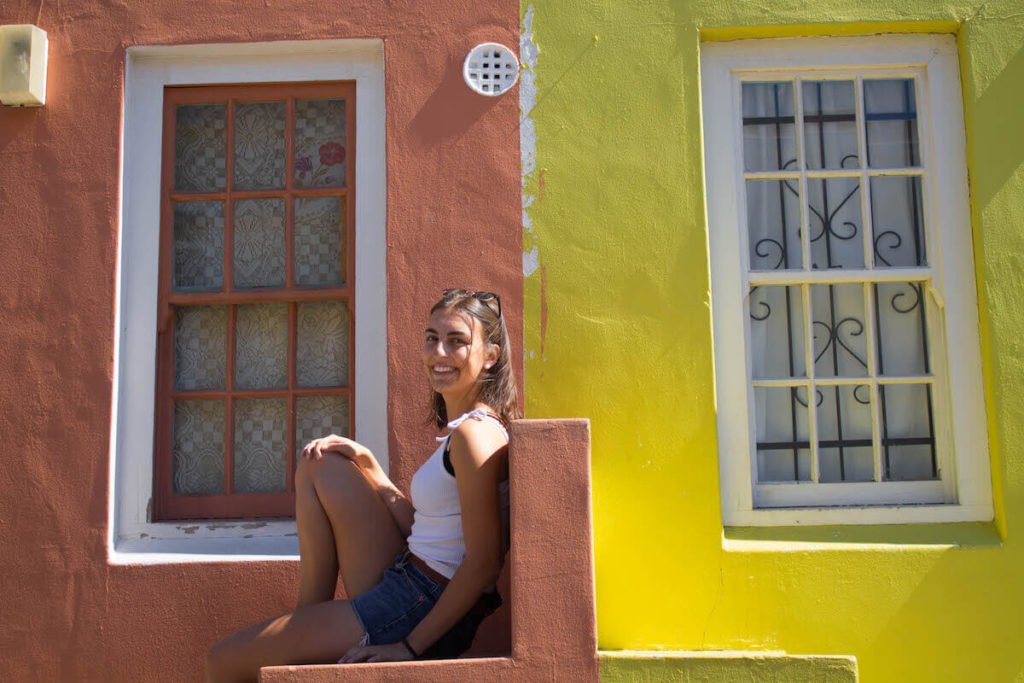 Pro tip: book a cooking class at Lekka Kombuis for the most local experience ever (you get to eat the food and take the recipes home with you!)
Head to the Victoria & Alfred Waterfront for a walk around the harbour. There are many restaurants with beautiful views of the oceans or Table Mountain and plenty of shops from curios to commercial fashion boutiques.
If you want to visit Robben Island (Where Mandela was imprisoned for 27 years) you should book a ticket in advance. Tours depart from the V&A Harbour many times daily.
Another activity you can do from here is to book a yacht half-day trip or a helicopter flip (the 12 minute one will give you a great idea of the city and they have scheduled tours if you're open to sharing with others).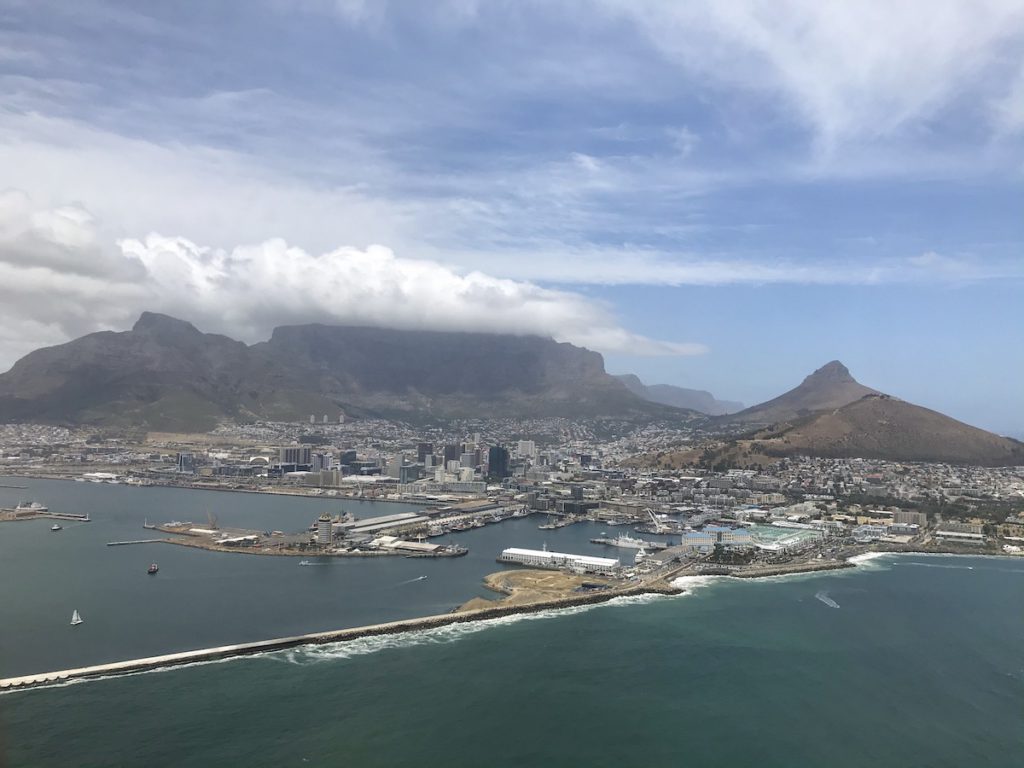 End your day in Camps Bay, one of the most beautiful neighbourhoods of Cape Town with stunning views of Camps Bay beach and a frontline view of the sunset. Find a restaurant on the Camps Bay strip and enjoy the African sunset with a glass in hand.
Dining options: Chinchilla for a drink before eating and views
Where to stay in Cape Town:
Budget:
Mid-range:
Luxury:
Day 2 in Cape Town: Hiking Table Mountain and Kirstenbosch Gardens
Cape Town is known for the three peaks that make its skyline so famous (left to right Devil's Peak, Table Mountain and Lion's Head). A visit to the city is not complete without a trip up Table Mountain.
You have a cable car that takes you to the top where there's a restaurant and a walkway circuit to stroll around and you'll get to meet the Dassies.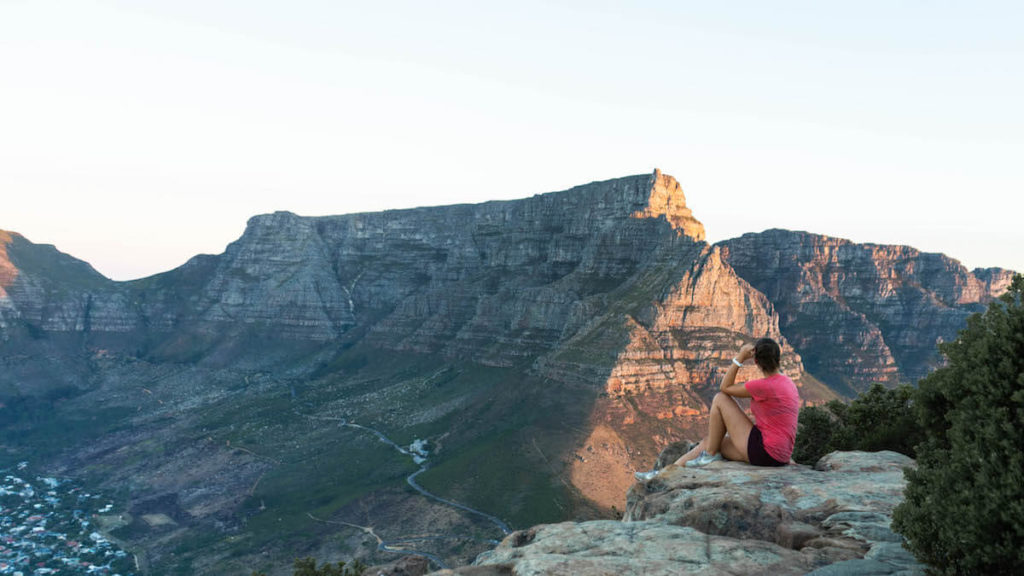 If you're into hiking there are many different and exceptionally beautiful routes that go to the top, my personal favourite is Kasteelpoort. From the top of Kasteelpoort you'd still need to walk on a mostly flat
Table Mountain top until you got to the cable car if you want to take a ride down instead of hiking down. If you're travelling alone, find a group to hike with and get the latest recommendations for safety in the mountains. It's always better to go with some locals or in a big group for safety.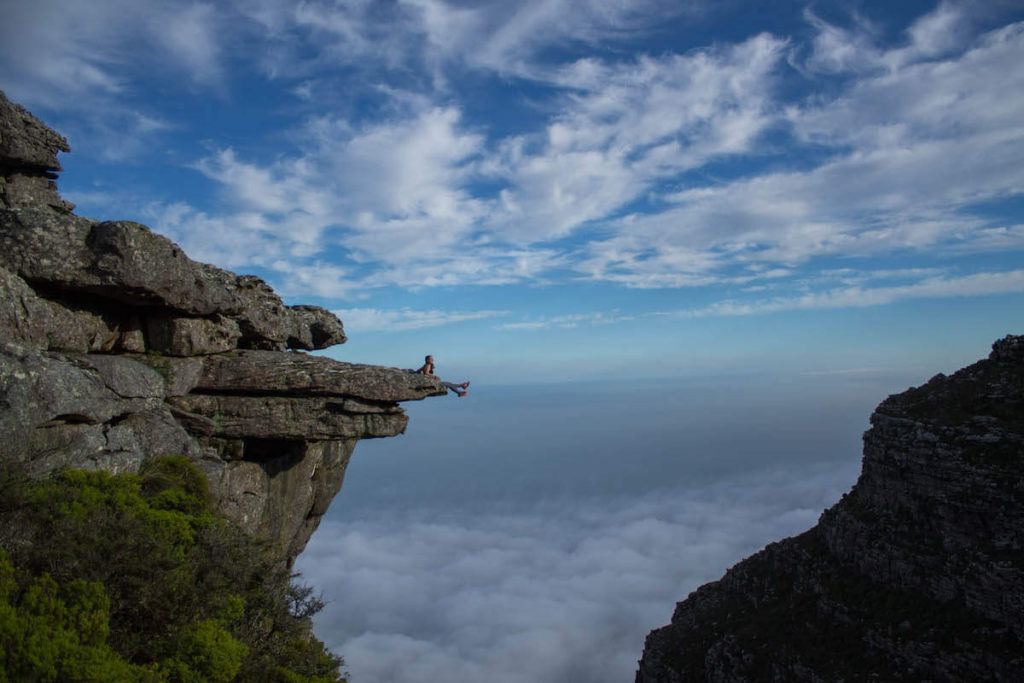 Once you're done go to Kirstenbosch Botanical gardens. There are various paths and you'll see the endemic flora and many proteas, the national flower. Kirstenbosch is a great place for a picnic too.
If you're feeling like another typical Cape Town activity, leave enough time before sunset to enjoy Lion's Head hiking trail.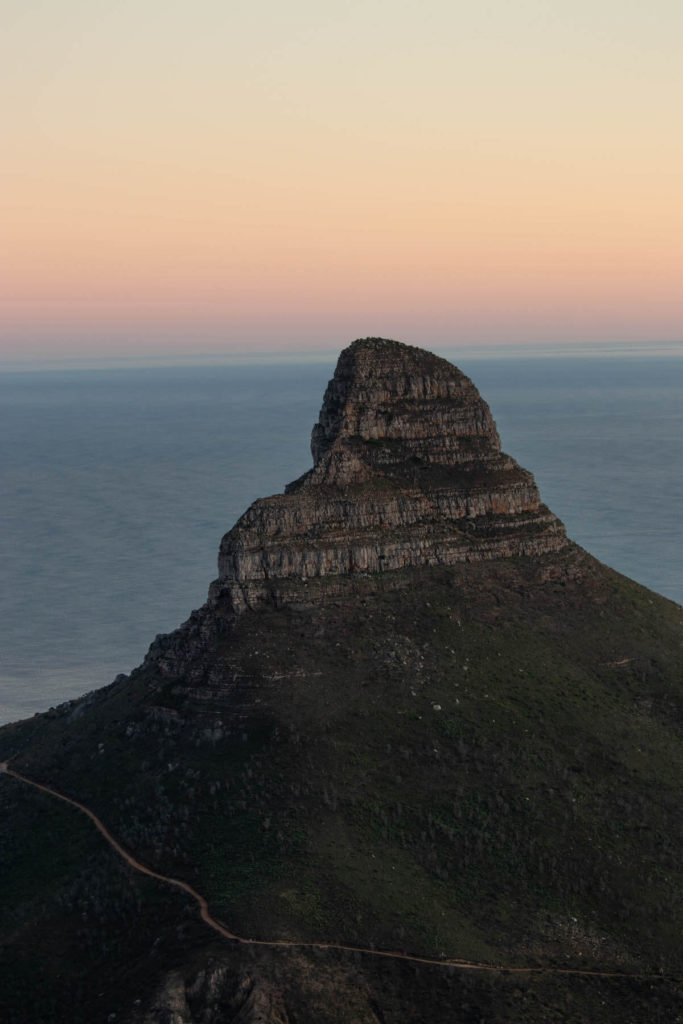 It takes between 40 minutes and 1h to hike up, and it is a very common activity for locals and tourists alike as you get to see the sun setting over the ocean on one side with Table Mountain in the background behind you.
Make sure you have enough time for the walk, some time at the top and to get down before the sun sets completely.
Day 3: Cape peninsula day trip
This is one of the must-do day trips from Cape Town for the exceptionally pretty coastal views. Start the day off by driving down the Atlantic Seaboard, the group of neighbourhoods facing the ocean, including Camps Bay where you dined on the first night.
On arrival at Hout Bay, you can stop at the harbour and enjoy an optional boat tour of around 40min where you get to meet the local seals.
Continue your drive down the most scenic road in South Africa (if you pay attention you'll recognise it from some BMW or Audi ads you'll have seen before!).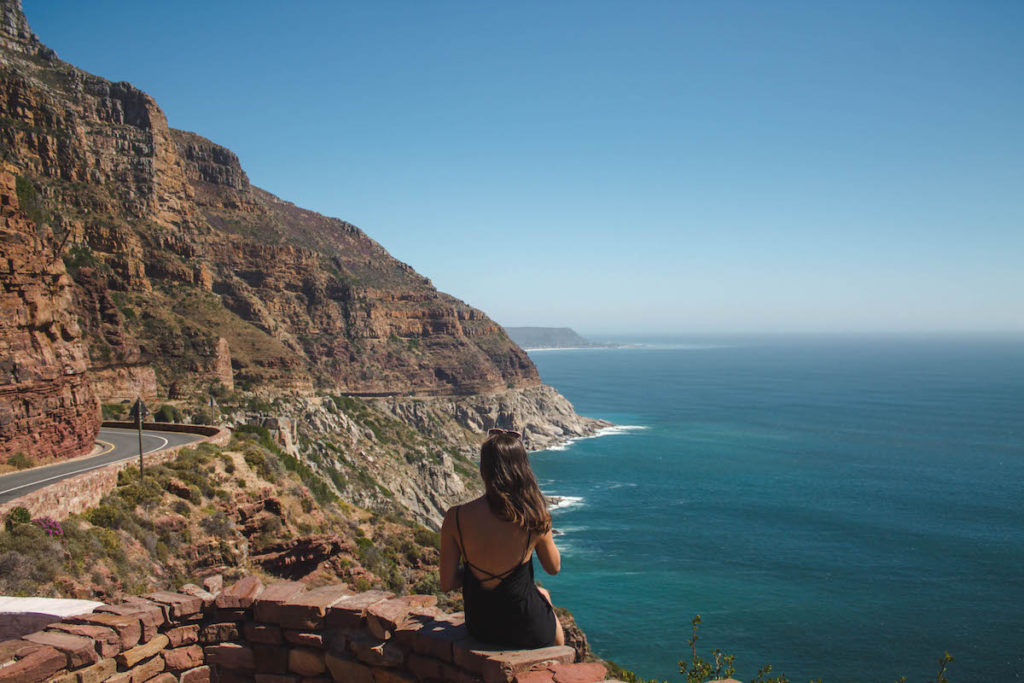 Chapman's peak is a pleasure to drive and with so many viewpoints to stop that it can take you shorter or longer to drive. I definitely would recommend stopping at least 2 different viewpoints as the views are quite different.
When you're on the other side head to Kalk Bay for lunch in one of the adorable cafes on the main road. Kalk Bay has many local boutique shops and a plethora of cute restaurants, giving it a small village atmosphere.
After a delicious lunch head down to St James beach to see the colourful beach bungalows that remind me of the Brighton beach ones in Australia.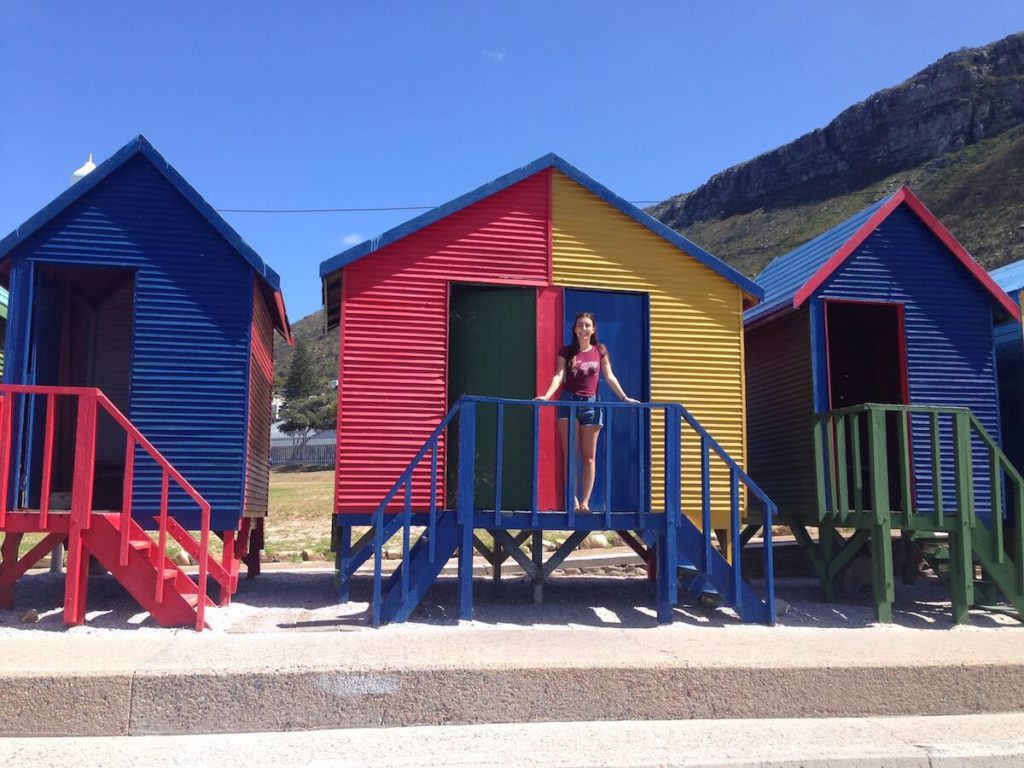 After St James head down south towards the Cape Peninsula, but before you arrive there's the cutest pit stop. Have you heard of the penguins of Boulders Beach? No? It's time we change that.
This beach is famous for being the home of many cute penguins. There are different boardwalks you can walk around to take a look at them, and if you can't deal with their cuteness you can pay an entrance fee to the actual beach and swim with them (Around them. As always no touching involved).
Head to Cape Point and the Cape of Good Hope. Here's where the famous sign that separates the Indian and Pacific's oceans is.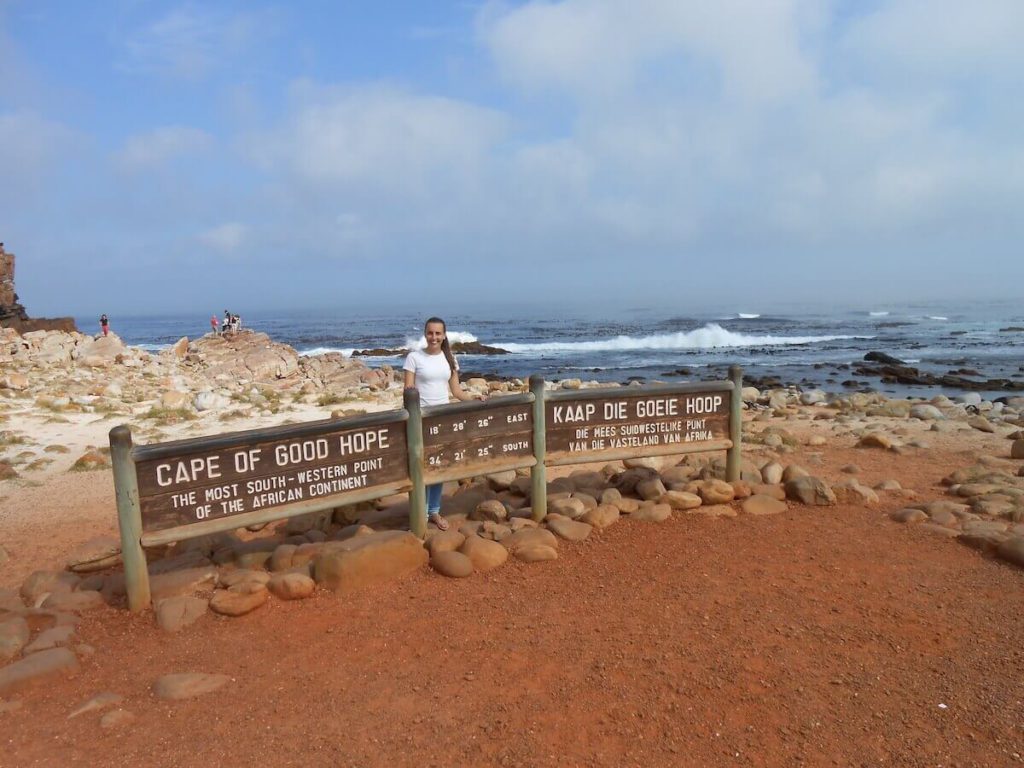 Psst, in reality, that point is further up the coast! The beaches and nature in the Cape Peninsula are so worth the visit!
Day 4 first day at the Cape Winelands
Only 40 minutes away from Cape Town we find a magical and scenic place known as the Cape Winelands. If you're into wine, beautiful landscapes and gourmet food – well, I'm sure you know where I'm going with this.
This is a must-do stop.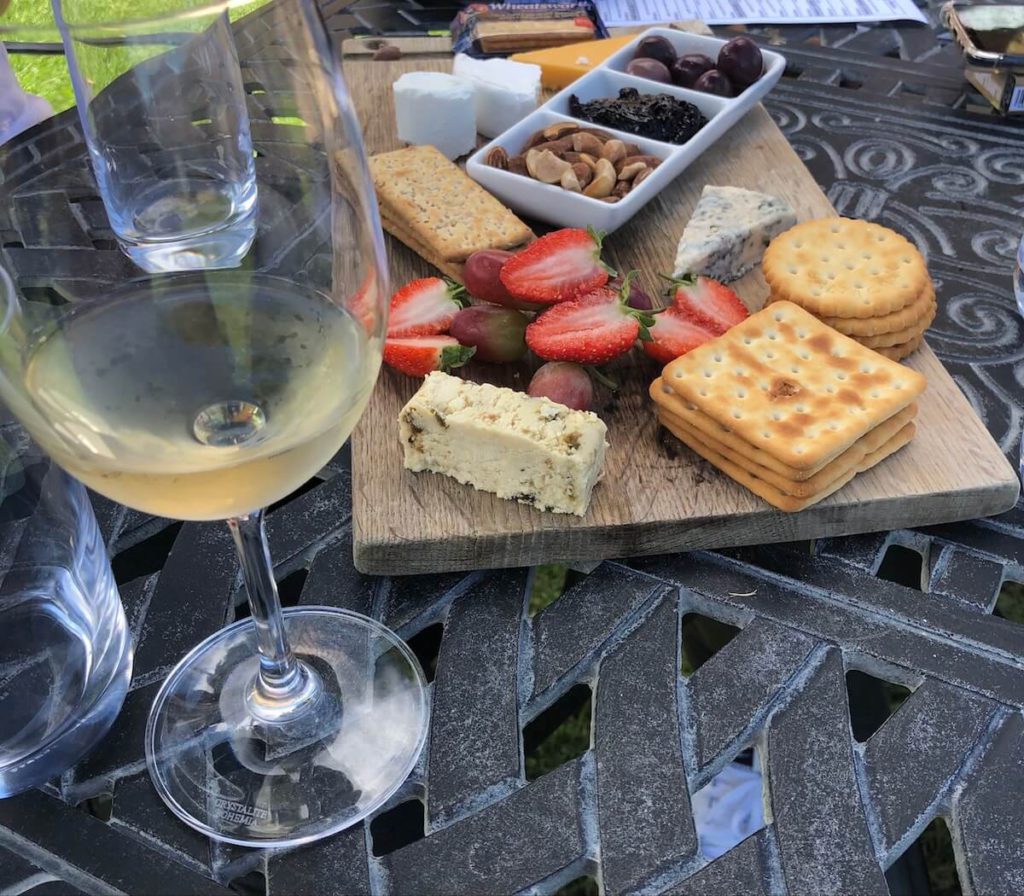 Drive to Babylonstoren, the first stop on this route. They have one of my favourite vineyards.
Their gardens are enormous and perfect to get a morning stroll in and take some photos on the cacti garden. Finish up in their Greenhouse restaurant for a healthy and earthy breakfast or coffee.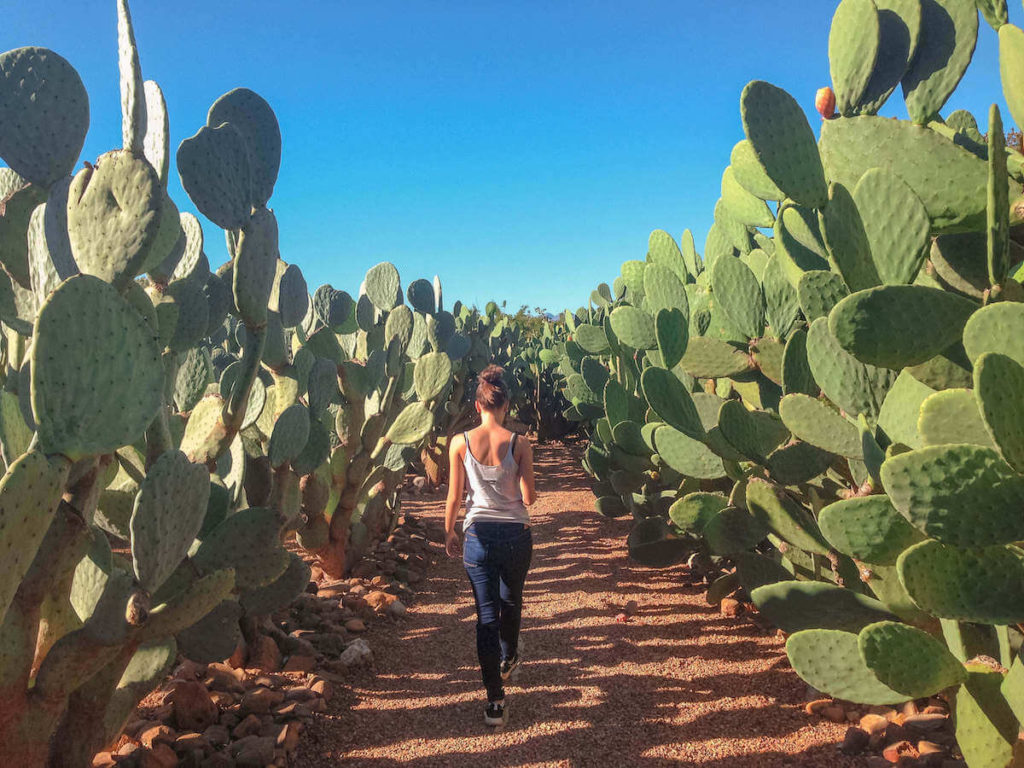 Head to Stellenbosch for a walk around the old town. It is full of art galleries and curio shops. After driving to Warwick wines where they offer picnics and wine pairings under umbrellas and with comfortable pillows for backrests.
Another favourite of mine is Boschendal with its infinite gardens, deli supermarkets and healthy food bowls which are to die for!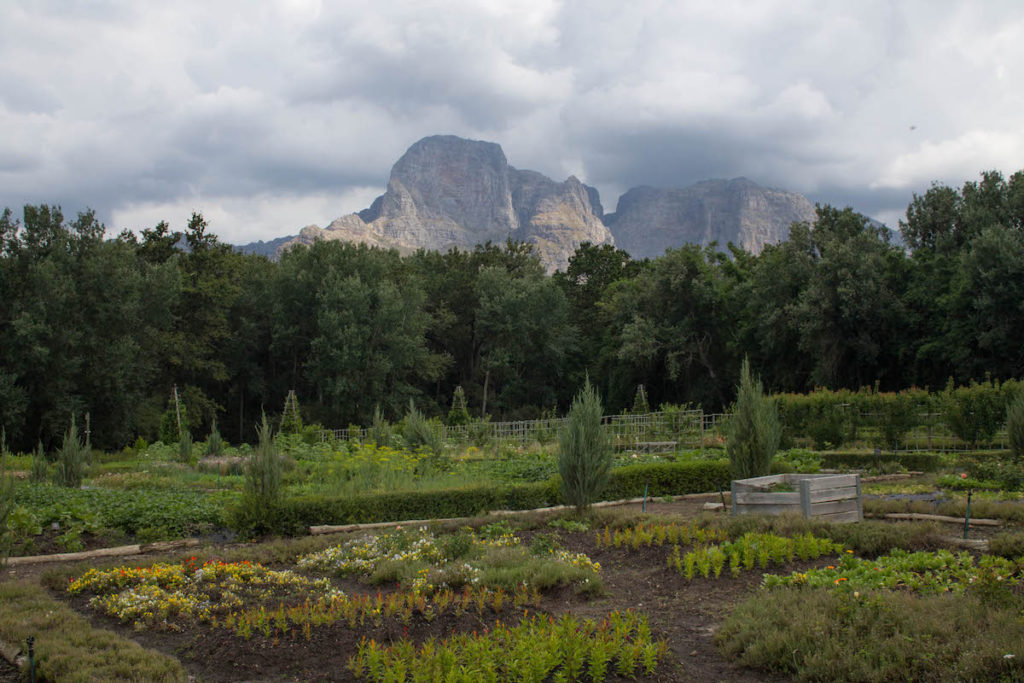 There are two main villages in the Cape Winelands, Stellenbosch and Franschhoek. It comes down to preference but I prefer Franschhoek for my accommodation.
I like to stay within the town or very close by so that I can have a drink or grab a bite nearby and walk around the beautiful town. It reminds me of an idyllic summer in Europe – which may be why I like it so much.
Where to eat in Franschhoek: Protegee for relaxed fine dining
Where to sleep:
Budget:
Mid-range:
Luxury: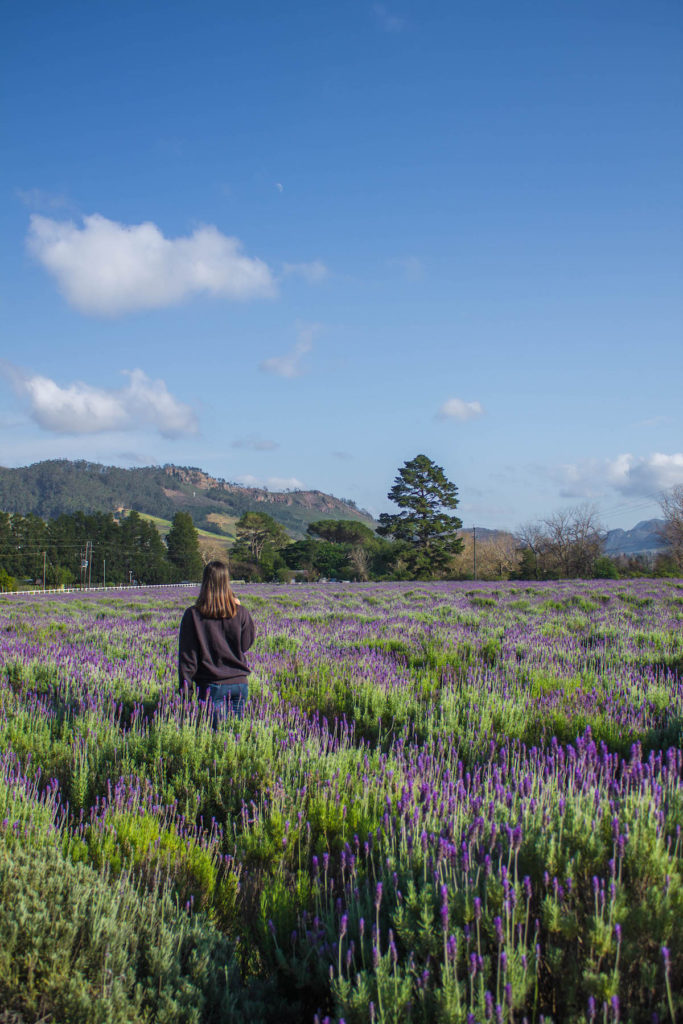 Day 5 in the Winelands: Wine Tram
Embarking on a full day wine tram tour, is arguably the best activity to do in the Winelands. If you're not into wine don't worry, there's delicious food and other pairings at every winery you'll visit.
You need to book tickets in advance and the trams depart from Franschhoek. Upon booking you'll need to pick one of the 6 colour lines that will take you around a different set of wineries for the day.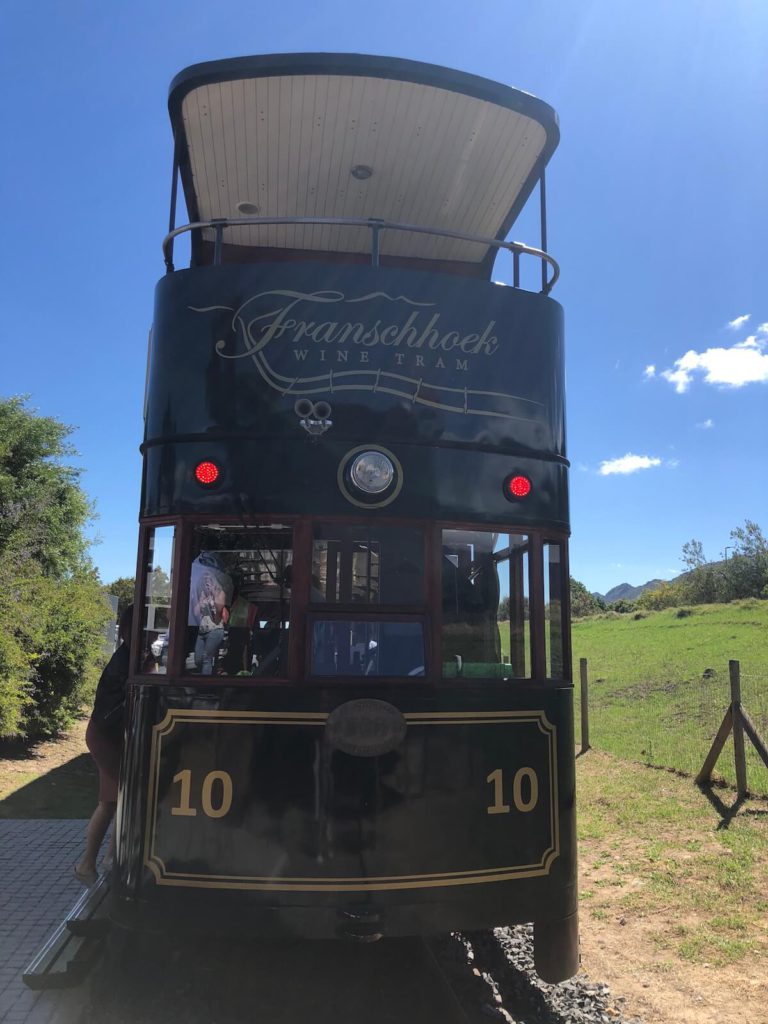 It is a great way to enjoy many of the delicious South African wines without being a danger on the road. Again, this is why staying in Franschhoek is super convenient as you can walk to your accommodation and back.
I recommend trying either the purple or orange lines, as these have some of my favourite wineries or restaurants en route. Haute Cabriere is my all-time favourite for lunch or dinner, their food is delicious!
Day 6 to 10: A road trip along the Garden route
The Garden Route is an incredibly scenic road trip, offering a famous and diverse coastline stretching on for 300km. Ideal for self-drivers and to stay every night or every two in a different town, exploring the country while you drive.
Start from the Winelands and drive to Oudtshoorn. Here you'll find the Cango Caves, one of the biggest caves I've seen.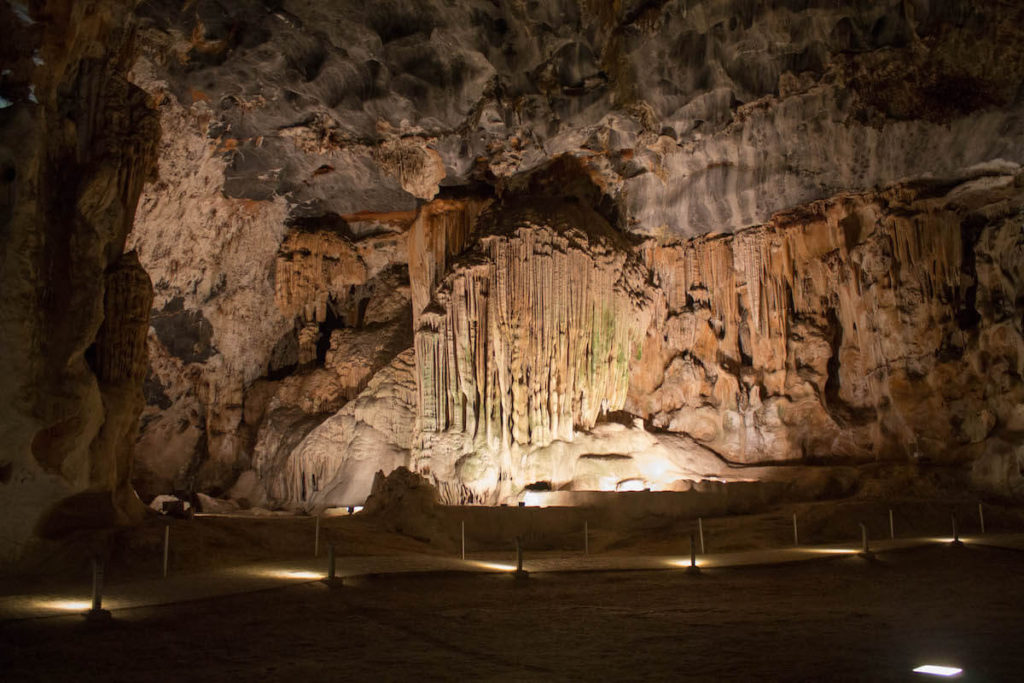 Don't forget to pick their adventure ticket which takes you to many different and amazing little caves not visited on the general tour. There's also a little slide built into the rocks at the very end. It can get a bit claustrophobic during that last part, so my mum decided not to do that bit of the tour (about 2 minutes).
Visit Wilderness for that small town atmosphere, Knysna for their waterfront market and lagoons that characterize the area. Do bungy jumping from Bloukrans Bridge.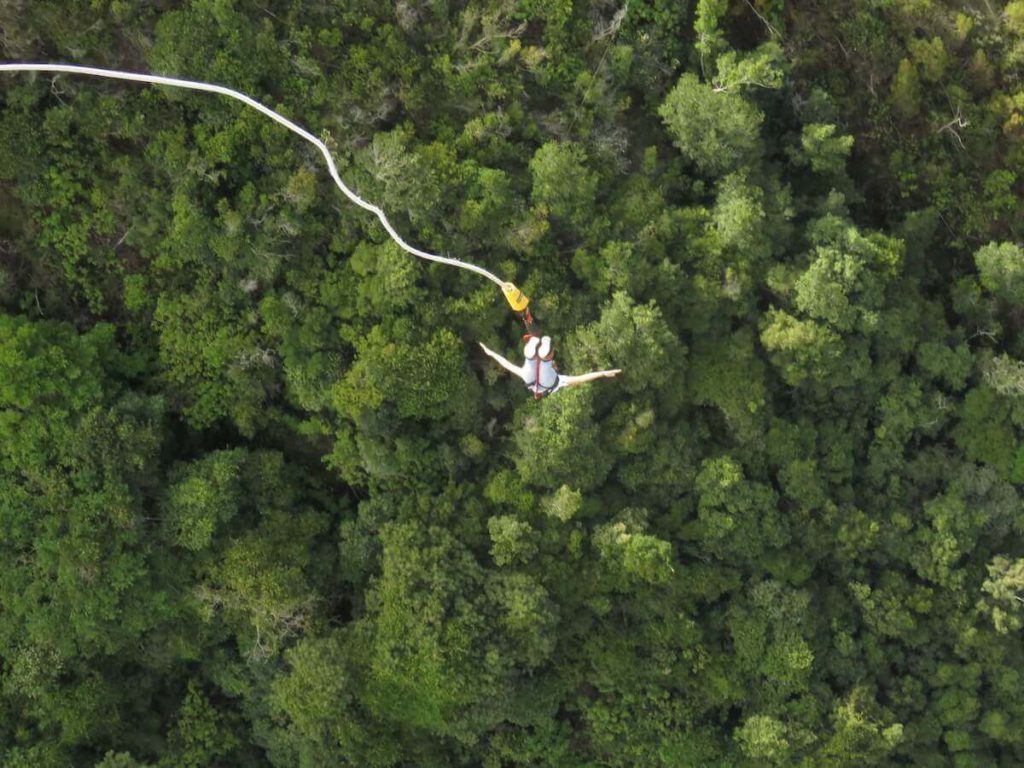 Head to Tsitsikamma National Park for incredible hiking and end the route in Port Elizabeth. If you would like more detailed information on how to structure your Garden Route itinerary and where to sleep head here.
You have the option to drive back to Cape Town (around 6-7h) or to drive to Qqebeha (PLZ) and get a flight there to Johannesburg.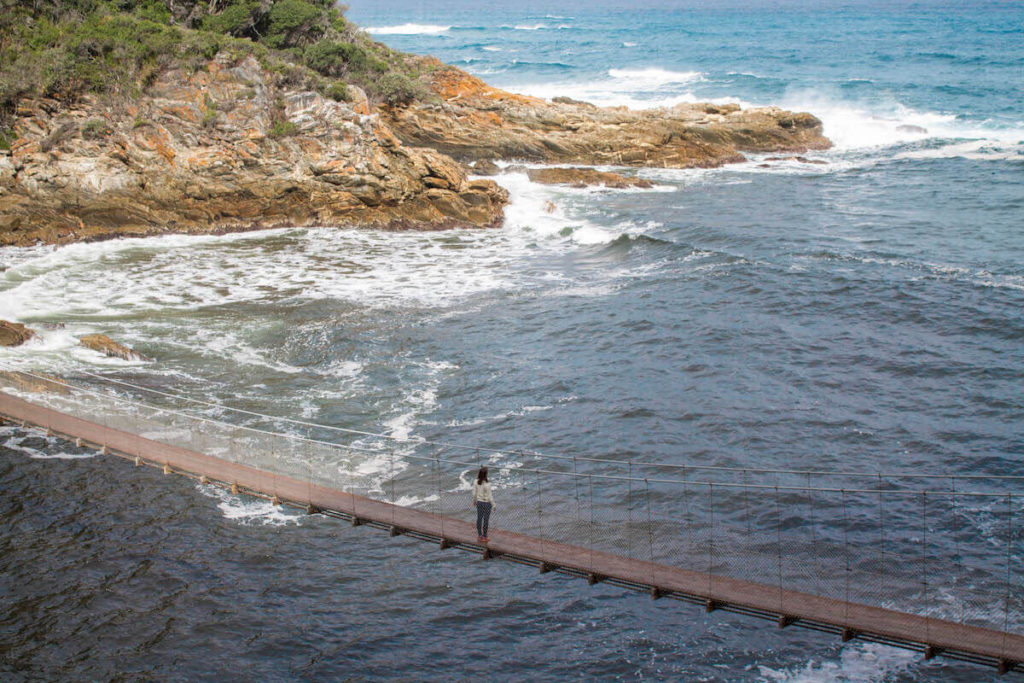 Day 10: Johannesburg and the apartheid museum
Johannesburg is 2h flight away and there are flights virtually every hour connecting with Cape Town. Grab an early flight to be able to explore Johannesburg for a full day.
Welcome to the forest city of Johannesburg, where trees are everywhere.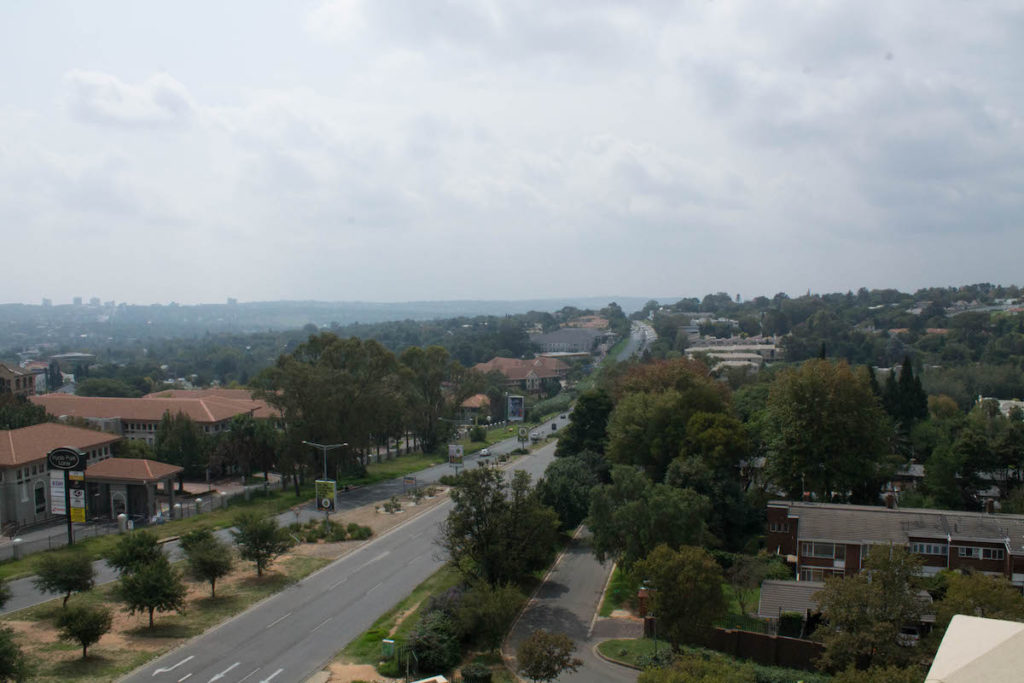 The history of South Africa and apartheid is still very recent for many people alive today, and Nelson Mandela is a name that has been made famous around the world. Go to the apartheid museum to learn more about the country's divisive history.
Once you're done, go to Soweto for an organized walking or biking tour. Soweto was a black only neighbourhood designated by the white government during Apartheid and ended up becoming the largest black only city in South Africa at the time. Learn the full story while you walk around the quirky streets.
Where to go: check out the Living Jozi rooftop in Maboneng and the Hallmark House rooftop.
Where to stay in Johannesburg
Budget:
Mid-range:
Luxury:
Day 11 – 13 Time to go on safari – Kruger National Park
Finally time to see the big five! The big 5 are lions, buffalo, rhinos, elephants and leopards. They're named the big 5 as they are the 5 animals that are the most dangerous to hunt and become even more dangerous if hurt.
There are many game reserves with the big 5 around Johannesburg (like Welgevonden Game Reserve) but the most famous and ideal for first (and 20th) time safari-goers is the Kruger National Park.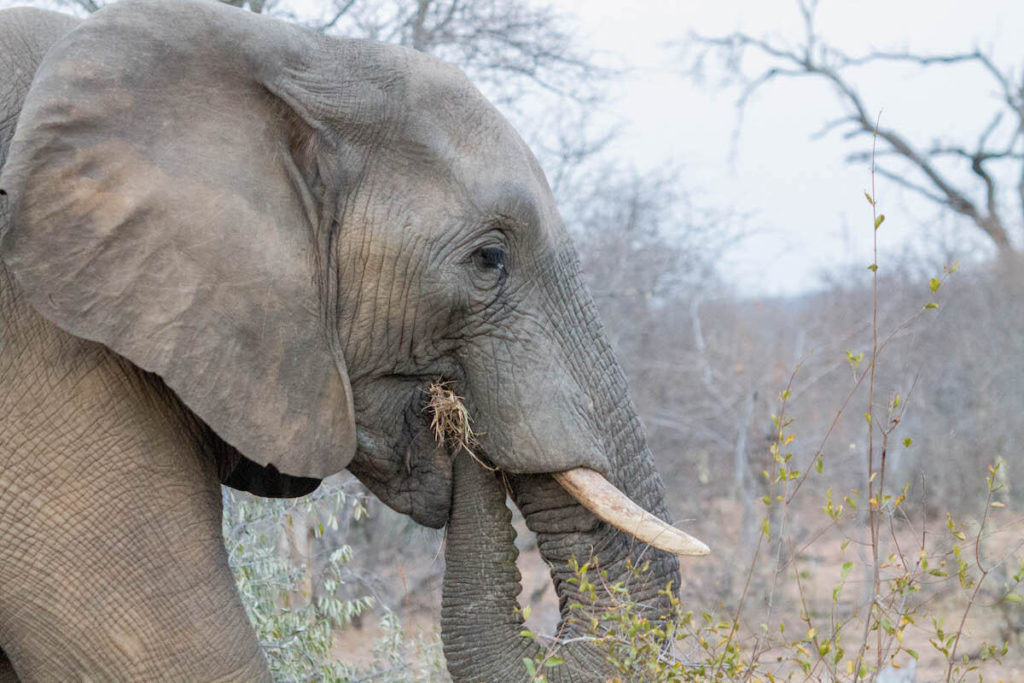 How to get to the Kruger
The Kruger is as big as Wales or Israel, so you won't cover the whole thing unless you have a couple of months to spare for this alone. The most common area you'll visit in Kruger is centred around 3 airports. In the north, we have Hoedspruit (HDS) and in the south Nelspruit/Mbombela (MQP) and Skukuza (SKZ).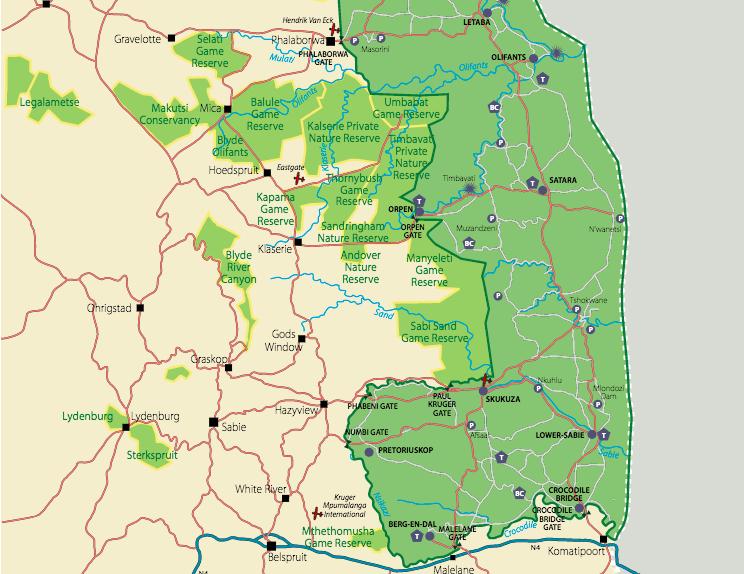 Budget: the most inexpensive way to get to Kruger is to book a passage on Ashton's tours daily shuttles (no longer daily at the time of writing owing to covid). They depart at around 6 am from OR Tambo Airport which means that you need to spend a night in Johannesburg if you're entering via Johannesburg before you can head to Kruger.

If you're going to Hoedspruit, the shuttle takes 6h to 7h. The trip is in an air-conditioned shuttle with a couple of stops. If you're going to the Mbombela area the shuttle takes between 4 and 5 hours.
Mid range to luxury: the quickest way to get to Kruger is to fly there. Depending on the time of year, flights have different prices but you can expect to pay around R6000 (350€) for a return flight from Johannesburg or Cape Town.

Paying between 300-450€ per person increases the cost of the trip heavily. Finding more affordable flights is best done with enough time and not always possible.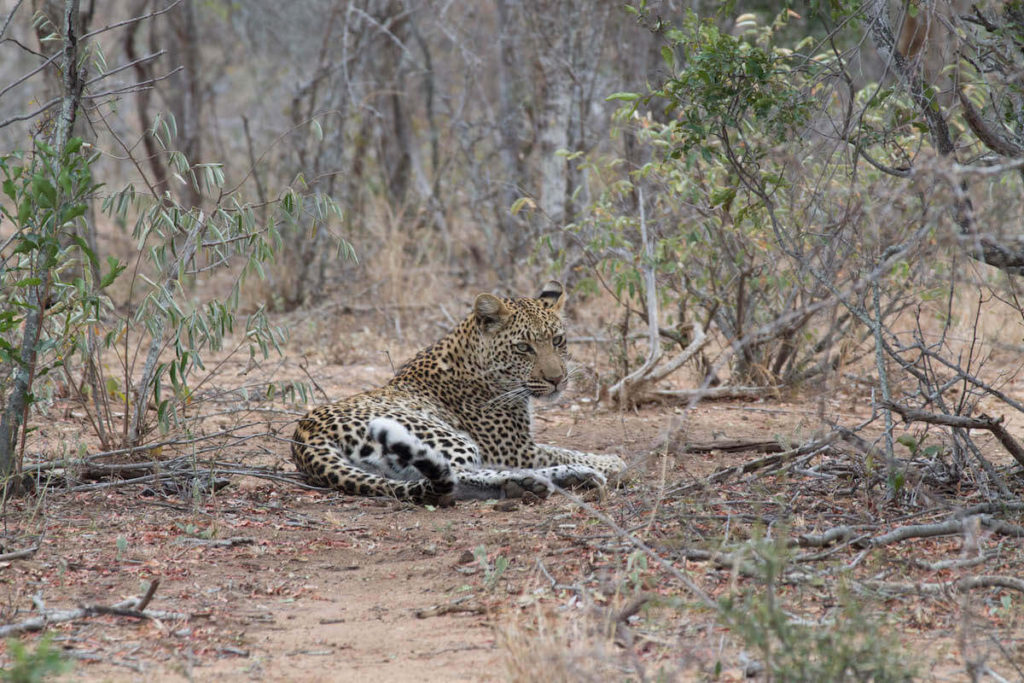 Understanding the different Kruger areas and accommodation options
The Kruger National Park has a public area with bungalows and campsites, which is the national park. Adjacent to the public area we find the private concessions. These concessions do not have fences between the national park and them, meaning that the animals roam freely and get to decide where they spend their time.
A common misconception is to blame the lodges or rangers if you don't get to see the big 5 or a certain animal during the stay. All animals are free and they move around as they please, crossing different areas in their migration and territorial patterns.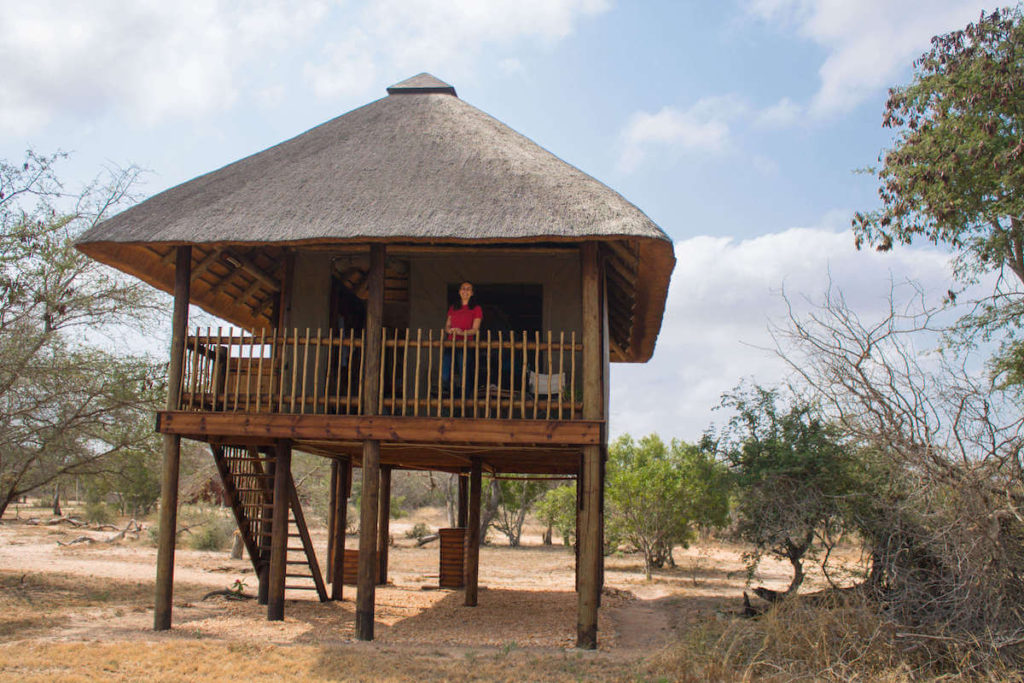 The Kruger is a great first timer destination as there is a large number of animals and generally you can see the big 5 and much more in just two nights (this has been my experience on many occasions, but I've also missed one or two of the big 5 animals on a two-night stay – it is chance you'll have to take and of course, increasing the number of nights improves your chances).
In the private concessions, you will find many luxury lodges. These offer full board plus activities (safaris) or a fully inclusive basis (including alcoholic drinks).
Not only do these lodges vary in their pricing (anything from 250€ per person per night to +1000€ pp/pn) but having an expertly trained ranger and tracker to help find the animals increases your chances of seeing the big 5 dramatically.
You'll also learn a lot by listening to their explanations on animal behaviour and the savannah flora.
How lodges work on safari in South Africa
Your accommodation includes your room, 3 meals a day and 2 safaris a day. If you're on a fully inclusive package, it also includes your sundowner drinks and any alcoholic drinks you order.
Here's a standard safari schedule for one day:
Timetables can move +-30 min depending on the season
5h30: Wake up call
5h45 – 6h00: Quick coffee, tea and rusks (hard biscotti to dip in tea/coffee)
6h00 – 9h00: Morning game drive. Includes pit stop for coffee, tea and snacks
9h00: Breakfast back at the lodge
10h00 – 13h00: Free time
13h00: Some lodges offer lunch, where others offer high tea only. I can guarantee you won't go hungry!
14h30: High tea
15h00 – 18h00: Afternoon game drive. Includes sundowner drinks
19h00: Dinner
The minimum stay is 2 nights so you can have 4 game drives. The ideal is 3 but this depends on your budget and if you have the capacity to have 4 days of safari then you can explore 2 different lodges and see different areas of the park which, I'll remind you again, is bigger than the whole of Israel.
Where to stay in the Kruger
Outside the Kruger
You can stay outside of the park, self-driving into the Kruger or booking a safari from your accommodation as an extra.
Hoedspruit:
Khaya Ndlovu, strating at R2 450 (144€) per person per night
Hazyview: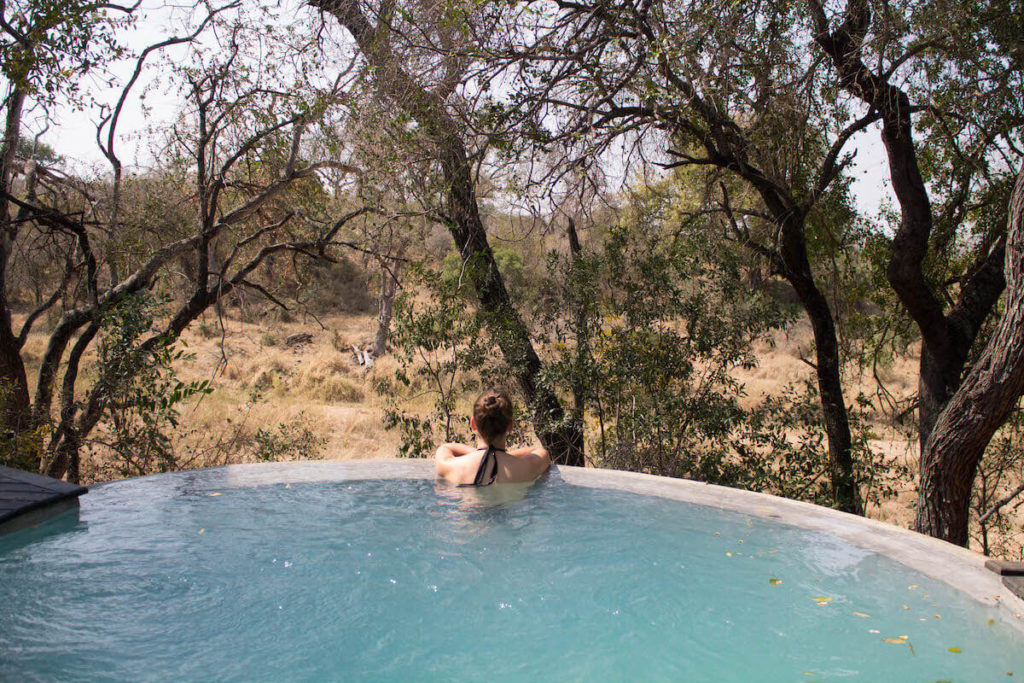 Inside the Kruger
Budget:
Sanparks bungalows or campsites in the public area
Mid-range:
Luxury (but affordable):
Luxury:
Day 14: Exploring the panorama route
This scenic route takes you to the third biggest canyon in the world (and the biggest green canyon), with many viewpoints and waterfalls. Cool right?
Doing the panorama route half-day or full-day private tour or self-drive will be a great decompression activity after the strict schedules while on safari. It is a favourite spot of the locals for its beauty and the rawness of the landscape.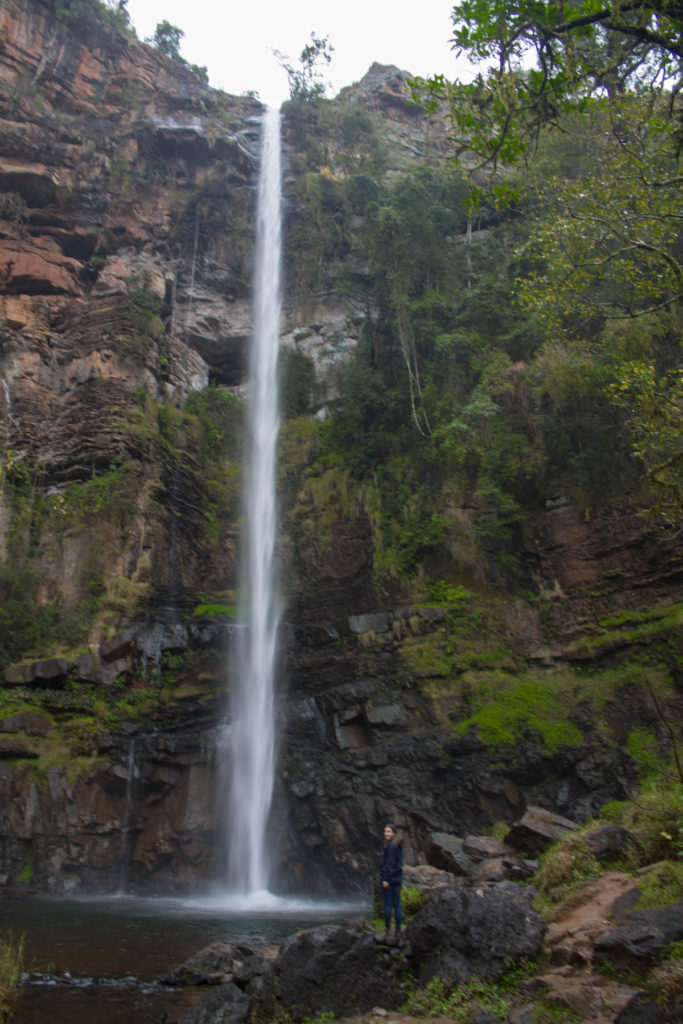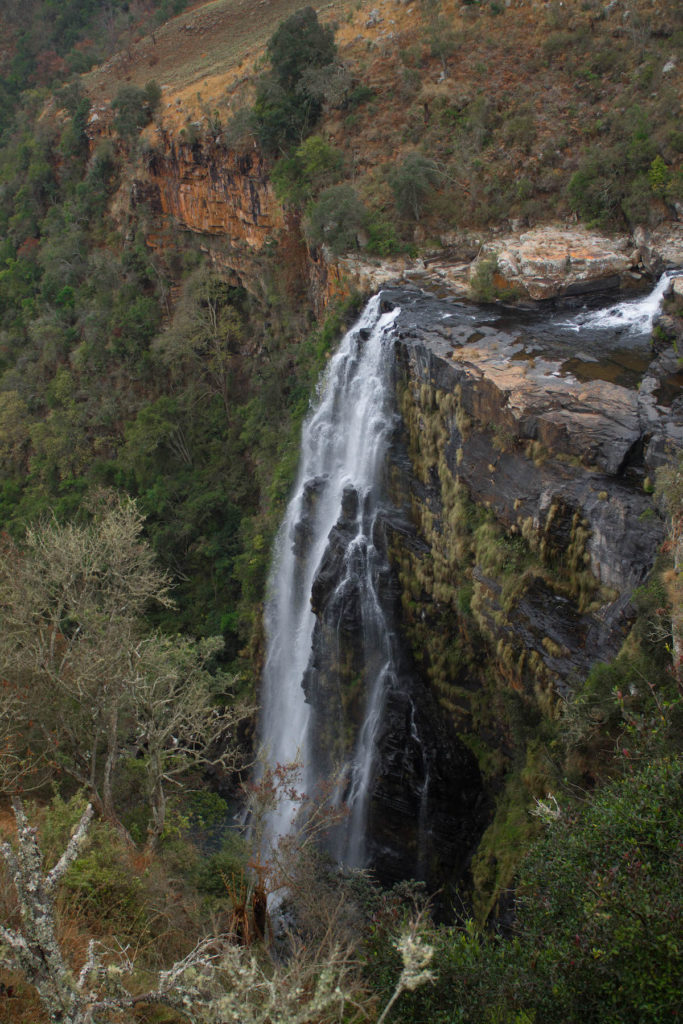 Visit the Blyde river canyon, the three rondavels, God's window and Bourke's luck potholes. Some amazing waterfalls are Mac Mac falls, Lisbon falls or Berlin falls.
Depending on how tired you are and your eagerness to explore you can include more or fewer of those attractions to make it into a full day or half-day tour.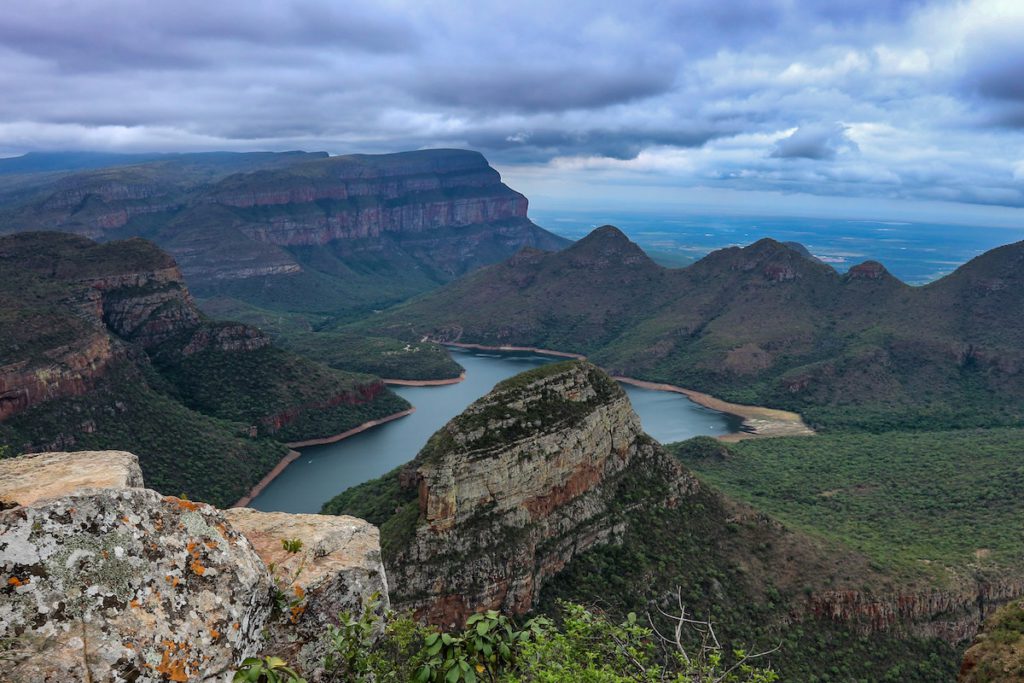 Where to stay in the Panorama Route
South Africa itinerary for 3 weeks
If you have additional days and would like to add another destination to your incredibly diverse trip to South Africa, make sure to include some of the below destinations, based on your personal preferences.
Drakensberg
Known to many as 'the Berg', this dramatic mountain range is in my opinion the most spectacular the country has to offer (and that's saying a lot in this immense country!).
With a name that means "mountain of dragons", the Berg surrounds the East side of Lesotho (one of the two countries inside of South Africa, the other one is Eswatini/Swaziland) and offers views like this one.
If you enjoy hiking like me you should definitely squeeze in a visit for a few days. 2-3 days will give you enough time to go on a couple of amazing hikes in the area.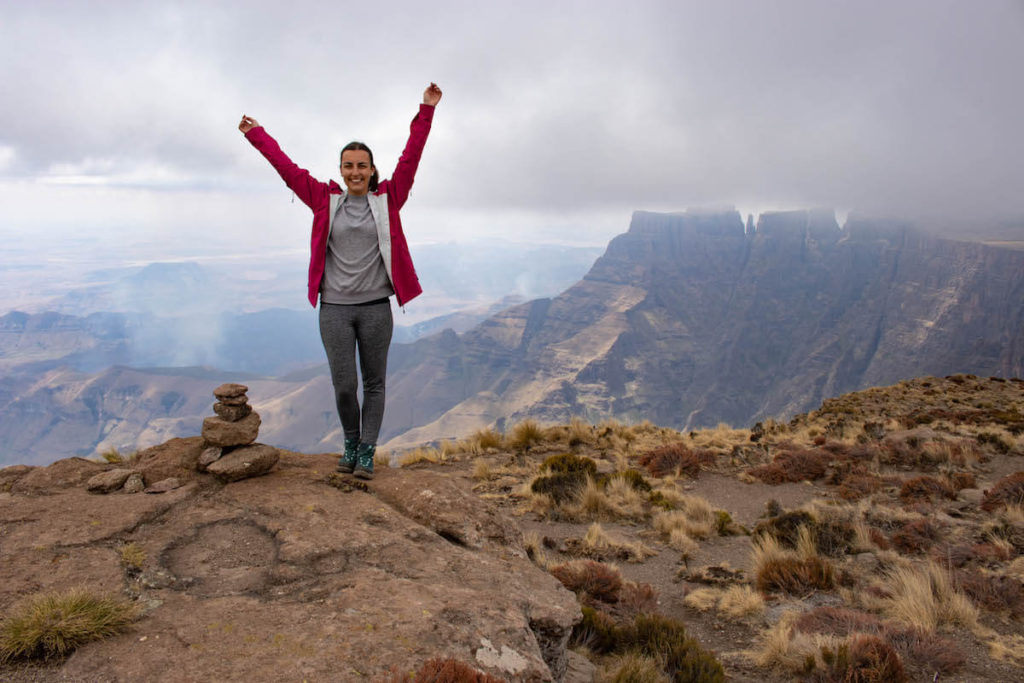 St Lucia Hluhluwe and Sodwana bay
Visit this area north of Durban on the coast to Mozambique to find a jungle and wetland ecosystem. St Lucia is known for Hluhluwe National Park and its wetlands full of crocodiles and hippos. There are other animals like rhinos in the area as well as private game reserves with the big 5 in a completely different vegetation system to the Kruger.
Sodwana Bay is a paradise for snorkelers and scuba divers with plenty of underwater life as well as the chance to see whale sharks if visiting during the correct season!
Safety in SA
Discussing a trip to South Africa, safety cannot be dismissed. South Africa is a dangerous country (only behind South American cities in violence) but what you see as a tourist and the areas you visit are mostly safe.
Do not walk (always drive or uber), do not be alone at night and do not flash cameras or iPhones. Be aware of people telling you they love your shoes or similar interactions as someone else is probably trying to pick your pockets while you're distracted.
Now, that said I've been here for 4.5 years and have never encountered any problems. Adhere to the rules like you would in any other place and you'll be safe.
Don't forget to pin this itinerary for later!