During our long weekend away in Prague, I managed to get a reservation at Resort Green Valley. I had seen a picture of their high treehouse on a website years ago and since then it had been on my sweet dreams wish list. In just three nights I explored one of the most famous capitals in Europe and slept in my highest ever treehouse – how cool is that?
Their website is only available in Czech and they are also on Airbnb with Czech descriptions, so I had to spend some time with a translator before I could book – I managed to get it right and it was so worth it!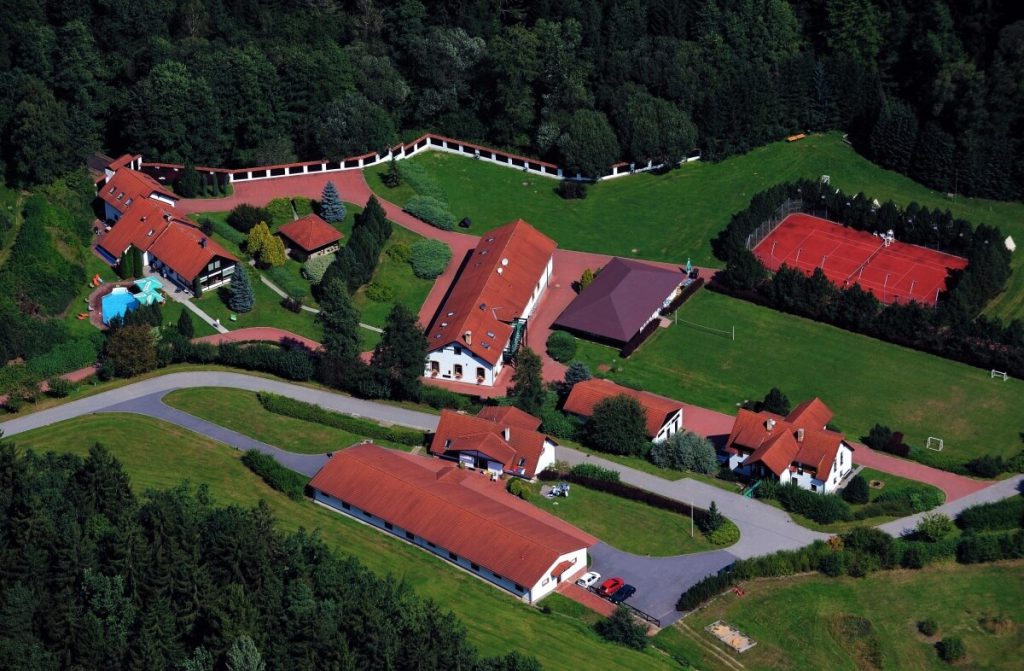 Quick facts:
Good for: families, couples
Starting from: 3900 CZK per night for the highest treehouse (148€)
Location: outside of Prague, Czech Republic
Where is Resort Green Valley
The Resort is in the Czech Republic countryside, merely an hour away from the capital, Prague. The region is called Central Bohemian Region and Resort Green Valley is specifically located in the municipality of Chotysany.
To get there you need to have your own car, as the resort is in a valley with no bus stops nearby.
The resort
The resort is set in a large valley surrounded by hills, trees and green fields. It truly is an idyllic setting. The hotel has different double and triple rooms distributed between the two main buildings near the dining room, with a maximum capacity of 100 guests. They also have three unique treehouses: the high tree house (where we stayed), the not so high tree house and an elevated dome.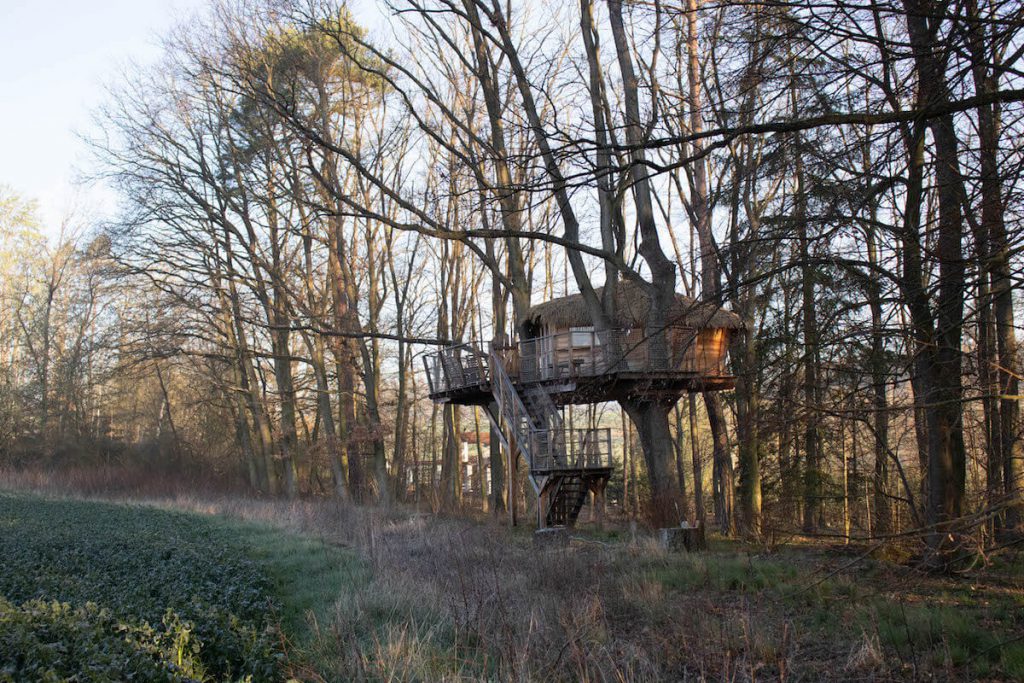 The resort grounds are stunning – which makes me want to go back during summer! They have a tennis court and a swimming pool and since the resort is far away from any villages there many hectares of property surrounding you with stunning views. Nature immersion 101!
Breakfast is included in your accommodation but dinner isn't. I highly recommend staying in the resort for dinner instead of adventuring out if you are looking for a fine-dining, mouth-watering meal. The "owner" does not speak English but one of his staff does and with his help, we organised check-in and decided on our dinner menu. We did not know how good the food was going to be beforehand and were expecting a home cooked style meal. To our tremendous surprise, we were served incredibly tasty, finely presented food in the middle of the Prague countryside!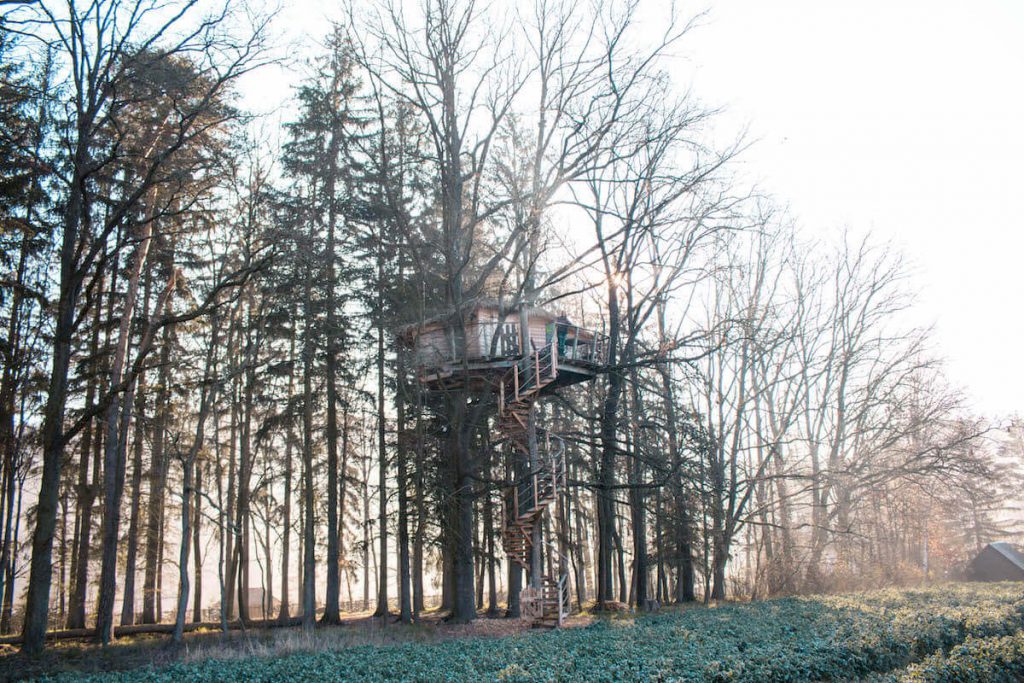 The treehouse at Resort Green Valley
The treehouse is 9m high. It is built around a tall tree and you get up to the door using a spiral staircase. One of the branches has a swing – could this be more perfect!?! On top there is a small terrace with a wooden table and a couple of chairs.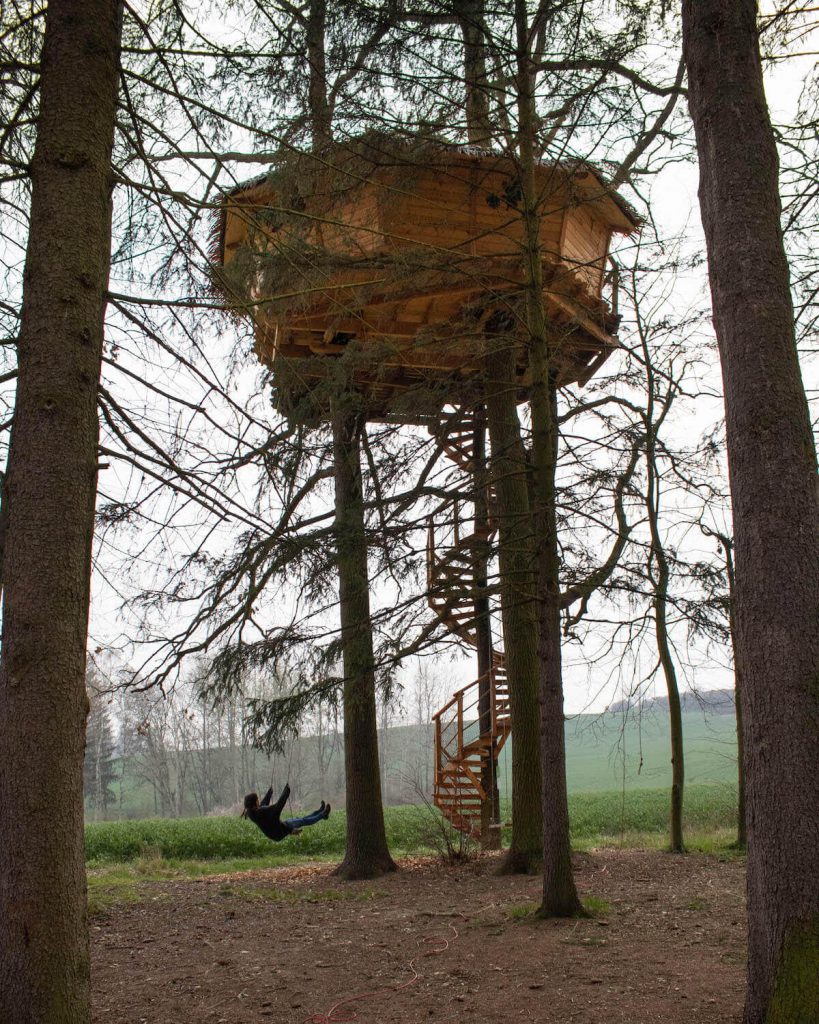 The inside of the treehouse has a hexagonal shape and you can actually see the tree branched in two main logs through the room. The treehouse features a double bed, small table, coach or sleeper bed, a little cupboard and door to a chemical toilet room.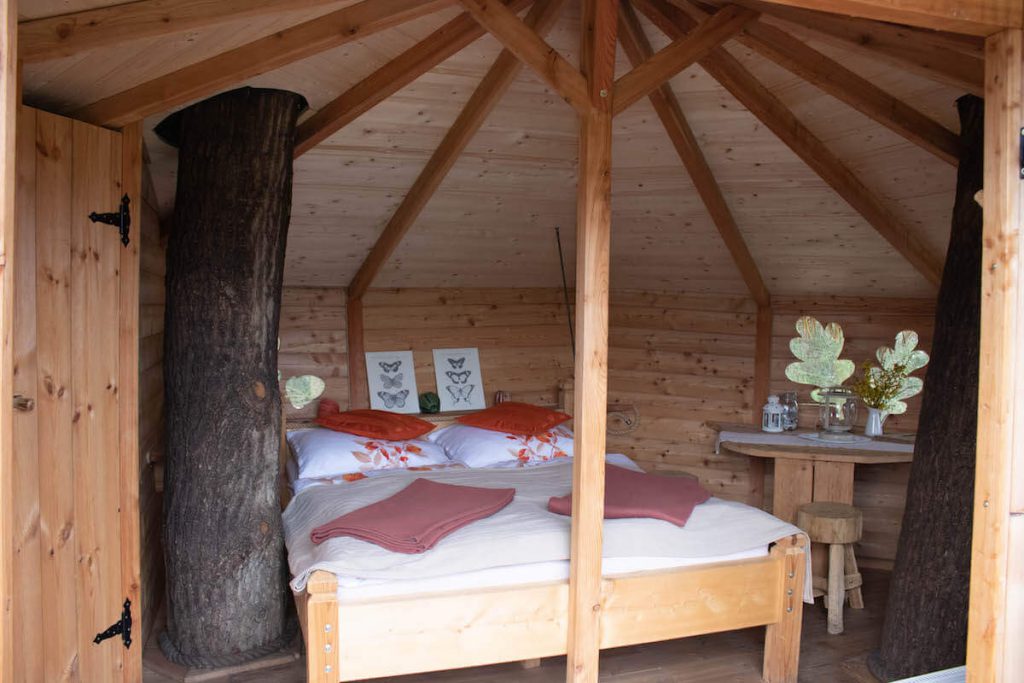 If you are not one for "roughing" it, there's a heater for Winter and about 40m walk from the base of the tree you can find a bathroom with electricity, flushing toilet, shower and towels. The bathroom is shared between the two tree houses and the dome.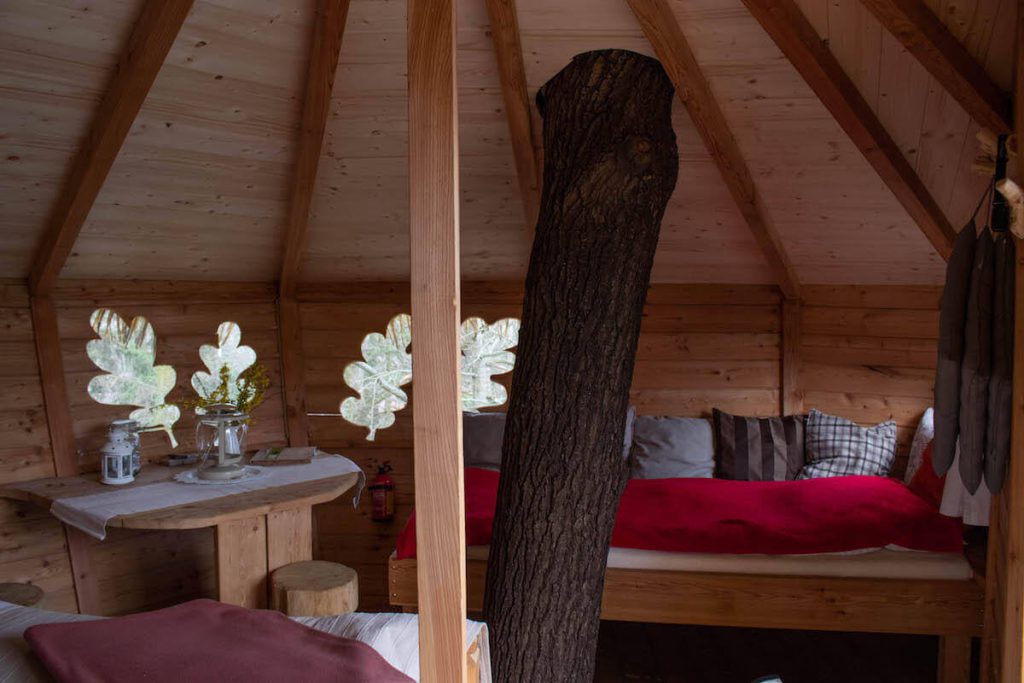 The lower treehouse is great for families as it features a double bed and a bunk bed. The Dome is great for couples.
Optional activities in the area of Resort Green Valley
If you want to explore a little bit of the area where the resort is located here are some stops you should visit:
Vlasim: In this little village you can check out the Vlasim castle and park, next to each other
Cesky sternberk is an early Gothic castle from the mid 13th century. It's location is pretty cool: the entrance is via a bridge and it feels just like you're in a movie!
Jemniste castle: A big mansion more than a castle by the looks of it, this 'castle' has amazing garden grounds that can be visited. The family that owns it still leaves on site. They change their visit timetables depending on the month so be sure to check their website beforehand.
Benesov: in this town, you should walk around the colourful old town and visit the statue of the minority order convent.
Konopiste Castle: a gothic castle built at the end of 13th century. The inside has collections of rare items and the baroque style gardens are beautiful to stroll around in. There's also a bear living in poor conditions as part of a cultural tradition :(, which I hated.
Sázava: the town is located next to the river of the same name. It was built around the Sázava monastery, the main attraction to visit.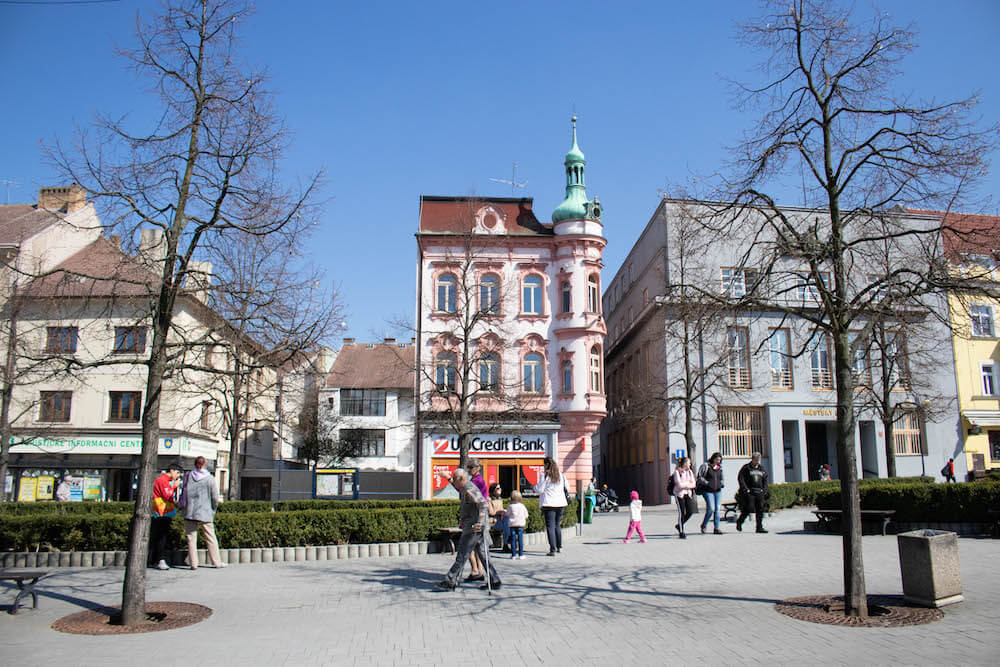 Visiting every item from this route from Resort Green Valley to Sázava takes 1h46 minutes of driving. It can be done at a leisurely pace with half a day before returning to Prague.
Getting out of the city was great, not only for the stay, which was magnificent, but for the chance to explore a lesser known area, only an hour away from Prague, and all it had to offer. I've always loved the sensation of driving in the countryside and the Resort Green Valley was no exception!
Pin it for later!