A tree house stay overlooking the Bianya valley, Cabanyes entre Valls is a marvellous nature experience. Combining design, sustainability, childhood dreams and nature – you will not want to leave this beautiful hotel.
Staying at a tree house is already an incredible experience as it is, but what if you added the latest wooden interior décor and a private deck with a hot tub? Now, that makes it truly remarkable!
Looking for a unique hotel to stay at in Catalunya? Let's dive into this review.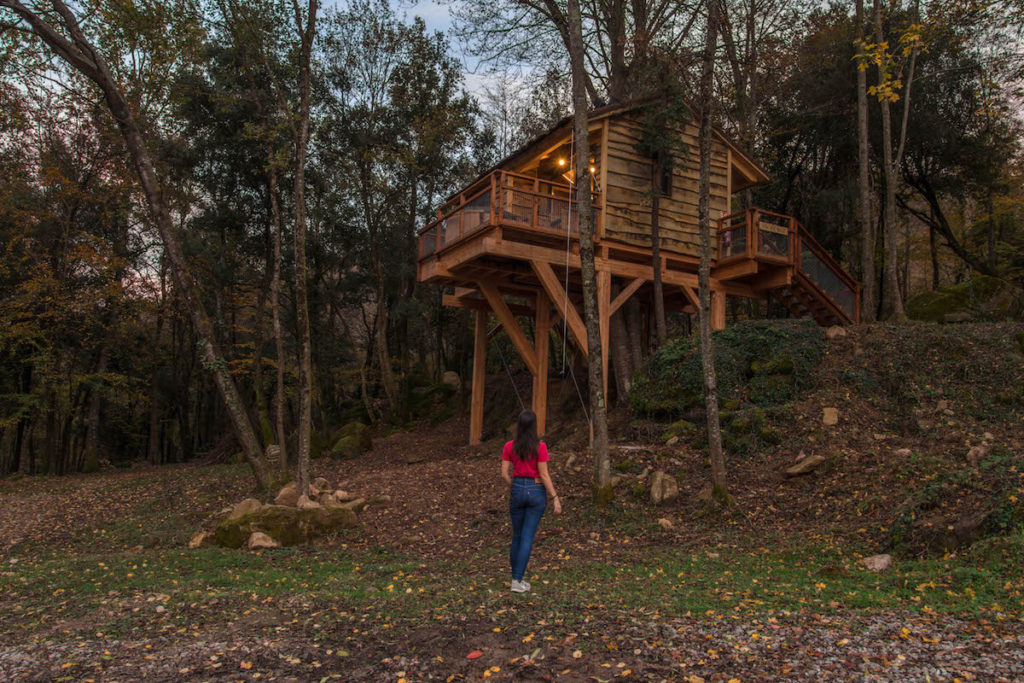 Quick facts:
Good for: couples, families
Price: Starting at 169€
Location: La Garrotxa, Catalunya
How to get there
Cabanyes entre valls is located in la Garrotxa, an area only 1.5 hours away from Barcelona, Catalunya.
There are different routes available but the fastest one is on the C-17 road, which has tolls.
The road is all tarred except for the last 200m onto the property. You can definitely drive there in a city car up to reception and the first two cabins. For the last two cabins, the road is a bit more complicated but they will advise you upon check in.
We drove a Seat Mii and could go to the lowest (4th) tree house without any issues, barring a couple small scrapes to the lower part of the car. Driving slowly it really wasn't a big deal. You can also park in their main parking lot and walk down or get a lift to your tree house.
Cabanyes entre valls: check in
Cabanyes entre valls is located in a beautiful property, Mas Espunya, in a nook between two hills with views of the valley below and a wide range of views of the property.
The property has a couple of houses where the owners of the property and the hotel live. The most visually stunning building you will see is the reception and restaurant area. A double story building with big wooden arches and rustic boho decoration that will make you fall in love with the place as soon as you begin your check in.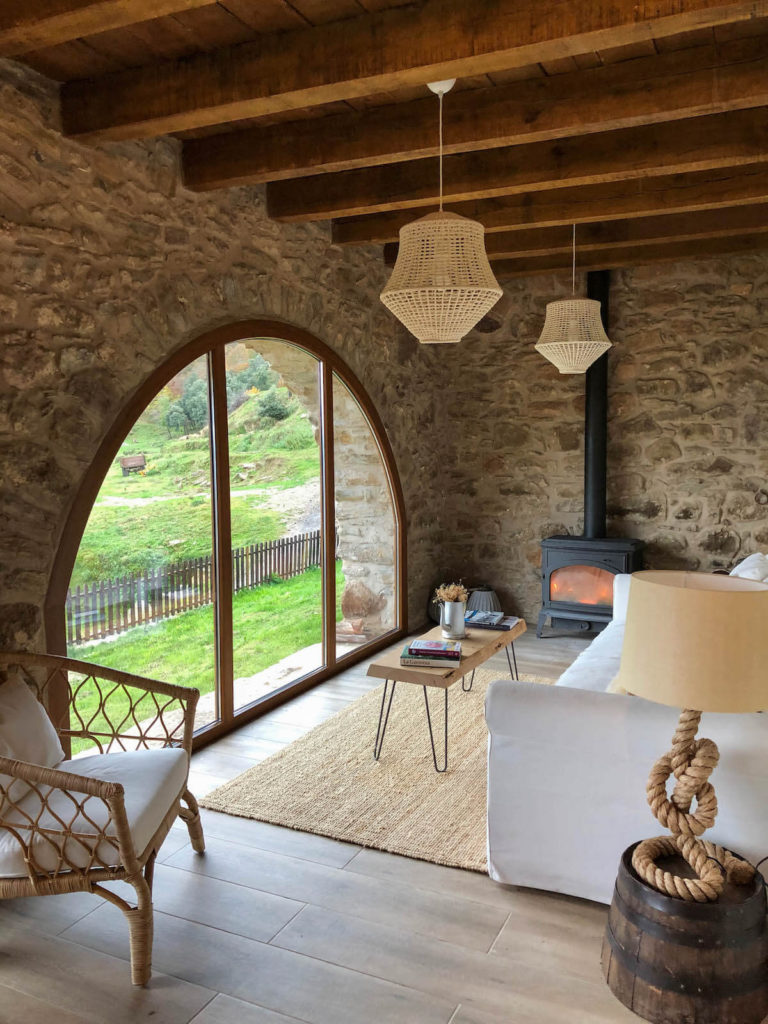 The restaurant is open to the public for lunch every day of the week, and offers breakfast and dinner to guests only.
Breakfast is included in your nightly rate and includes a variety of local, fresh produce delivered around 9am direct to your tree house.
You can pick between vegan and non-vegan options at reception each day for the next day, with fresh and local produce like veggie pates, sourdough bread, fresh orange juice, cheese and cold meats as well as croissants & chocolate croissants for those with a sweet tooth.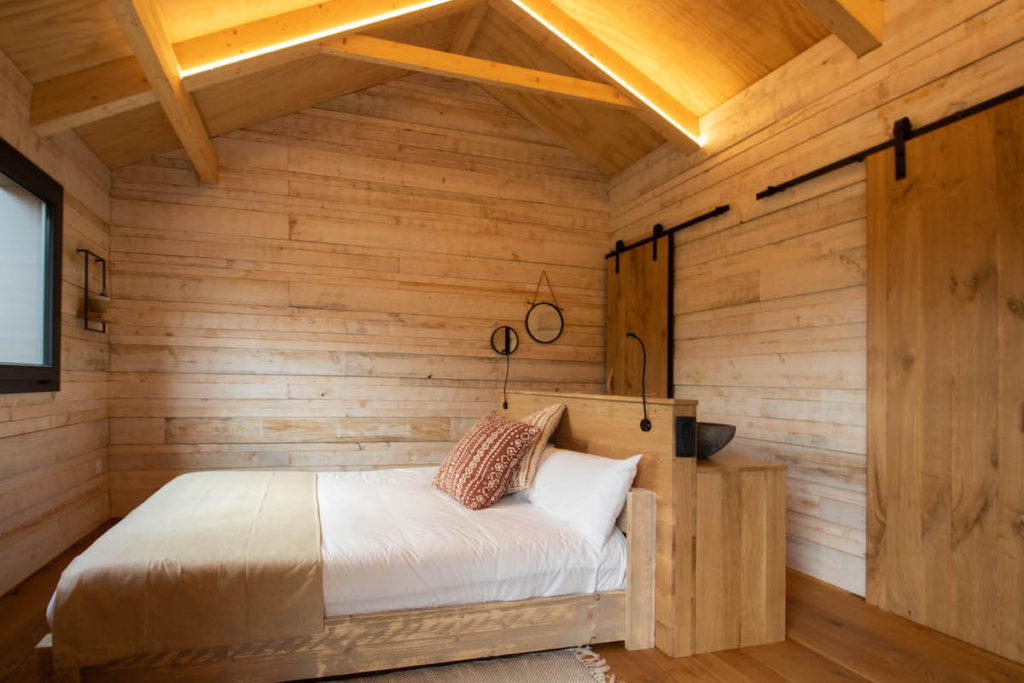 Dinner is not included but I highly recommend you try it at least one night during your stay. Their cuisine is really tasty, made with km0 ingredients and you can choose where to eat. If you want to go to the restaurant you can, or you can also get it delivered to your tree house. Every delivery is made with reusable containers, jars and bottles, so there is no plastic which I love!
The tree houses at Cabanyes entre valls
They have 4 tree houses currently. Quintanic tree house is the family one. It is a duplex tree house that can host a small family, with a double bed and an individual bed upstairs. Another bed can be added for a maximum of 4 people.
The other tree houses can all sleep two adults with the option of 1 extra guest.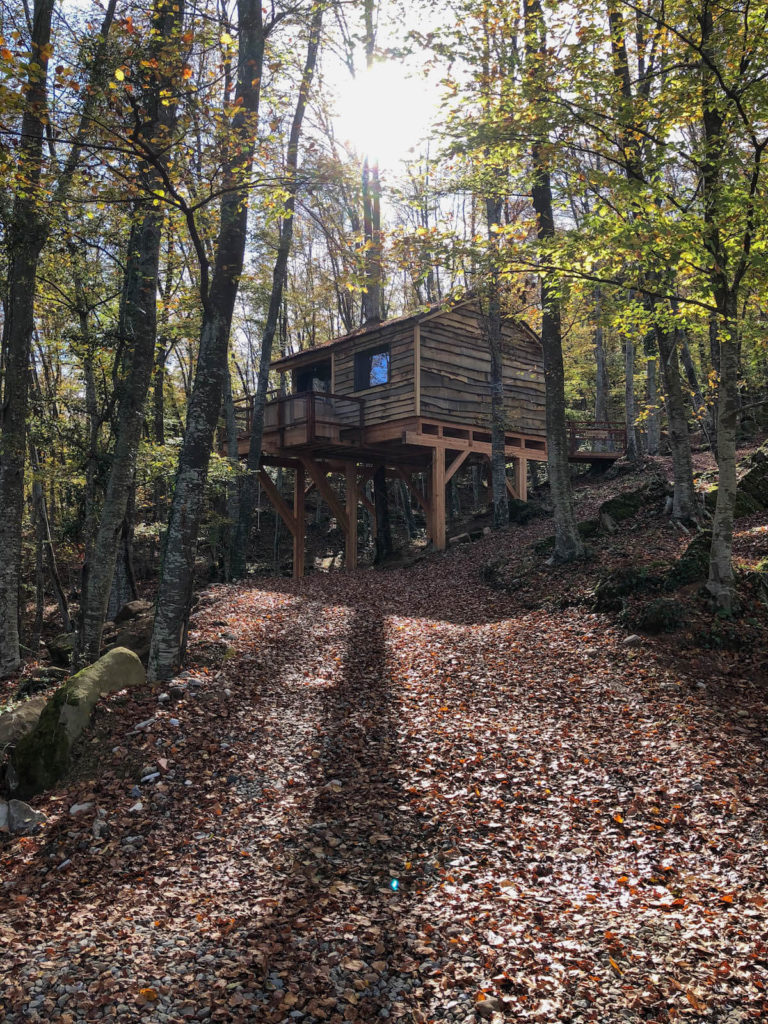 They are all quite separated from each other and you have privacy on your deck, which is really important to me!
The material used for the construction is wood and it is exquisitely decorated inside. They went for a very neutral colour palette that matches the forest and brings it all together.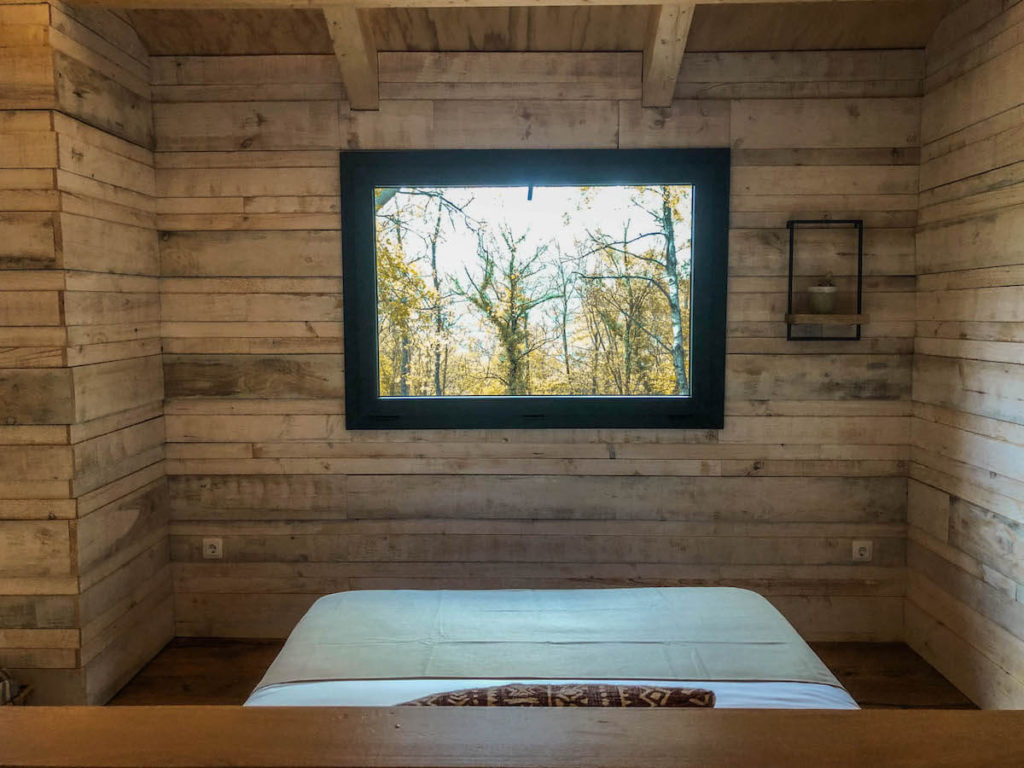 The bedrooms have a queen size bed, ensuite shower and bathroom as well as a small table for dining. They all come with a nespresso machine, water bottle, glasses, cups and coffee, tea and sugar nook. There's a pellet stove to keep you warm too.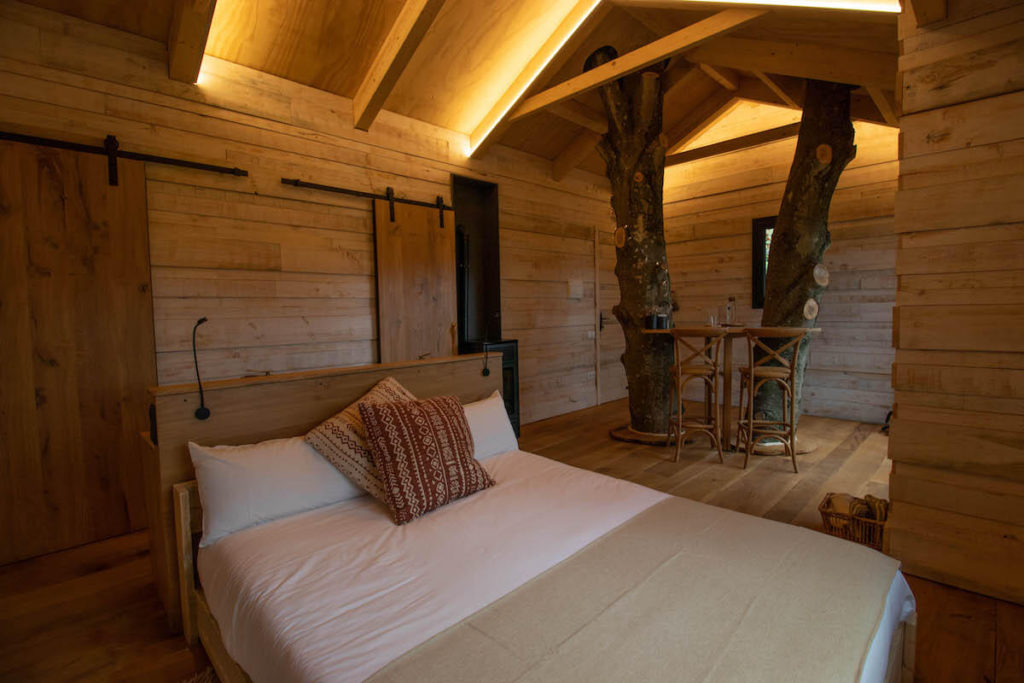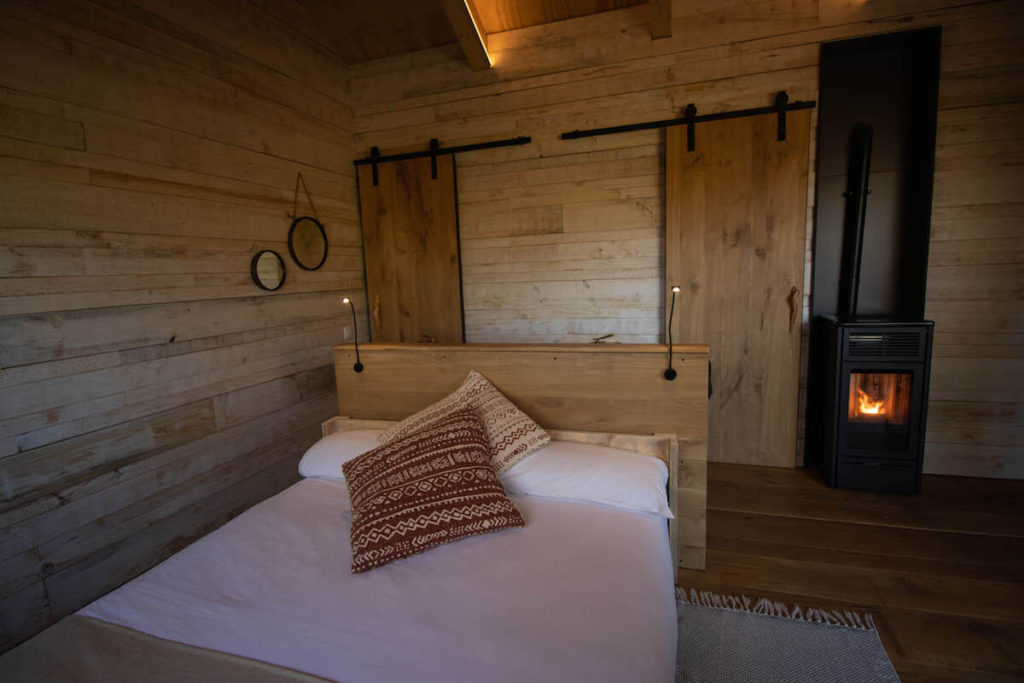 The private deck has two lounge chairs, a table and the star of the show: the hot tub!
There's a room cleaning service daily, so if you stay for more than one night, you can let them know when you're going out so that they can clean the room for you.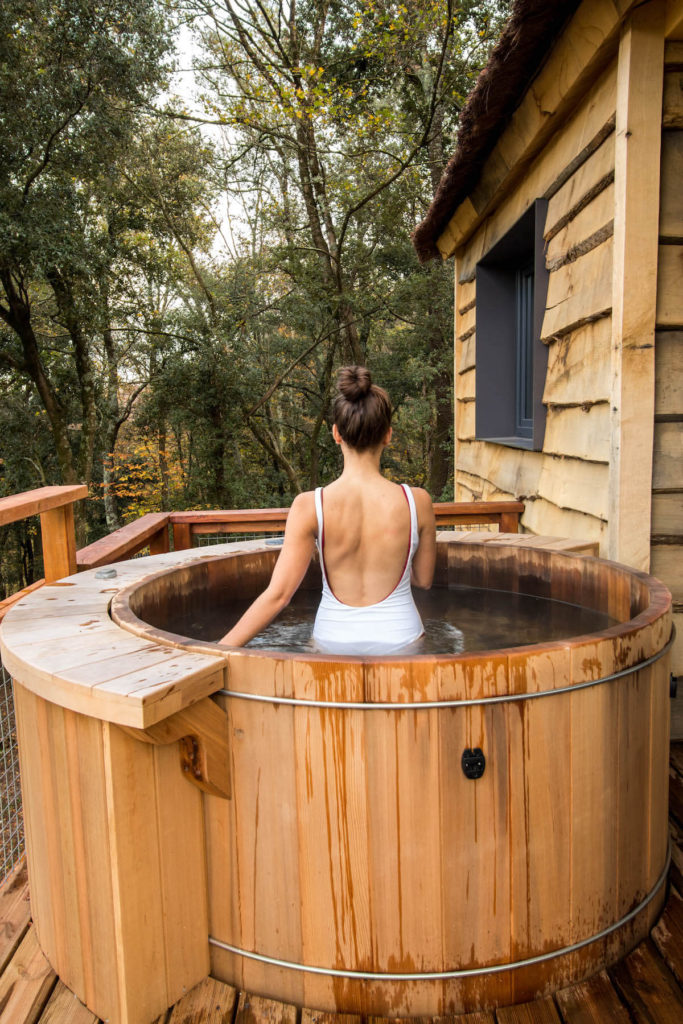 ---
Looking for another unique sleep in Catalunya? Check the list of Sweet dreams here.
---
Activities available at Cabanyes Entre Valls
The property has two walking trails that are amazing. If you have enough time to, then doing both of them is a must.
The first hiking trail is a short 20 minute each way flat path to get to a fountain. It is mostly in the shade of trees and will take you far into the property, you will get a feel for the vast size of the area. This one is good for a family with young kids or a lazy stroll. You can take a picnic and have it there, they'll prepare one for you at reception.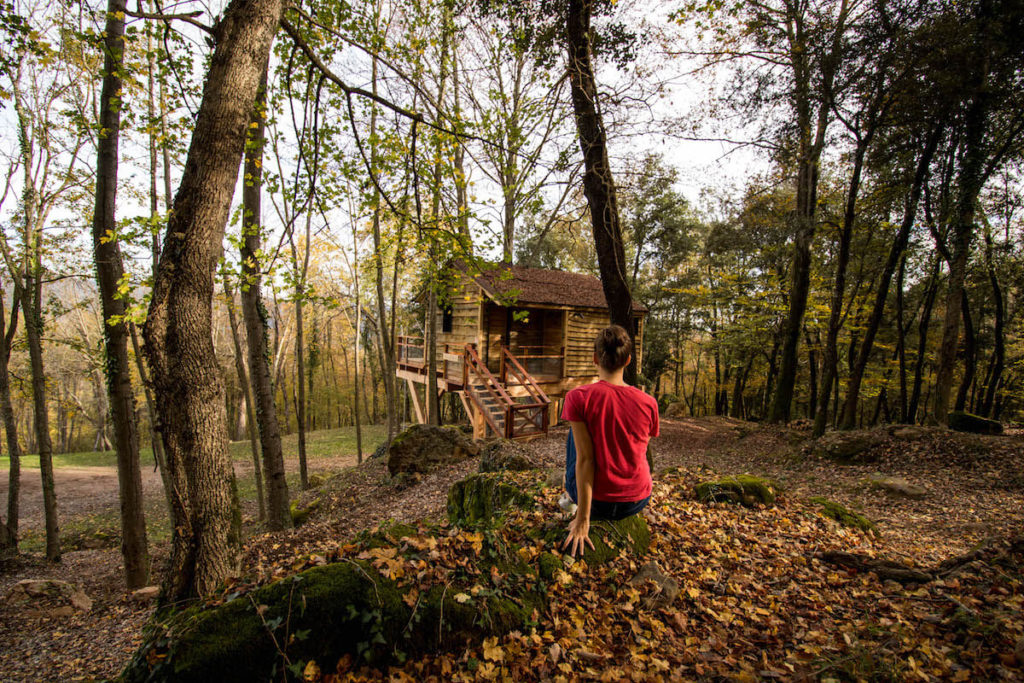 The second hiking trail is a loop taking you to the biggest tree of the property and takes about 1h to complete. This one is a little bit harder but not too challenging, although I would not recommend it for couples with young children.
What you'll love
A glass of wine in your private hot tub as the sun is setting. You will spend all your time inside until every one of your fingers is wrinkled.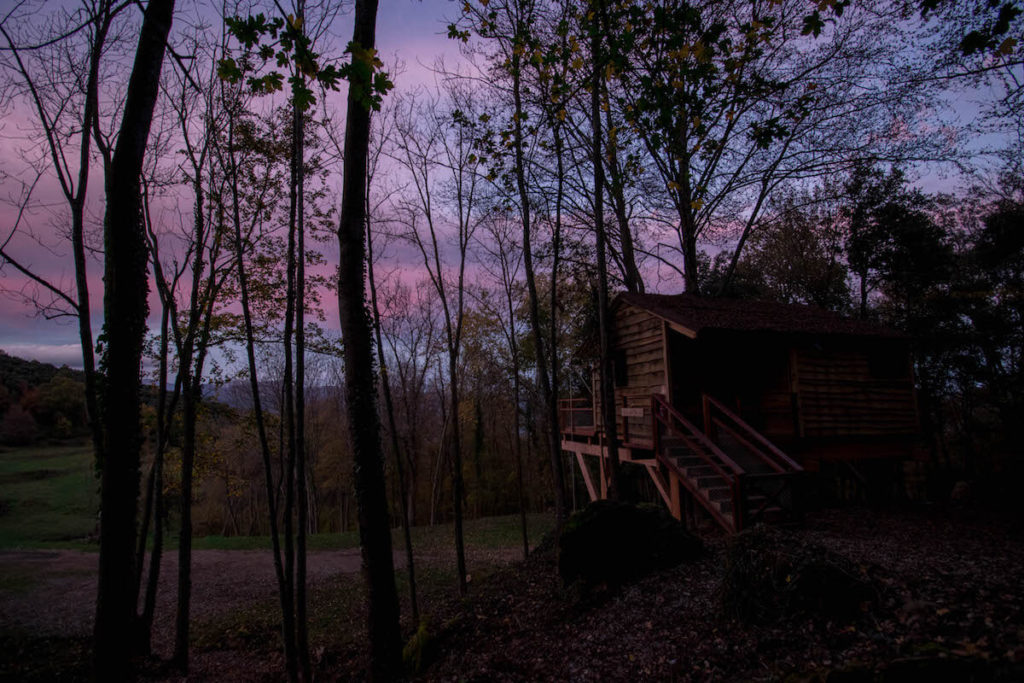 Having breakfast in your cabin brought to you is already the best feeling, but when they tie it to a rope that you need to pull up yourself, it adds to the overall experience.
There's signal throughout the property that you can use to work if you need to. We had a number of video calls on 4G and it worked great – not a bad remote working spot!
Late check out at 12 will allow for a slow morning without any rush, enjoying the views from your elevated tree house and deck.