Arriving on Príncipe Island in São Tomé and Príncipe felt like paradise redefined. Suddenly I needed new words to describe the views. You are about to find out what to do if you have 3 days in Príncipe.
Príncipe is the second of the islands comprising the country of Sao Tomé and Príncipe and the smallest of them. The population is around 7000 inhabitants and the whole island is a dense, lush and green forest topped up with remote, sandy beaches. As we visited São Tomé during rainy season the roads were moody and it was raining, which made the drive more unique.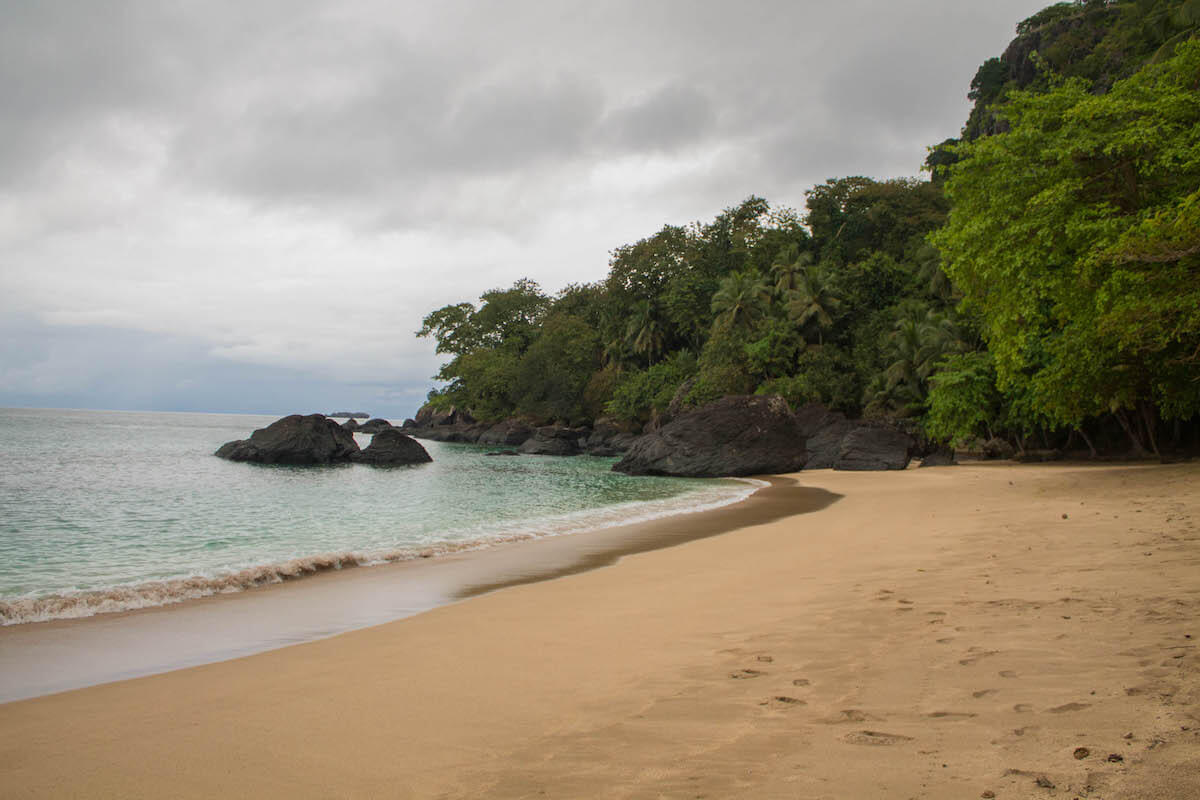 How to get to Príncipe
Príncipe is the smallest island of São Tomé and Príncipe and can be reached by plane from the main island. There are two companies flying this route. There are daily flights connecting the islands. It takes only about 30 minutes of flying to get there.
Where to sleep in Príncipe island
Príncipe is a very unique and mostly unexploited tourist destination. In October 2018 there was 1 airbnb available in the capital, some 4 star hotels and a couple of local guesthouses. Most of the industry is controlled by a couple of hotel portfolios owning different 4* luxurious hotels. Some of the options are:
What to do for a 3 day itinerary in Príncipe Island

Day 1 in Príncipe
Arrive at your accommodation and spend the day by the beach. I recommend choosing a lodge that is directly by the beach. Spend the afternoon and evening sipping cocktails, kayaking, swimming or snorkelling. All the resorts are relatively small so you are in for an unbelievably relaxing experience.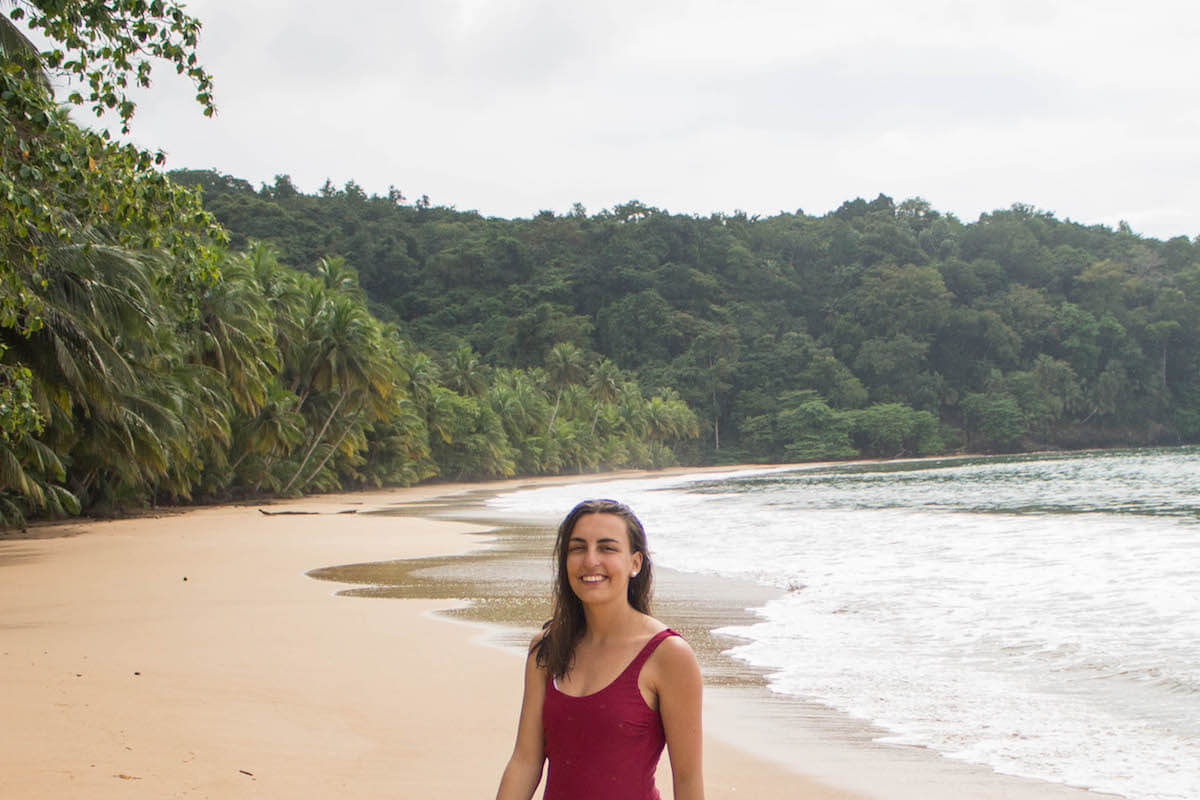 Day 2 of the Príncipe Itinerary
The great thing about visiting Príncipe is that "day usage" of the resorts is an acceptable and often used modality of travel. If you are not staying at one of the fancy resorts, you can go spend the day there.
Kayak, walk or get a transfer to Bom Bom Island Resort. This resort holds a special place in my heart, as I had to find new vocabulary for the landscapes I was seeing. The scenery from the lodge is magical.
The resort is located at one of the tips of the island, in land. There is a wooden bridge connecting the hotel with a little island. On the island you can find a bar/restaurant and a 1h hiking trail that takes you on a circular loop around the island. The bridge gives much more character to the resort. Here are some pictures for proof: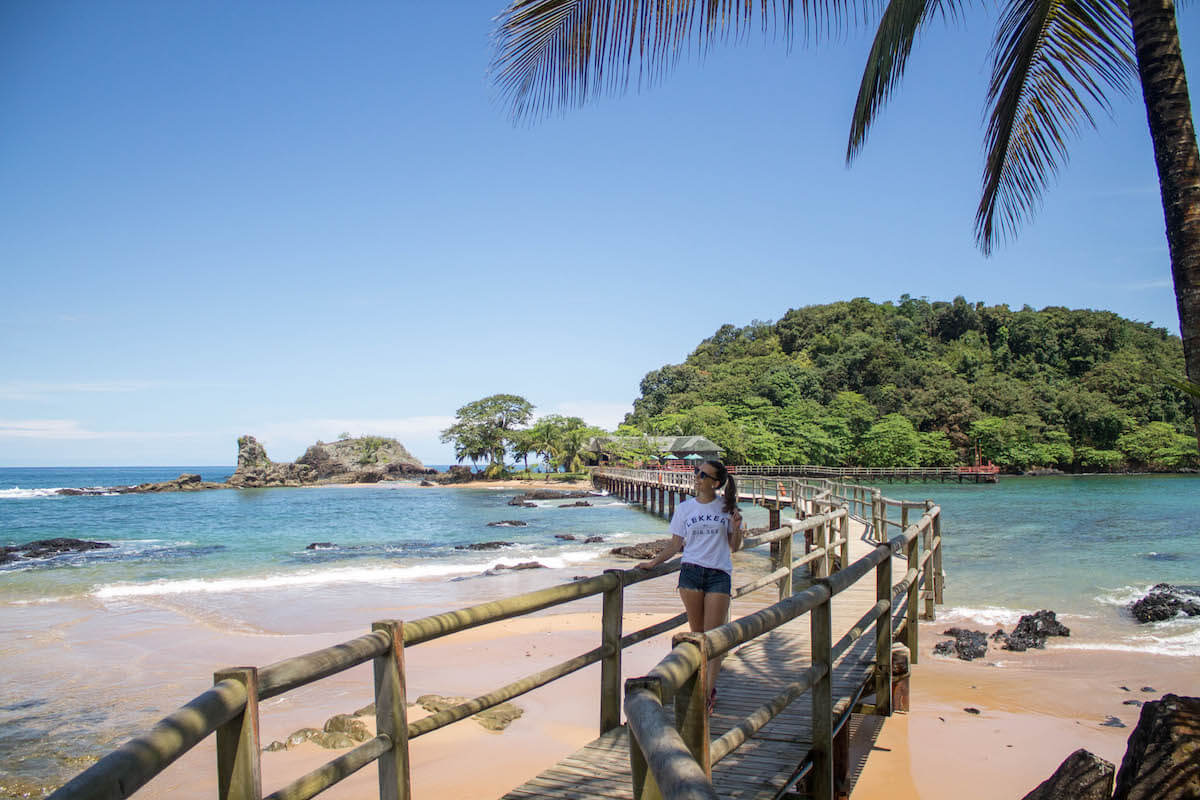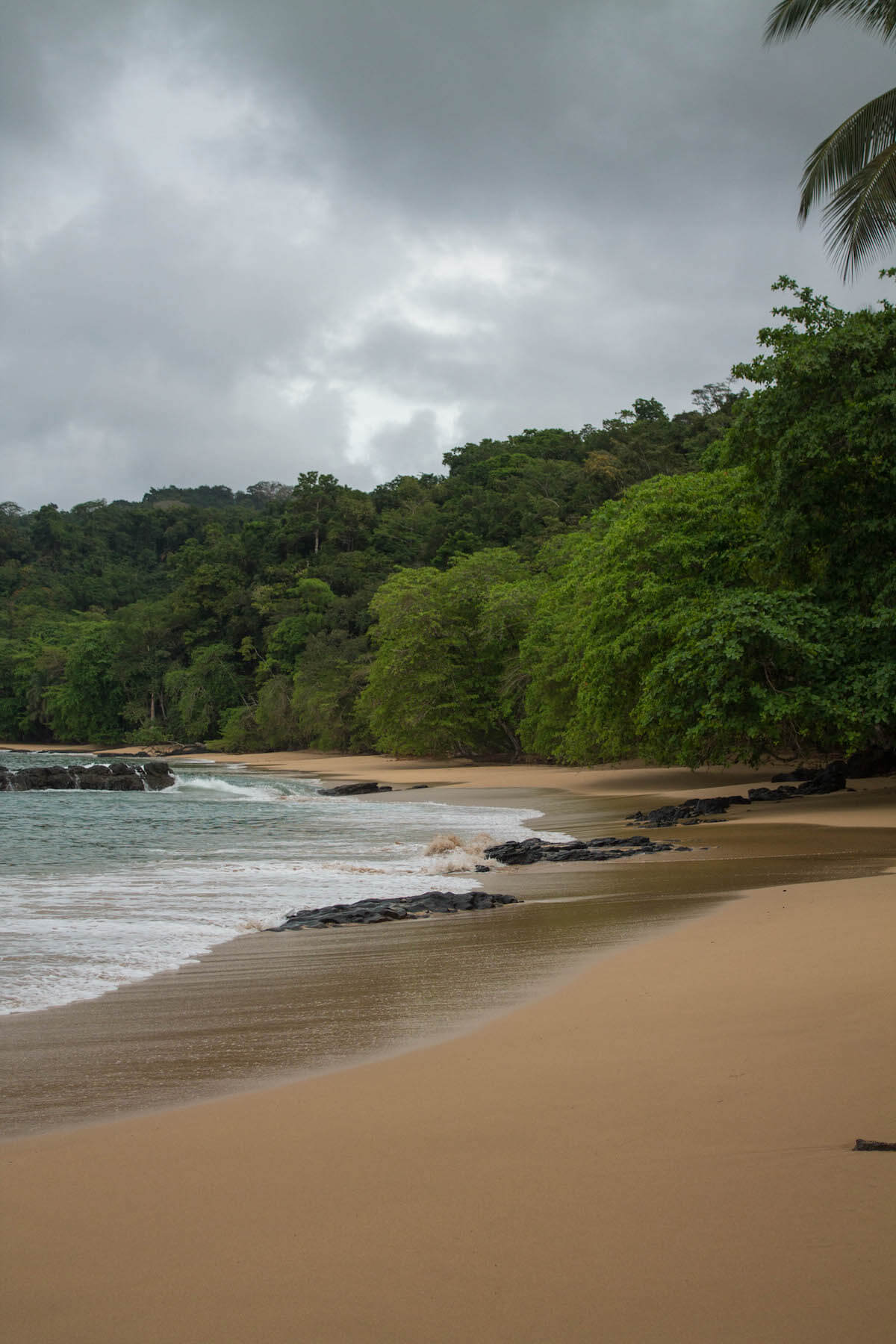 If you love diving (or are getting started like me!) I encourage you to give it a try. Diving can be organised from a variety of resorts on the island but as far as we noticed there were a couple of hotels that just took you to the Padi centre in the Bom Bom Resort, so might as well organise with them directly. They have some interesting dives with different depths to choose from and so many different banks of colourful fish. It was a superb experience.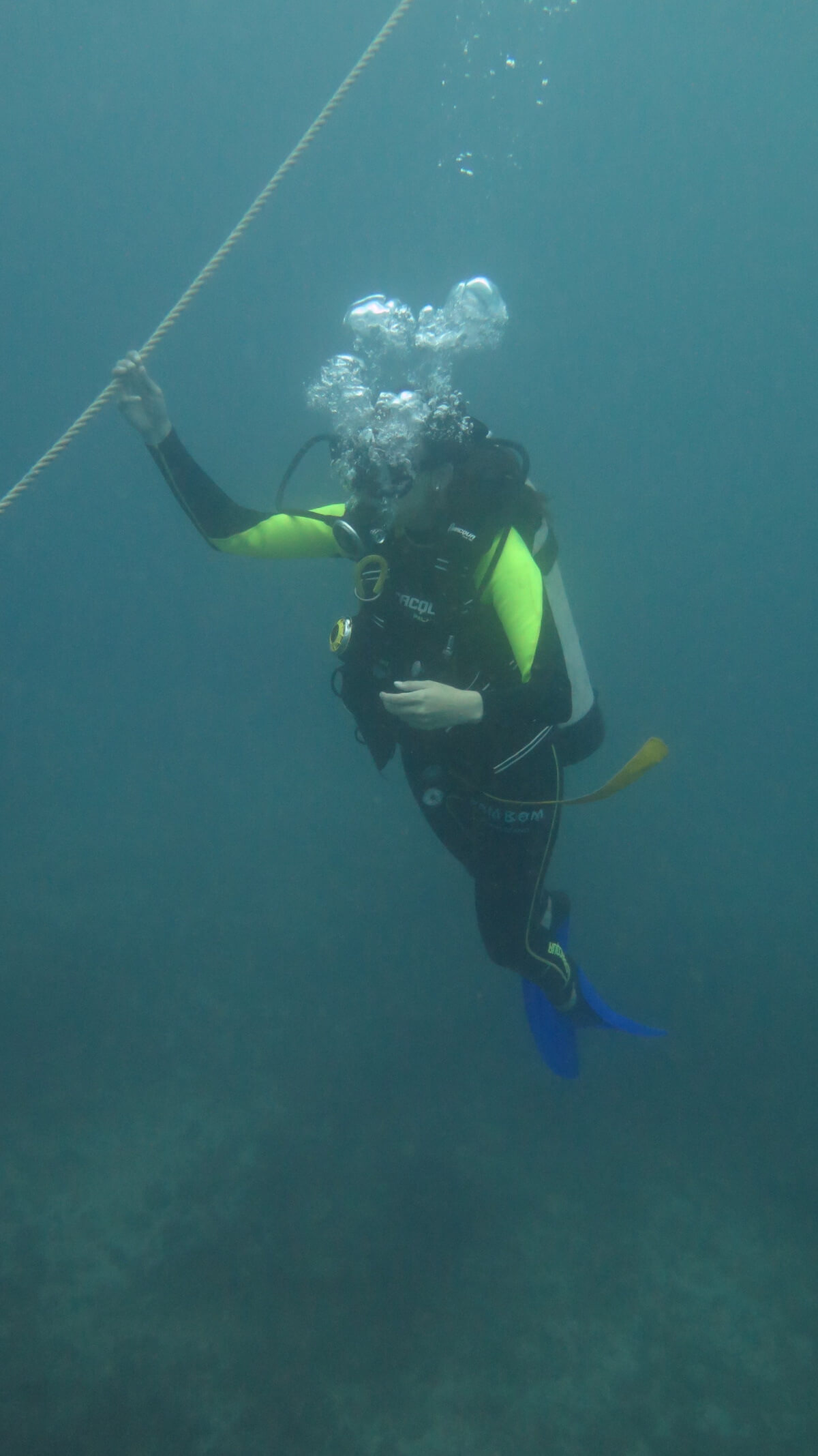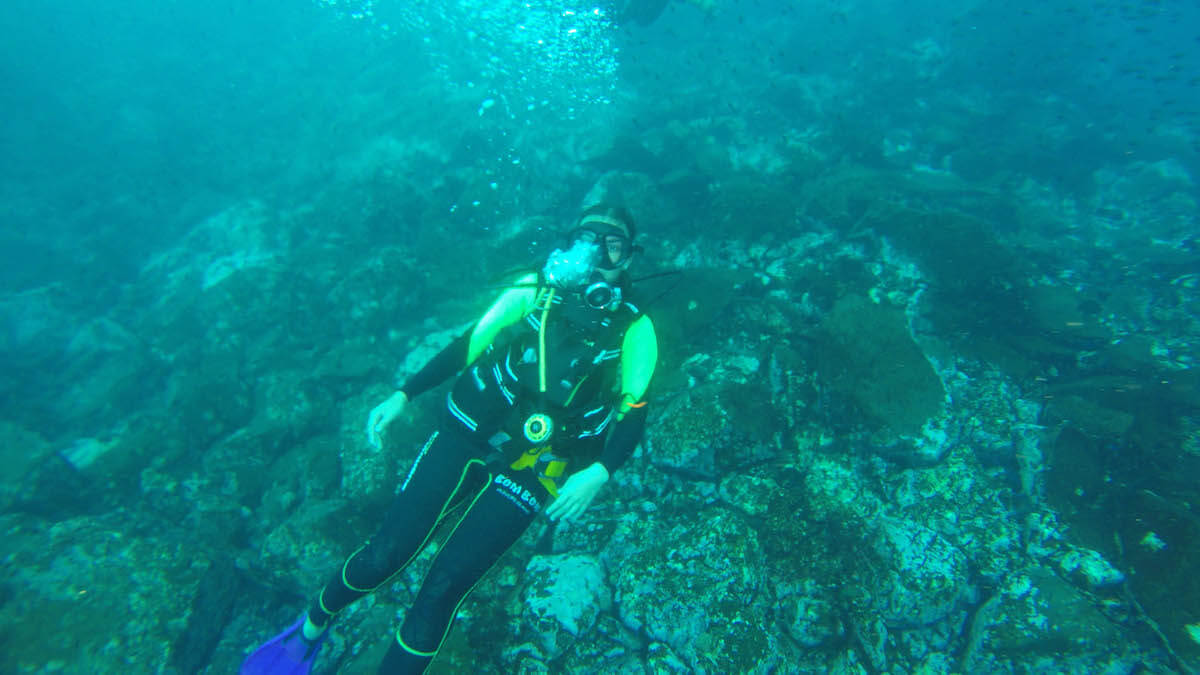 The prices in the restaurant and bar are equivalent to those in Europe. It is an important piece of information to consider when you budget for your daily spend. The diving was 130€ per person for 2 dives. 165€ if booked online.
More about scuba diving: getting PADI certified in Cape Town
Day 3 of the Príncipe itinerary
Hire a driver to take you around the island. The island is not developed so some roads are not paved and the most important part, we didn't find anyone who was renting a car to tourists. If you ask around town they will direct you to someone who speaks some English (a rare quality there) and can tour you around the island.
As our main interest on the island was diving and the second day the weather wasn't great we did not tour the island. More reasons to come back soon!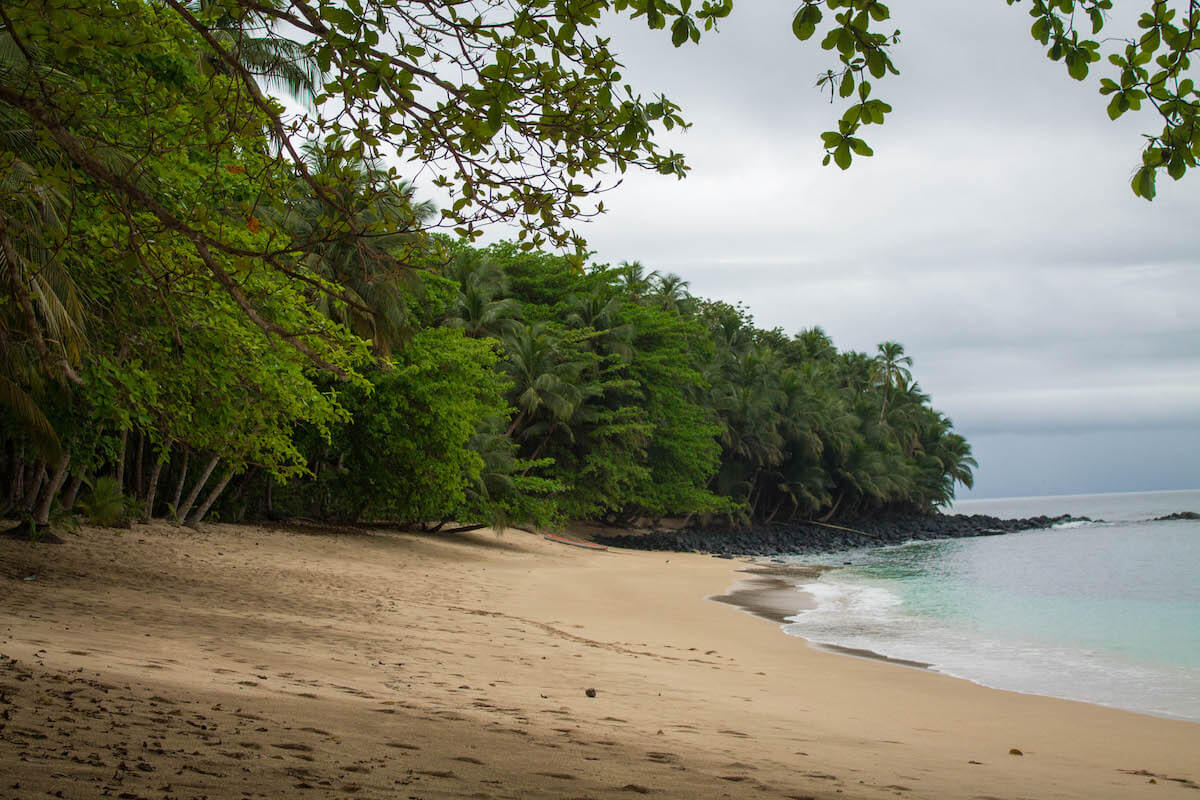 This 3 day itinerary in Príncipe Island will give you a good understanding of what there is to see and how beautiful the natural paradise is.
If you have more days (and I hope you can spare a couple more after reading this post) you should try and have one more day to just relax by the hotel/beach and another one to also explore the island. It is a small island and untouched, but if I had 3 days on my Príncipe itinerary I certainly would try to explore more of the areas.
Check out this cinematic travel video about my trip to São Tomé and Príncipe!
[kad_youtube url="https://www.youtube.com/watch?v=XQWusDP10I0″ ]
Logistics on the island
We found transfers between lodges or Town to lodge for 20€ for 2 pax. The distances are short and from reception they will happily organise this for you.
If you are on a budget I recommend staying one night at one of the resorts as it gives you more of that secluded island experience and then move to town. There was only 1 guesthouse/airbnb and the rooms where small and basic, but clean.
There are a couple of bars and a supermarket where you can get food for your stay and the town Santo Antonio can be visited in merely 20 minutes.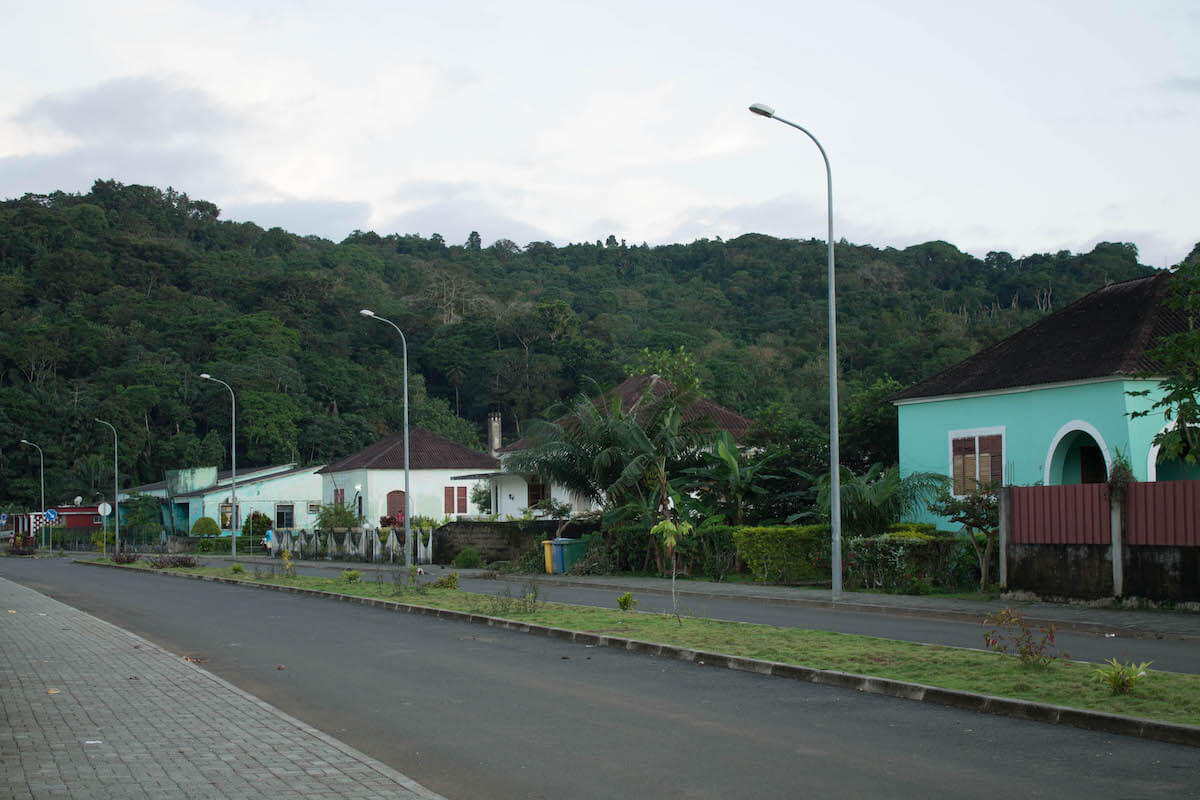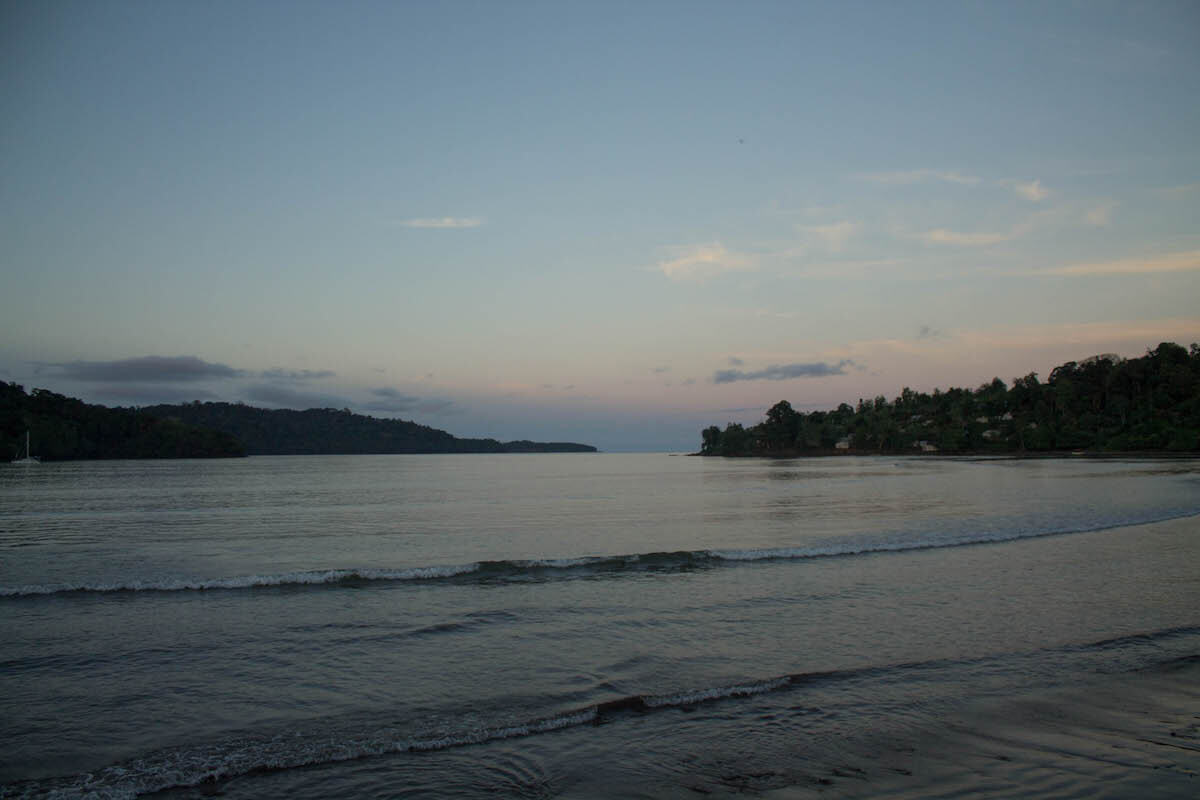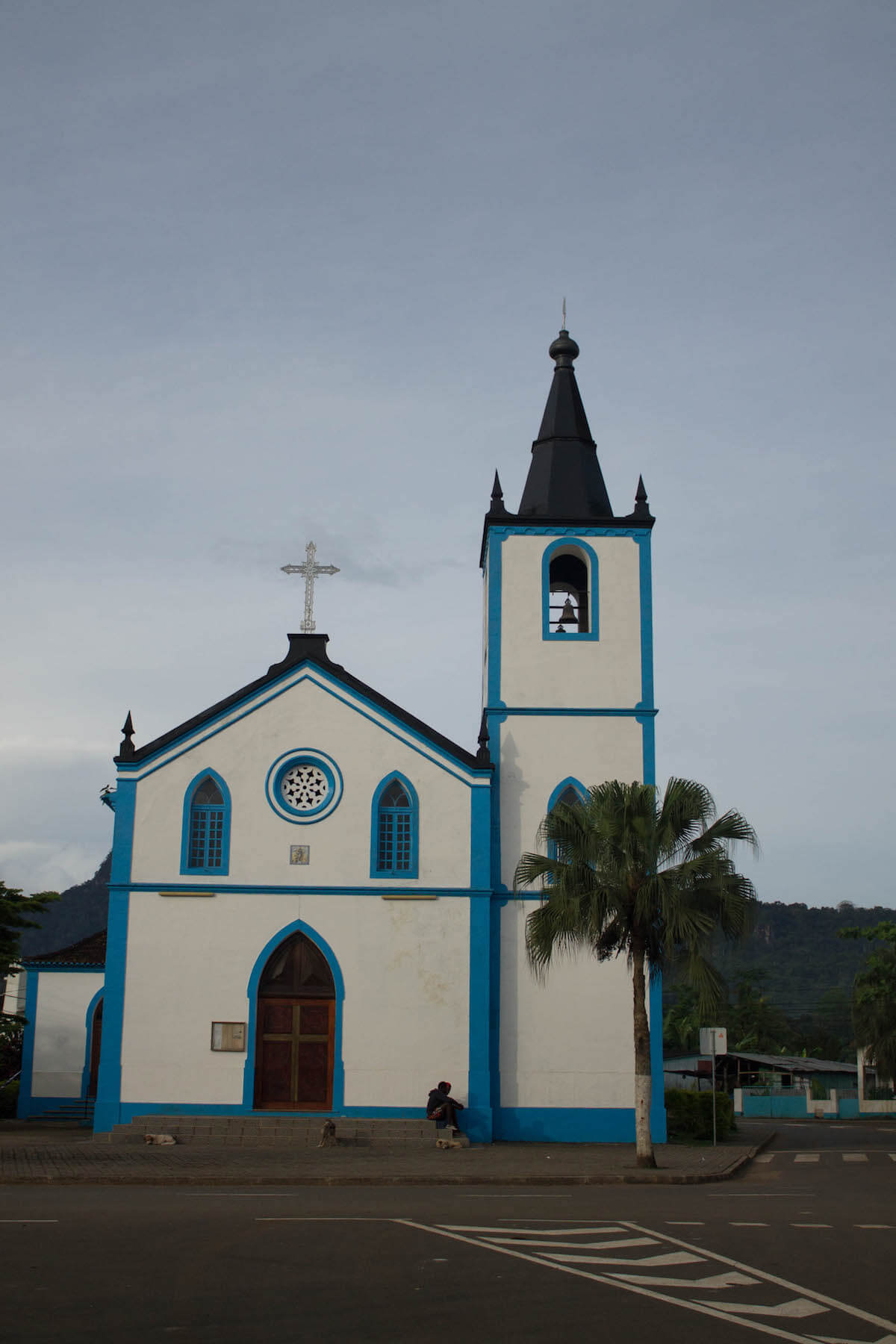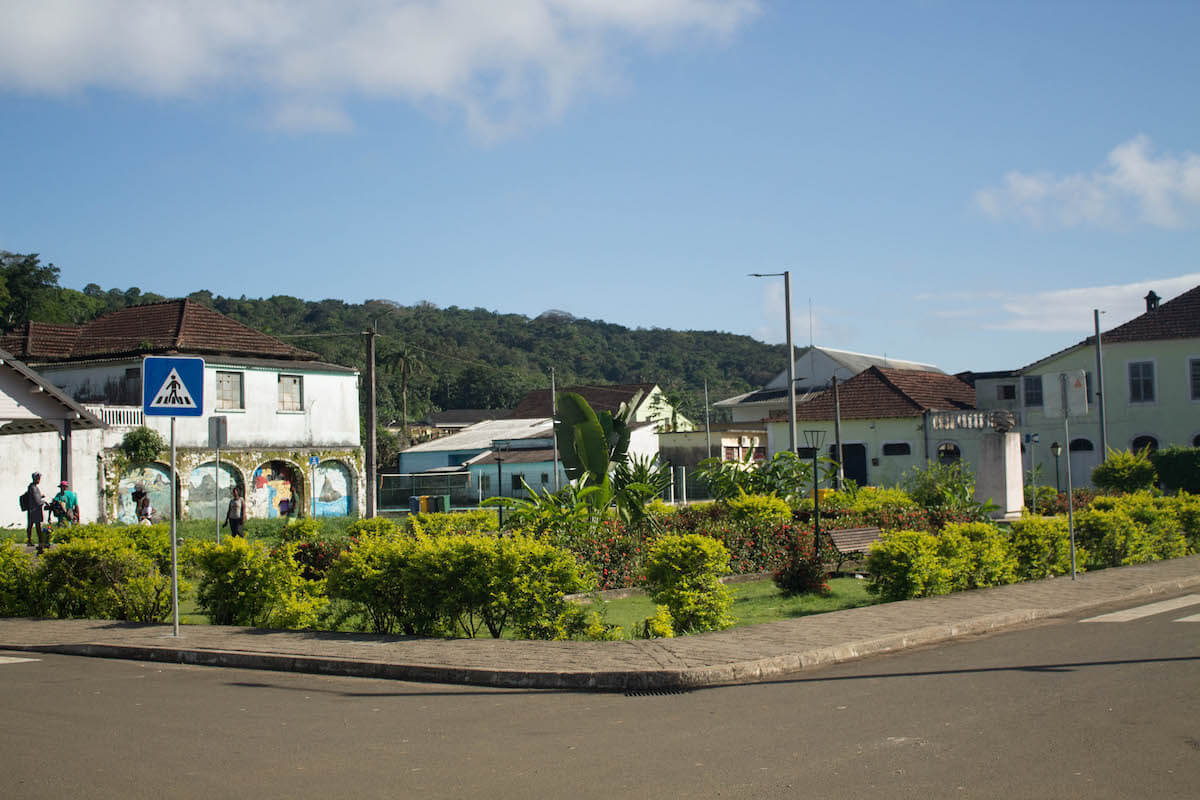 If you have some budget then of course stay more than one night at the resorts. There are different prices for the resorts so you can always find the cheapest option within the luxury range.
If you are organising a tour around São Tomé and Príncipe I would recommend starting with Sao Tome because it is not as impressive or as well taken care of, and end the trip with the best part which is Príncipe Island.
I for one cannot wait to come back! Have you found my 3 day itinerary in Príncipe useful?
[columns] [span6]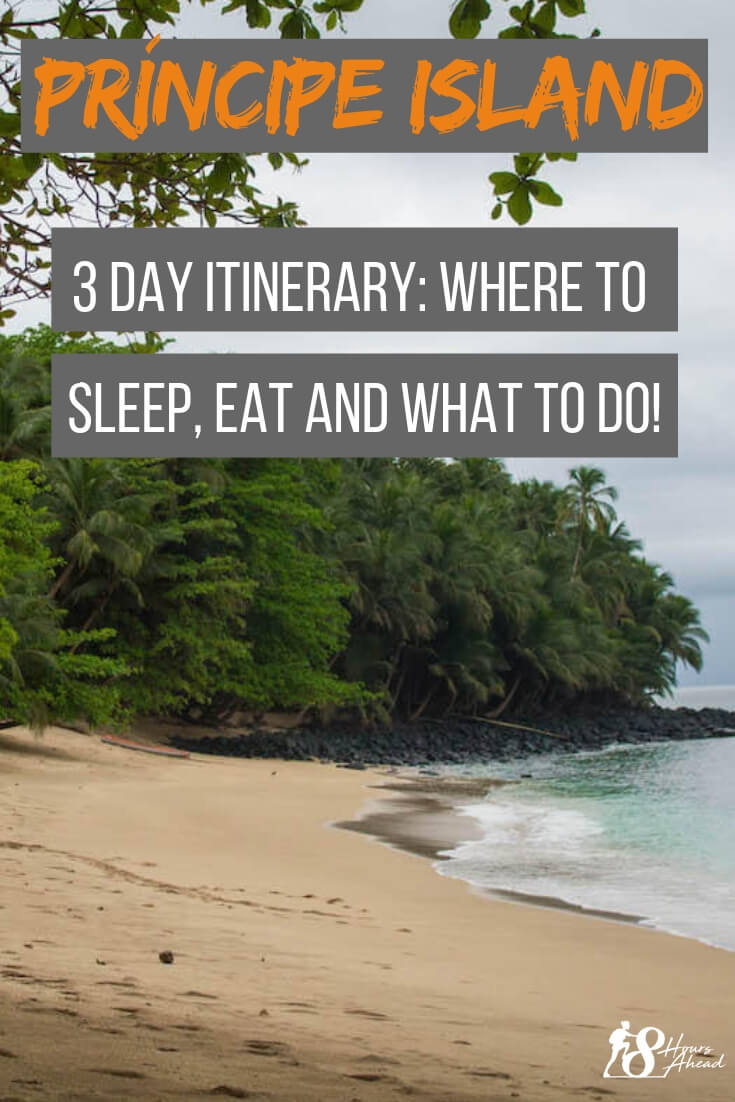 [/span6][span6]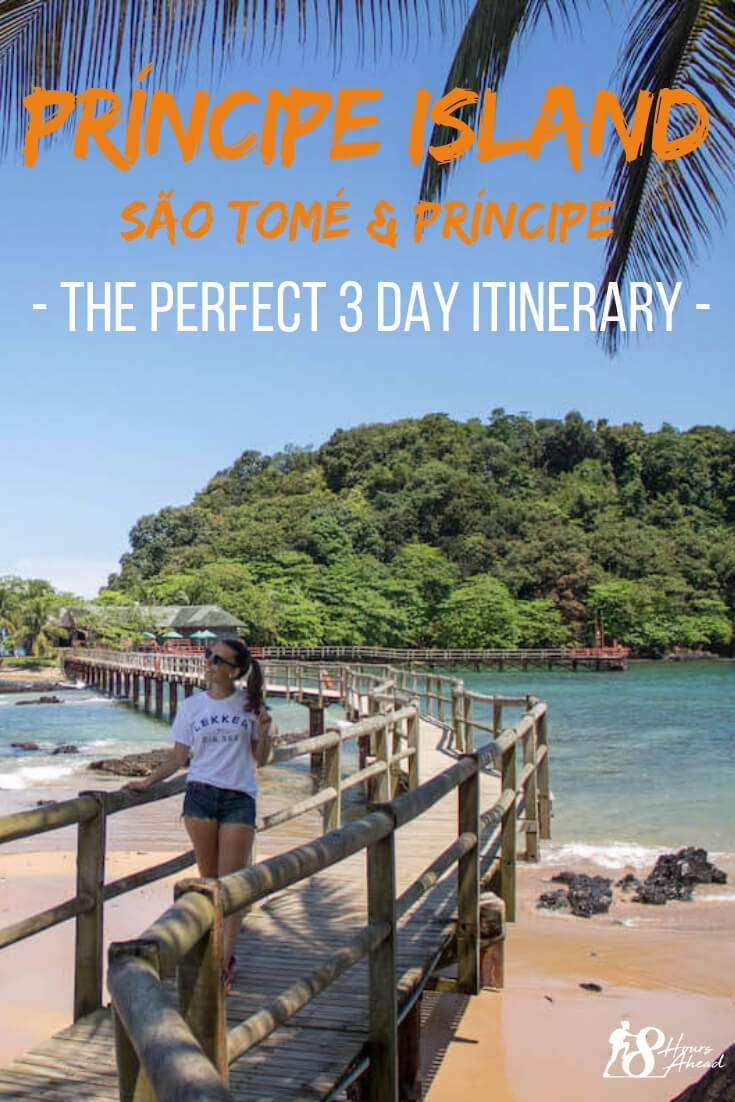 [/span6][/columns]