If you're looking for a city escape that ticks all the boxes for a relaxing stay, Hotel Brummell in Poble Sec, Barcelona is where you need to go.
It's perfect for people who like to stay in a place with character but also have access to the biggest tourist attractions.
On my latest visit to Barcelona, I stayed in one of their Penthouses for a couple of nights. I can honestly say that this is one of the nicest hotel rooms that I've ever had the privilege to stay in.
Quick facts:
Ideal for: couples, families with children under 2, business tourists
Price: starting at 89€/night
Location: Barcelona, Catalunya, Spain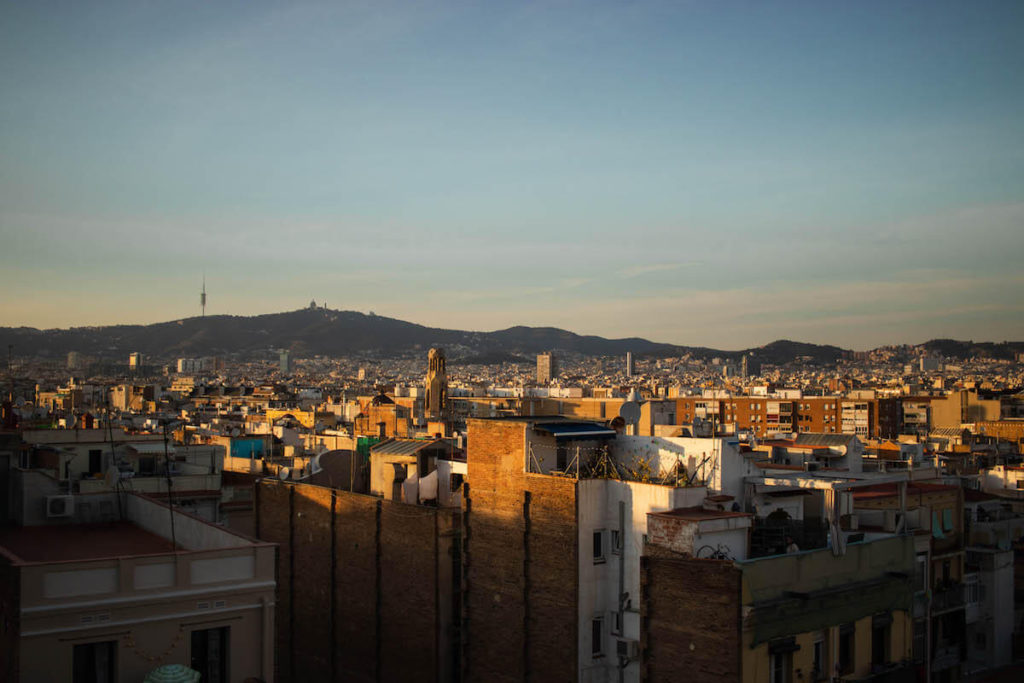 How to get there
From the airport El Prat (BCN) you have various options to get to Hotel Brummell.
Aerobus and metro: Take the blue aerobus from the outside of the terminal to Plaça Espanya. From there take the metro green line towards Trinitat Nova and get off at Paral·lel station. The hotel is 400m walking distance away.
Metro: take the new L9 metro line until Zona Universitària and then the metro green line towards Trinitat Nova to Paral·lel station. This route is a bit longer time wise.
Taxi: the ride is around 18 minutes and it will cost you between 20 – 30€ one way. There are many taxi drivers waiting at the airport.
Hotel Brummell: The hotel
With a mix of Mediterranean and Scandinavian decoration, this boutique hotel in Barcelona has kept the soul of a family home and converted it into a designer hotel.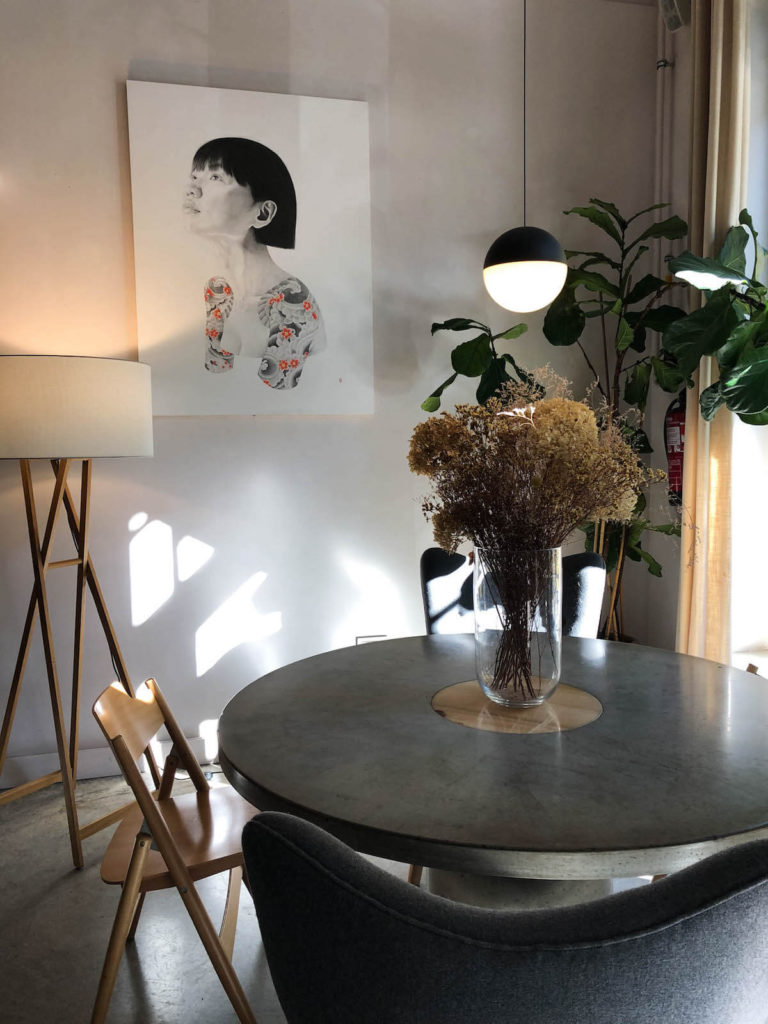 Upon entering to Hotel Brummell you'll find a reception and a cute curio shop in an open plan. There is an honesty bar with snacks and drinks set up all day and an inside terrace for breakfast, lunch and dinner.
They have Palo Cortao, a fabulous restaurant inside of their premises, open to the public.
Brummell has a pool and hammock area for guests, ideal for those lazy days in Barcelona. Located on a middle floor overlooks many facades in the area.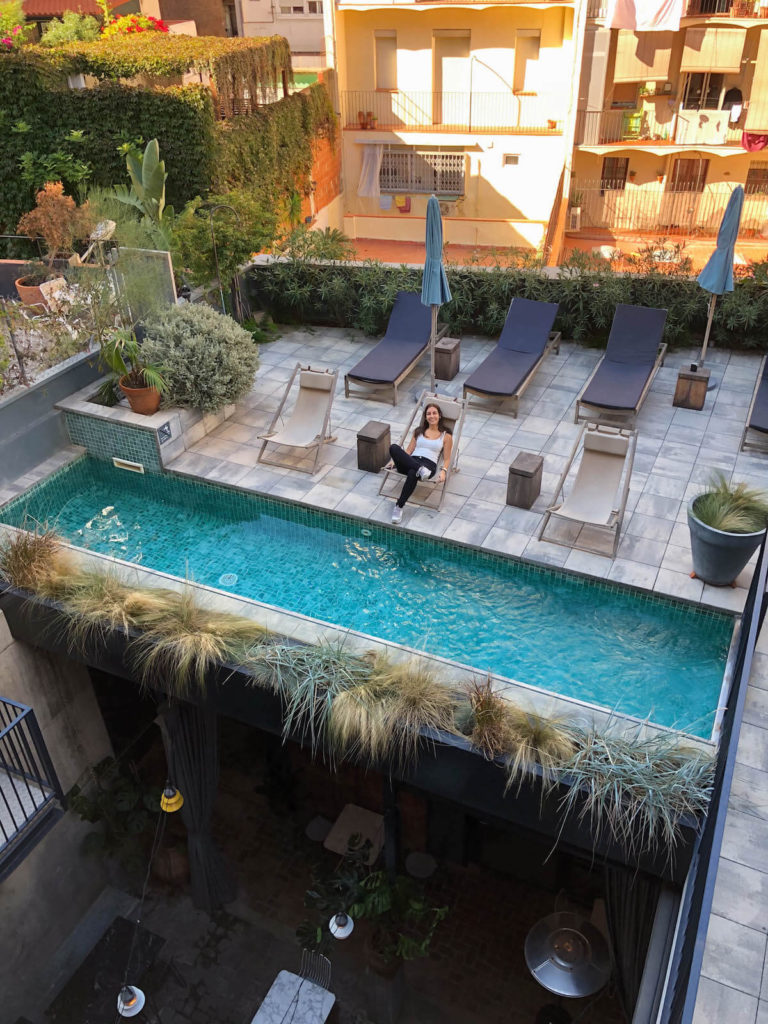 There are couple of nooks under the fire stairs to chill out with beautiful carpets and comfy pillows.
During our stay communication was available via whatsapp with reception which was very convenient.
---
Pair it with a treehouse getaway in the mountains of La Garrotxa
---
The rooms at Hotel Brummell
This boutique hotel has 20 rooms in different categories. The hotel has fire stairs on the interior side of the hotel, that serve to add character to the property. The types of rooms are: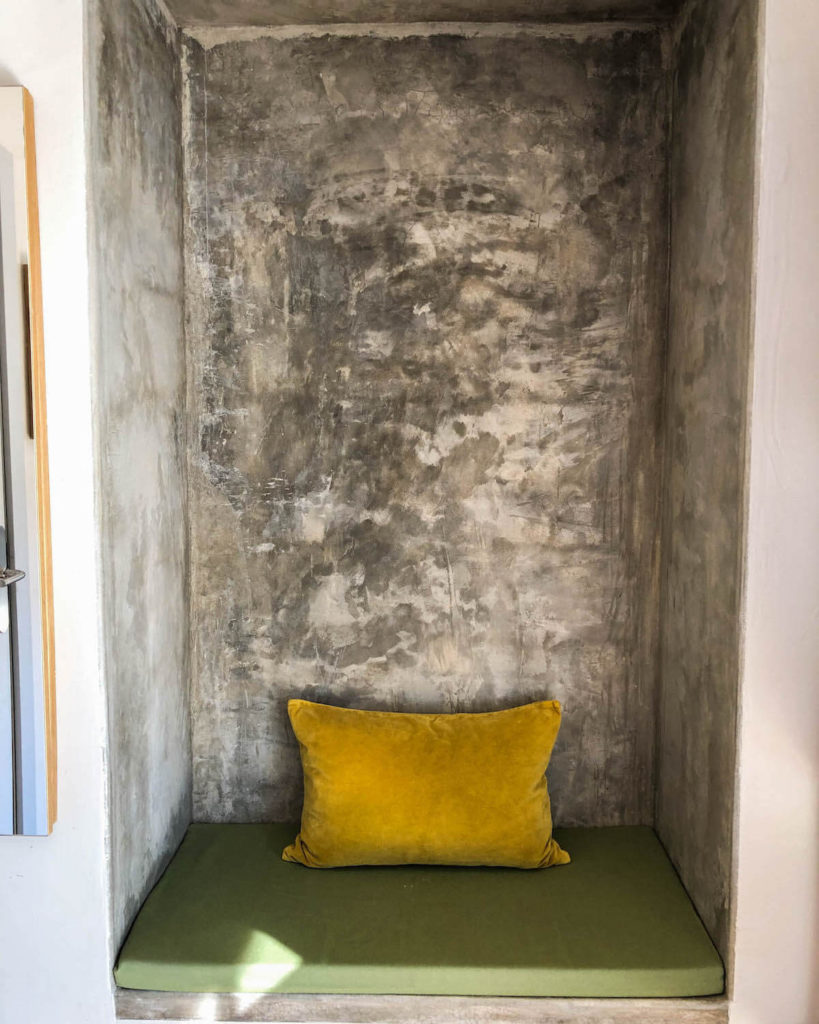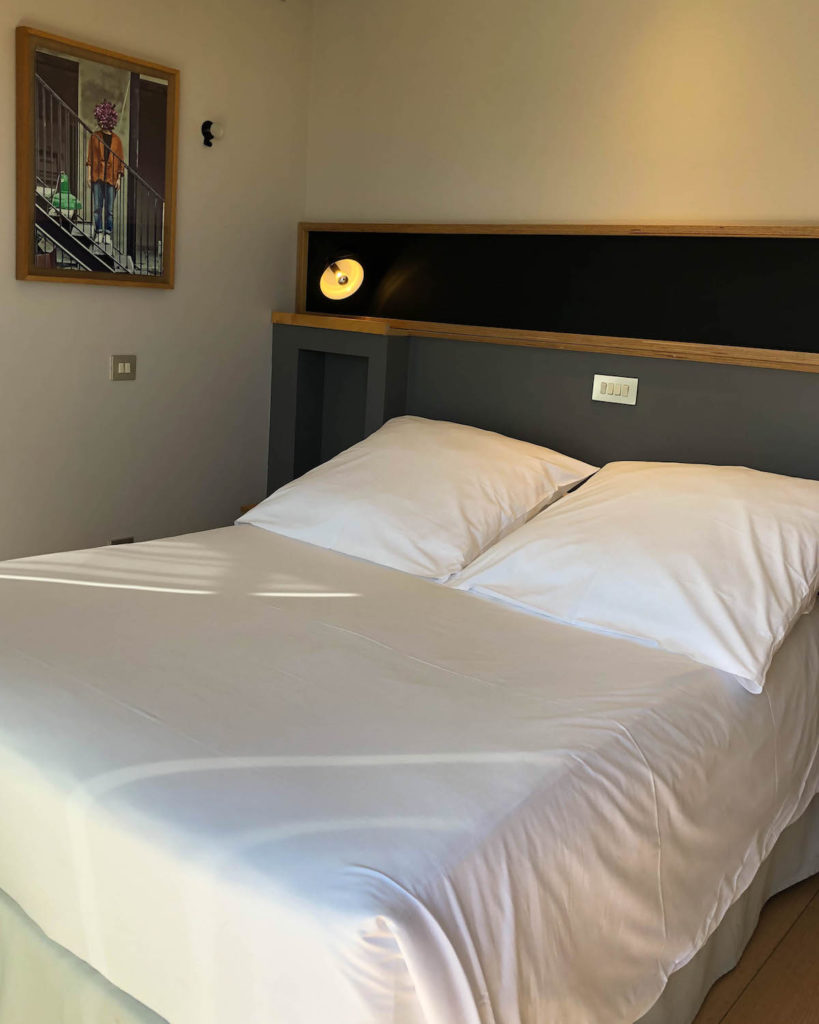 Poolside standard is their smaller and more comfortable room with views over the fire stairs and the pool
Mountain Deluxe is the most spacious room with views over Montjuïc mountain
Penthouse, their signature rooms on the highest level of the hotel. They offer an outdoor bathtub and a terrace with views over the whole city (and the pool below) or Montjuïc mountain and park (and the rising moon).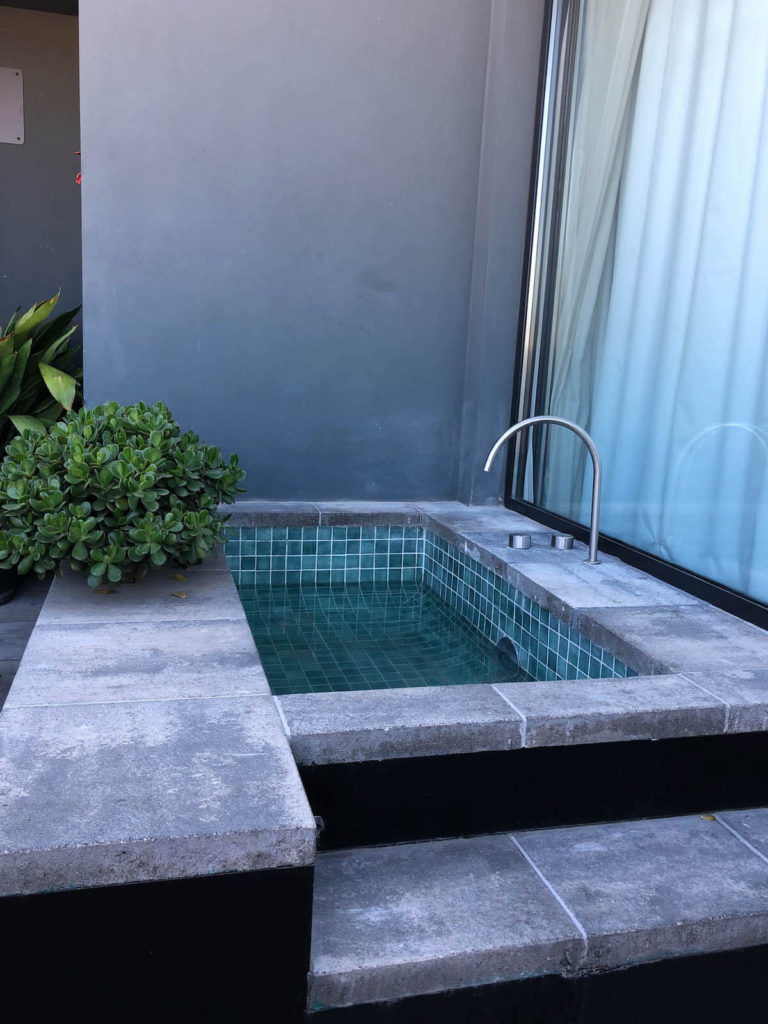 If you book their rooms through their website directly you will receive a hand printed cotton gift bag, that I carry everywhere, along with a couple of other surprises!
When booking you can pick the room only or the breakfast rate, as well as add an airport pick up or a massage, yoga class or sauna.
Hotel Brummell also has 4 other city apartments in different areas of Barcelona. You can book them through their website. You'll find a well thought out décor as if you were staying in the hotel.
Activities available
Hotel Brummell offers yoga classes and training sessions at the Garage, next door. They are offered for free to guests. The space also offers massages.
The hotel has a hot sauna that you can book at reception.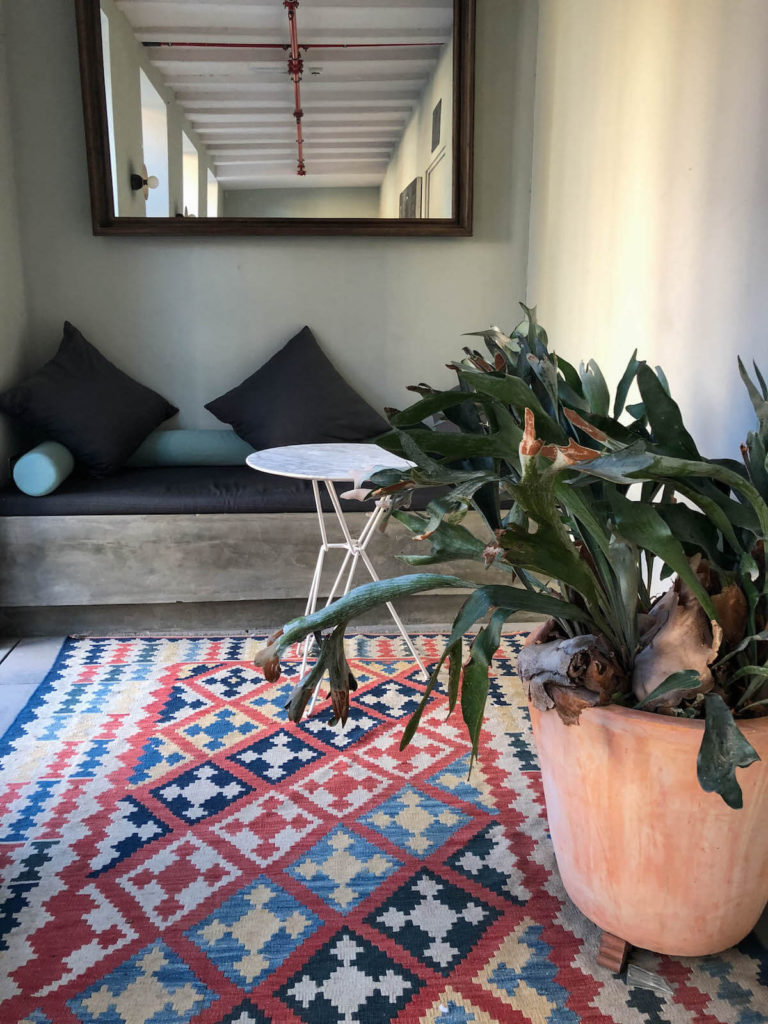 As the hotel is in Poble Sec, take a short walk to La Rambla del Poble Sec and indulge in local tapas and delicious food. It is close to the club Apolo and the rest of Barcelona is only a short metro ride away! If you need a full guide of Barcelona, have a look.
What you'll love
To leave your ego at the door and relax in a well designed boutique hotel in the Barcelona Centre. Close to all activities but tucked away in a quiet street offering the ultimate experience to their guests.
Try to book their penthouse with views over the city, pictured, for incredible sunsets from your balcony bath tub.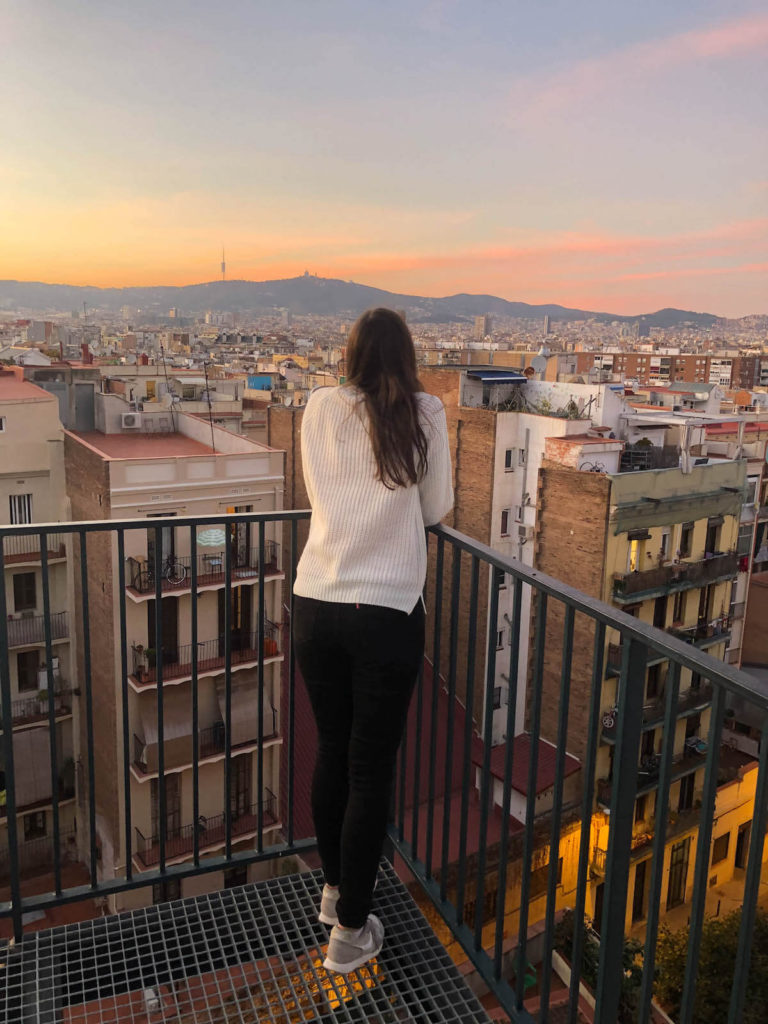 Pin this post for later!