In the middle of La Noguera area in Catalonia, Spain you can find the rock pools of Rialb river. Between the mountains lie pools of turquoise, clear and freezing water.
It is an ideal place to go spend some time with family, friends or your partner. Do not forget to pack water in a reusable water bottle as well as some snacks for a picnic.
Do you want to know how to get to these rock pools? Continue reading.
Rock pools of Rialb river
The common name locals of the area have given these rock pools is 'Rock pools of Rialb river' or 'Rock Pools of La Baronia de Rialb'.
The rock pools are in a thin part of the river Rialb on its way through the Baronia de Rialb municipality. The area is also known for canyoning and the "Forat del Bulli".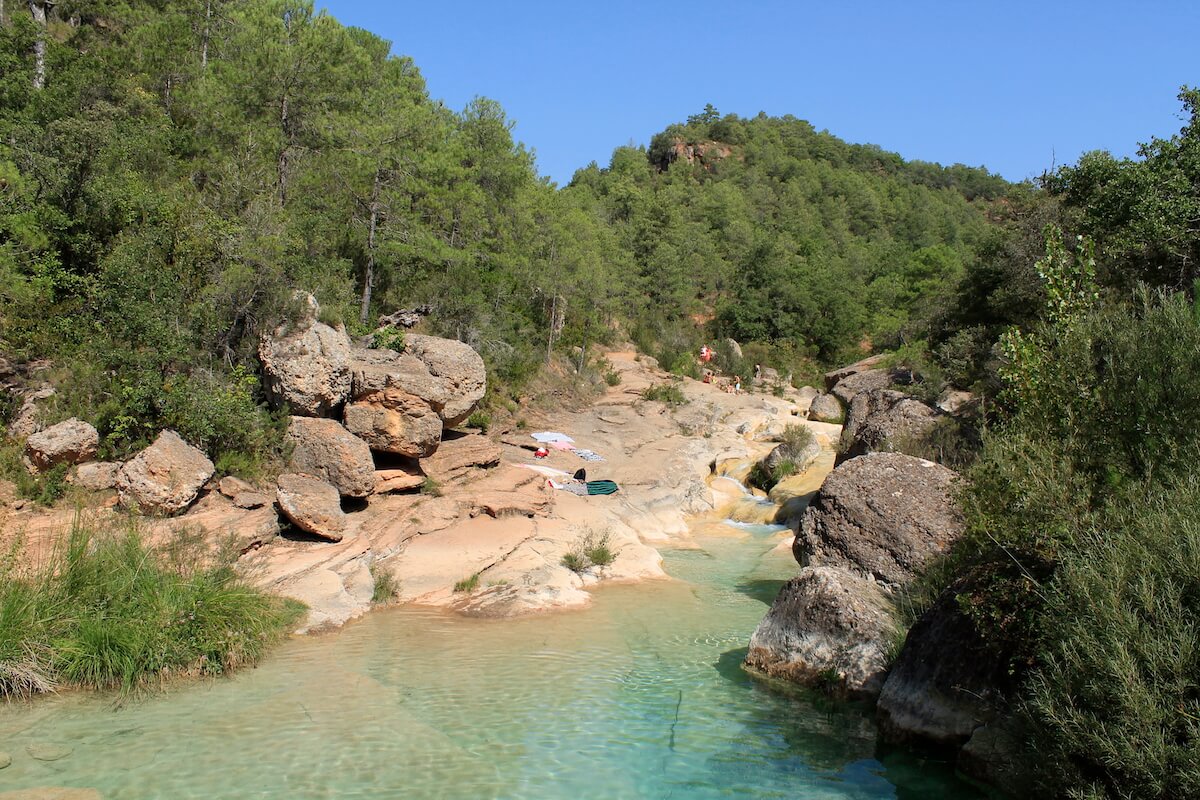 Activities available at Rialb Rock Pools
Along the river there are different spots where one can park and enjoy the water. The special rock formations create a beige "floor" with turquoise and crystal clear water.
There are areas to park and some to camp. It is a great place to chill during hot summer days and they are a big attraction of the area.
There is an option to not only swim but to walk up to El Forat del Bulli, although you need the necessary equipment.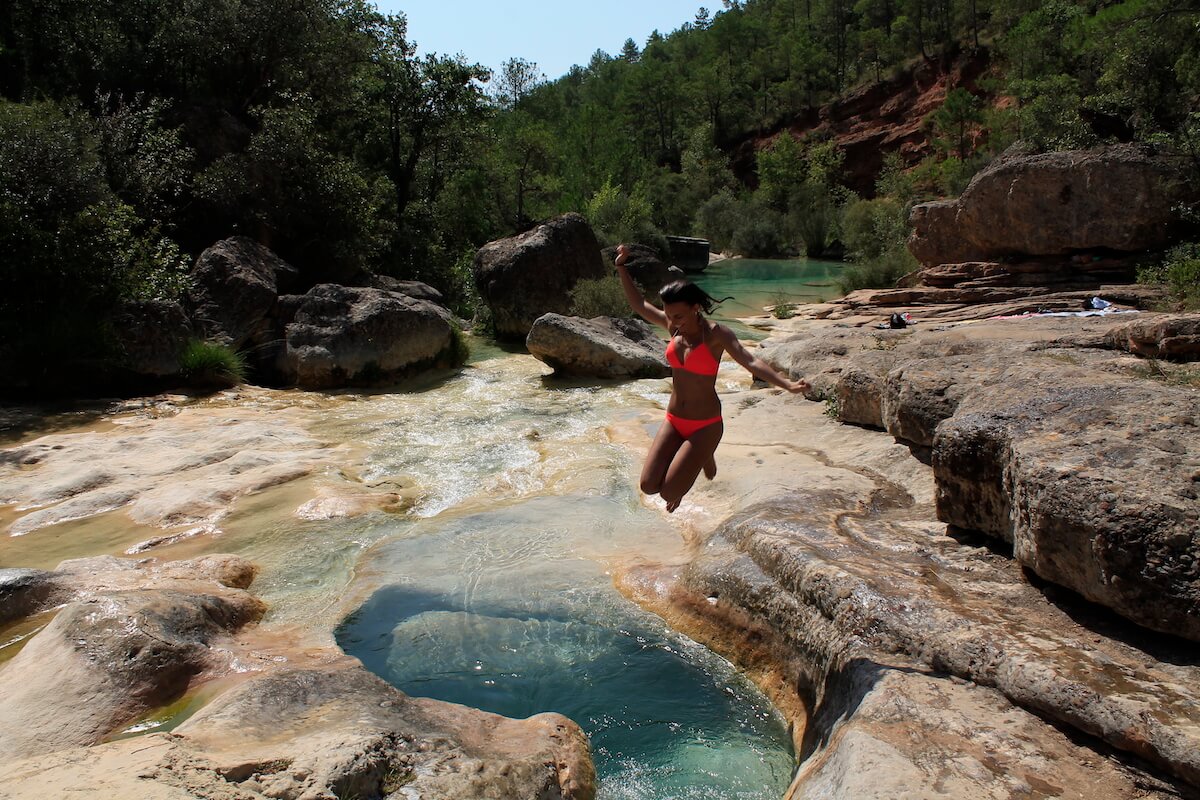 How to get to the rock pools of Rialb River
There are two big towns next to the river that are Artesa de Segre and Ponts. I will explain the route from both. The estimated driving time from Barcelona to either of those towns is 1h40min.
From Artesa de Segre to intersection for St. Cristòfol de la Donzell
Leave Artesa de Segre towards Tremp. When you arrive to Folquer (village) turn right to road c-1412b. Drive along this road until you see a sign saying "St. Cristòfol de la Donzell". The turn is almost invisible and a sharp left, so pay attention after the sign.
From Ponts to intersection for St. Cristòfol de la Donzell
Drive along the c-1412b road until the intersection on your right signalling St. Cristòfol de la Donzell.
From intersection to rock pools of Rialb river
When you turn you will see a sign that reads "Riu Rialb 4,8km" (Rialb River). Keep driving until you pass a big rural house on your left on a bend sloping downwards called Masia Perdigués. You will arrive at another intersection where you can take either a left or a right.
The left side has another sign that reads "Riu Rialb 1,8km). Drive until you see a house on your left called "la casa dels peixos" this is a fish factory – you have to keep going down that same tar road.
After a while you will get to a T-junction and take a left.
After few meters you will arrive at another intersection where you will follow the sign for "Forat del Bulli". The road is tarred but from time to time becomes gravel. You will see a gravel road intersection but must remain on the tar road.
You will soon see signs for "Punt d'aigua" where you can already stop to swim. If you want to reach the most spectacular area (in my opinion) continue driving for a bit longer. There is a moment where you'll drive over a little, tarred bridge and after the bridge there is a steep road to the left. You will see the road is "wide" for the area and there are a couple spots for cars. You can park here.
There are two options to find the water:
Follow the gravel road turning right from the bridge. Walk along the right-hand side of said road and look out for a little hikers trail departing from it. You can follow this steep path until you get to the water
Right below the small bridge where you parked there's a dry river bed. Follow it all the way down to get to the water.
With both options the walking time from the car to the rock pools is about 10 to 15 minutes.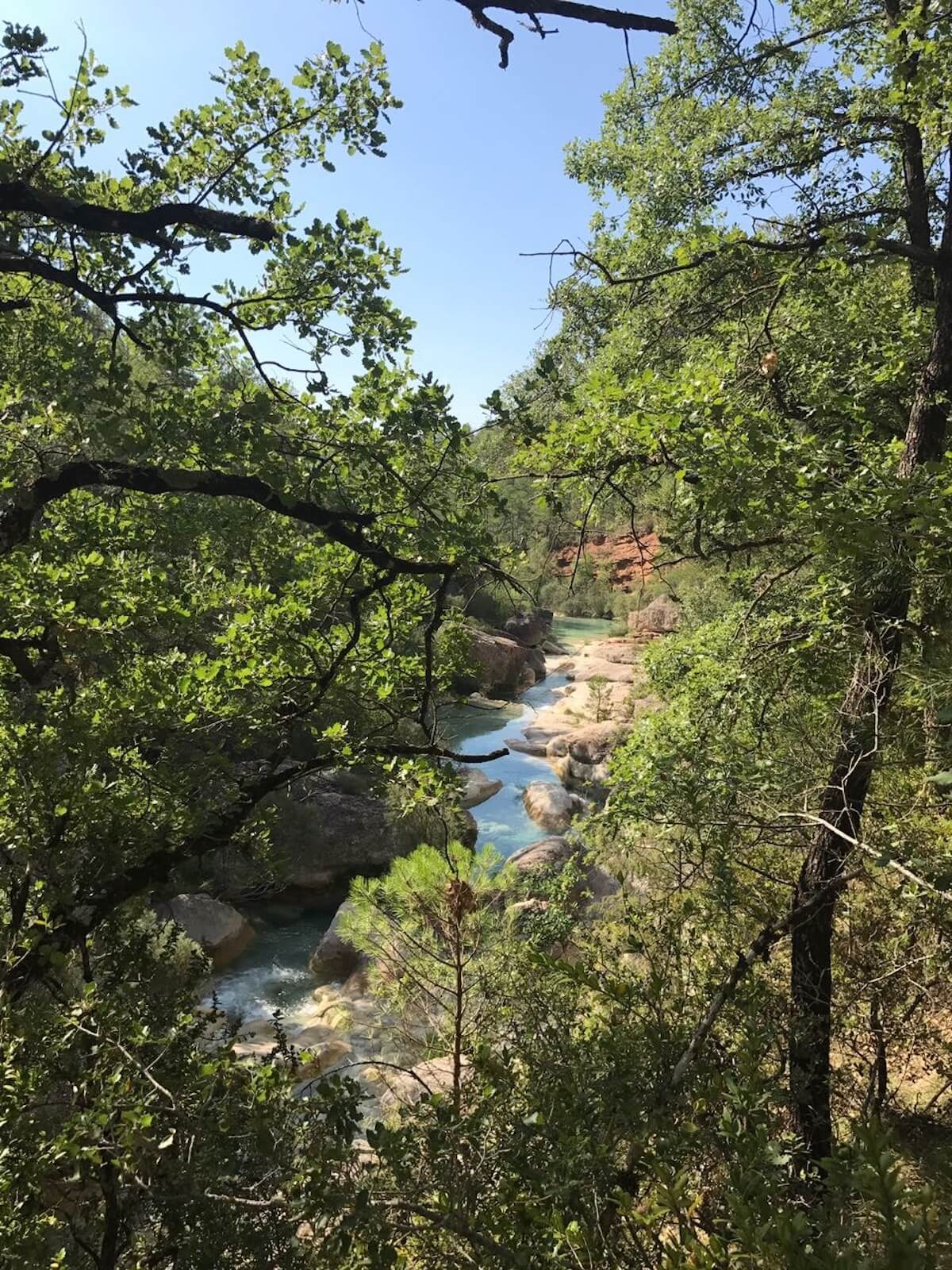 Once that you have arrived at the "rock pools of Rialb river" you don't need to do anything but enjoy yourself and spend some hours tanning and swimming.
What is the price to the rock pools of Rialb river?
Since July 2021 there is limited parking spots available, regulated, as well as price per day. It starts at 20€ and currently there is no way to book online and need to pay there.
You can find the latest information here.
Have you found the directions useful? Let me know in the comments!