Tofo is a charming fisherman's village on the east coast of Mozambique. The name is pronounced "to-fu" and it's a well-known destination for backpackers and divers in Southern Africa.
If you're looking for amazing long beaches, epic diving spots, palm trees everywhere and delicious food, Tofo is the right destination for your holiday.
The village of Tofo has a very laid back atmosphere, with friendly locals, diving schools, hotels and restaurants. It is listed as one of the best diving spots in the world to see manta rays and is a popular destination for South Africans during public holidays, owing to its closeness.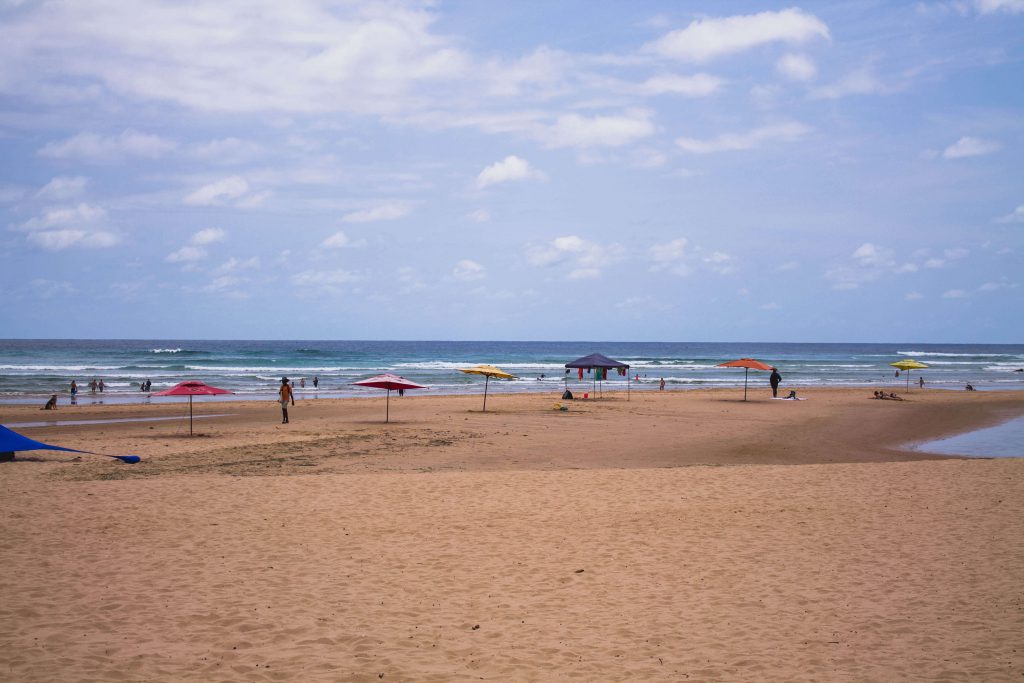 Where is and how to get to Tofo
The town of Tofo is located about 7 hour car drive from Maputo, the capital of the country.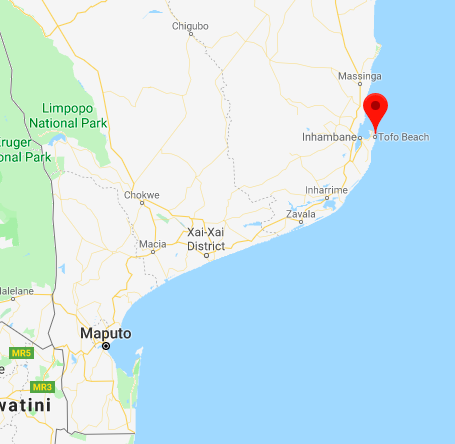 By flight:
If you are flying from abroad you will have to fly to Maputo airport first (MPM) and take a flight to Inhambane (INH) next. From Inhambane the driving time to the village of Tofo is about 20-25 minutes.
By shared transport:
From South Africa:
Two days a week there is a shuttle bus going from Johannesburg international airport to Tofo directly, they drop you at your exact accommodation. It is very well priced and a great option for backpackers or budget conscious travellers. The drive takes around 14 hours and you can book it on their website.
Another option is to take an Intercape bus (bus company offering cross country itineraries) from Johannesburg central station to Maputo.
From Maputo:
You can take a private transfer or hop on one of the shuttle/minibuses available. If you are not sure about how to hop on a mini bus in Africa, rest assured there's an easy way! You can always contact Fatima from Fatima Backpackers Maputo and book a spot in hers, departing every day at around 6am from the hostel.
Things to know before you arrive at Tofo
Most people speak Portuguese but there are a number of Bantu languages spoken as well
The closest ATM is about 20min away from town. If you don't have your own car for the stay, make sure to withdraw money before your arrival
Tofo is a small village, with 10 or so streets and few houses. If you are looking for a crowded destination this might not be your best bet
It is a high-risk malaria zone, you should visit your doctor to get a recommendation for the best medication before your trip. Bring bug spray too if you want to avoid numerous mosquito bites
Tofo has a noticeable number of expats living there and owning businesses, so English is widely spoken too. Tofo area is one of the safest in the country – there is no violence problem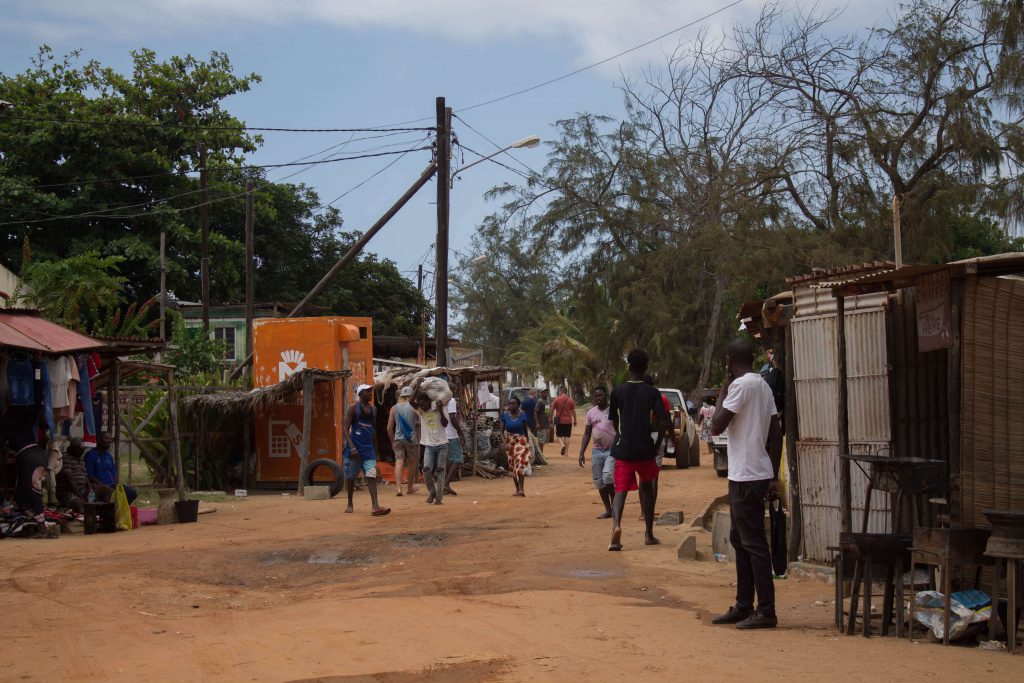 Best time of the year to go to Tofo, Mozambique?
What makes Tofo an amazing year round destination is the temperate temperature and pleasant weather all months of the year. June to September is considered high season as it is dry and pleasant with temperatures between 20ºC and 25ºC. During summer months (December – February) the humidity is high and temperatures range between the 22ºC and 32ºC. It often rains with short showers in the afternoon.

From January to March it's cyclone season, the weather is still very nice but you might get some heavy rains if you visit during a cyclone.
Where to stay in Tofo
We stayed with our friends at the 10 people dorm and have nothing but good things to say about the hostel. It is a 15 min walk from the beach. They have dorms and private rooms with individual mosquito nets and fans for the room. There are lockers and shared bathrooms – ours was an outdoor bathroom & shower!
Their garden area is lush and invites people to relax and get to know each other (very important in a hostel!). They have a pool (with a pool bar omg!) and their food is cheap and delicious. During high season (we visited during Christmas) there are parties every second night – and the whole of Tofo comes there so if you want a quiet place this is not your best bet.
The rooms are far away enough from the music that you can hear it but it won't be overwhelming if you want to have an early night.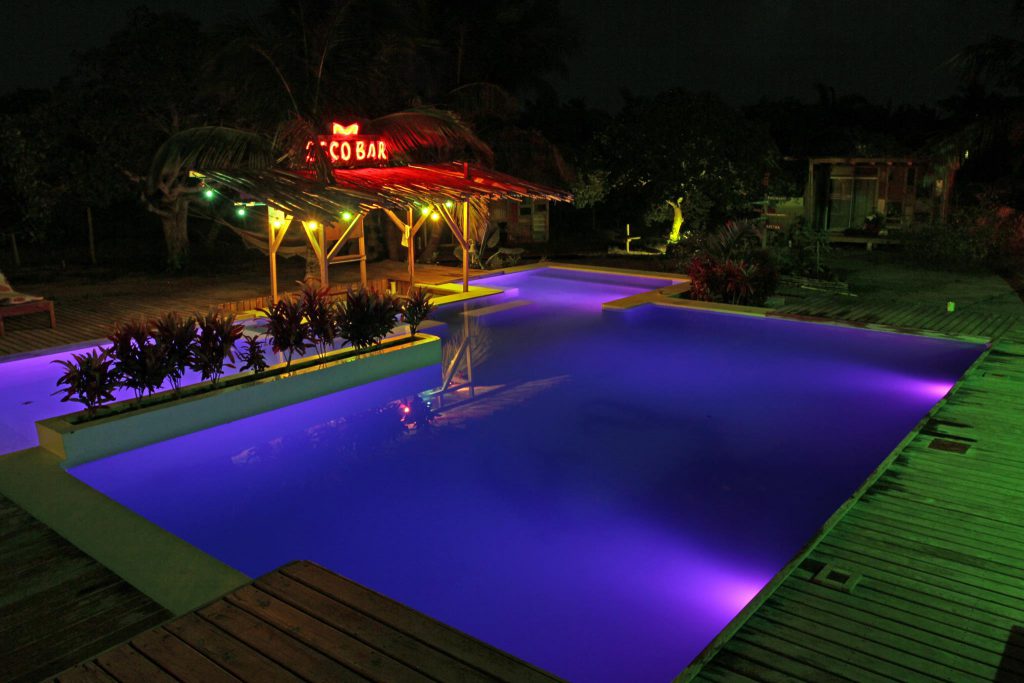 This lodge is situated in the same area as Mozambeats, some 15 minutes away from the beach. It has private rooms that start at 35 USD per couple.
This hotel is great for couples as it offers a more secluded experience with fewer guests and stunning ocean views. There are so many trees in the property that it feels like you are in a lush paradise by the sea.

It has sea view bungalows and standard rooms and prices start at 100 USD per couple.

There are slightly more luxurious hotels in Tofo but if you want something 5* luxurious you will have to go to Barra, where different hotels can all be found on the same beach strip. You can check Sentidos Beach for a 5* location and service.
Activities available in Tofo
One of the main activities that Tofo offers is diving, but there are more options if you want to try different things! Here are some of the activities you can do:
Ocean safari: 
Always dreamt of swimming with whale sharks, the biggest fish in the world, or dolphins? Well, an ocean safari is your best bet! During a couple hours you will explore the ocean with a Zodiac in search of a big shadow underneath you. Once they find one you will jump in with your snorkelling gear and enjoy swimming next to it! Their season is September to February mostly, and whale season is June to October.
Quad bike in the dunes: 
You can go on a guided activity that will take you to the dunes between Tofo and Barra.
Hit the beach:
Tofo has two main beaches Tofo and Tofinho. Tofo is the main one, located on the village promenade with hotels and restaurants, and it is the one most locals and tourists go to. Tofinho is a little bit farther down and it has no entertainment but has better waves for surfing.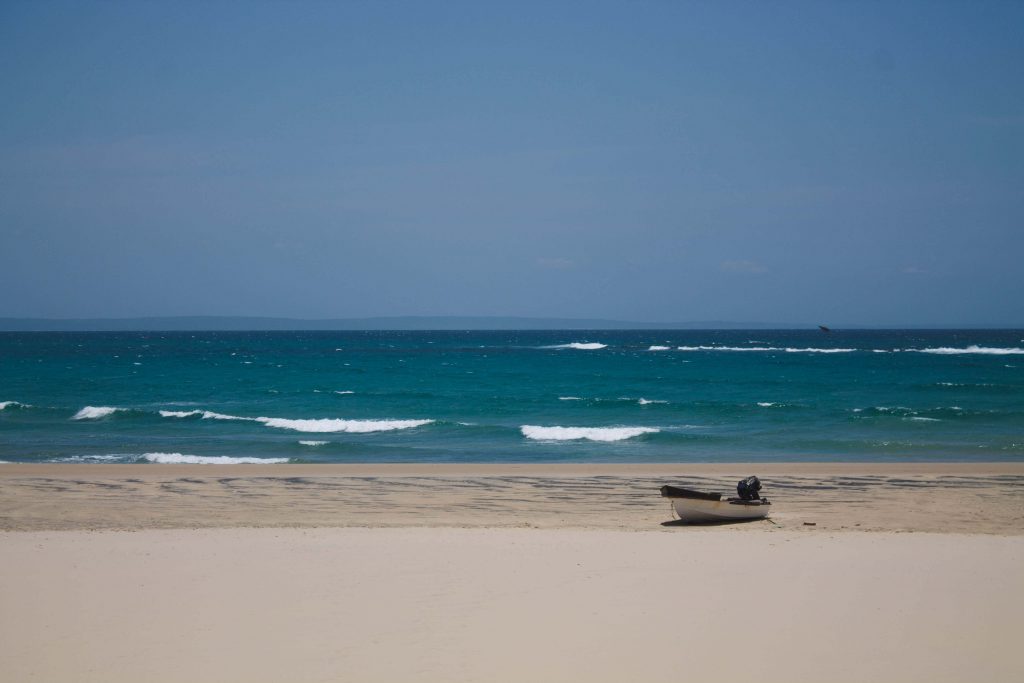 Do nothing: 
Stay in your chosen accommodation and relax. Do nothing or don't move much while you tan, read a book, swim for hours in the pool (like we did) or nap.
Rent a dhow:
Dhows are the traditional fisherman boat from the area. It is possible to rent a dhow and spend the day snorkeling around some islands and have a meal with the fishermen's family.

Other activities possible in and around the village include going to Barra to spend the day there. Barra is another village that has a long stretch of wide white beach with hotels and restaurants on the sand. You can spend the day walking around them and enjoying good food, views and some sun.
Diving in Tofo: What to expect
Tofo is considered one of the best destinations in the world to see manta rays year round, as there is a permanent cleaning station. The area has +20 different dives that go from easy to complicated and vary in depth.

Diving sites are between 40 min and 1h from shore using a Zodiac. There are pretty reefs and so many banks of fish – your diving experience will change every day.

My opinion about diving in Tofo: it surprised me in ways I wasn't expecting. The diving was pretty great (and I say pretty great only because we had bad weather forecast Choppy sea and murky water for visibility. With clear waters it must be phenomenal. Even in less than ideal water conditions, I saw a manta ray right under my finns and so many schools of colourful fish.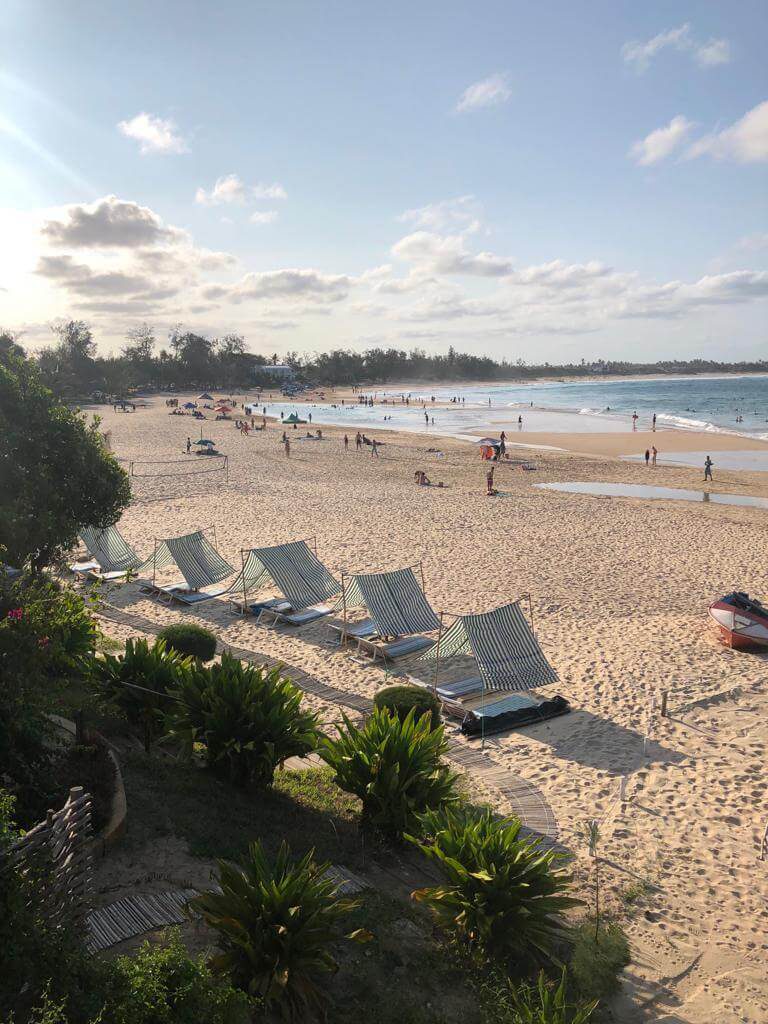 Best seasons for diving in Tofo
Luckily for all of us with busy work schedules, Tofo is a great destination for divers year round. If you want to see whale sharks and manta rays – drum roll – you can go any month of the year! Those animals stay in the area and you can see them any month. They are more common during summer months, September to February in Tofo. If you're interested in seeing Humpback whales then your season is from June until the end of August.

We did our Advanced Padi course with Peri Peri Divers. They're right on Tofo beach and have a team of young entertaining guides and staff. They also work with Marine Megafauna Foundation.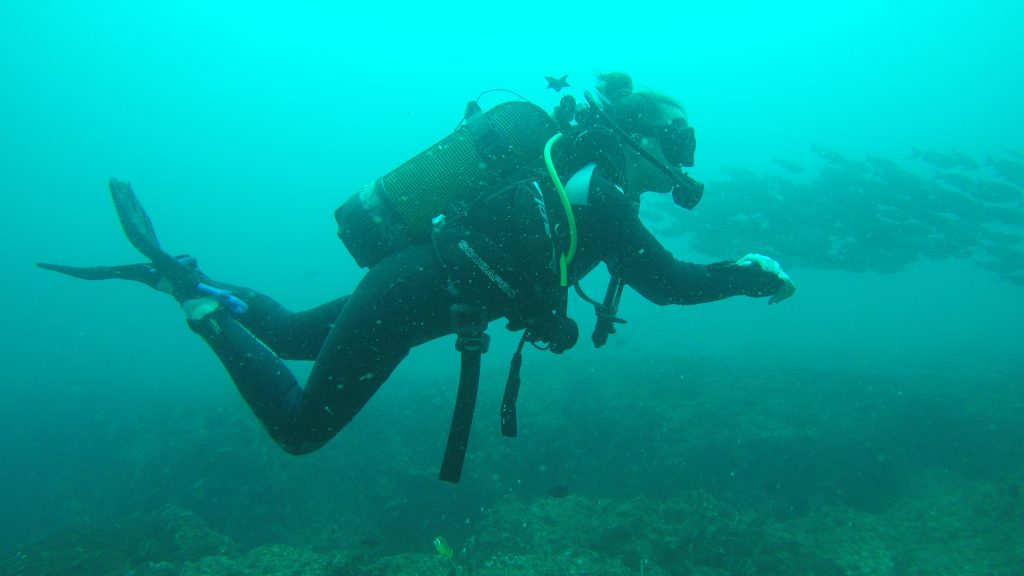 Tofo is a great destination for a chilled holiday with friends, diving and partying. It is also a great add on for a bush and beach combination with South Africa. I cannot recommend doing some dives there enough as the fauna and flora under the sea are something special to witness.
Have you ever been to Tofo? Did you see manta rays or whale sharks? Let me know in the comments!