Planning a 10 day itinerary in Uganda and Rwanda is possible without the help of a tour operator. Both countries are very big and distances between destinations are long. After careful research of lodges, activities and available days, this is the perfect 10 day itinerary that I created.
During the planning stage the most important thing was to narrow down the points to visit and create a route based on available days, considering driving distances and the necessary budget.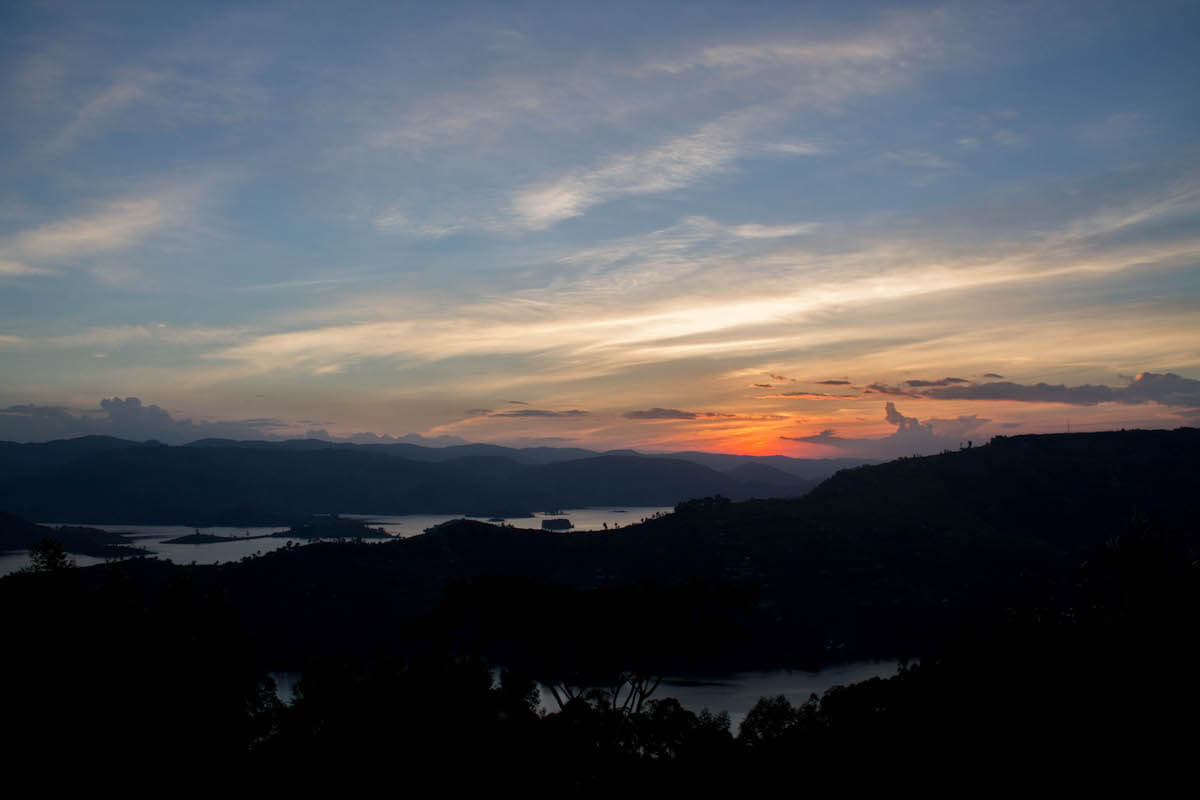 Quick facts to consider before you start planning:
Entry country and visas. We flew to Rwanda to cross to Uganda and then back to Rwanda. For that we obtained the East African visa to have multiple entries. It takes a full page of your passport.
Your points of interest. Ours were the gorillas and the lakes for relaxation. If you want to check the chimpanzees out you will have to include the north of Uganda too.
Keep in mind that even backpackers are expensive and in some areas, there is no such thing as hostel accommodation – the average price per night per room was approx.150 USD between the two of us.
Both countries are very safe. We asked our lodges or drivers about the safety of the areas on arrival but could walk anywhere safely.
It is possible to rent a car, but the roads are very rough and bumpy, and some don't appear on GPS. It's better to have an old-fashioned map.
What're the must visits in Uganda: gorillas, lake mutanda.
What're the must visits in Rwanda: Kigali, gorillas, lake Kivu.
The weather year round is pleasant with temperatures averaging 20-27ºC. The rainy season falls in October-November and April-May. The countries are close to the equator, so it is usually quite humid.
They are both in malaria risk areas, so a treatment for malaria should be considered.

How to plan the perfect 10 day itinerary in Uganda and Rwanda
Day 1. Kigali to Bwindi by road
If your focuses are the gorillas and the lakes in Uganda, it's better to land in Kigali (Rwanda) as it's closest to the Bwindi forest. We landed at 6am and had a private transfer waiting for us. The drive takes about 5hours and it is tar road until the end, where it becomes bumpy and gravel road. You need a 4×4 vehicle.
We stayed at Bwindi Backpackers. On arrival our room category had been upgraded and the food was very good. The lodge had beautiful views over the Bwindi National Park.
Day 2: Waterfall hike in Bwindi
There are different activities offered from the lodge that you can do, but they all require you to pay. I was quite surprised to see even hikes had to be done with a guide (as I like to hike on my own a lot). They also require (at least in the Bwindi surrounding area) to hike with an armed guard in case you encounter forest elephants or other wildlife. The prices ranged from 15 USD pp to 60 USD pp.
We chose to do a 3h-4h waterfall hike. The first advice I've got for you: you do need the stick. It is not a hard hike at all, but the area of Bwindi is slippery and lush – the stick saved my ass from hitting the floor a couple times. The hike was stunning, went through fields of fruits and local communities, dense jungle and fenced animals. The waterfall is deep in the jungle and then I understood why you need a local guide. There was no sign or much of a path, and we would have not found it without a guide. The waterfall was about 4 or 5 metres high and unfortunately you cannot swim in it. It was so cool to see this – and a very nice activity for our day.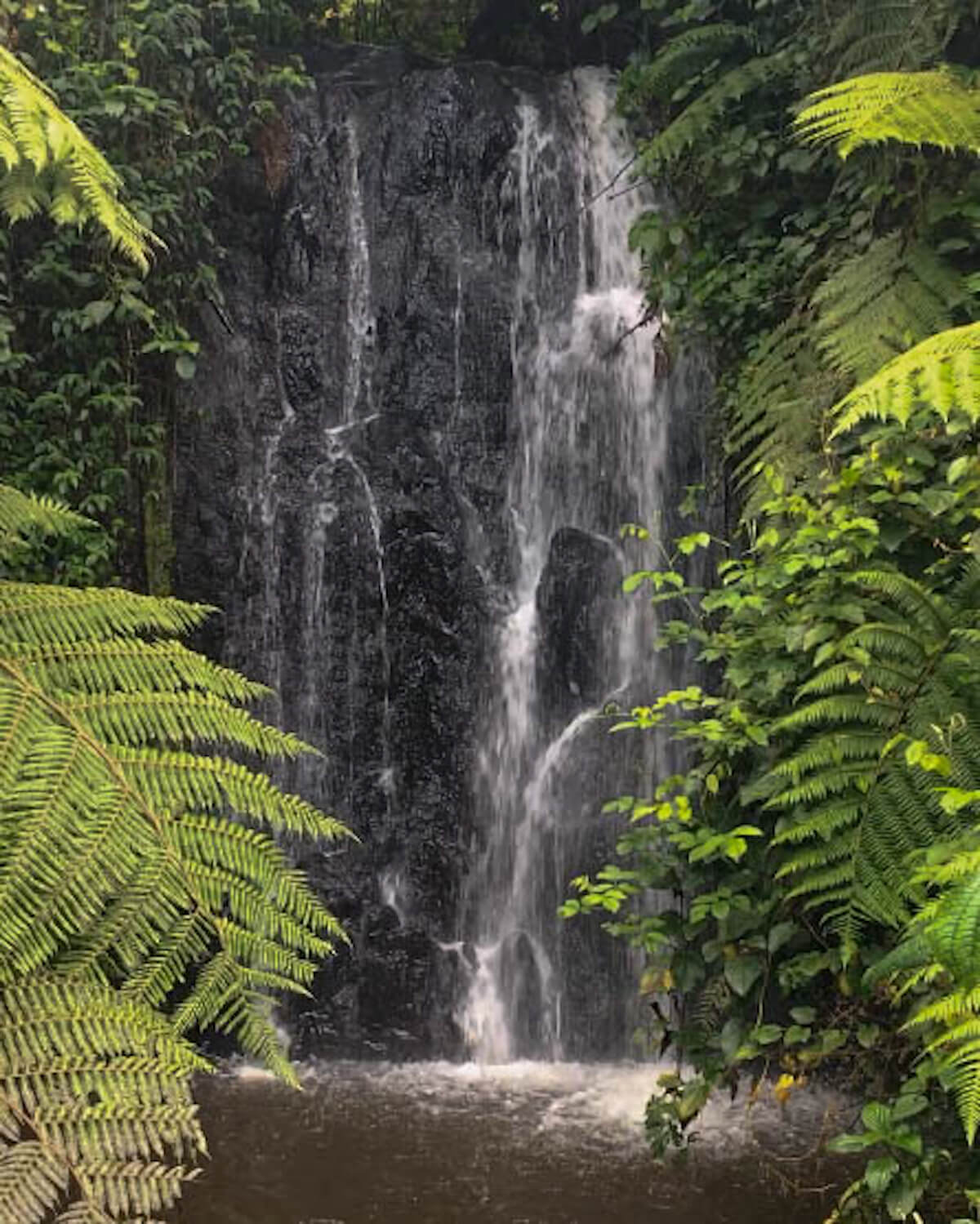 We felt very safe from day one in the country. The kids in small villages would call us Mzungus which is the word for "white person" that the African countries of the great lakes use to refer us. I thought the word was adorable. We saw 5 chameleons during the hike, there is one activity called chameleon track but our guide and armed guide pointed about 5 of them on our way to the waterfall and back. We would have not seen them!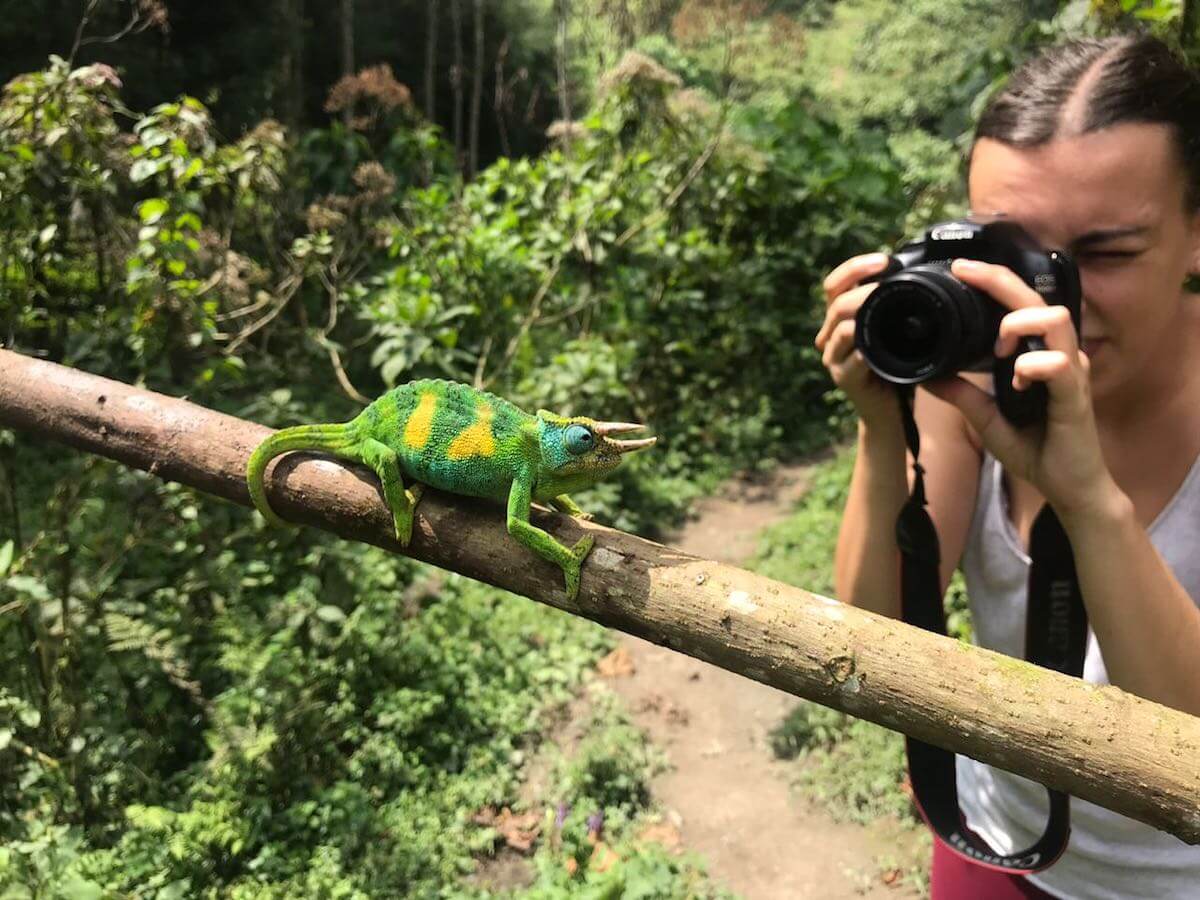 Day 3: one of the best days of my life – gorilla trekking
As I mentioned on my 7 things no one tells you about gorilla tracking in Uganda, the gorilla permit has to be picked up from Kampala. Make sure your lodge picks them up in case you are DIY on the trip and not part of a tour group.
Gorilla trekking is the most incredible wildlife experience that I've had so far. It leaves you speechless. And I would do it again in a heartbeat. The permit is expensive (600USD per person in 2018, Uganda) but contributes to making the forest and surrounding areas habitable for the gorillas.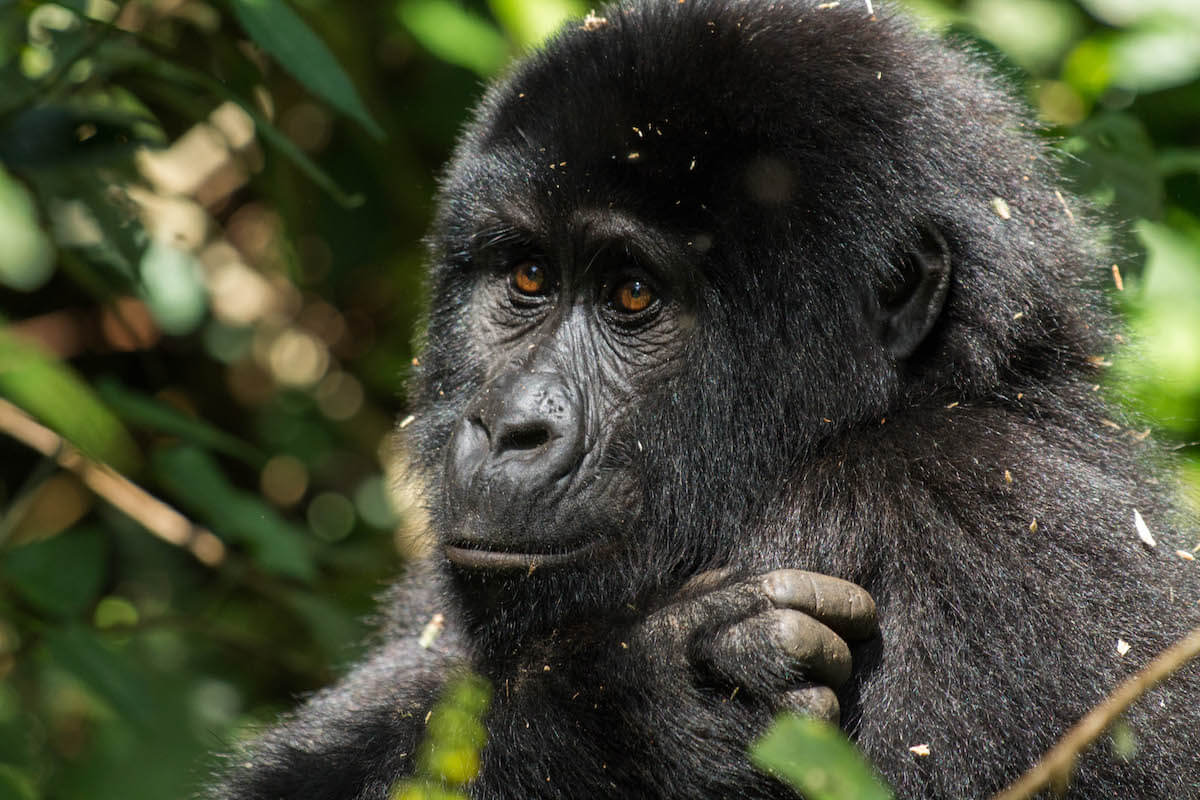 ---
READ NEXT: 7 things no one tells you about gorilla tracking in Uganda
---
Overnight at Mutanda Lake Resort. The lodge is right on the shores of Lake Mutanda and has beautiful views. You can read the full review of the stay here.
Day 4: Chilling by lake Mutanda
Once again, most of the activities here either needed a car or a guide. We walked for a good 40 minutes on the main road and went to have a beer at Chameleon Lodge, to change the angle of the spectacular views. Upon returning, we swam in the lake, canoed around the island closest to the lodge's peninsula and went for a sundowner cruise.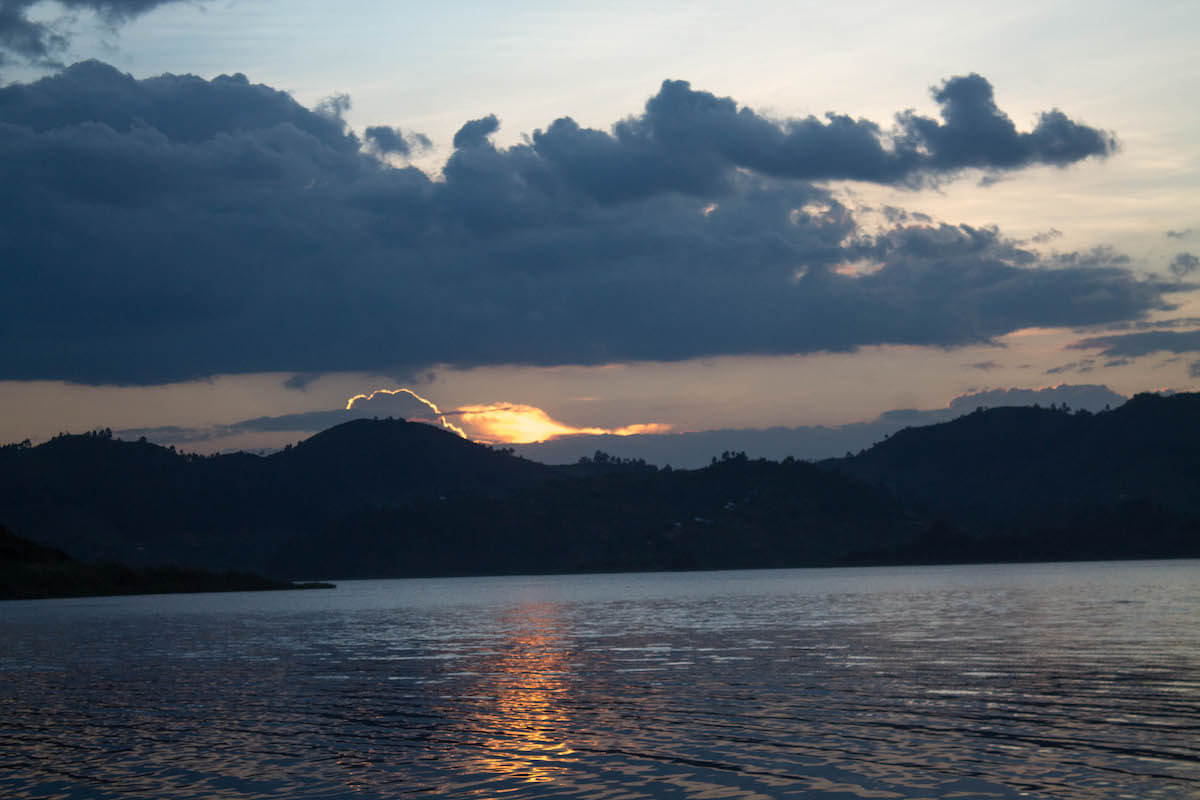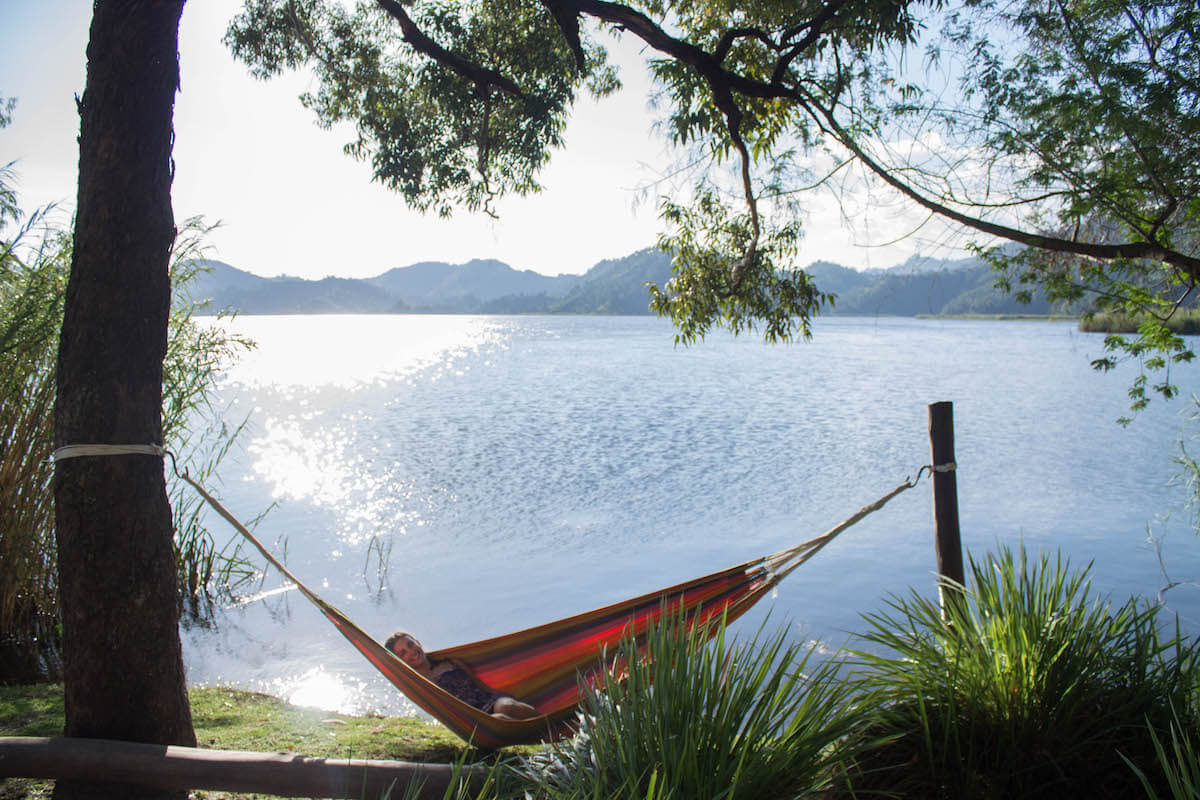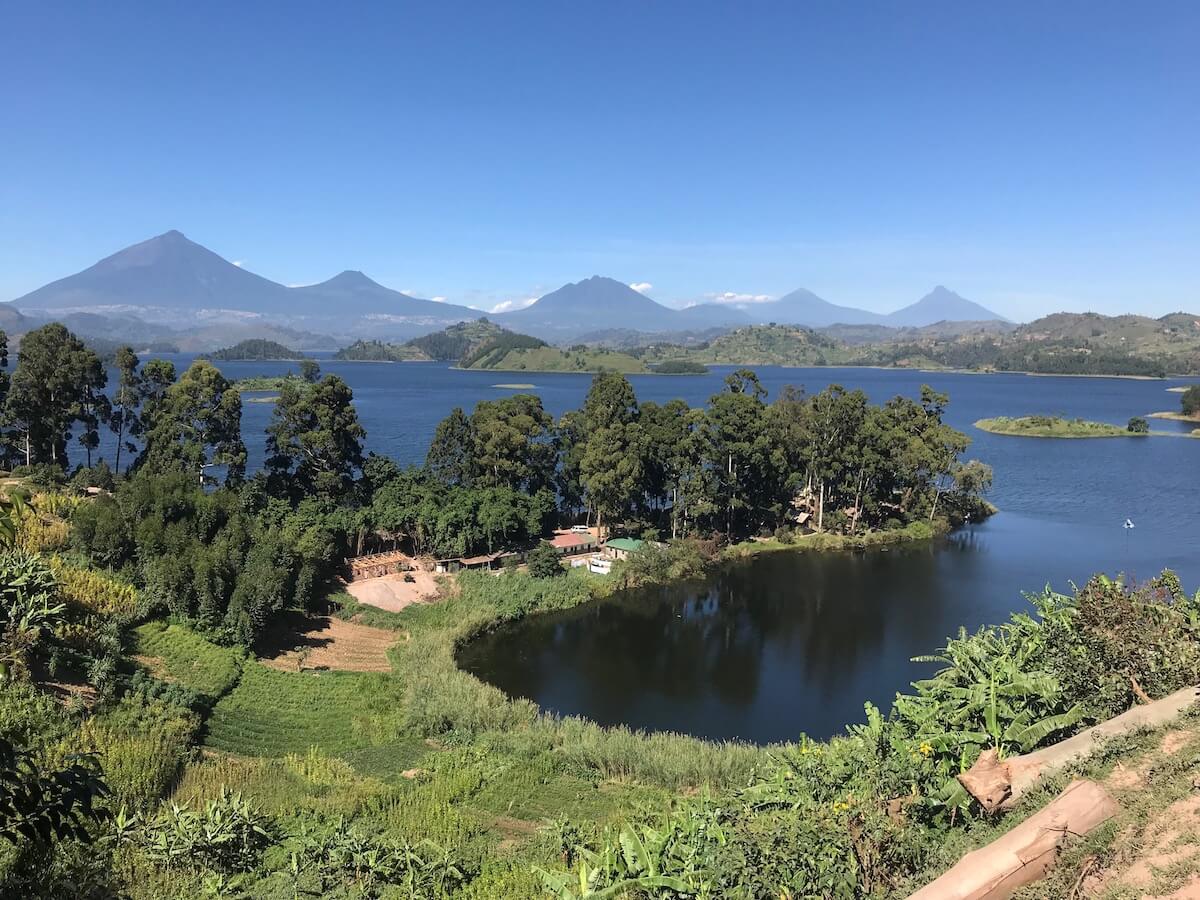 If you have your own car you will be able to drive around and do more, as we found ourselves relying on either walking (distances weren't close) or hiring a guide/activity. It is a very tranquil environment and a good book will be your best companion before dinner.
Day 5: Lake Bunyonyi
We were transferred from Lake Mutanda to our lodge in Lake Bunyonyi (about 2h30) and spent the day enjoying the views, playing chess on our deck and guess what – we also got a room upgrade (perks of travelling during shoulder season!). The staff at the lodge were just a tiny bit too pushy asking every couple minutes, but the lodge was very nice.
Improvement for the perfect 10 day itinerary in Uganda and Rwanda: If you can find availability for the gorilla permit on day 2, skip the Bwindi area night (waterfall in our case) – you can sleep in Lake Mutanda and do the trek from there, too. Instead enjoy one more day in a lodge in Bunyonyi with views and another one in a hotels on one of the 28 islands in the lake!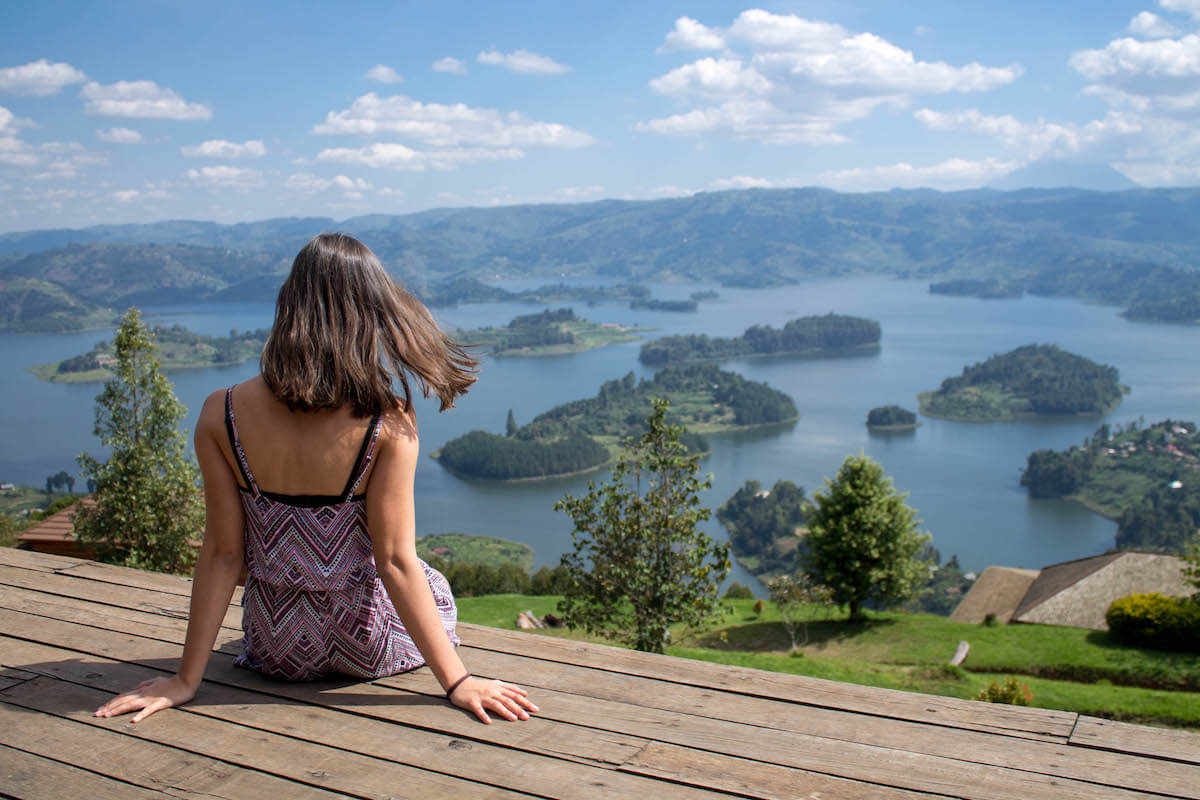 Day 6: Long transfer to Gisenyi, Rwanda
Gisenyi is the coastal town with a nice vibe on the shores of Lake Kivu, the volcanic lake that separates DRC and Rwanda. We stayed at a lodge about 10 minutes away from town, in a very tranquil and idyllic setting, with palm trees, private beach and lodge orchard. The friendliness and warm ambience of the lodge staff was over the top – I would recommend it to anyone (full review in progress).
The private beach sunset is amazing and you can order a bottle of wine and your dinner to be served at the beach, picnic mode. The food was extremely good, the pictures don't do it justice.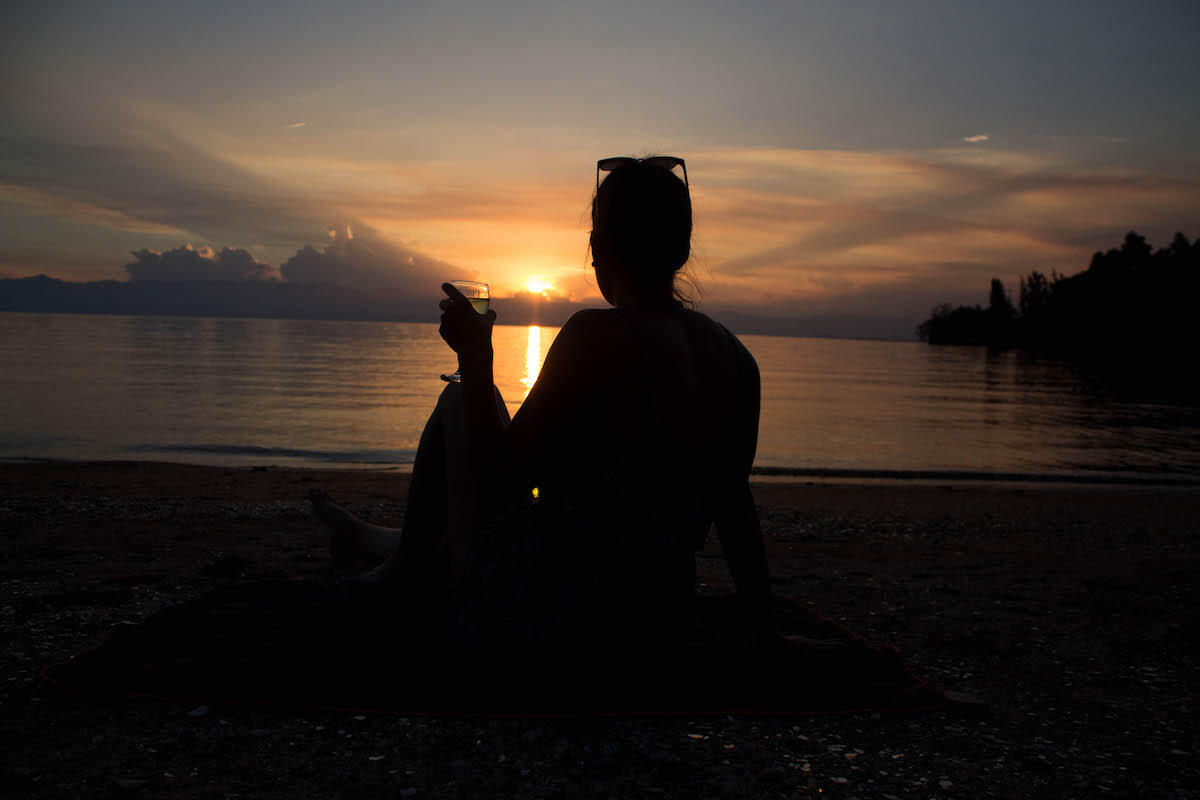 Day 7: Activities around Gisenyi
One of the main activities in the area are the hot springs. We took a boat from our lodge to their sister property, Paradise Malahide, and from there kayaked to the hot springs and back. The experience was the weirdest and most uncomfortable experience of my life. On arrival you pay the permit to enter the hot springs. The hot springs are two pools of hot water surrounded by sandbags, where you sit.
Literally two seconds after we sat, two people started giving us a massage. There wasn't a question at all. We were told this would happen and although it is a bit abrupt it is good. Then we were sort of pushed down to have our entire bodies inside the water (boiling) while we were given the massage. I did not enjoy that at all. If you go, make sure they know you only want a leg and foot massage.
On the way back we stopped at the private island of the lodge owner, right in front of Paradise Malahide. It is a little nice island that can be rented for a romantic lunch or dinner.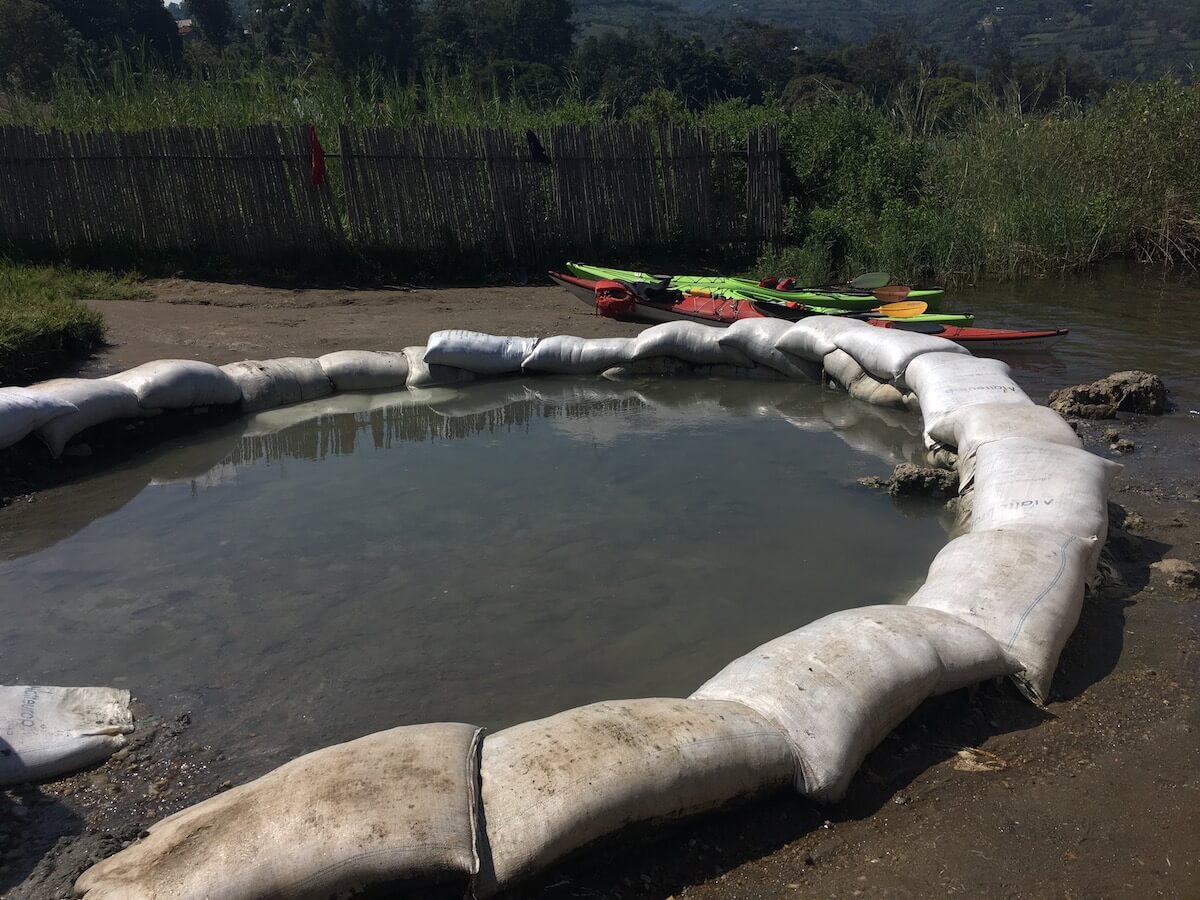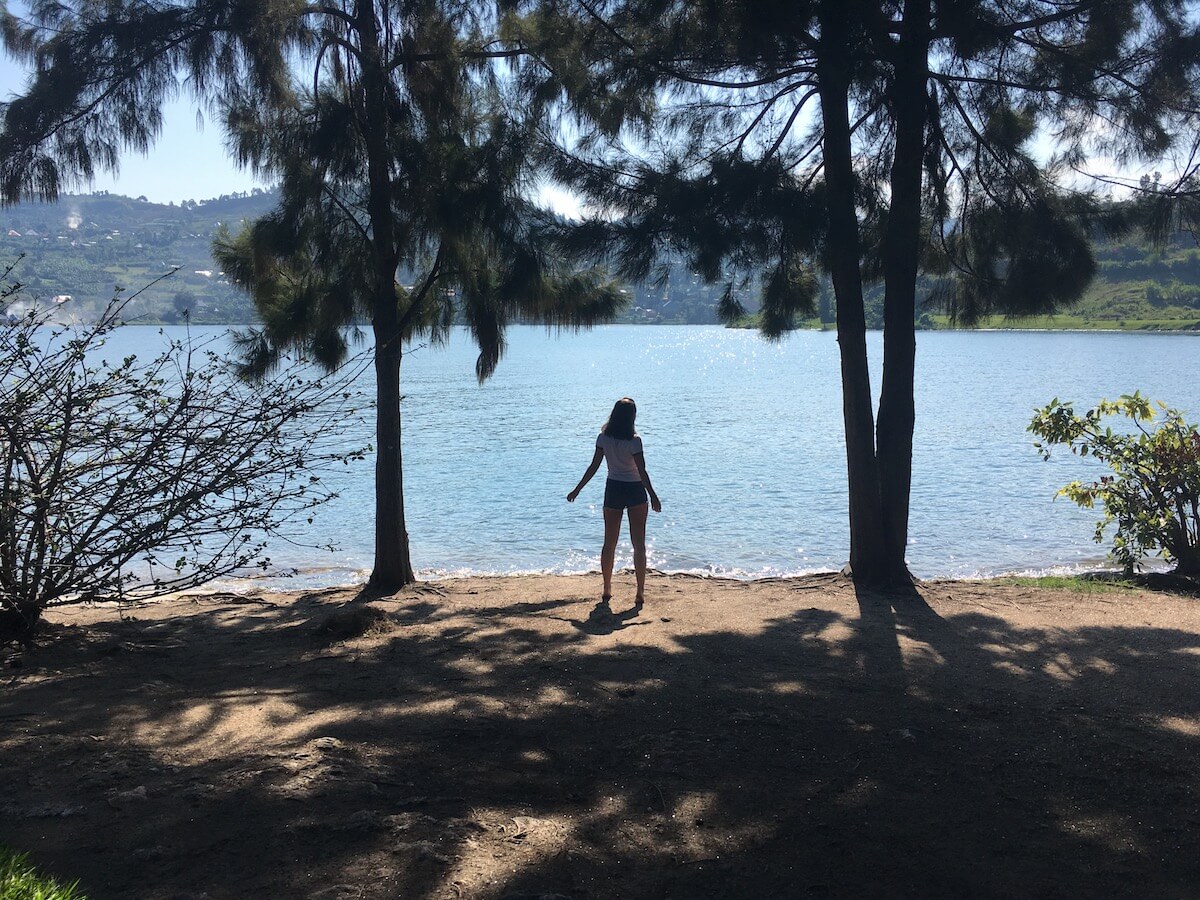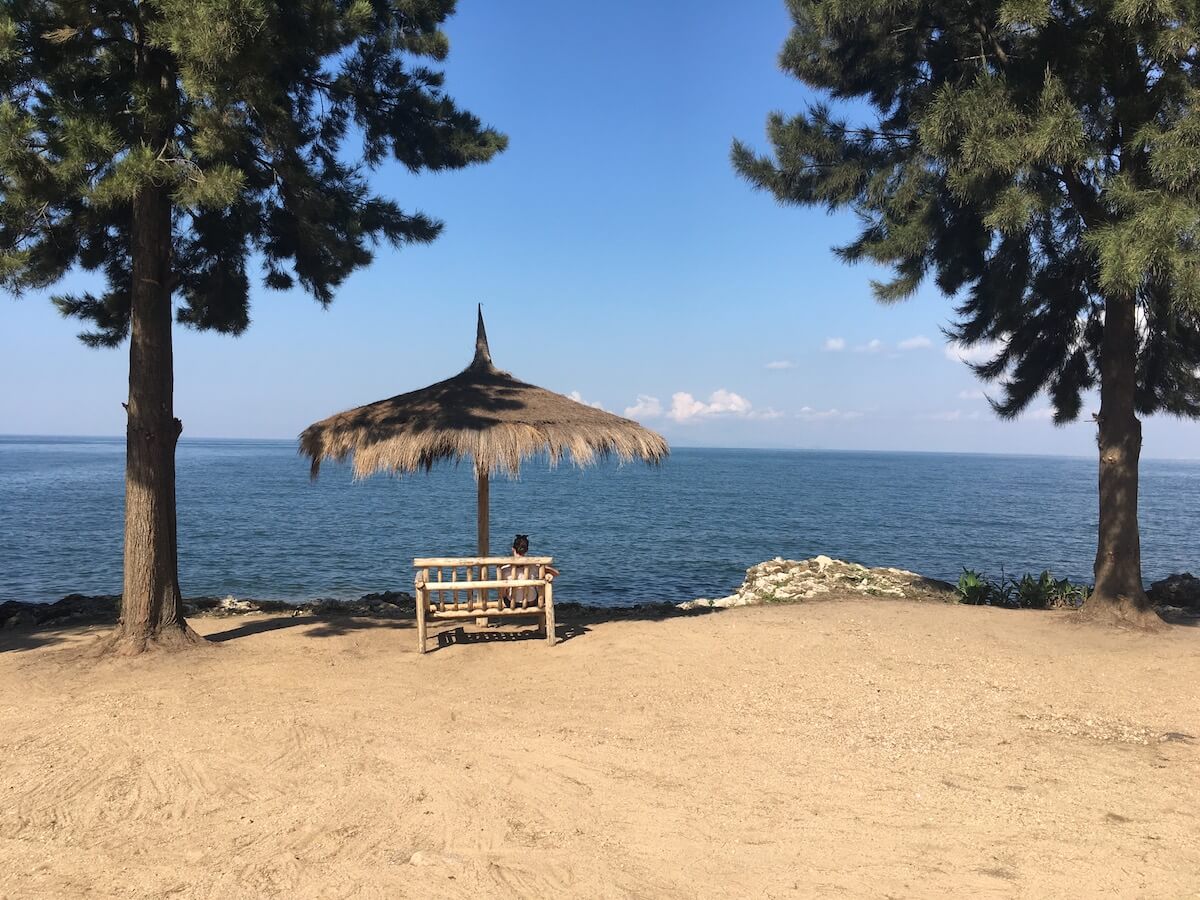 Later on that day, we took the moto taxis (boda-boda) to go to town and walked around for a bit. It is not a touristy town at all, and people seemed surprised to see us walk without really knowing where we were going, but it was completely safe.
We got back with a couple boda boda's, ordered food and enjoyed another spectacular sunset on the little private beach.
---
---
Day 7: Gisenyi to Kigali with public bus
We took a boda boda to the town's bus station and took our bus to Kigali. We did not have tickets, bought them there at the station right before we boarded. They bus timetables are very reliable and I would use bus transport in Rwanda again any day. From the bus stop to our hotel in Kigali we took a tuk tuk. We stayed at Urban Blue Hotel Kigali and the views from the rooftop restaurant and bar are one of the best in the city.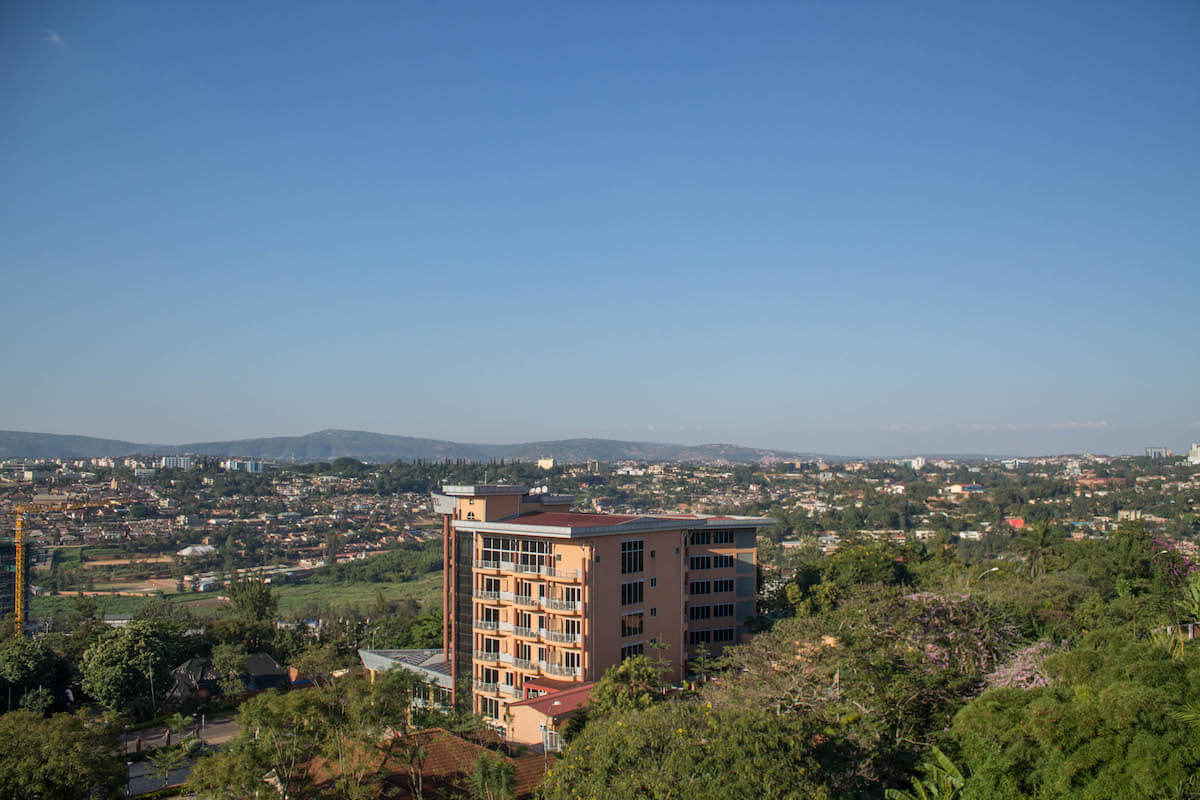 We went to "Heaven", another restaurant well known for its views and food, and found the views almost non-existent and the food overpriced for the quantity, but it was tasty. It is very much a tourist spot. We walked around the city without any concern for our safety.
Day 8: Kigali day tour – with boda boda
With one day in the capital there's enough time to check the main attractions. We started visiting the famous hotel Mille des Colines where the film Hotel Rwanda was filmed. It was a little disappointing, as it is only a hotel and there is no theme around the movie. Then we went to the genocide memorial and learnt about the tragic and very recent story of the country's genocide, and how much effort they have gone through to prosper after that. We took another boda boda to "Now Now Rolex" and tried the typical street food (rolled pastry with fried eggs, tomatoes and chips inside). End your day with a visit to Kimironko market, full of souvenirs, food, and everything else in between.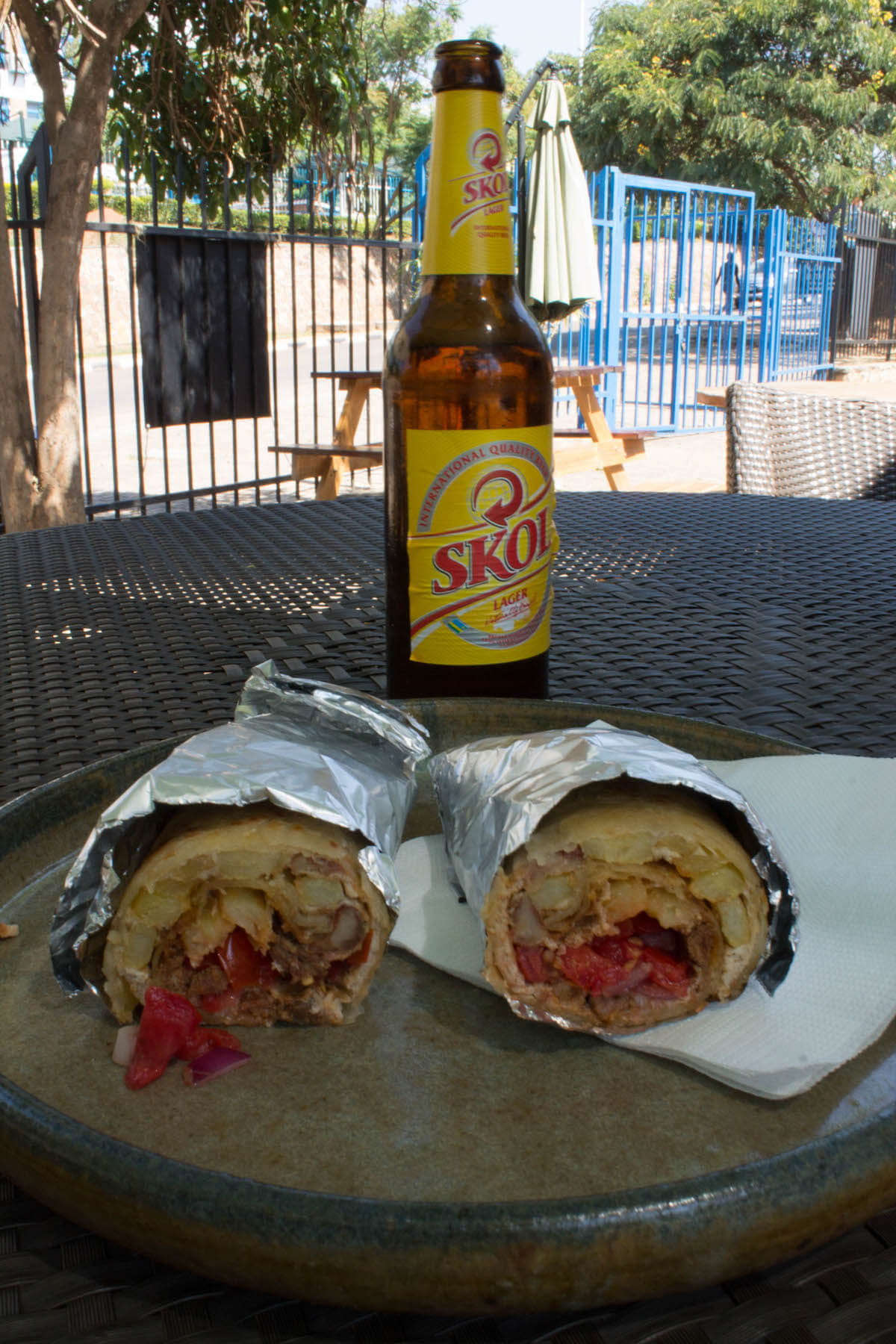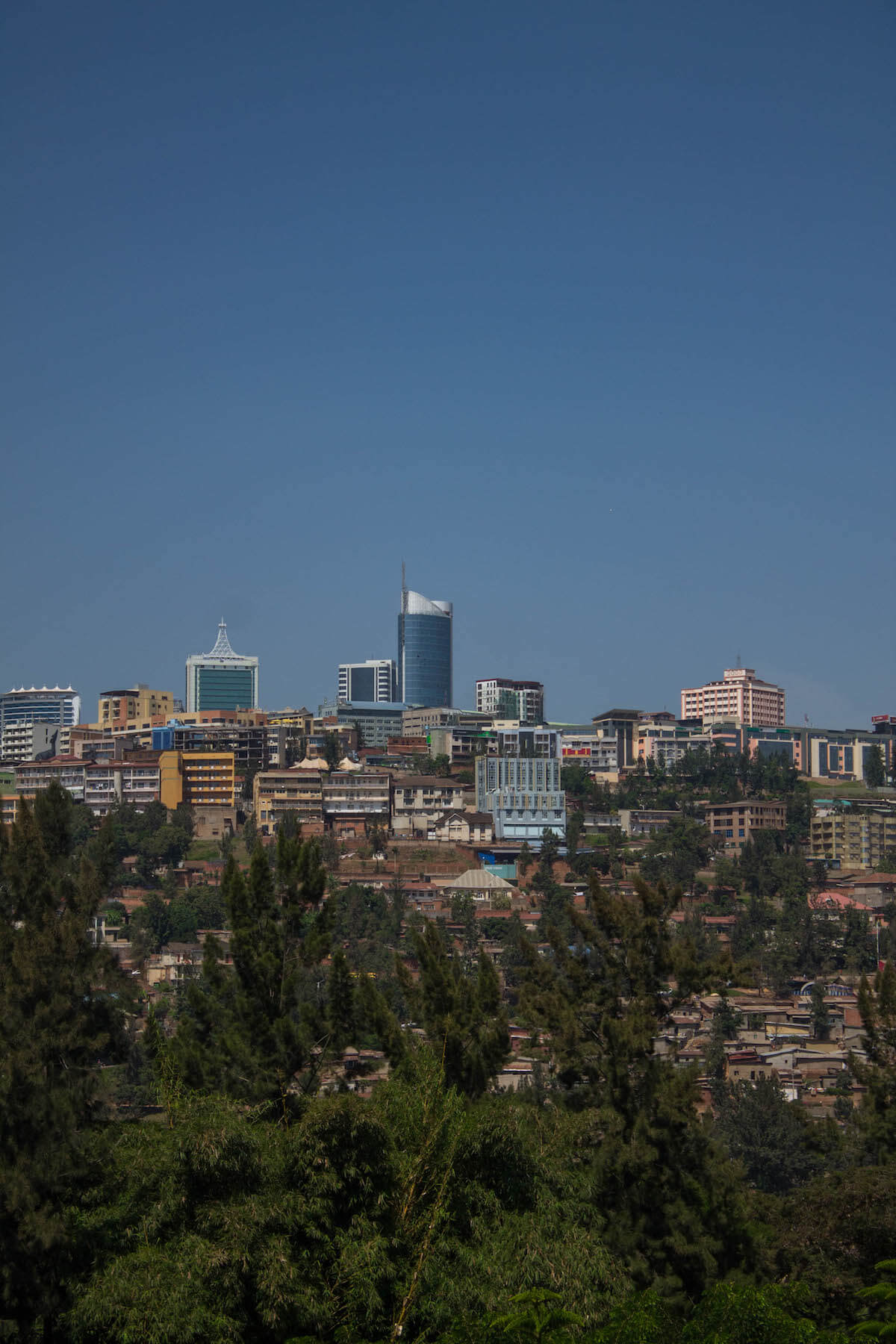 Interested in doing this perfect 10 day itinerary in Uganda and Rwanda? Pin it for later!
[columns] [span6]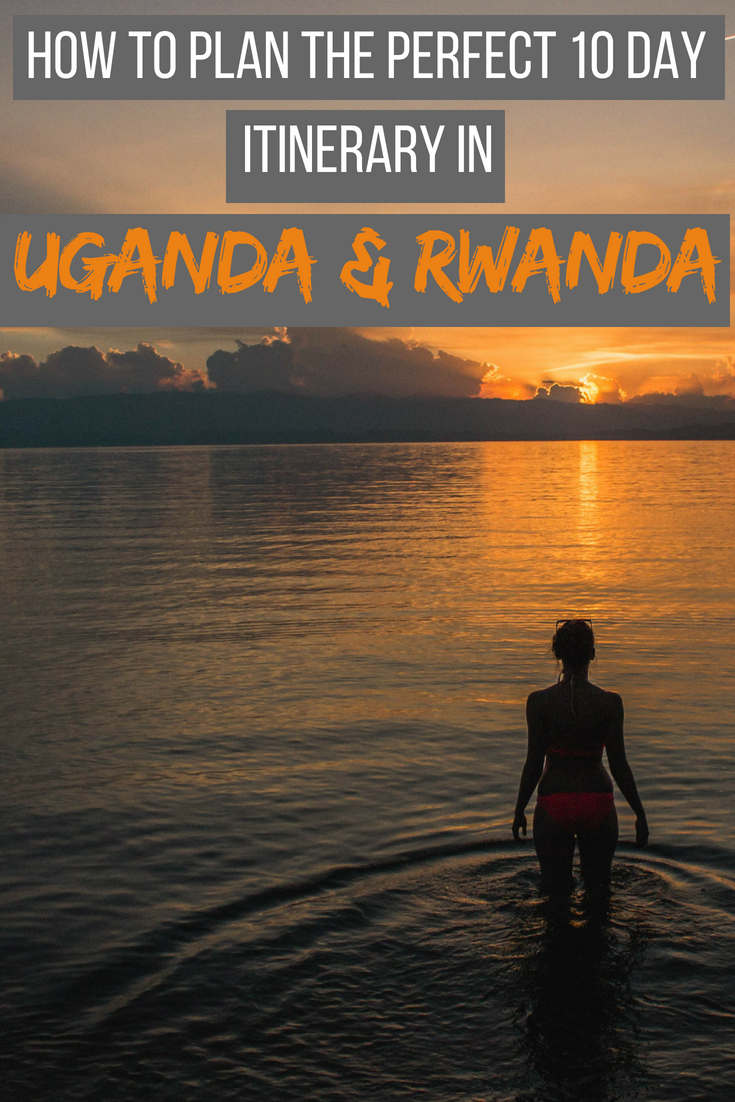 [/span6][span6]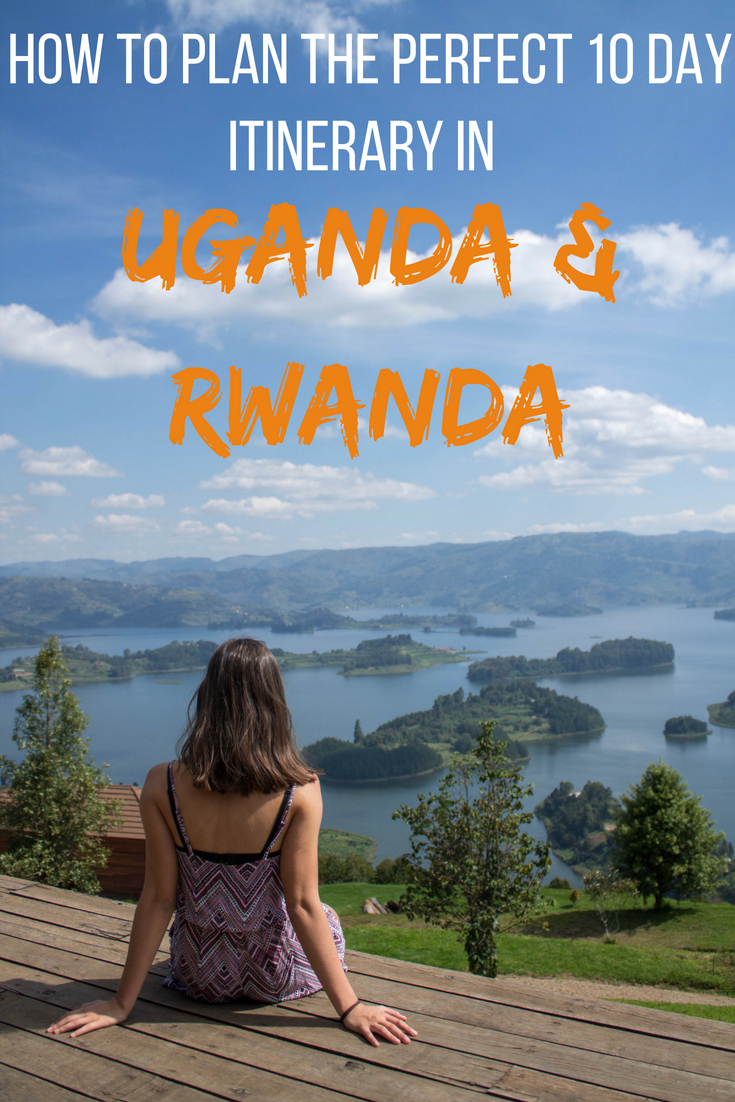 [/span6][/columns]
---
INTERESTED TO KNOW MORE?
READ NEXT: Detailed budget for the 10 days in Uganda and Rwanda: What will you spend?
READ NEXT: Uganda and Rwanda carry-on only packing list