Going to São Tomé and Príncipe felt like stepping into a new world. No one knew that this country even existed or that it is formed by two islands in West Africa.
During our stay on the island, we rented a Jimny Suzuki and based our routes on three main areas in the island. These 3 day tours included: São Tomé Southern Day Tour, Central Day Tour and Northern Day Tour.
In order to get started, we would need to organise transport.
Is it necessary to rent a car in São Tomé?
If you are only stopping by on your way to Príncipe Island, you don't need a car. You can walk around the city in safety. If you plan on exploring the rest of the island, then you'll need a car or to book a tour with a guide.
We rented a car with the contact that our kind hosts at Sugar Guesthouse provided. The experience was reliable and stress-free. Plus, it very easy to communicate via email and arrange delivery and pick up.
I'd recommend saving your itinerary on Google Maps, offline, so you can go from one point to the other without needing the internet.
How is the road condition in São Tomé?
Have you ever heard of the "African Massage"? No? It is the phrase used to describe the bumpy gravel-road game drive or safari drives you'll enjoy in the back of a 4×4.
Now, take that and times it by 10. São Tomé roads are mostly tarred, but full of potholes.
A 4×4 is completely necessary to make the trip and you'll need to drive slowly in most areas. I can confidently say that these were some of the worst roads I've ever driven on.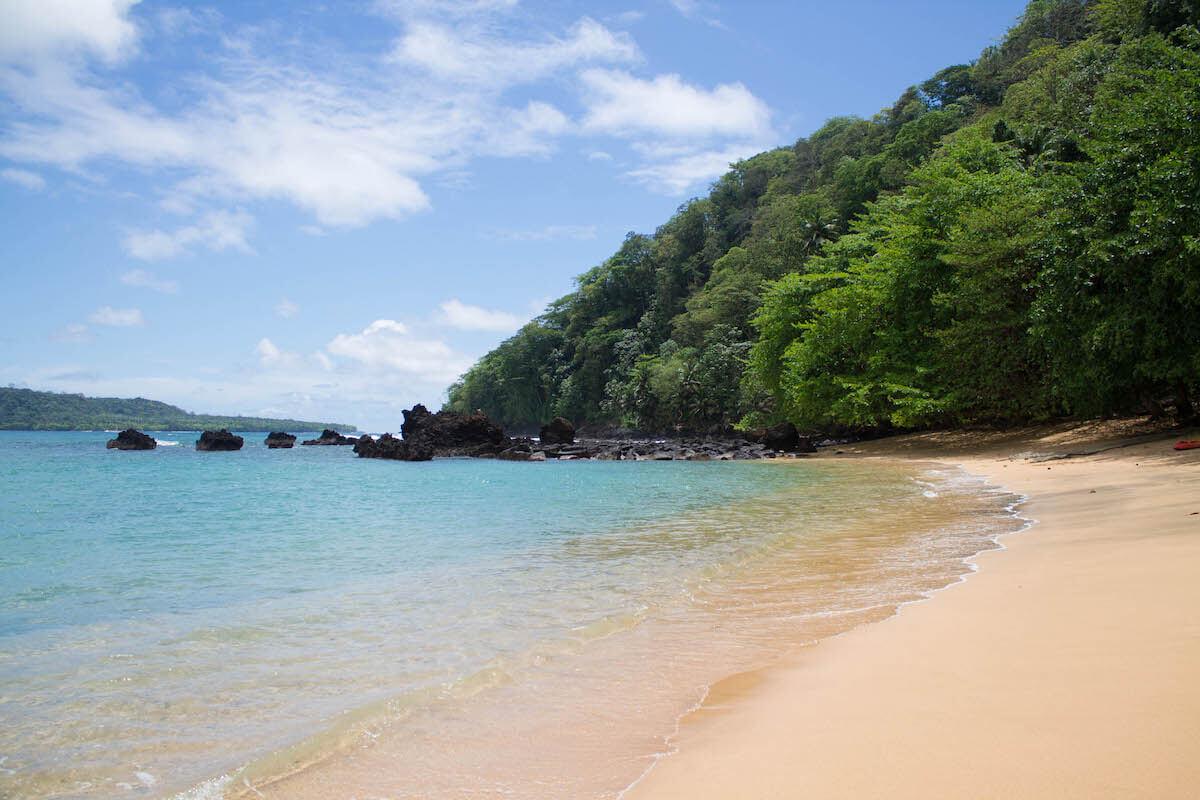 ---
Read more about travelling to São Tomé and Príncipe
---
General considerations for São Tomé
Most buildings on the island have not been taken care of. There are a lot of ruins left as a legacy of Portuguese colonialism.
I have never travelled anywhere in Africa before and been more stalked by groups of small kids asking for money – or just wandering around me. Never give money or food to kids. If you want to help, give to an organisation that will split your contribution into equal parts and get those resources to the communities that need them – the right way.
The landscapes are stunning and are, arguably, the main attraction of the island.
What is the best order of day trips to enjoy São Tomé to the fullest?
After visiting the island and doing the 3-day trips that are available to the different areas, our recommended order of day tours is:
São Tomé Southern Day Trip
São Tomé Southern day tour: What to do
1. Roca Agua Ize
You will drive through a little village to get to the abandoned Hospital. You might need to pay a tip to get into the hospital but we did not have to pay anything.
It's a short stop, simply to get an idea of what the hospital looks like. It could totally be the location of a hospital horror movie (if it weren't for the happy kids, of course).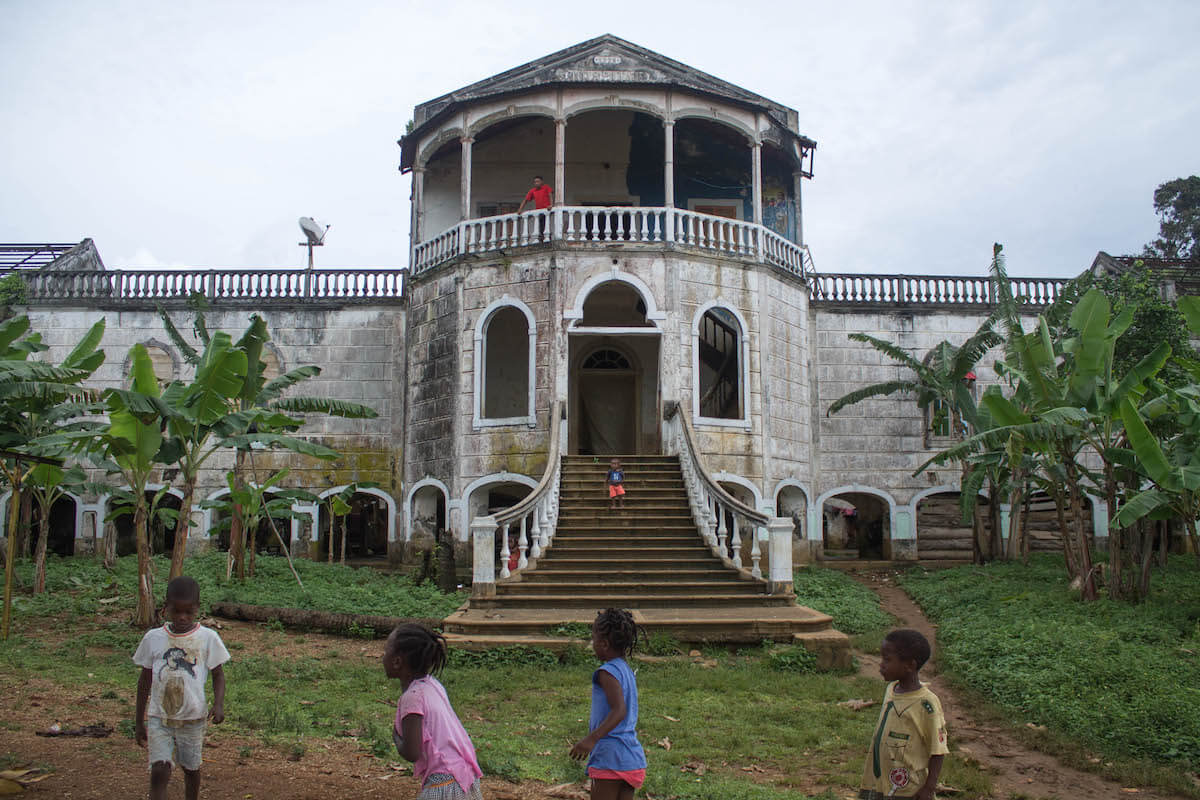 Note: As the first stop on our trip, I was a little overwhelmed by the amount of kids there, following us around and asking for money.
2. Boca de Inferno Blowhole
Next stop on the Southern Day Tour, is the blowhole where you can find a black rock area with ocean water coming through, and blowing the water up.
When we visited it wasn't high tide but it was still nice to check it out, as the water continues to flow without creating a large blowhole.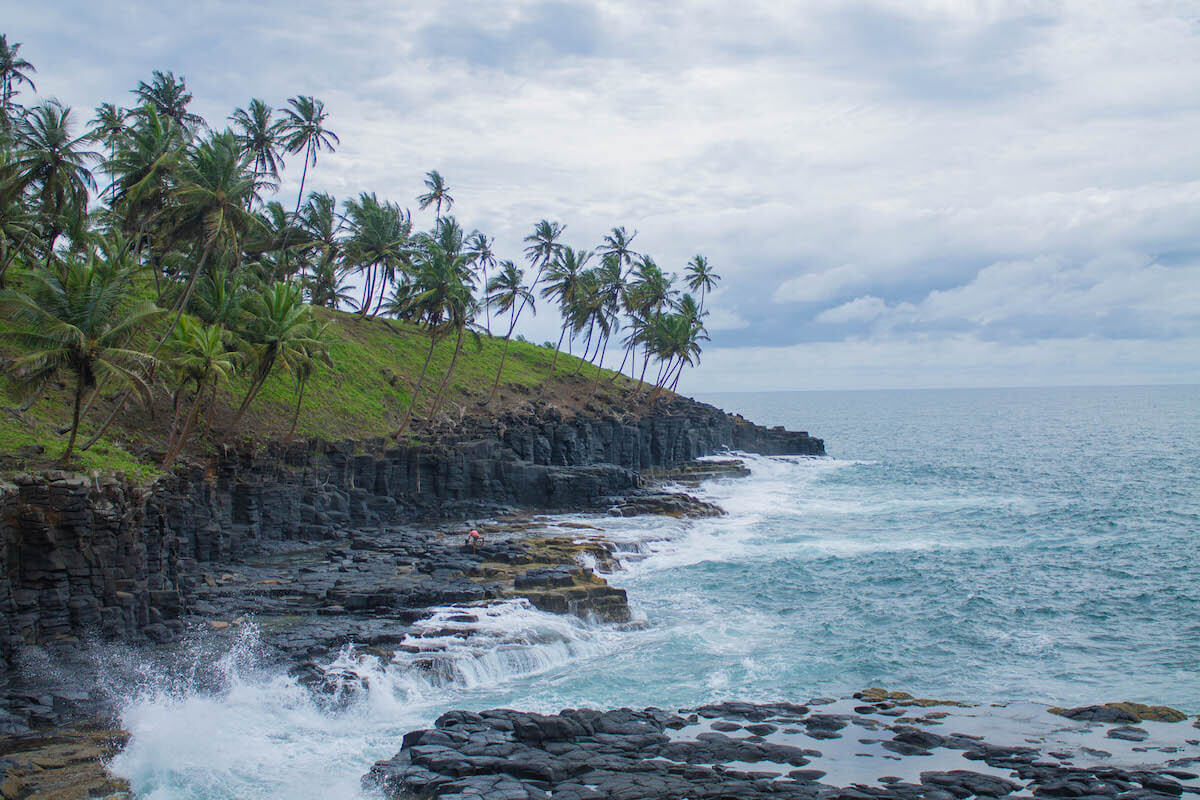 3. Praia Micondó
Praia Micondó was the first almost deserted beach of the trip with long stretches of sand and temperate water.
Yes, The islands are on the Atlantic Ocean but the water around São Tomé and Príncipe usually has a temperature of between 22ºC and 27ºC..
4. Roça Sao Joao de Angolares
Roça is the word used for the colonial coffee plantation. Nowadays most of the Roças are in form of ruins, but Roça Sao Joao de Angolares has been restored.
The Roça is easily accessible from the town with the same name, following a steep narrow street.
There is an art gallery in the property and you can also stay overnight.
Why is this a must-see stop during your São Tomé Southern Tour?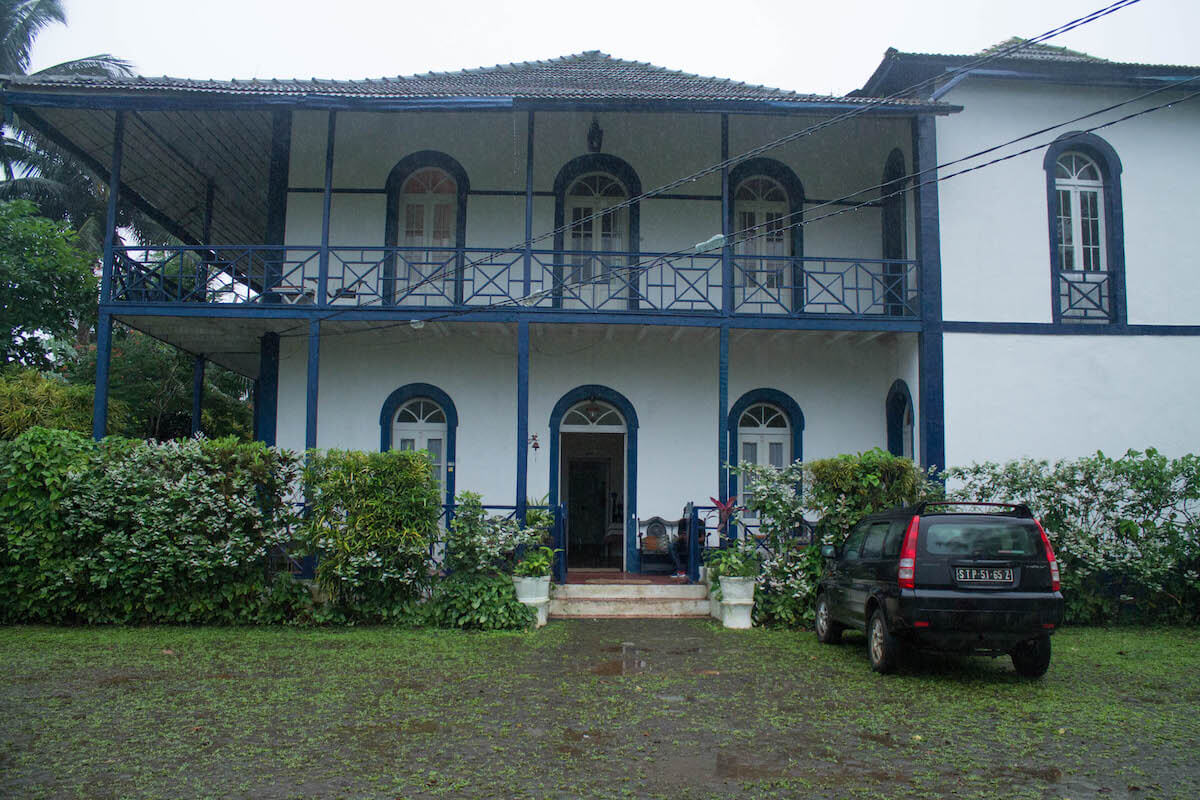 You can have a tasting menu for around 15€. All the products used are very fresh and from the island, so you will have fruits, vegetables and fish as main products.
We ate the tasting menu consisting of 9 starters, 1 main and 3 desserts.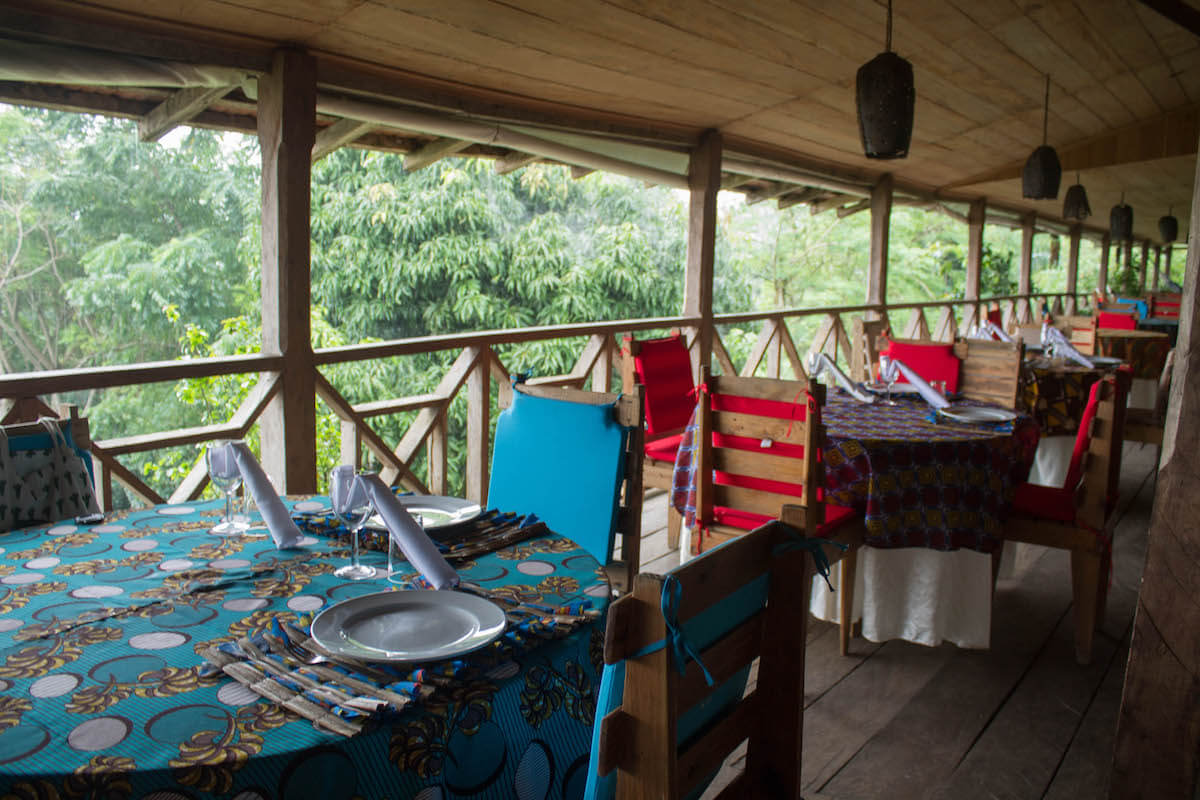 The waiter will explain every dish and what's it made of. Don't be afraid of the size, the portions are small and well presented. You will be full at the end but can comfortably taste each of the plates.
If you find yourself arriving at Sao Jao de Angolares too early for lunch (like we did) you can have a snack somewhere along the way and come back after the rest of southern day trip stops for an early dinner.
5. Pico do Cao Grande
Being the most iconic mountain in the island, Pico Cao Grande is a volcanic rock, shaped as a needle. It is possible to see it from a couple of spots from the main road, and it's one of those picture-worthy landmarks.
Around the peak there's fog and a micro-climate (season dependant, during rainy season there was one) so we saw it wrapped in fog, which created quite a haunting atmosphere.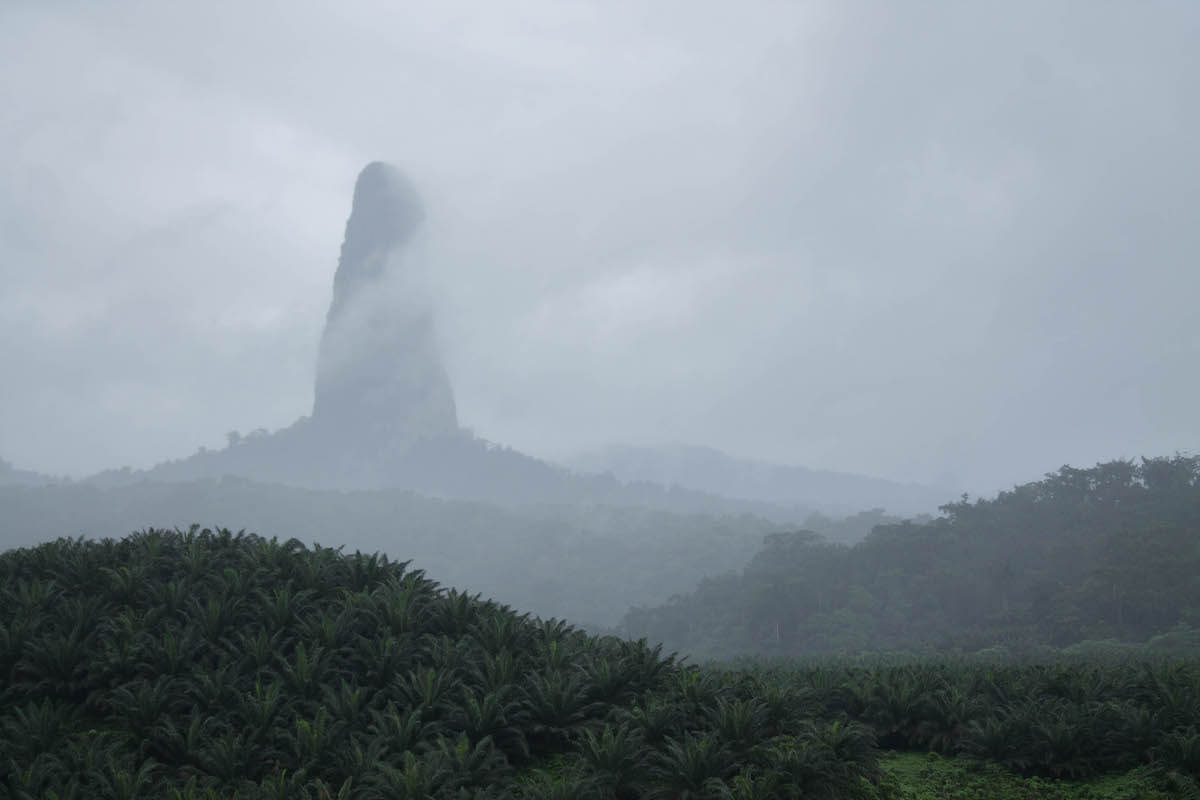 Note: Check the weather forecast before you start the day, because if the weather is not great it might be worth it to change the order of your trips. You can then do the Central Day Trip first, the Southern Day Trip second and finish with the Northern Day Trip. The Southern Day Trip involves some time at the beach, and seeing the Pico without fog is a big plus.
6. Porto Alegre – Praia Inhame
Porto Alegre is a small little town on the southernmost point of the island. I recommend driving through (maybe stopping for a short walk on the main road) and continuing to Praia Inhame.
The beach is located in Inhame Eco Lodge and you can use the area if you buy something. We had lunch there and enjoyed the amazing deserted beach.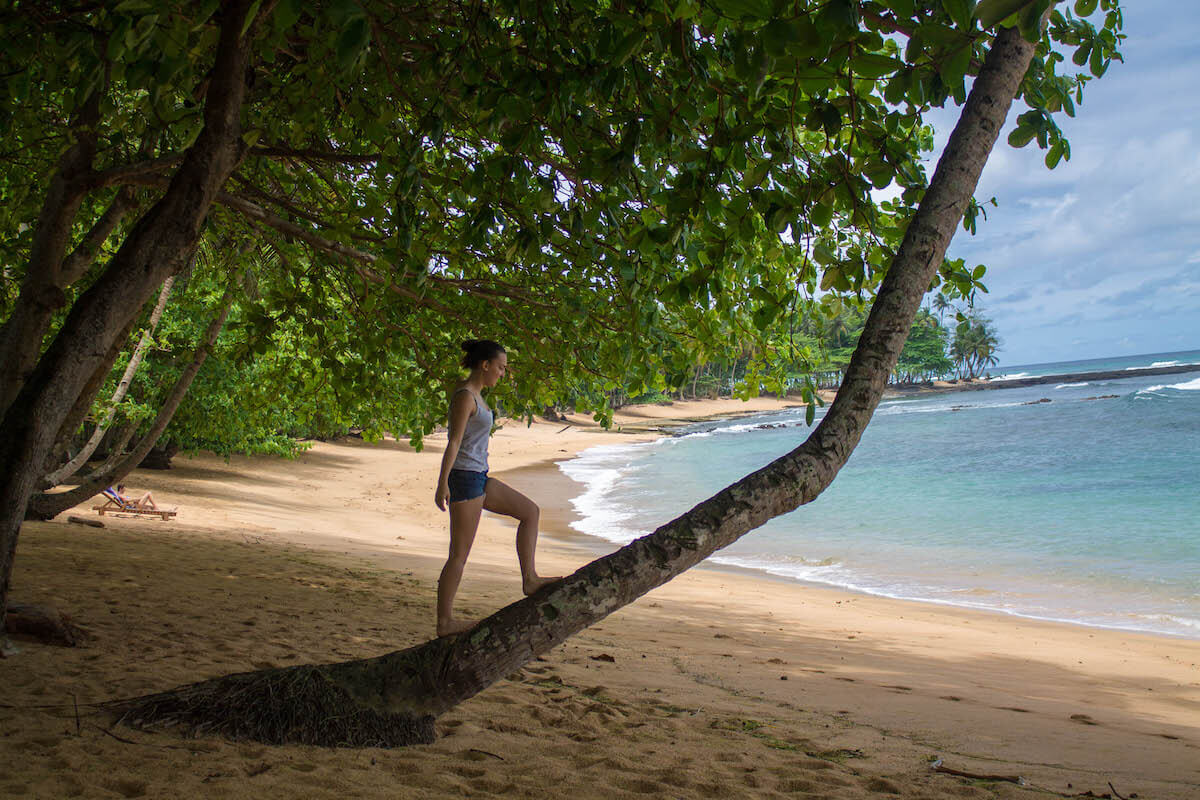 If you have plenty of time you can also check out Praia Piscina and Praia Jalé. Together with Praia Inhambane, these beaches are the highlight of the Southern part of the island.
7. Rolas island
There are boats departing from Porto Alegre but we found one from the same Inhame Eco Lodge. The boat ride is about 20 minutes and will take you to a little island called Rolas, the island on the equator.
There is a village on the island but the area is more famous for the equator crossing point. You climb uphill to find a little area with a world painted on the floor and a column where São Tomé and Príncipe are located. I have crossed the equator!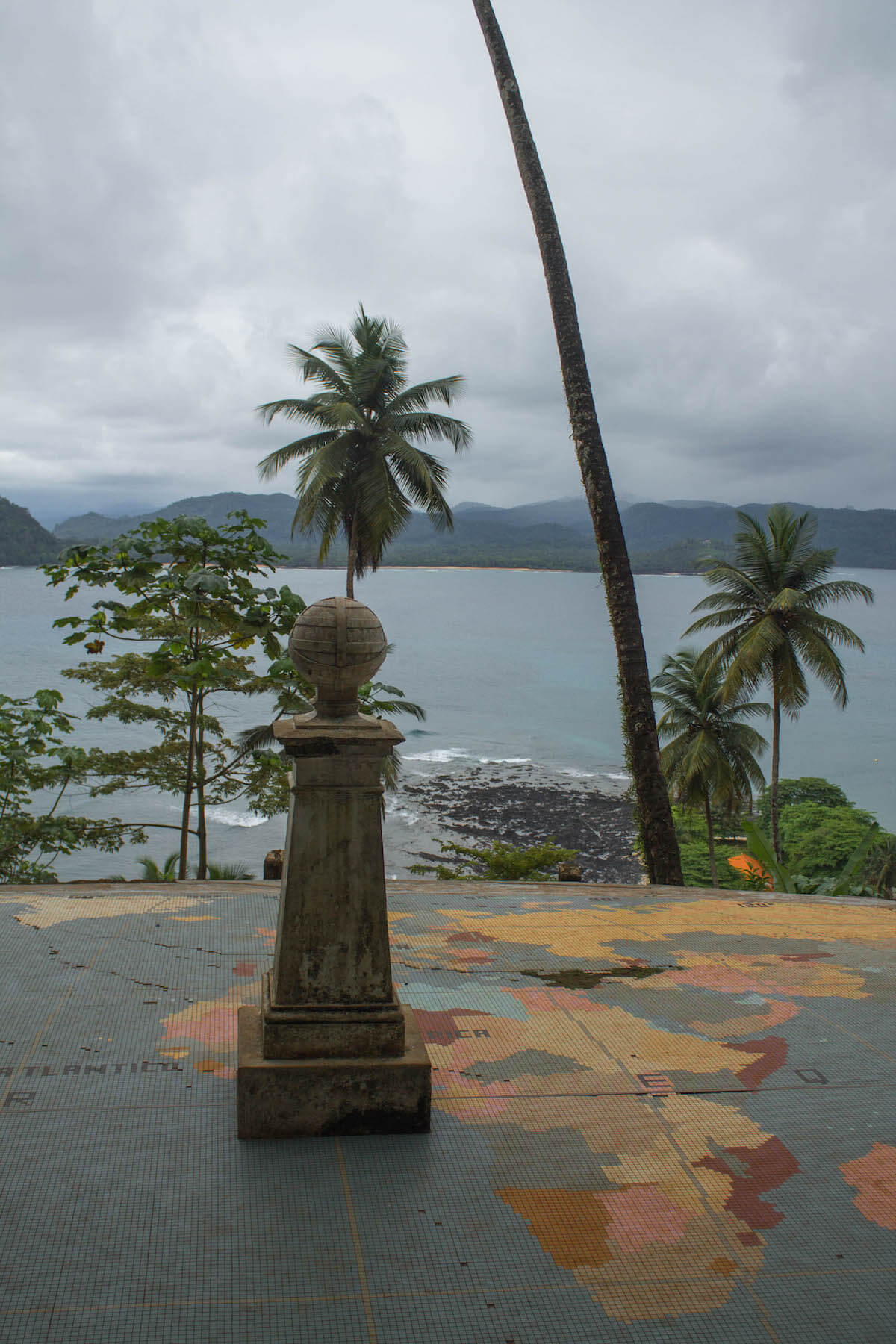 In fact, the real equator crosses Porto Alegre, the town, but it is more of a symbol I guess.
Our favourite stops in the São Tomé Southern day trip were Praia Inhame and the Roça (for food).
The Pico was also amazing but we didn't get to enjoy it in all its glory because of the fog. All in all, a very worthwhile trip for any traveller looking to experience the magic, culture and nature of West Africa.
Let me know in the comments if you have any questions about planning your southern day trip and maybe I'll have some of the answers!