How amazing would it be to sleep in a luxurious cave?
If you're looking for one of those far-away places that is completely unique then Kagga Kamma Lodge is your answer. Go to this magical property with luxury caves for rooms!
Quick facts:
Good for: Couples and families
Price: ZAR 4080 per night, per cave room (231€)
Location: Cederberg mountains, Western Cape, South Africa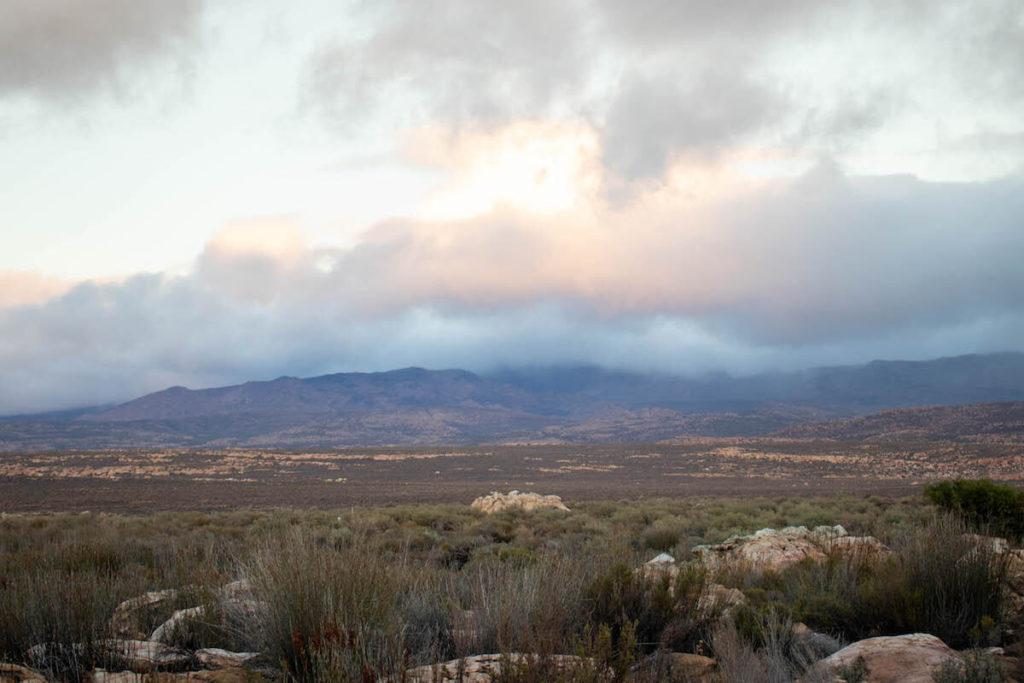 How to get there
Kagga Kamma is a cave hotel in the Cederberg, South Africa.
From Cape Town, the drive will take you around 3h25min. The last 35km are driven on a gravel road.
It is a scenic gravel road and can be driven in a city car for most of the year. The last 10km are a bit more complicated and a high clearance is advisable if it is the rainy season or has been raining recently, as this may cause the road to deteriorate.
About the lodge
Kagga Kamma lodge has a client parking lot next to reception.
Next to the reception you will find their delicious restaurant where they offer seasonal menus that will make your experience in the hotel that much better. They offer a fine-dining, but homemade, style of food for their guests.
During our two night stay, we were mesmerized by the variety offered on the menu as well as the presentation and flavour of the food. There is a fireplace in the restaurant and during winter it makes for the most romantic setting. Next door to the restaurant you will find a bar for drinks during the day and at night.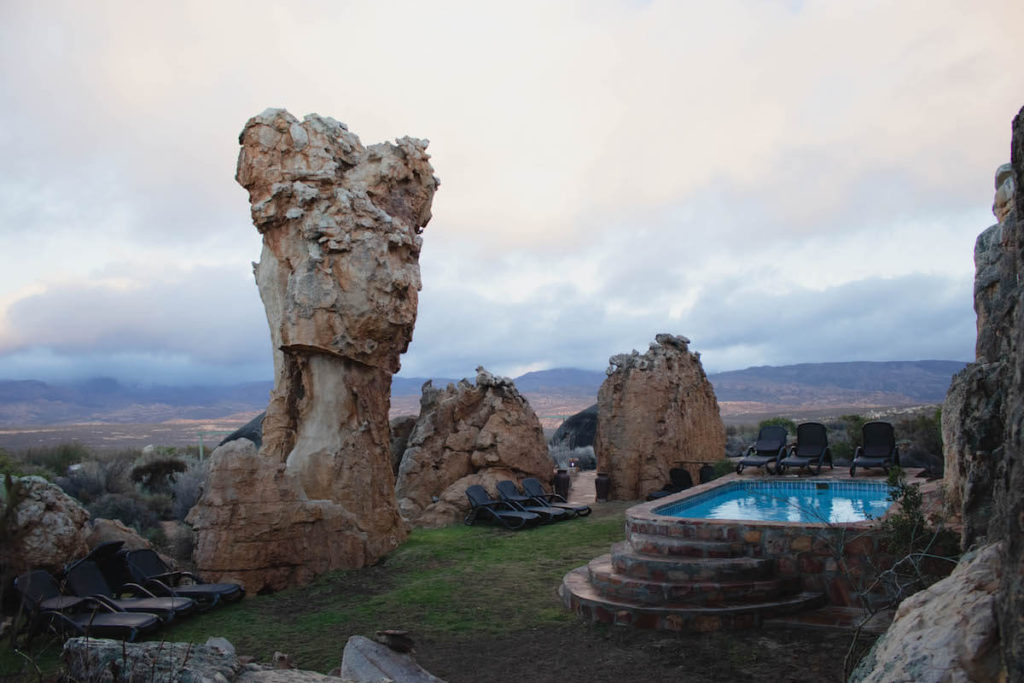 There is a swimming pool area built into the rocks as well as an outdoor Boma area with a fireplace in the middle and chairs around. Boma dinner is available any day of the week during warmer months (weather permitting). Boma dinner is the traditional African barbecue for all guests.
They also have different nooks for lounging, reading or relaxing behind the main restaurant and bar area.
The cave rooms at Kagga Kamma
They have 10 cave rooms and 5 huts on the property. The rock formations in the Cederberg area are really interesting and incredibly varied, and Kagga Kamma has made use of these rocks to enclose its bedrooms.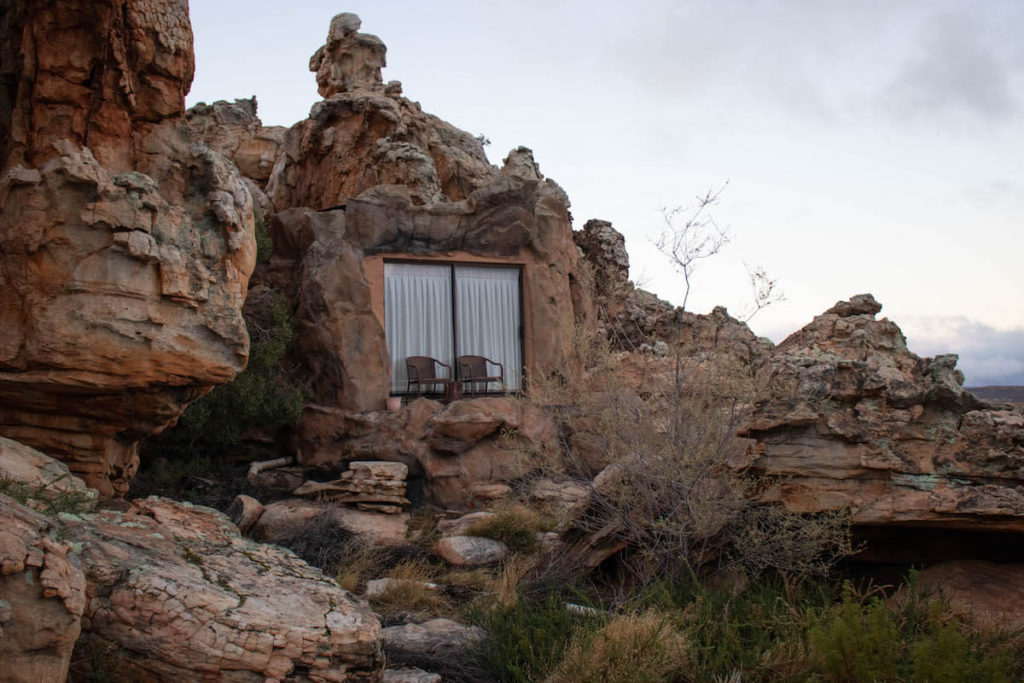 Caves are made using a material that looks and feels like rock, but isn't. In fact, if you are inside the room and knock softly on the wall, you'll hear where rock and wall start, but you won't be able to see it. It mimics the environment really well and that makes the experience truly one of a kind.
Cave bedrooms have a double bed, an ensuite bathroom, bathrobes, air-con unit and coffee and tea making facilities.
There's a small terrace with two chairs with views of the mountains and a path that takes you to all the other rooms. Depending on your room you'll be higher up from the path, giving you more privacy.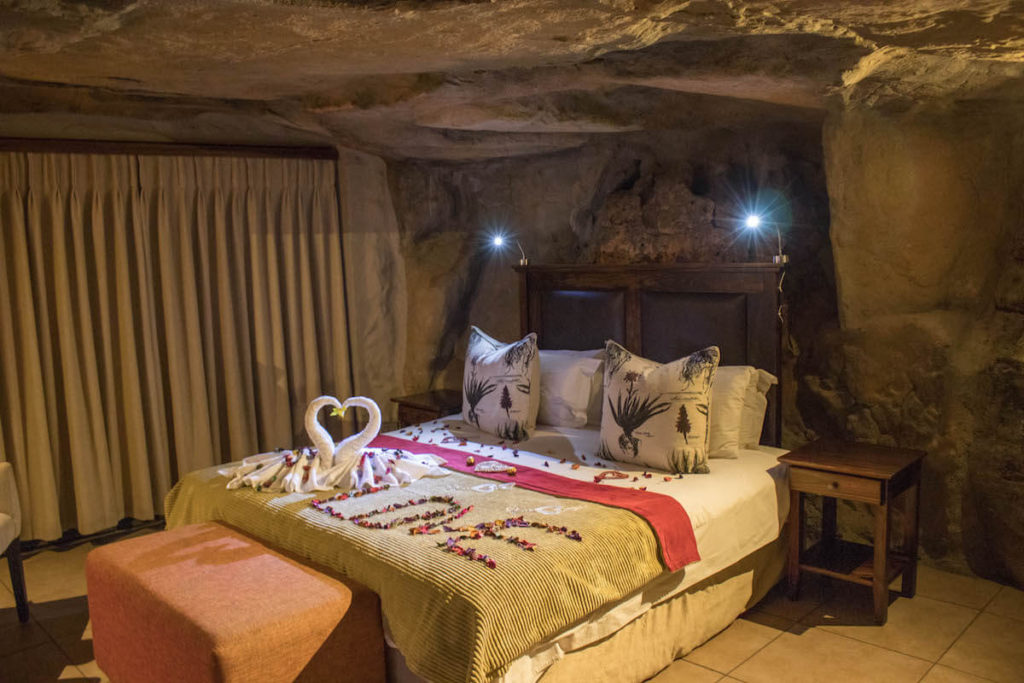 Falling in love with the Cederberg and want to explore different areas? Check out this comprehensive guide on things to do
Star Suite
During the months of summer (September – April) and as always, weather permitting. The Star Suite and the Sky Suite both offer a unique sleep out, sleeping under the stars without a roof.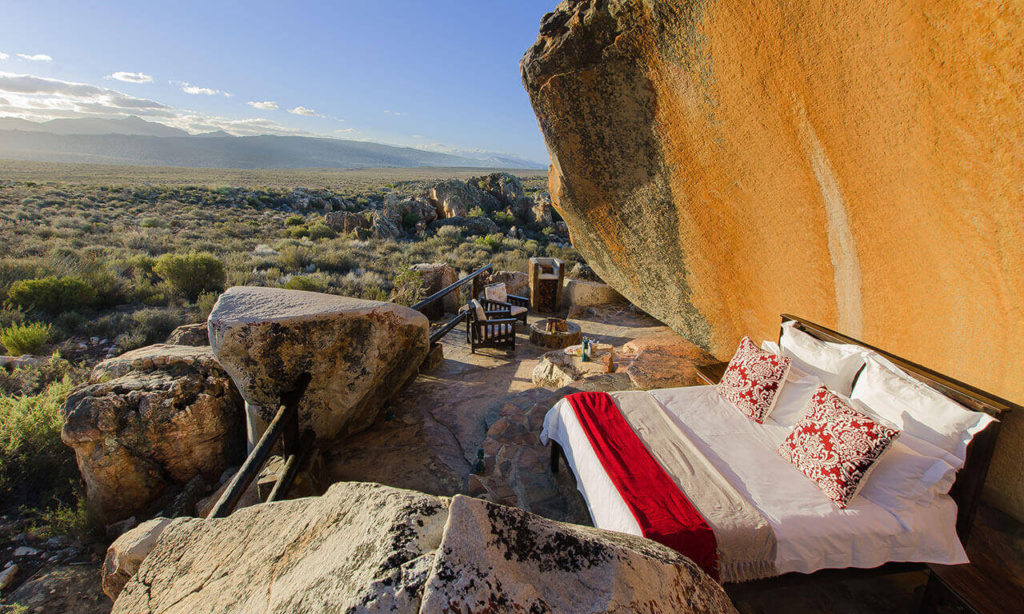 Although the rooms are slightly different, they both offer a comfortable bed and outdoor shower experience, and you'll be treated to a three-course meal with cheeses, biscuits and fruit as snacks. Alternatively, they can opt to braai their meal themselves. picnic for dinner so that you can spend the late afternoon and evening enjoying the magical setting.
---
Looking for more unique sleeps in Africa and beyond? Check out the curated list of Sweet Dreams
---
Activities available at Kagga Kamma
4×4 trail
There's a 4×4 trail around the property with more than 100km of total trail. You will be given a map and can drive at your own pace. You have to have your own vehicle and it is recommended that you are experienced, as there are some steep sections.
Quad Bike Adventure
This one is an organized activity that you can book for an additional cost at reception and will take you on a quad adventure around the area so you can traverse the stunning landscape and learn more about the region where Kagga Kamma Lodge is.
Rock Art Tour
An organised tour with an expert guide that will take you to the rock art found in the reserve. These paintings date back more than 6000 years and having a guide to understand what they each mean is a must.
Hiking Trails and mountain biking trails
There are marked self guided hiking routes in the reserve between 4km and 9km long. You will walk along the rock formations and see all the plant life around these.
You can also bring your own mountain bike if you wish to try one of their two marked routes around to enjoy exercising in a different setting.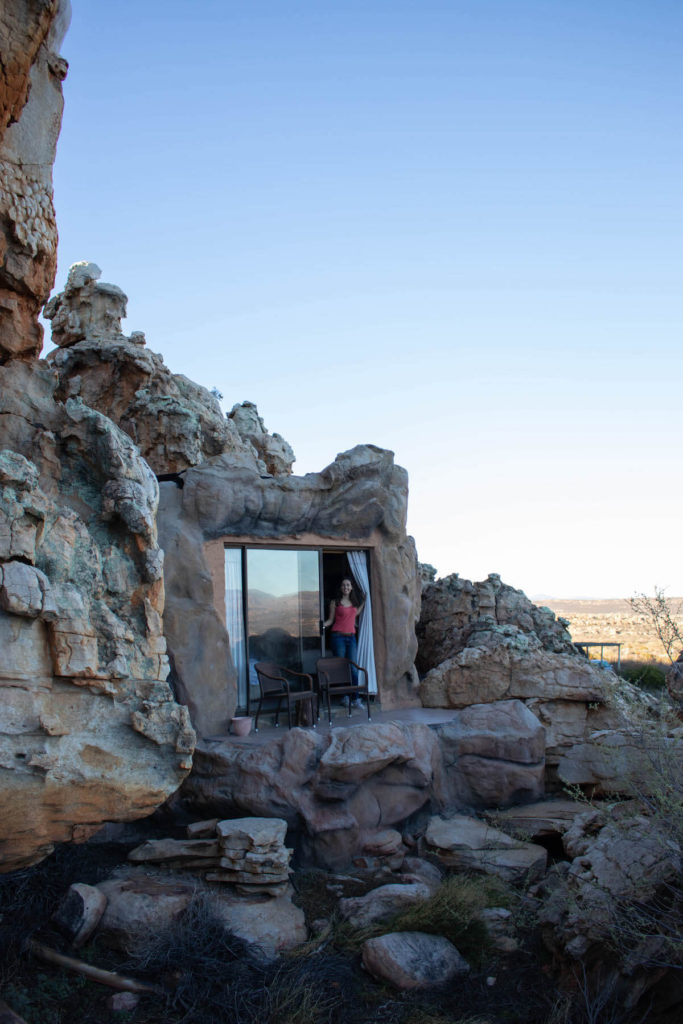 Nature Drives
Although the reserve has some animals, the most often spotted are antelope. You can go on an organized game drive around the property early in the morning or during sun down to enjoy the reserve and hopefully spot some animals! There's also the option of seeing jackals, although they are very rarely spotted.
What you'll love
The rooms are stunning. They're so different and are the main attraction for a stay in Kagga Kamma, and they are certainly worth it!
The area surrounding the lodge is also incredibly pretty. You can go for a walk or a drive and explore the area. Taking some snacks for a picnic
Check out Cederberg attractions to discover more of the beautiful area around Kagga Kamma cave hotel
YOU MIGHT ALSO LIKE: