Going on safari is always magical but if you want an experience that is truly unlike any other, sleep under the stars and listen to the sounds of the bush from your Star Bed!
Are you dreaming of sleeping out under thousands of stars in South Africa? Now you can!
This magnificent room without walls or a roof in the middle of the game reserve is one of the most unique and unusual hotel rooms you'll ever encounter. Oh, and it's going to be as romantic as any night in the wilderness can be.
Here's everything you need to know if you want to visit Samara Game Reserve and have a once in a lifetime evening!
Quick facts:
Good for: couples (the rest of the lodge is great for families and groups of friends too!)
Price: ZAR 3750 per person per night on Full Board + Activities (216.1€)
Location: Eastern Cape, South Africa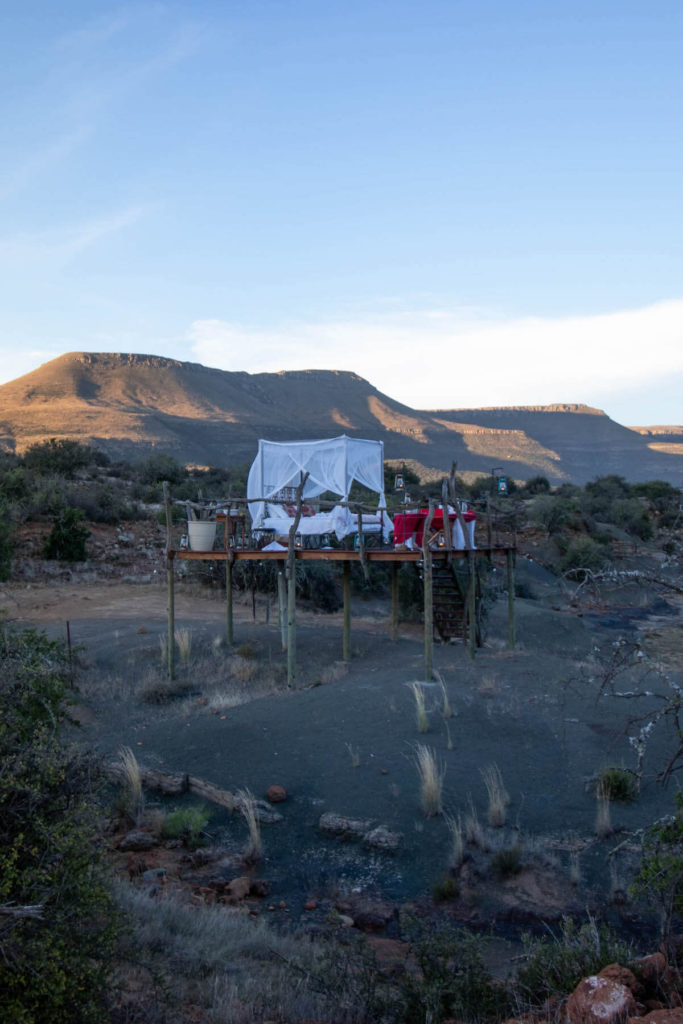 Do you want to have a visual of the reserve and the rooms before we dive deep into details? Watch the video:
Where is Samara Game Reserve
Samara Private game reserve is a luxury reserve in the Eastern Cape, South Africa. It lies in the heart of the Great Karoo area and is a 40 min drive from Graaff Reinet, one of the most historic settlement towns in South Africa.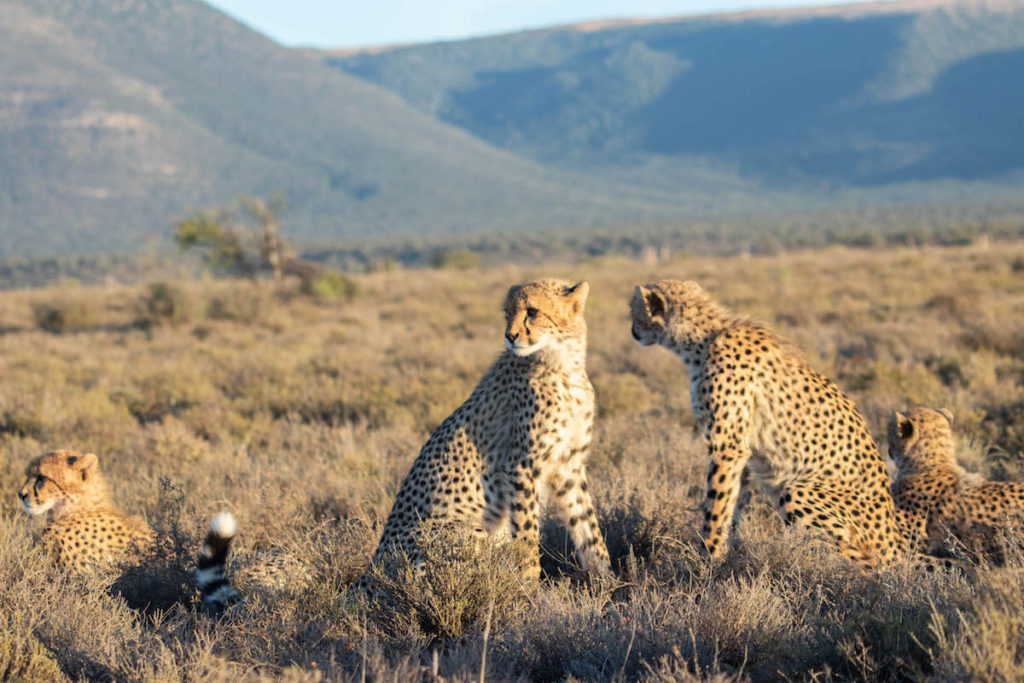 How to get there
Depending on where you are coming from, the reserve can be reached by different means.
International flight: if you're arriving via international flight and your first stop is Samara, your flight to Johannesburg (JNB) or Cape Town (CPT) will connect you with a flight to Port Elizabeth (PLZ).
Domestic flight: Gqeberha (previously called Port Elizabeth) is the closest airport to the game reserve. From here you can rent a car or book a transfer with the reservations team at Samara.
Driving from Cape Town: on a drive from Cape Town to Samara Karoo lodge, if you were to not stop it will take 7h30min. It is a long drive and you can split it up with a visit to the Winelands or the Garden Route on your way.
They have extensive instructions on their website and also recommend the use of what3words. It is a system that gives 3 words to every square meter in the world and lets you have a very precise and accurate location.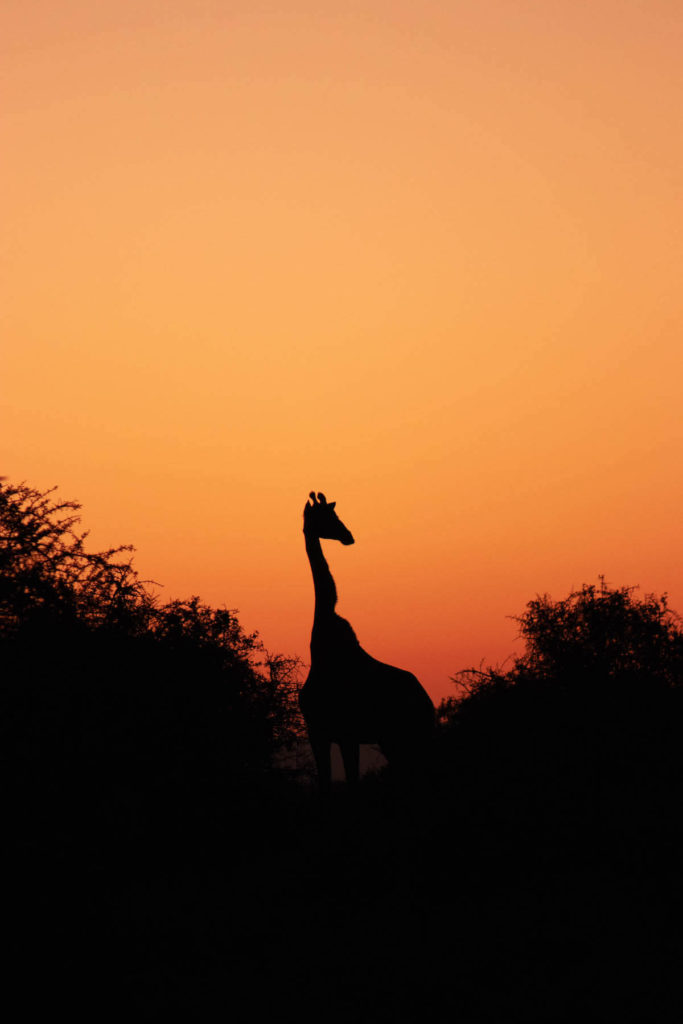 About Samara Game Reserve
Samara is a luxury game reserve in the Eastern Cape. This award-winning game reserve has 27 hectares of wilderness, with different biomes and views over the Plains of Camdeboo in the Great Karoo.
24 years ago Samara was made up of 11 cattle farms. The owners bought the terrain in the hopes of restoring the land, fauna and flora endemic to the area that had been killed or chased away by poor farming practices and agriculture for a couple of centuries.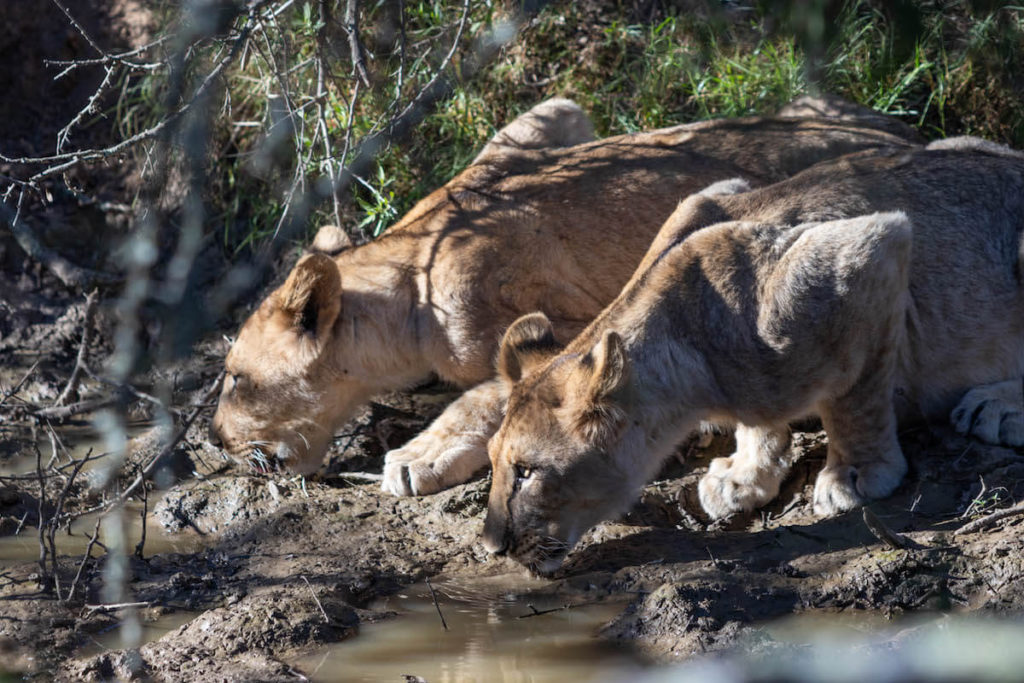 Today the reserve boasts more than 60 mammal species, including the big 5 (lion, leopard, elephant, rhino and buffalo), cheetah, giraffe and cape mountain zebra.
Samara has a Film and study facility that observes their cheetah as well as the first government accredited tracker school.
They also have two lodges, Samara Karoo Lodge and Samara Manor House. We only visited Karoo Lodge.
Samara is in the Eastern Cape, which has no malaria. This makes the reserve a great destination if you're worried about Malaria, are of risk (or pregnant) or would prefer to not have to medicate yourself and your family.
About Samara Karoo Lodge
Samara Karoo Lodge is the furthest away from the main entrance of the two lodges. On arrival, you'll be met by a roundabout in front of the main building, with a fountain in the middle. The lodge is fenced so that guests can walk between the lodge's different areas safely.
Upon arrival, you'll be helped with your bags to reception while your car is driven to the parking lot. The main building is square, with a reception and curio shop facing the car entrance. The left hand side of the building is taken up by the bar and lounge area, while the restaurant is at the back.
The kitchen and staff area are in the middle and the rooms are on the right hand side of the building, with views over the mountain.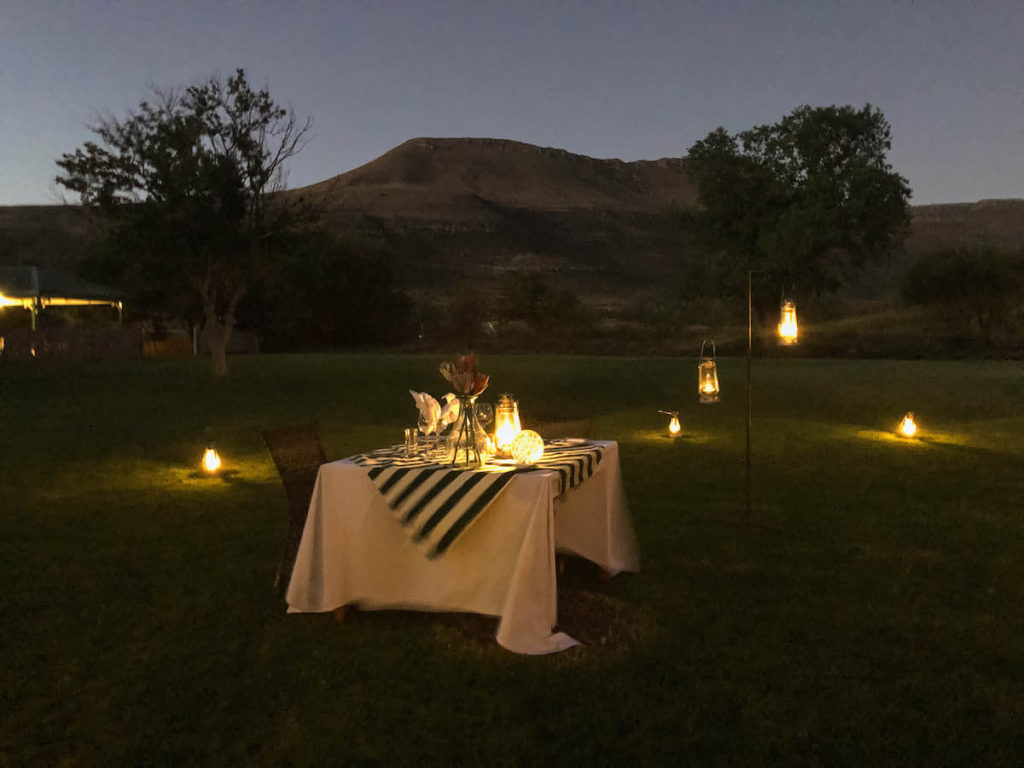 Outside the bar and restaurant area, you'll find comfortable couches and chairs, decorated with vivid colours that match the colonial style of the lodge. There is a beautiful and big grass garden next to the restaurant outdoor area, where they can set up lanterns around the dinner tables to light things up.
Next to the main building, the pool area is surrounded by a beautiful stone wall, providing some privacy for the guests lounging around it. The pool has hammocks and umbrellas around it, as well as a covered gazebo with outdoor furniture. There is a kids play area next to it.
The Karoo Retreats and Sibella Family Suite are standalone rooms on the left hand side of the main building, following a path that takes you to each of them.
The rooms at Samara Karoo Lodge
The rooms are big and spacious, with an open living space for the bed, the lounge area and the fireplace. There's a private porch with views of the reserve and comfortable chairs.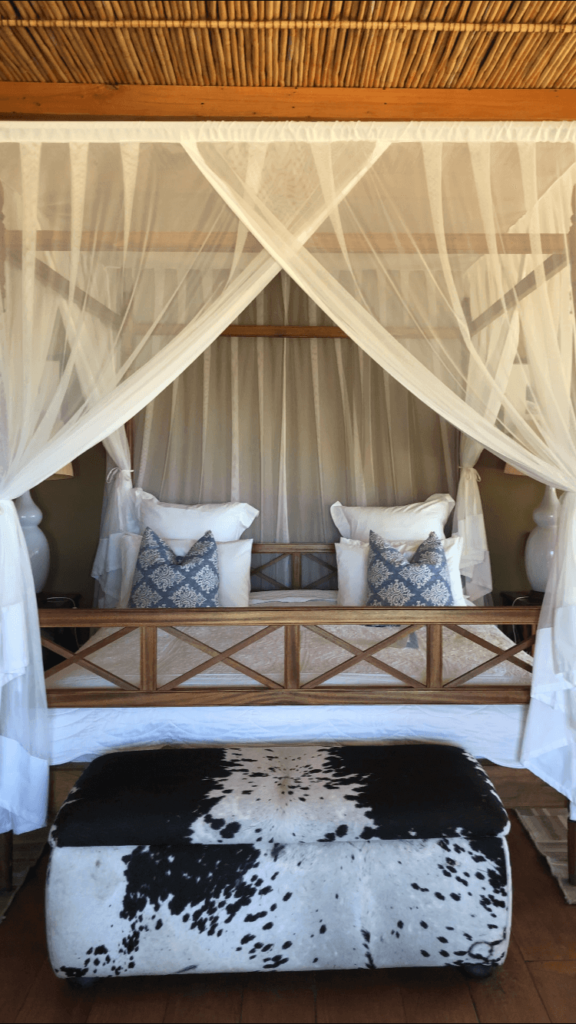 There is a four posted bed with a mosquito net around it and they provide tea and coffee facilities and a mini-fridge.
The bathroom is located behind the bed's wall, with open walls on both sides of the room. There are double basins, a dresser, an enclosed toilet and an enclosed shower, as well as a bath.
To top it all off, there's also an outdoor shower!
Star Bed at Samara Game Reserve
Set against a dramatic mountain backdrop in a secluded location away from the reserve roads, the platform has a 360º view over the bush from Samara.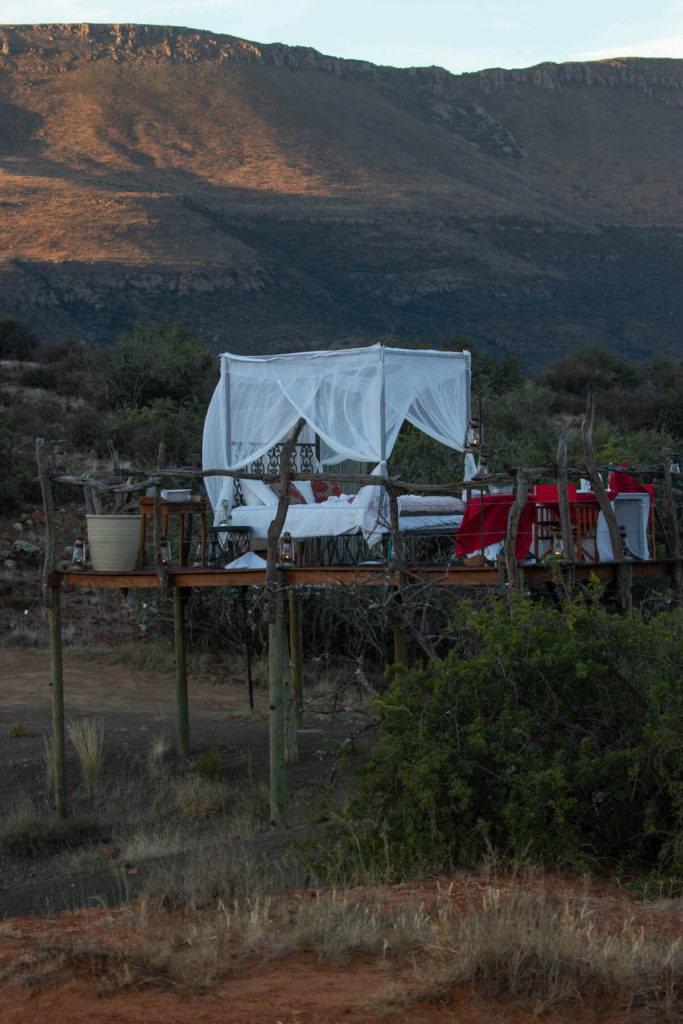 It comprises a four-poster bed with a draped mosquito net. An eating area with a laid out table and a drinks table to set up with gourmet picnic baskets and cold drinks with ice.
There is no roof whatsoever, this activity is only available when the weather permits. Creature comforts are taken care of with luxurious sheets, dressing gowns and Lindt chocolates on your bed. There is a bathroom enclosed with bamboo poles and a basin with fresh water.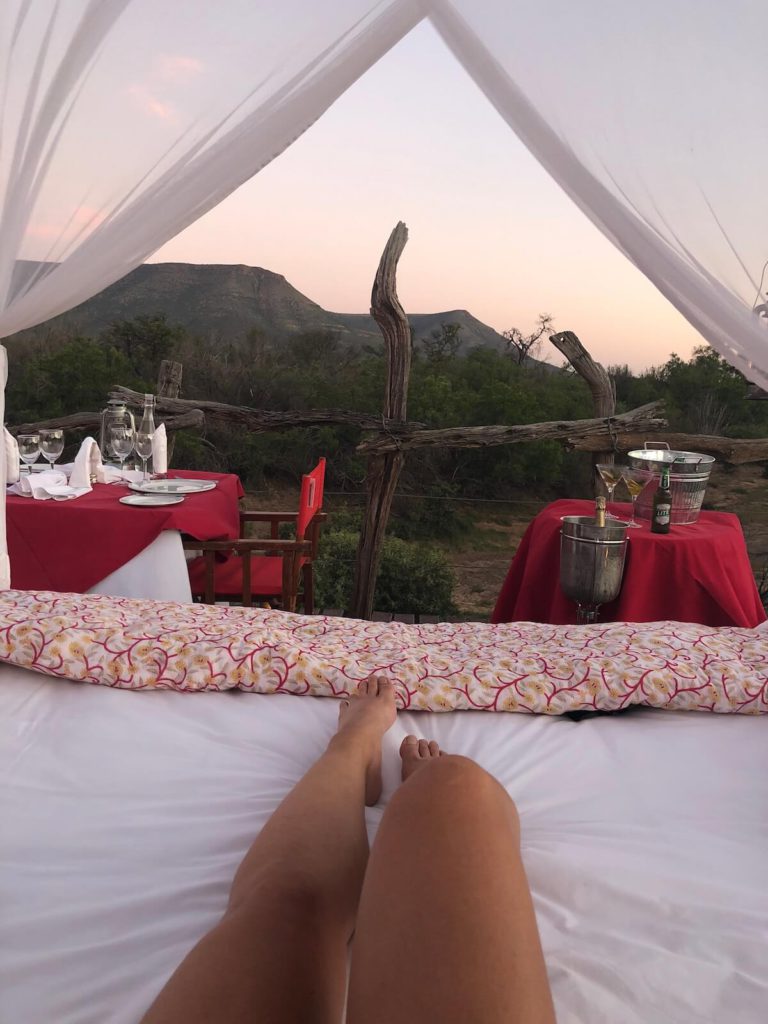 A truly luxury Karoo sleep out experience – lit by twinkling stars overhead and lanterns all around the deck of the Star Bed.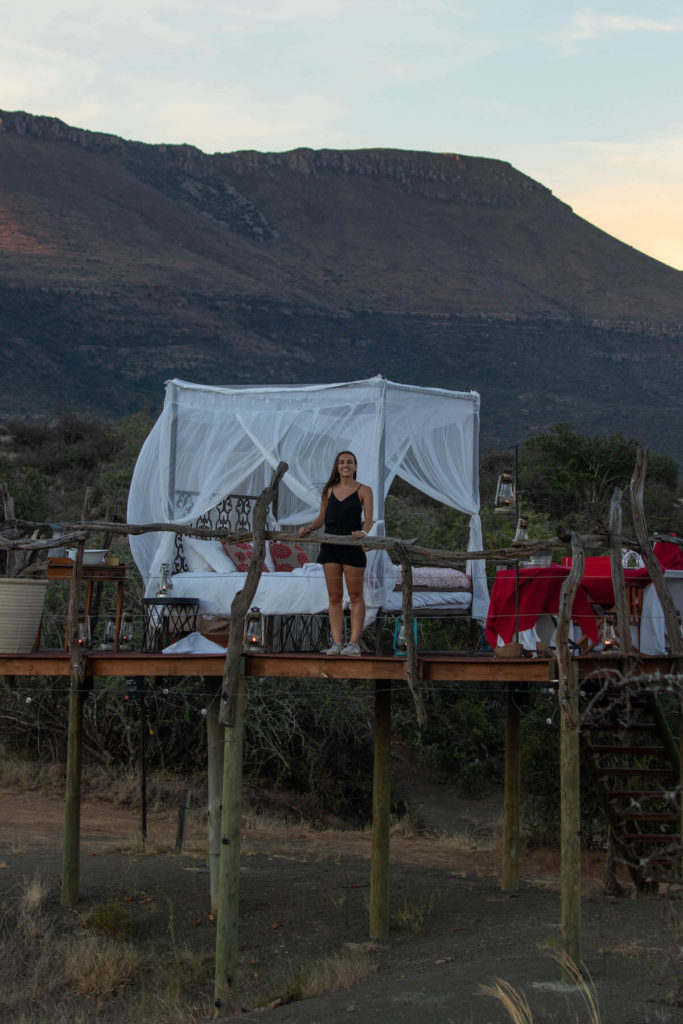 When night came, all of our expectations were exceeded! Lanterns off for the night and in the middle of a game reserve, the stars were everywhere. We lay in bed trying to grasp the immensity of the starry night and the milky way above us, and made every effort to not fall asleep too quickly.
What to bring to the Star Bed
On the day of your special experience, you'll leave on a shorter afternoon safari to get to the Star Bed with plenty of time to enjoy the back dropping views, the sunset and the night.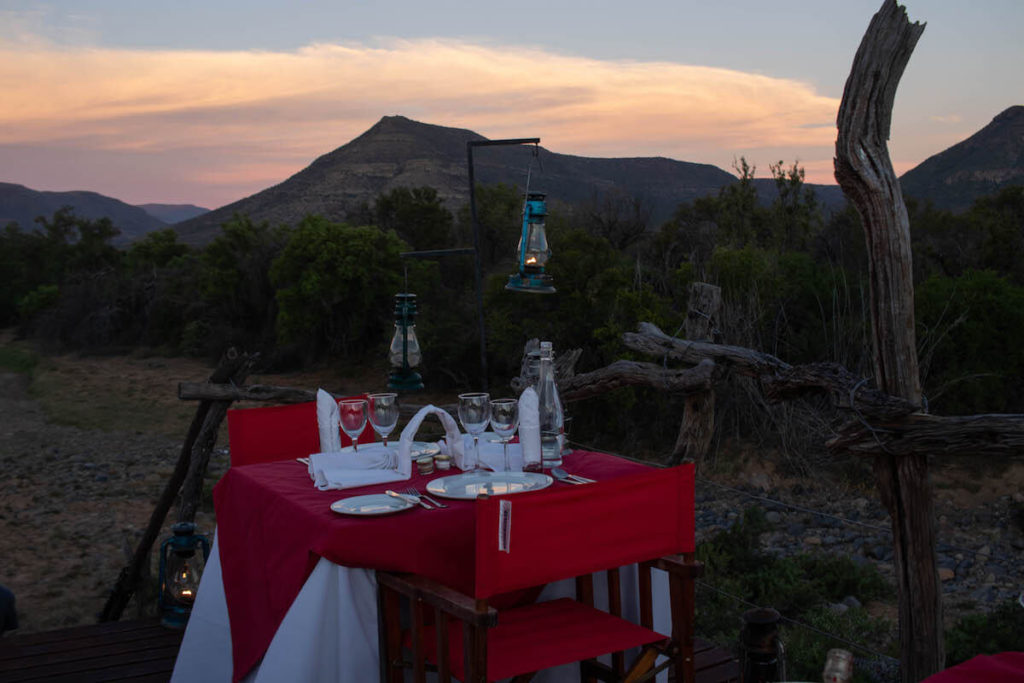 As drinks of your choice and a gourmet picnic including more than 3 courses and snacks are packed for you, you just need to pack a quick night bag before departing. Don't forget to pack:
Warm layers, it can get pretty cold once the sun sets
Charged camera and phone, I can guarantee you will run out of space taking photos and videos!
Activities available
Safari
The basis of the reserve is Full Board and activities. The activities include 2 daily safaris, one in the morning (approx. 6-9am) and one in the afternoon (approx. 4-7pm). These are included in your price and take place on their 4×4 cars with your guide and a tracker.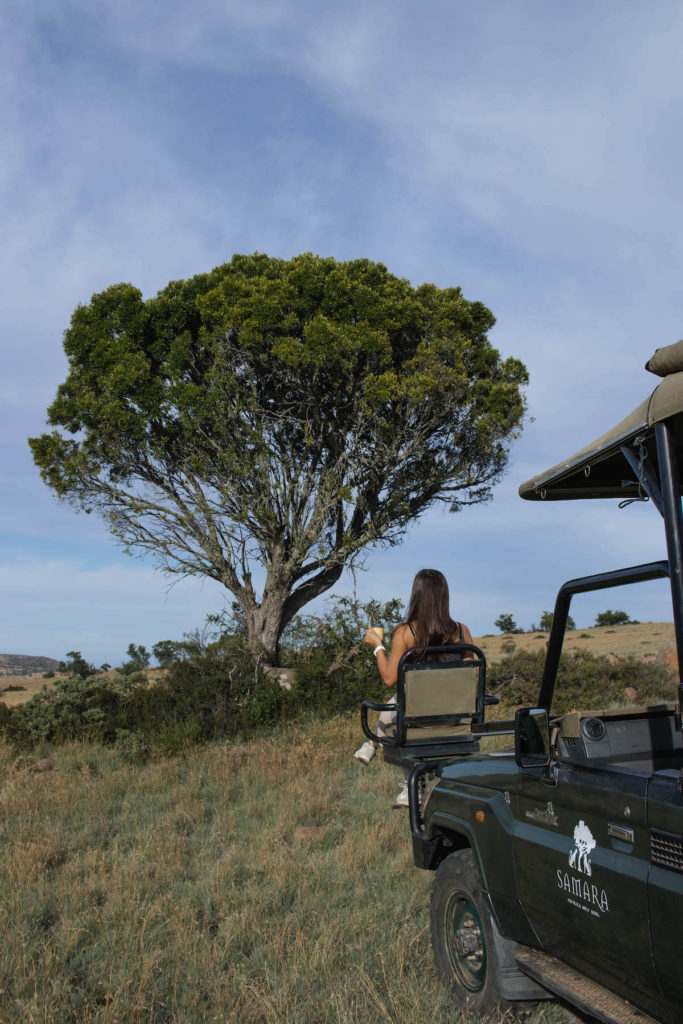 There's the option to go on a full day trip experience instead (5-6h) and have a picnic lunch somewhere on the reserve. As it is so big, some guests choose to do that so they can see more of the area.
Please note animals are generally not active during the hot hours of the day, so you are less likely to see as many animals as if you were doing the two regular game drives.
Tracking cheetah on foot
This is their flagship activity. We had been tracking them and when Dom (our guide) stopped the car and told us to grab our cameras we couldn't see anything.
After walking for about 100m I could see them for the first time. There were 9 of them, the mother and cubs, lying on the ground, blending in with the environment.
We arrived at just the right time, as the sun was coming out and that's when the animals start getting more active.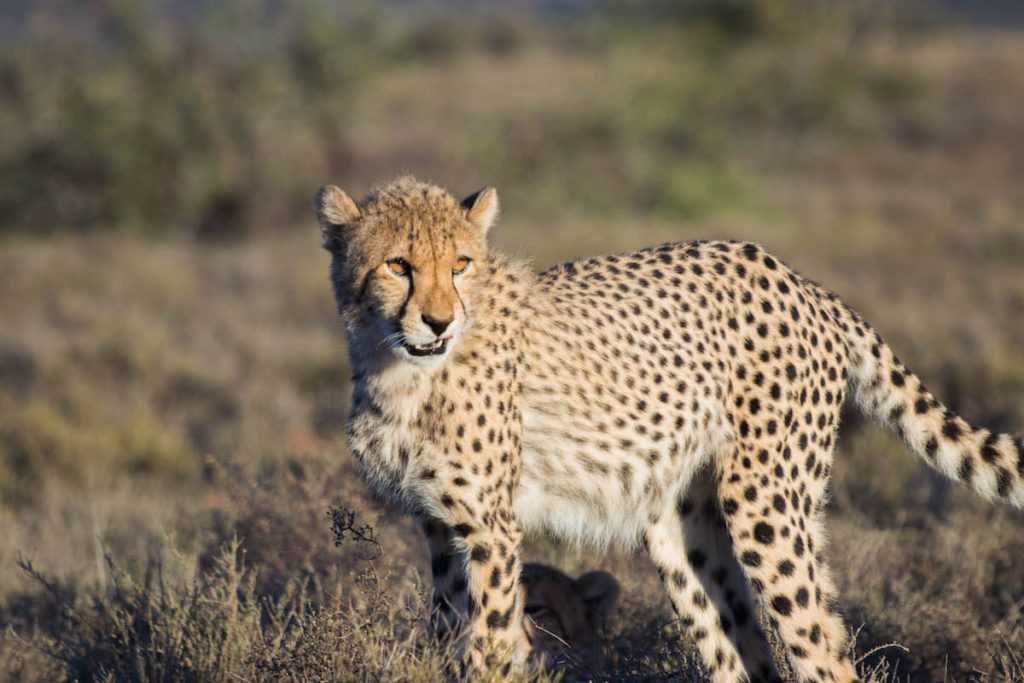 The cheetahs are habituated to humans (more on this below) and did not care that we were quietly observing them. We were perhaps 4-6m away from them, able to sit down on the floor and set up my tripod to watch them for a couple of hours.
This was such an insane experience, only comparable to gorilla trekking in Uganda. During our time with them, the sun started shining and getting hotter and slowly but surely they all started stretching, licking themselves or each other and moving to the shade of a nearby tree.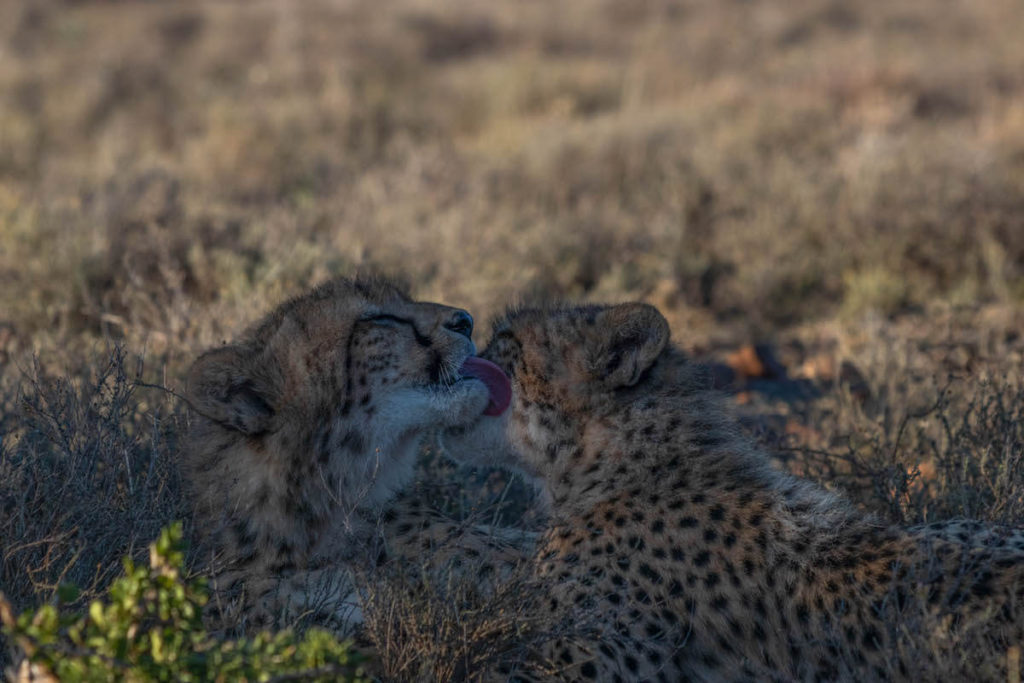 I cannot recommend this experience enough, it is a must do when visiting Samara Game Reserve.
Fly Camping
During warm months (October to May) they offer the option of fly camping. This means going on a bush walk with your tracker across the reserve and sleeping in a comfortable tent set up in the middle of the reserve, after a delicious meal.
Mountain biking
They have guided routes in the area where there are predators and non guided in the area with only plains game where land is still rehabilitating.
Conservation and rehabilitation at Samara
They currently have 26 hectares that are being rehabilitated, but only 13 of those are open to the public and safaris. When they bought the land their goal was to bring back the flora and fauna, and they've done an incredible job already!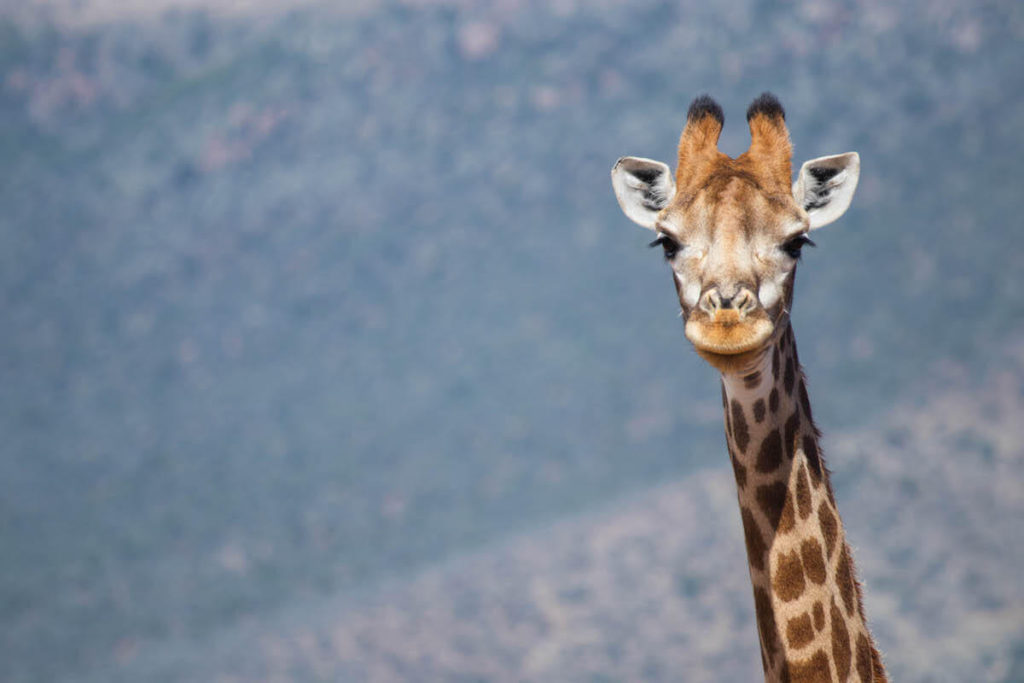 The endemic species typical from the Karoo make the landscapes of Samara very different from any other safari I've ever been on.
They are planning to open up some more areas when the flora has grown more, but their work never ends.
They also have a 'Plant a Spekboom' initiative where all guests get a spekboom, an endemic South African plant that helps to remove carbon dioxide from the atmosphere by acting as a carbon sponge.
You can take the spekboom with you to nurture and grow at home (if you live in SA) or plant it in the reserve, where they have a giant area dedicated to removing carbon dioxide. There's also the option for international businesses to pay to plant a large section of spekboom to offset their emissions.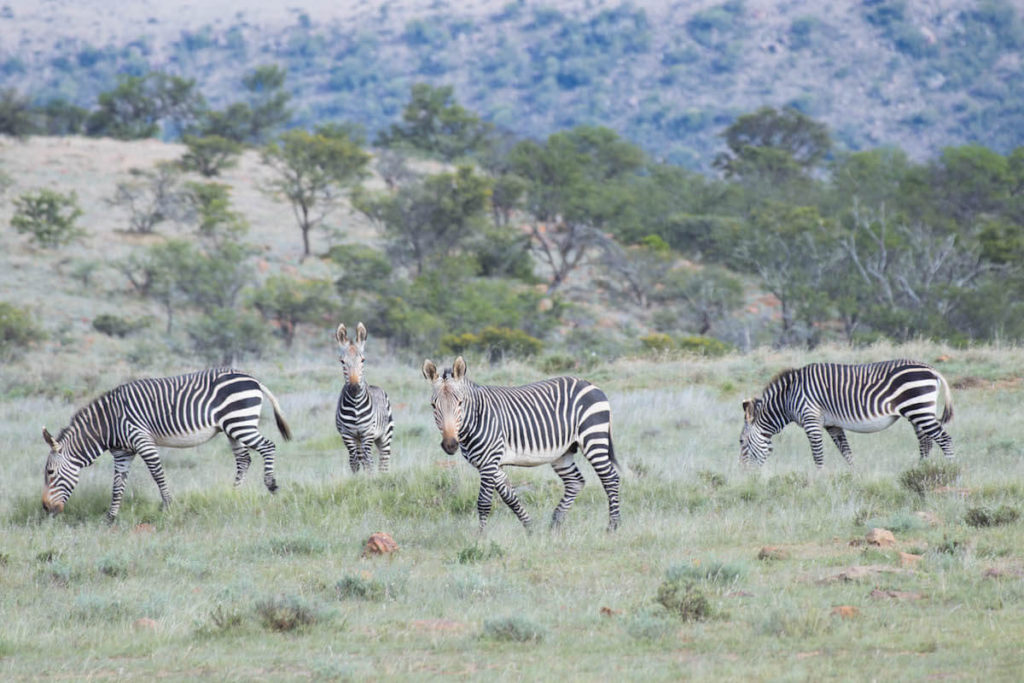 They are carefully reintroducing animals, one at a time always taking their food habits into consideration (ie how many antelope does a new, fully grown lion need to eat in a week? How many lions do we have? How many antelope do we have?) to not have an imbalance between predators and plain game.
You can organize a conservation journey with them in which safaris are on offer but you will be spending time with trackers and Samara's experts on various activities like wildlife monitoring, land rehabilitation or camera trapping.
Why is it an ethical wildlife safari destination?
Samara's goal was to rehabilitate the land to what it once was by reintroducing species that used to live in the area 125 years ago, like cheetahs. They are conducting an incredible conservation and rehabilitation effort, introducing animals to live wild inside the reserve.
All animals are habituated to 4×4 cars, and the cheetah are habituated to cars and humans walking. There is no further interaction with the animals, which makes it an ethical wildlife destination.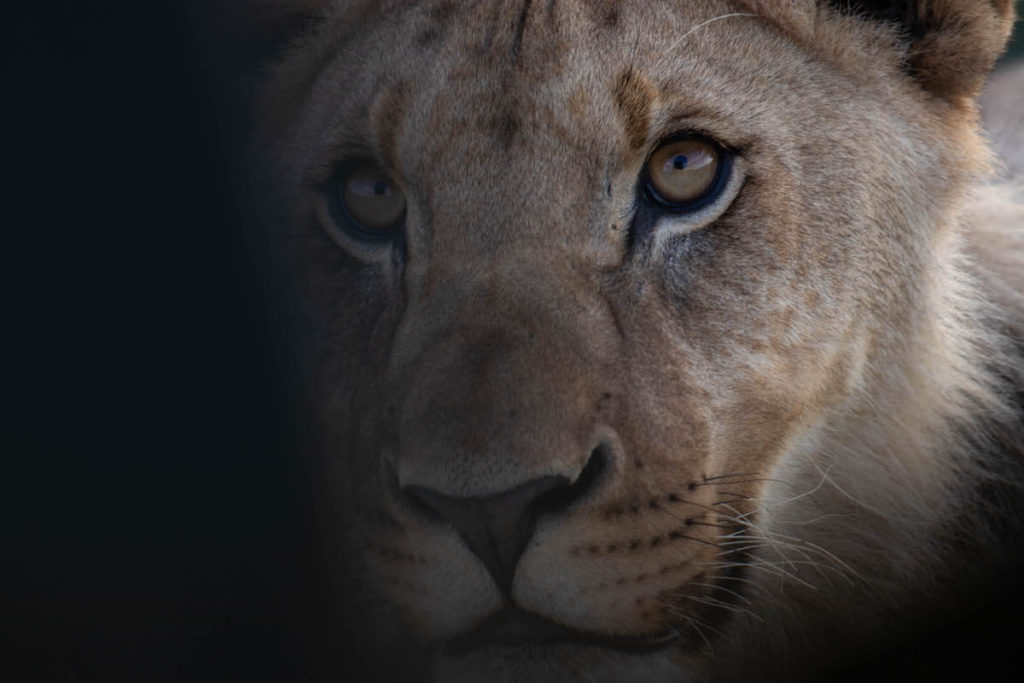 If you have doubts about what makes a wildlife encounter ethical head to this link to understand more. Essentially it means there's no touching, no petting, the animals are wild and humans don't stop them/prevent them from killing, reproducing, dying or otherwise living a wild life.
What exactly does it mean they are habituated? They are wild and live wild lives. But they are habituated to humans, meaning for generations mothers have taught cubs that humans sometimes get close on car or foot and observe them. If the mom is calm the pups learn the behaviour and continue it. Doing this does not interfere with their wild lives at all.
What you'll love
Sleeping in a Star Bed in Africa will top your unique hotels list for sure! It is really special to watch the sunset on a 360º view of the bush, sipping on your drink of choice and hearing the sounds of nature and animals as the sun sets.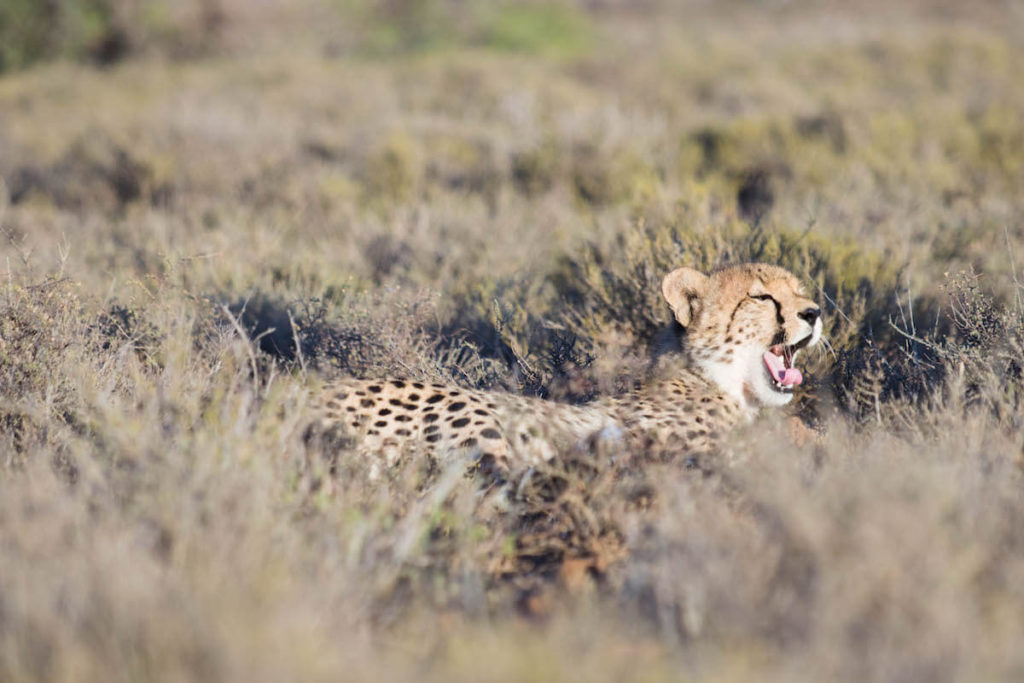 Once it is truly dark, and you turn off the lanterns what you thought you knew about stars becomes obsolete. Everywhere your eyes can see is littered with stars, and you won't want to close your eyes to go to sleep!
Would you dare spend a night at the Star Bed?
YOU MIGHT ALSO LIKE: