Dreaming about the ultimate hideaway? Unique places to sleep in the Western Cape? This is the list for quirky, eco friendly and out of the ordinary accommodations!
If you want to get away but finding the right cabin or lodge is important, this is the article for you. These are the 11 most unique accommodations in the Western Cape in South Africa. Find your special and unusual place to get lost in the Cape – all of them driving distance from Cape Town.
Let's dive in!
Most unique accommodations in the Western Cape – the list
Sleep in a cave: Kagga Kamma
What would you think about sleeping inside a cave?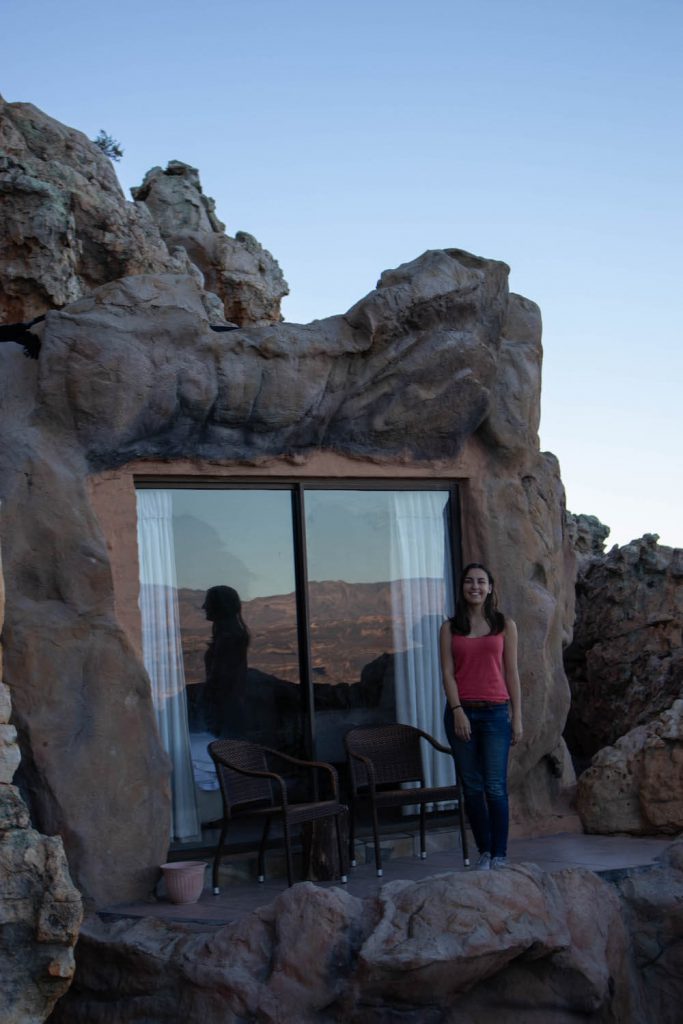 The rooms at Kagga Kamma are made with natural rock and some additional structure around its shape to close off the room. The additional structure looks like rock so you can spend some time knocking softly on your rooms walls to know where the rock finishes and the building starts (I sure did!).
They offer 4×4 trails and hiking trails, quad bike rides and other activities perfect for you to disconnect for a weekend away. Their food was also delicious and you are seated right by the fireplace (visited in winter). It was very special.
Sleep in a trailer: Old Mac Daddy
Have you ever thought about sleeping in an airstream trailer in the middle of nature? At Old Mac Daddy they have 12 vintage themed trailers: Yellow Submarine, Life Before Colour and Mills & Boon are some of the options. Most of the units have a built in lounge and bathroom area.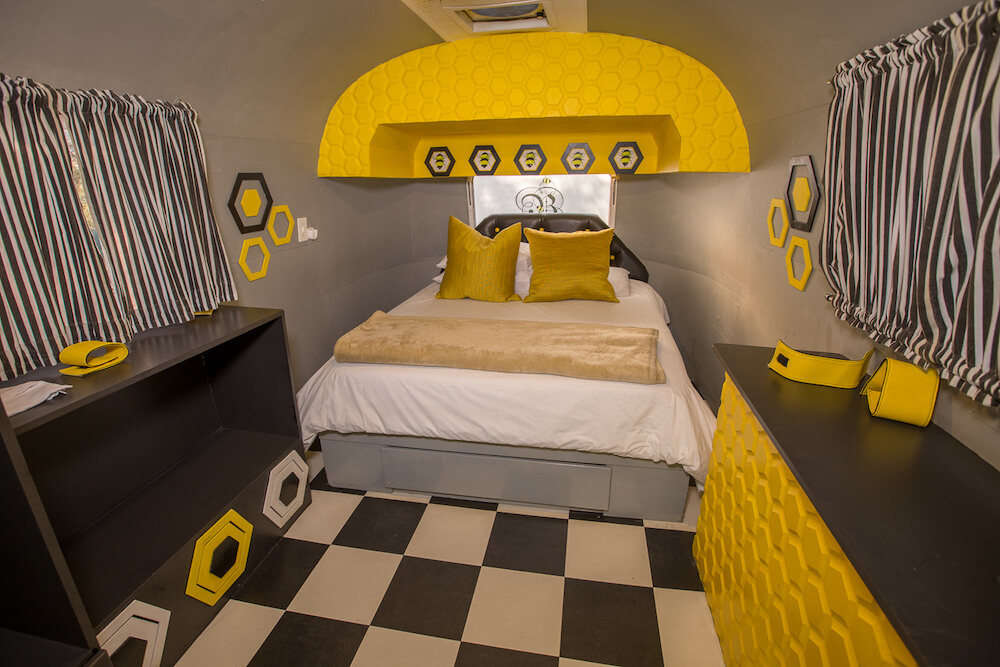 In the same property you can also find glamping tents and villas if you are looking to have more space. There´s a dam where you can go kayaking or Stand Up Paddling as well as hiking and nature routes.
Best treehouse ever: Vindoux Guest Farm
As written before Vindoux is my favourite treehouse. I have visited twice and slept at both their cute, little cottages and their luxury treehouses. There´s also a cool video that I made from my latest stay!
Not only are the treehouses very special, with every amenity you can imagine (small fridge, bathtub big enough for two, breakfast service delivered to the treehouse and views over the vineyards or springbok game area) but their staff are also super attentive and always assist with a big smile.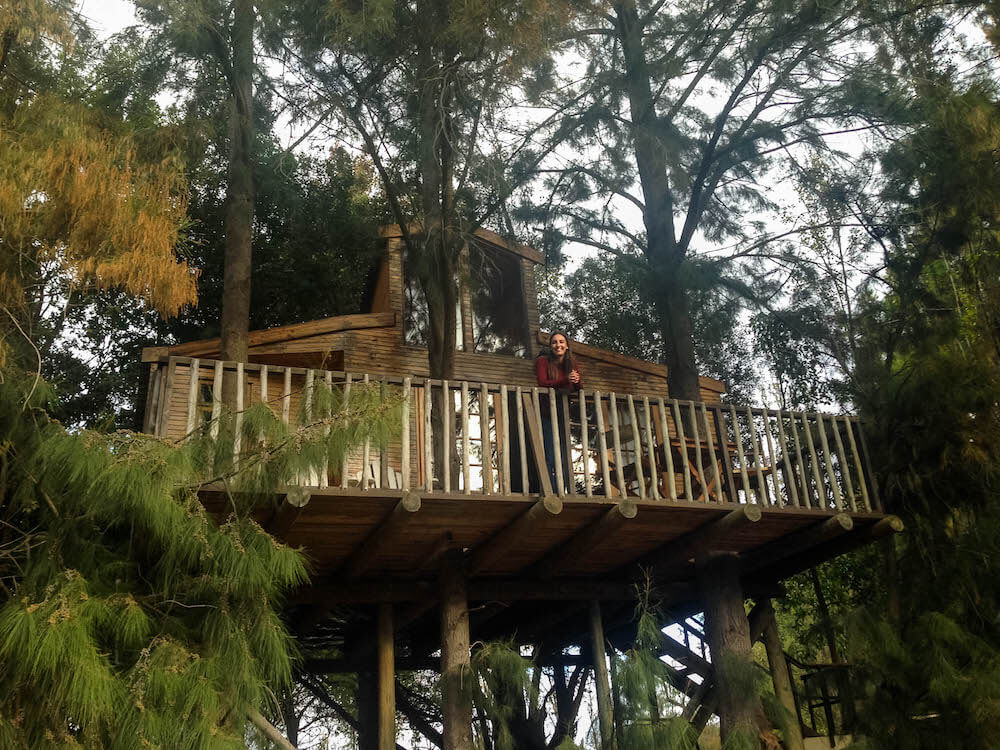 Whether you want to go out on a biking wine tasting, book the awesome in house spa (highly recommend) or find a hiking trail in the area. Oh, and they also have great board games at reception!
Geodome stay: La bruyere Farm
One of the newest additions to unique accommodations in the Western Cape, la Bruyere Farm's newest option is a Geodome.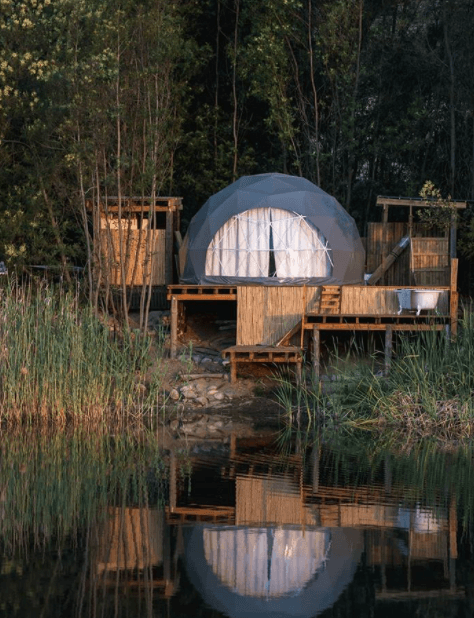 The geodome is set on the banks of a dam with mountains out the back. It's not only situated facing the best sunsets but also has an outdoor, fully kitted kitchen, outdoor bath and three levels of deck outside.
Different Forest stay: Platbos forest
Imagine sleeping in an indigenous forest, feeling so close to the soil as though you were camping.. but you are in a comfy wooden cabin. A cabin in the forest with a twist, as one wall is missing and has rolled up canvas to "close" the room for the mosquitos.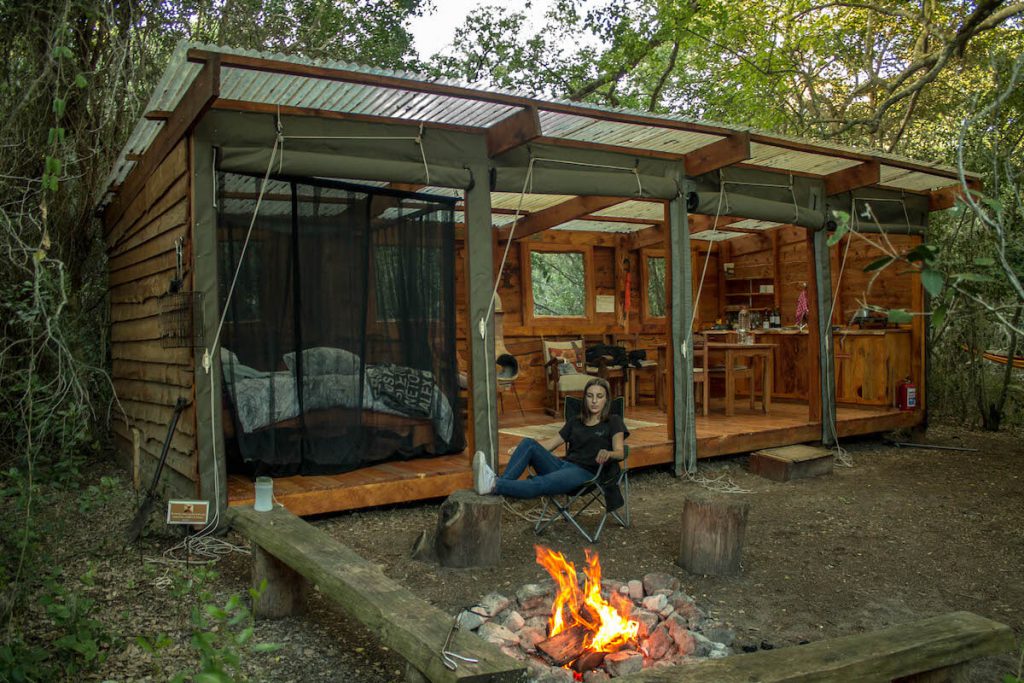 The best of both worlds: sounds of nature and nested in a comfy bed with a fireplace burning next to it and a clear roof through which you can see the trees! Oh, and there's a hammock too! Ideal place to disconnect.
They offer so many nature paths as well as the option to plant trees and collaborate more. They have different cabins available, each very unique and camping is also allowed within a designated area.
Arum lily log cabins
Arum Lily Log has a cottage and wooden cabins perched on top of the dam. They offer luxury self catering accommodation for couples, families and groups.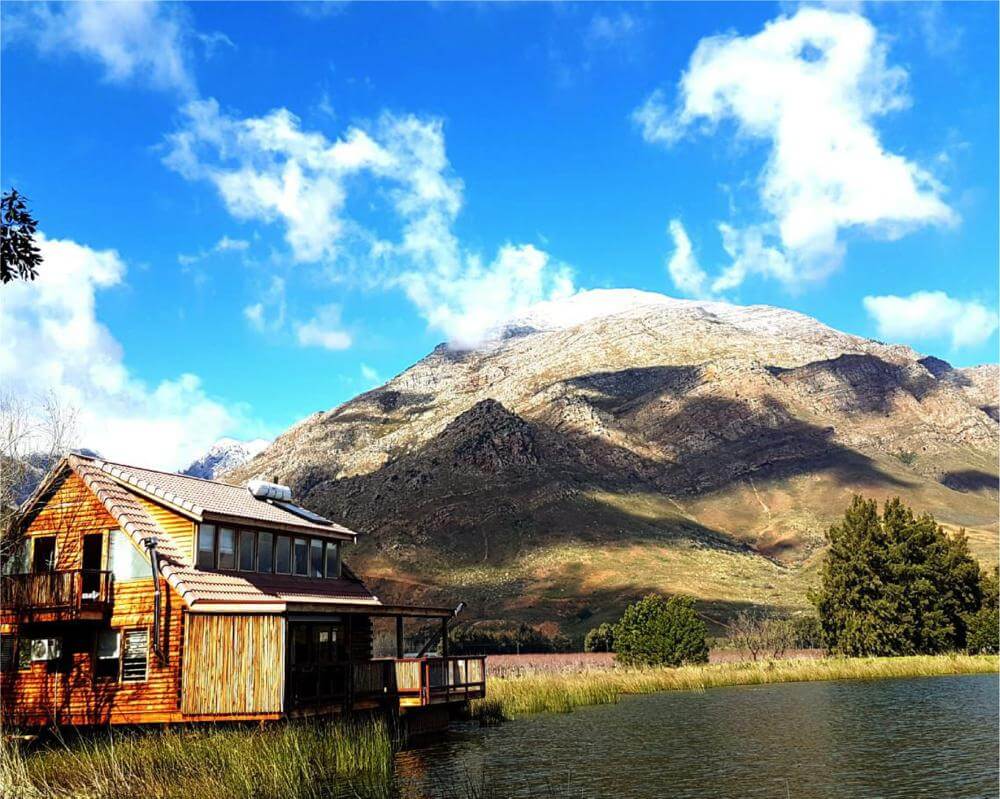 The accommodation is in a working fruit farm and provides canoes as well as hot tubs for the guests.
Ultimate Glamping vibe: Africamps Robertson
Africamps big glamping tents are made for families or groups of friends travelling together, but can be used by couples only as well.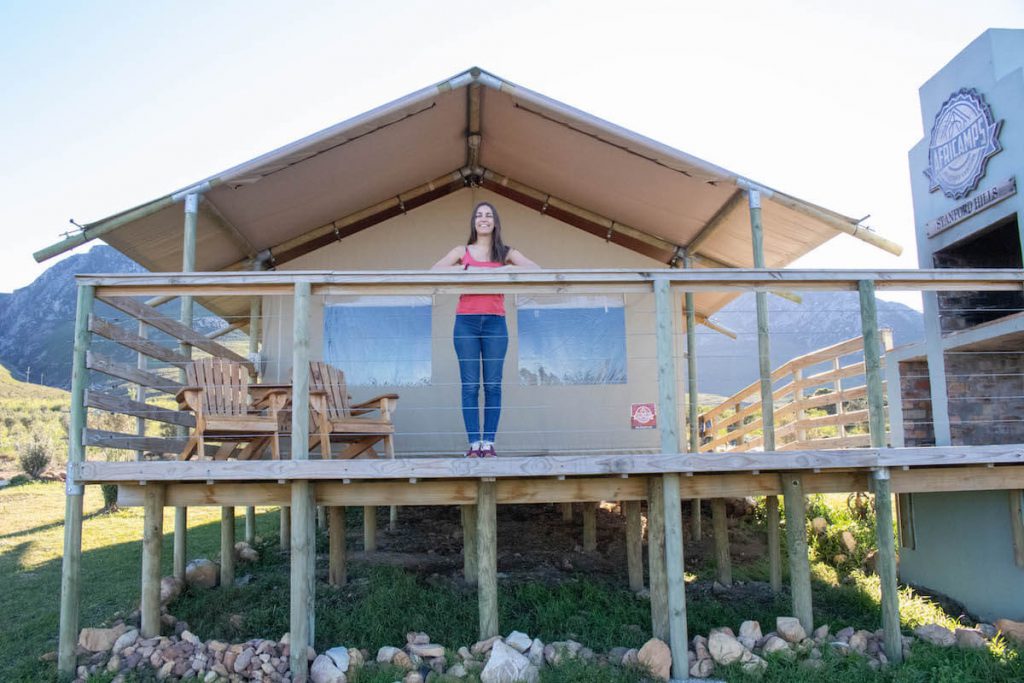 They are spacious and have a kitchen, fireplace and barbecue (braai) area on the terrace. This location is located in a perfect spot, not only for wine tasting but also for whale watching (June to October), as it is very near to Gansbaai.
Copia eco cabins
Combine sleeping in an off-the-grid recycled container with the ultimate comfort and scandinavian design. That's Copia Cabins.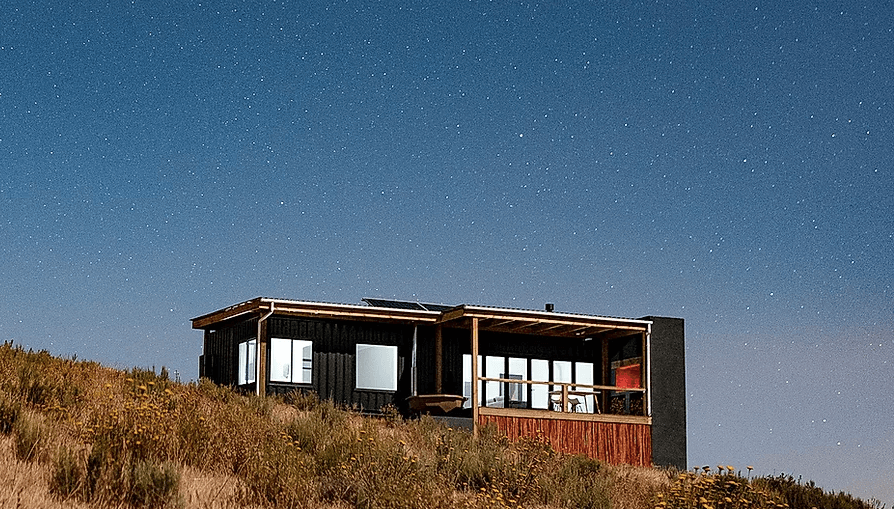 I loved the small details from the owners on arrival: farm eggs, the sweetest personalised letter. The cabins are far away enough from each other to have complete privacy and all of this overlooking the beautiful valley.
The winning part? The deck with a fireplace and a wood fired jacuzzi overlooking the valley.
Enjoy Planet Xancara
Looking for the ultimate escape into nature, with nothing to worry about and music all day? Planet Xancara is the perfect choice.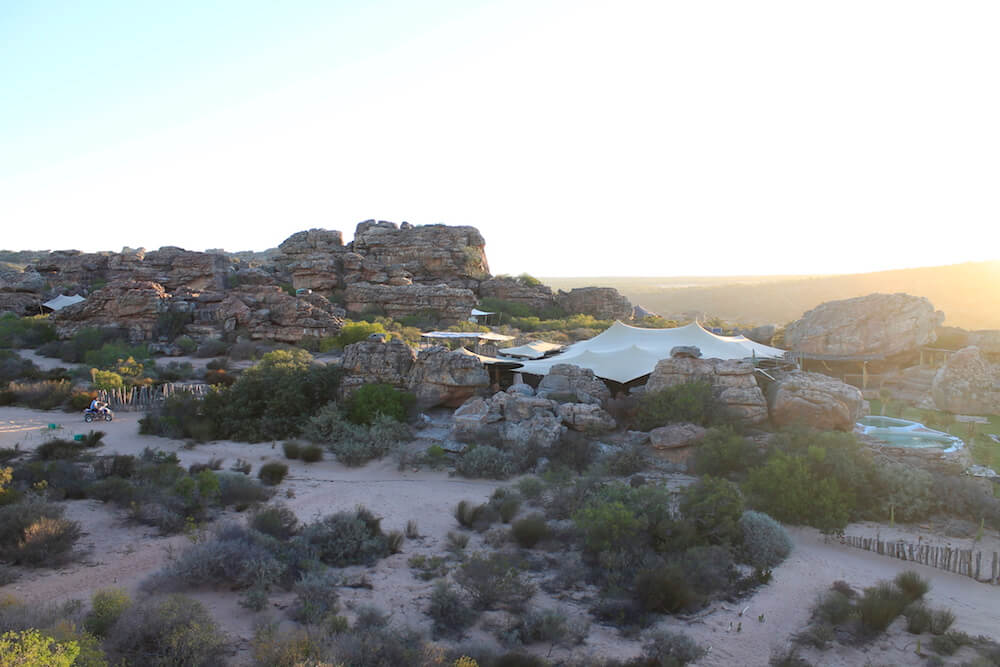 They offer intimate glamping accommodation for a maximum of 20 pax on an all-inclusive basis… including alcohol!
The owners play music throughout the day and night, making it the ideal location for a private celebration requiring music and great sunset spots.
Sleep on a train: Santos express
Do you want to stay in a train on the beach? The Santos Express is a blue train with all types of rooms available: dormitories, single, twin or double. The bathrooms are shared by all rooms except the suites.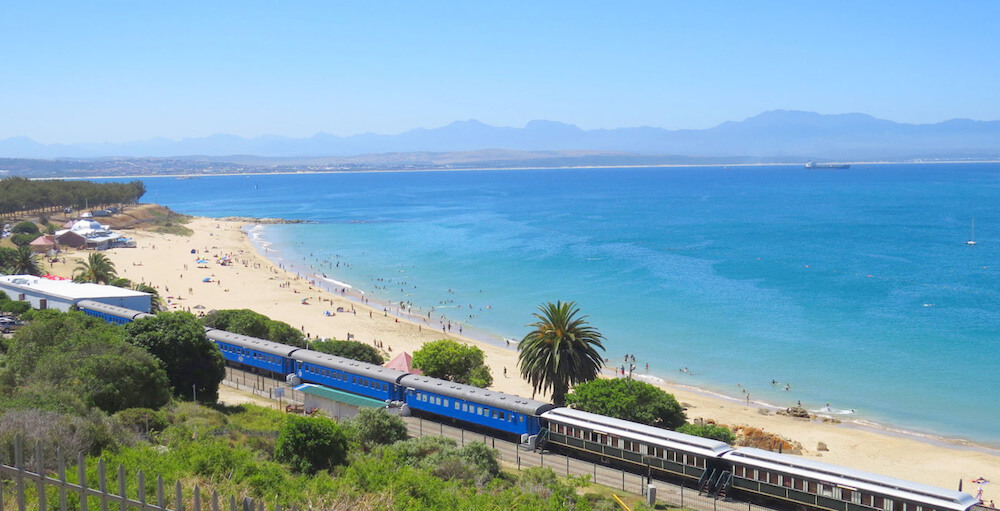 In total train fashion Santos Express offers breakfast to its guests in a single carriage.
Connect with silence: Gecko Creek
Looking to escape the bustling city and get lost in the mountains? The Cederberg is your best place to go with hundreds of trails and hikes available.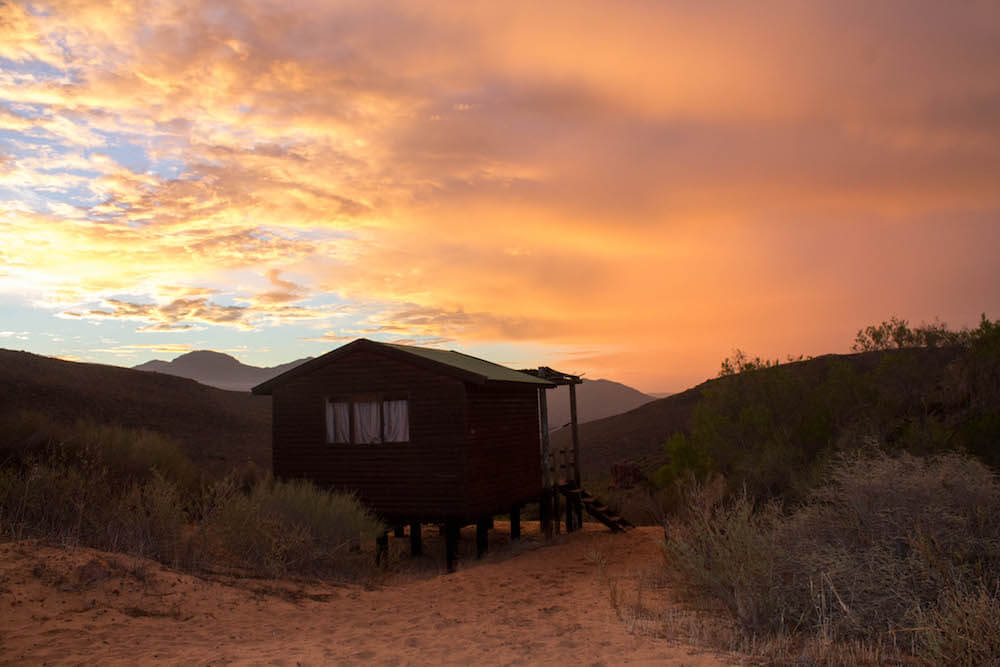 Gecko Creek is off-the-grid camping with bungalows that offer silence to it's guests: nothing around you but mountains, the only sound being the other guests chatting in the kitchen and around the common area, where talking is allowed. Full review of the stay at Gecko Creek Lodge.
It is also the great place for starting hikes in the Algeria region of the Cederberg.
Have I inspired you to book unique accommodations in the Western Cape? Which one is your favourite and why? Let me know in the comments!